Return to Headlines
Foster Grandparent Program Launches in Lewisville ISD
May 4, 2017
Program provides mentoring and support for students, underway at Parkway Elementary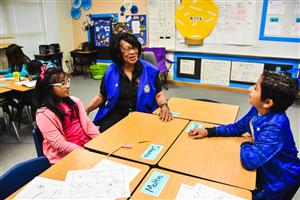 Many schools throughout the country host Grandparents Day as a way to remind students the knowledge and experiences older generations can share – in Lewisville ISD (LISD), there's another grandparent program underway.
Since 1965, the Foster Grandparent Program (FGP) has provided emotional support, mentoring and tutoring for youths in schools, Head Start centers, daycares and juvenile facilities nationwide. Adults age 55 and older can apply to be a foster grandparent. The program, which falls under the Senior Corps and is funded by the Corporation for National Community Service and sponsored by the State of Texas Health and Human Services Commission, offers mutually beneficial opportunities for both grandparents and students.
"The grandparents can come into the school and be the grandparent for the classroom," FGP Volunteer Coordinator Lori Kloepper said. "But, what we also do within the program is identify students who are at-risk of passing to the next grade, so the grandparent knows where to work with them one-on-one. Whether a student has a grandparent or not, having a grandparent in the classroom brings a certain sense of respect and calmness."
When Kloepper approached LISD about expanding the program into the district's elementary schools, she said Central Zone Leader Andy Plunkett immediately expressed interest in piloting the program in Central Zone schools.
"One of LISD's four cornerstones is community involvement," Plunkett said. "Any time we can invite community members into our schools to help mentor our students is a great thing. I'm excited about grandparents serving as mentors because they share an unconditional love for our students and can provide a foundation of trust and support."
Currently, Denton County has more than 40 grandparent volunteers who serve in different mentoring capacities across the county, and according to Kloepper, there is a need for volunteers in the Lewisville area.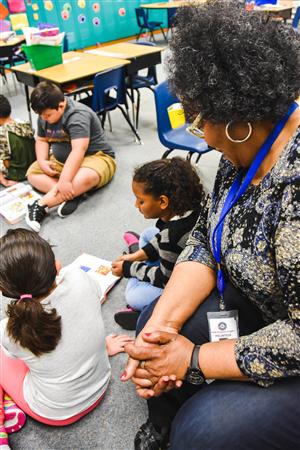 "Proximity to the schools is important," Kloepper said. "The volunteers need to be near the schools. Also, the schools have requested Spanish-speaking volunteers, so I've been recruiting the area to find more grandparents interested in the program."
Volunteers can spend 15-40 hours a week in the classroom, and volunteers who meet certain income parameters are eligible to receive a tax-free stipend as well as travel reimbursement.
"They're here at least 15 hours a week in the classroom and through that week, they're going to work at least two hours one-on-one with the individual students," Kloepper said. "Whether it's literacy or organization or behavior, the grandparents will mentor the student one-on-one. It's a real hands-on structured type of program."
Eight weeks ago, FGP launched at Parkway Elementary. Lillie Garrett serves as one of the two grandparent volunteers for Parkway. She volunteers in two second-grade classrooms, and said she has enjoyed her time with the students.
"I've been there for a few weeks now, and I really like being at Parkway," Garrett, who has been with the program since 2008, said. "I like the teachers and working with the children. I think the students enjoy me coming because their teachers tell me that they always ask when I'm coming back."
The 76-year-old resides in Carrollton and said she spends several days a week at Parkway and loves to chat with the second graders during lunchtime.
"I hope they enjoy being with me because I enjoy being with them," she said. "These second graders are so smart and so educated, and I've enjoyed getting to know them."
Kloepper said the plan is to expand the Foster Grandparent Program into more LISD schools next school year.
"We're so excited to partner with Lewisville ISD," Kloepper said. "The best part about this program is the intergenerational aspect. Yes, the grandparent is there to mentor and be very specific to some of the needs, but most importantly, they're there to love on these students just like a grandparent would."
For more information about the Foster Grandparent Program and how to get involved, please visit the program's website or call 940-320-5727.