Return to Headlines
DeLay Middle School's Student Council Stands Out
April 19, 2017
Conference and summer workshop motivated students to better school and community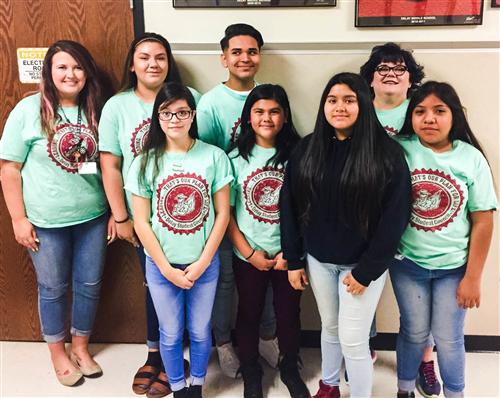 In 2015, Bernette Lindamood took a group of DeLay Middle School Student Council members to the Texas Association of Student Councils (TASC) Middle Level State Annual Conference in San Marcos, Texas. That conference and the students' experiences there increased their desire to improve their school and community even more.
"Many of my students had never been anywhere overnight without their parents," Lindamood, DeLay teacher and Student Council sponsor, said. "They had never been to an event with like-minded individuals who had the same goals and values they have."
Last year, Lindamood took her students to TASC's Summer Leadership Workshop and then took a group of nine students back to San Marcos for the annual conference.
"Summer camp gave my officers the tools to be able to run an event," Lindamood said. "It also gave them the tools to run meetings, speak in public, and it taught them ice breakers and team-building activities. They saw they were not the only students out there who were working to improve their schools and communities."
Eighth-grade officer Jennifer Montoya added, "The camp and conference helped us expand our knowledge of what it means to be a leader. It helped hearing stories from real people who motivate and tell us to continue to do our best."
This school year, DeLay's Student Council managed several projects including Red Ribbon Week, the school store, concession stands, the Veterans Day ceremony, 5K Fun Run and a float in Lewisville High School's Homecoming Parade, which DeLay has received first place for five years in a row. The student council also introduced the school to Pasta for Pennies, a program benefiting The Leukemia and Lymphoma Society's School and Youth campaign. In its first year participating in the program, DeLay raised more than $1,800 in three weeks for the society.
"Each project we do, we keep a form," Lindamood said, "that form shows how many people we reached, what our goal was, and a reflection page on how it can be better next year."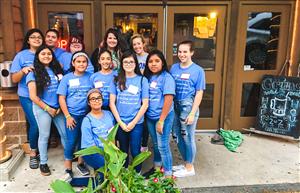 The motivation to better their school and community has not gone unnoticed. Last month, DeLay's Student Council received recognition in Community Service and Pride and Patriotism from TASC. Additionally, the student council was one of only 46 out of the 396 middle school student councils to be awarded Outstanding Student Council.
"We need a strong path to follow," Seventh-grade officer Anayely Martinez said. "Student Council is a great foundation for starting and showing us how to live our lives."
Not only did DeLay's Student Council receive awards and recognition from TASC, but the organization has also been asked to give a 15-minute presentation at this November's TASC conference.
"I hope our students take away the idea that they can make a difference," Lindamood said. "Small ripples can have a huge impact on their community and their school."
Perhaps seventh-grade officer Giovanna Violante worded it best.
"No matter who you are and the problems you face every day," she said, "you can make a difference in someone or something."