Return to Headlines
The Colony High School Continues Theatre Dominance
Cougars claim One-Act Play state championship for second time in three years with performance of Second Samuel; take home inaugural award for Class 5A's top theater team.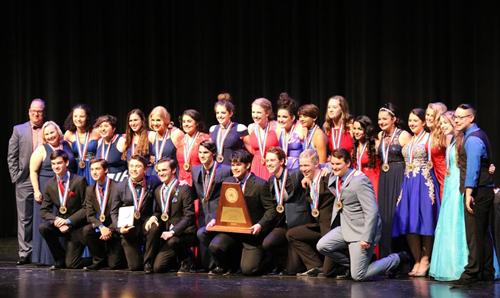 The Colony High School continued its dominance in theatre by winning the University Interscholastic League One-Act Play state championship with its performance of Second Samuel on April 14 at Round Rock ISD Performing Arts Center. TCHS also took home the UIL's inaugural award for the top Class 5A theatre team.
"It is still hard to believe that we won the state championship, but even crazier knowing that we were also named the top theatre school," fourth-year TCHS Theatre Director Dwayne Craig said. "I think the coolest thing is knowing that we changed lives through the course of our show. Our motto through it all was, 'Laugh. . . Be Moved. . . But Don't Leave Unchanged!' Our kids did that time after time."
TCHS has now won two of the last three Class 5A One-Act Play state titles, also raising the trophy in 2015 for its rendition of The Lost Boy. The Cougars were state runner-ups in 2016 and state alternates in 2014.
"I am extremely proud of Theatre at The Colony for once again being state champions," TCHS Principal Tim Baxter said. "In addition, to be named the UIL's first top Class 5A theatre program makes this even more special. Mr. Craig and his wife, Ronda, have built a program from hard work, teaching our students they can achieve anything and overcome any obstacle. I am so proud of the Craigs and our students, and happy for the entire community of The Colony!"
Second Samuel is a play about no one having a clue what is going to happen when all kinds of secrets are exposed after the beloved Miss Gertrude passes away. It is set in 1950's Georgia.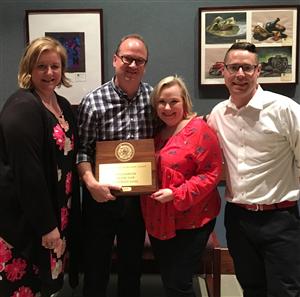 TCHS 10th grader Fox Elrod was named Samuel French Top Performer, which is given to the best actor in the state. Elrod played the role of B Flat. Amber Johnson, an 11th grader, was named to the All-State Cast for her performance as Us. Erica Walker, also an 11th grader, earned honorable mention All-Star Cast for her role as Omaha Nebraska Purcell.
TCHS also earned gold for its costume design and bronze for theatrical marketing. The hair and makeup crew finished fourth.
Joining Fox, Johnson and Walker in the cast were Ian Hannifin; Alyson Hess; Kelly Hudson; Julia Light; Ben Loub; James Martin; Alex Olinsky; Samantha Olinksy; Brinkley Oropeza; Braden Prater; Awnna Singleton; and Sebastian Tristian. The crew was comprised of Chea Coats; Jenny Gibson; Weston Pinchot; Michael Richins; and Scout Villareal.
Alternates were Amberly Bouchard; Mati Cady; Kaitlyn de la Rosa; and Raegan Thornburg. The running crew was Ethan Buckley; Aiden Call; and Sarah Jarrett.
Joining the Craigs as directors was John Davenport.
The theatre team traveled back to campus in style on April 15 with a police escort from The Colony Police Department and then found several fans – including The Colony Fire Department, family members, teachers, friends and community members – waiting on them ready to celebrate.
TCHS plans to say thank you with an encore performance of Second Samuel on Friday, April 21 at 7 p.m. at the TCHS Performing Arts Center. To purchase tickets, click here.