Return to Headlines
LISD Profile: Lakeland Elementary Nurse Brenda Gonzalez
April 14, 2017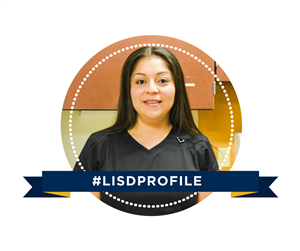 Take a look at the profile about Lakeland Elementary Nurse Brenda Gonzalez, who discusses her favorite thing about the district; what she enjoys doing in her spare time; and something most do not know about her. Gonzalez has worked for Lewisville ISD (LISD) for two years.
Lewisville ISD (LISD): What do you do for our district?
Brenda Gonzalez (BG): I am the school nurse at Lakeland Elementary. Day to day I strive to meet the health needs of my students.
LISD: What is your favorite thing about being a part of LISD?
BG: My favorite thing about being a part of LISD is being able to interact and work alongside an amazing team that not only targets the educational needs of a child, but also collaborates every day for the general well-being of all our students. I love that my work family is just like a puzzle; everyone is valued and an important piece of the whole picture.
LISD: Growing up, was there an educator who specifically impacted your life?
BG: My high school English teacher, Mrs. Miriam Gaytan. Her passion and dedication to teaching has transformed many minds. She always inspired me to work hard and be dedicated every day. She believed in me and encouraged me to believe in myself.
LISD: If you could be any storybook character, who would you be?
BG: Belle from Beauty and the Beast. She is intelligent, courageous and has goals and aspirations of her own.
LISD: What do you enjoy doing in your spare time?
BG: Being a working mom of two precious children, I enjoy every moment I can spend with them and my husband. We love to swim, watch movies and baseball. In my spare time I like to craft, and I also love to cook and bake.
LISD: What is one thing that most would not know about you?
BG: Growing up, I always wanted to be a nurse. I remember the day I was sent to the nurse's office when I was in kindergarten to have my hearing and vision checked - I knew then that I wanted to be like her. I spent half of my childhood in Mexico, and the transitions from moving back and forth between two very different countries were not easy, but have helped me understand and sympathize with a lot of the families I serve.
LISD: What has been your greatest success or favorite moment since entering the education field?
BG: My favorite moments are when I get to see a child outside of the educational setting, being their normal self. A lot of times I only get to see a child when he/she is not feeling well, so seeing them happy and healthy is always a happy moment. My greatest success is being able to make a difference. I've had parents reach out to me in the community to thank me for caring for their children, and that is one of the most rewarding feelings.
Stay tuned for our next profile, published on LISD.net every week. See all profiles here. #LISDprofile