Return to Headlines
Impressive Results in Polser Elementary's Polar Bear Dash
Students raise money, promote good health and build relationships with community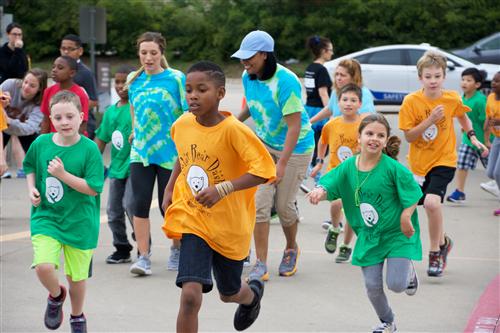 It is more than just a fun run.
Polser Elementary held its second annual Polar Bear Dash on campus April 12 – raising money for school enhancements, promoting good health and building relationships with the community all at the same time.
Students spent the last two months raising more than $8,000 that will go toward buying furniture that will incorporate more action-based learning opportunities in classrooms. For example, desks with bicycle pedals are high on the list. The first Polar Bear Dash helped provide a variety of items, most notably a climbing wall in the gym.
"We enjoy the Polar Bear Dash because it involves all students," Polser Elementary Principal Adam Gray said. "The funds raised will benefit our school and the race promotes good health. It is fun also having our Parent-Teacher Association, families and community members be a part of it."
This year's event featured two sessions. The morning race included 5th, 4th and 3rd graders, as well as pre-kindergarten students. The afternoon run was comprised of 2nd and 1st graders, kindergartners and pre-kindergarteners. All students had on official event T-shirts, which came in a variety colors. The course was decorated with colorful balloons, while music played over the loud speakers. Gray was even dressed in a tutu – and will later kiss a pig thanks to a promise he made students if they surpassed a fundraising goal of $5,000.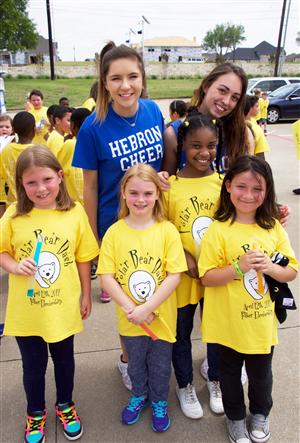 Hebron High School's back-to-back state-champion volleyball team and award-winning cheerleaders were in attendance to help out and encourage the future Hawks.
"We love partnering with Hebron High School," Gray said. "The high school students extremely helpful and our kids look up to them."
Sponsors Hebron Orthodontics and Code 3 Emergency Room and Urgent Care had representatives present and were cheering on students. The Carrollton Police Department also attended to show their support, as well as numerous family members – many who had made and were holding up posters.
It was a day the students will never forget and they are excited to use the new purchases.
"This race was really fun," 5th grader Grayson Callahan said. "We had a lot of people running. We raised a lot of money and are going to be able to use it to get some great things for our school."
Students were just as proud to promote physical fitness.
"Not only did we raise money for our school, the race gave us a lot of exercise while having fun," 5th grader Sara Kalluvilayil said.
Added 1st grader Ariyah Gray: "It is good to be strong and healthy. The race was the best part of this fundraiser because it helped everyone with that."
All in all, the Polar Bear Dash was a win.
"This is a total team effort," Gray said. "Everyone is invested in our school and has a job to help make this event a success."
To see a photo gallery, click here.