Return to Headlines
Marcus High School Welcomes Back Atkinson as New Football Head Coach, Athletic Coordinator
April 10, 2017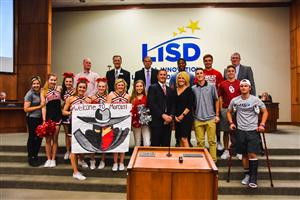 Lewisville ISD announced April 10 that Kevin Atkinson will be returning to Marcus High School (MHS) as the new football head coach, athletic coordinator. He began his coaching career with the Marauder family as a wide receivers coach in 1992. Atkinson comes to MHS after serving as the football head coach and athletic director at Denton High School for five years, where he led the team to multiple Class 5A playoff appearances.
"I'm excited to come back to Marcus High School," Atkinson said. "Very seldom do you get to start your career and get a chance to finish it at the same school. It's a unique opportunity. I've been preparing for this job for 25 years, as it has always been a goal of mine and the timing was right. My family and I are elated to become a part of this community."
During his coaching career, Atkinson has lead his teams to more than 14 playoff appearances at the 5A/6A levels. Atkinson was an Oil Bowl All-Star Coach in 2008 and 2009. He was named the Armed Forces Coach of the Week in 2009 and was nominated for "WFAA Texan of the Year," as well as named Goodwill Industries Citizen of the Year in 2006.
"I am pleased to welcome back Coach Kevin Atkinson to the Marauder family," MHS Principal Gary Shafferman said. "As a past Marcus High School Coach in 1992-1995, Coach Atkinson returns to a school he considers home. He has demonstrated his love for the Red and Silver, and is well respected in the football community. He brings great vision, passion and energy. Coach Atkinson is committed to developing an overall football program built on work ethic, character development and leadership skills, which will help all athletes reach their maximum potential."
Atkinson is expected to begin coaching this week. He takes over the program from Gerry Stanford, who resigned in February.
"The Marcus Community is excited to welcome back Coach Atkinson," LISD Athletic Director Tim Ford said. "His coaching style and reputation are respected and we look forward to seeing the impact of his leadership on campus for not only the football team, but the entire Marauder family."
Atkinson has also served as the the football head coach/athletic director at Keller High School in Keller ISD (2002-2012).
Prior to Keller, he served as the offensive coordinator at Denton Ryan High School in Denton ISD (2000-2002) and Colleyville Heritage High School in Grapevine-Colleyville ISD (1996-2000).
Atkinson received his Bachelor of Science degree from Stephen F. Austin State University in 1992. He holds a teaching certifications in secondary English, health and physical education.
He and his wife, Christine – who is product of LISD – have three children: Alexis, a cheerleader at Texas Tech University; Colton, who accepted a football scholarship to play quarterback at Trinity Valley Community College; and Abby, who plans to attend Marcus 9th Grade Campus next fall. The Atkinson family is planning to move to the Marcus community this year.