Return to Headlines
The Big Event Set for April 1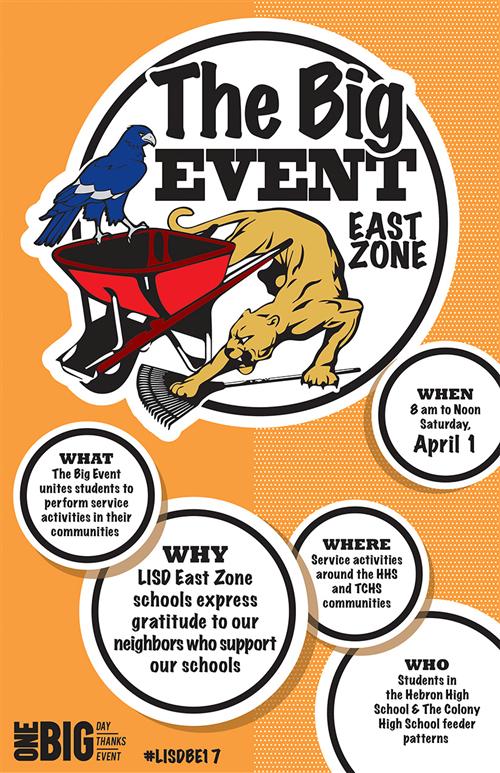 Lewisville ISD's East Zone – schools that feed into Hebron High School and The Colony High School – is preparing for the third annual The Big Event on Saturday, April 1 from 8 a.m.-noon.
The service-oriented activity and spin-off of Texas A&M University's annual event with the same name is a way for LISD to simply express gratitude for the support it receives from its East Zone communities.
In two years, LISD's The Big Event has involved nearly 7,000 volunteers and has reached more than 200 locations in Carrollton, Frisco, Lewisville, Plano and The Colony. This year, LISD officials are expecting their largest turnout yet.
"I am very proud of the work everyone has done for The Big Event at our campuses and around the community over the past two years," LISD East Zone Leader Leigh Ann Lewis said. "We have had more interest than ever for this year's event despite still being four months away. It is encouraging to see so many people eager to display their servant hearts."
Examples of activities include: free car washes for police officers; band and choir performances at senior centers; knitting and delivering blankets to hospitals; beautification at local recreational areas and school campuses; facilitating pet adoptions; and painting houses.
"It is important to teach our children to consider the needs of others over their own needs and desires; we learn values from those experiences," Lewis said. "These activities are a perfect way for students to see first-hand the results of their efforts."
Special guests have included former Dallas Cowboys great and LISD product Walt Garrison; City of Plano Council Member Tom Harrison; City of Lewisville Mayor Pro Tem TJ Gilmore; and LISD Superintendent Dr. Kevin Rogers.
The Big Event kickoff will be located outdoors at LISD's Career Center East, which is located at 2553 FM 544 in Lewisville. The festivities will begin at 8 a.m. After opening remarks, performances and a special appearance from LISD product Michael Odiari, host of TV show "Cookin On A Dime," volunteers will disperse (approximately 8:45 a.m.) for a rewarding day of giving back.
To see the volunteer list, click here.
For any questions, visit LISD.net/bigevent. Be sure to follow The Big Event on Facebook and Twitter, and use the hashtag #LISDBE17.