Return to Headlines
ACMS Archery Team Prepares for State Tournament
March 23, 2016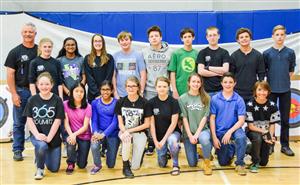 The Arbor Creek Middle School archery team prepares to return to the state championship tournament as defending state champions.


Archery is a sport of skill and precision, and also a sport that fair amounts of people are not very familiar with. However, several seventh and eighth grade students at Arbor Creek Middle School (ACMS) have been introduced to the sport thanks to the Lewisville ISD (LISD) Outdoor Education course.

"This is our fifth year to have the archery program at ACMS as part of Outdoor Ed," said ACMS Outdoor Education Instructor Dan Mannering. "We started off very, very basic, barely even making a team to begin with, but it's grown quickly."

LISD's Outdoor Education program is a physical education (P.E.) elective that offers students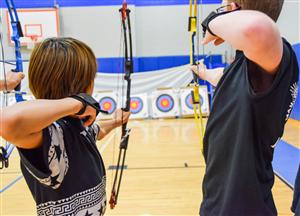 unique opportunities to explore the great outdoors with activities you would find in Boy or Girl Scout programs such as fishing, Dutch oven cooking, boating and much more.


"The students taking this course are always really excited to come to school," Dan said. "It gives them a really practical way to learn science and environmental concepts; they get to learn about the world around us up close."


Dan is an avid hunter with an outdoorsy spirit, fitting right into the Outdoor Education program and teaching from life experiences and expertise. With that said, archery was new to him when he began teaching this course.

"Archery is part of the curriculum for Outdoor Ed," Dan continued, "but if the instructor chooses to actually put together a team, then the state tournament is open to anyone who is a National Archery in Schools Program (NASP) certified instructor. This program has really inspired me to learn more about the sport."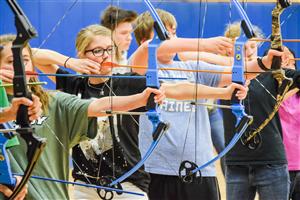 Students at ACMS are first introduced to archery in a classroom setting where they go over the basics of the sport for about two months. Once they have practiced, students then compete against one another in a mock tournament setting, shooting at practice targets and scoring each other.

"The competitive archery team is purely voluntary," Dan added, "but our mock tournaments give them an idea of what being on the team and competing is like. So if they like it, they can join the team."

The team took third place at their first state tournament appearance five years ago. Each year they have improved, bringing home the gold medal at last years tournament.

"The program and the team really appeal to students with a variety of interests and that's a great advantage for us," Dan said. "We've got band kids, kids who play sports, kids who are academically inclined, kids who sing in our choir - just really all kinds of interests who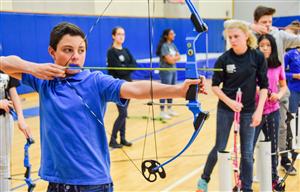 bring their own asset to the team."

ACMS eighth grade student William Walters took Outdoor Education in seventh grade and picked up the sport very quickly.

"I learned how to shoot pretty well and really fell in love with it," William said. "It's tricky at first because you're just starting out; but once you get the techniques down you can figure out your own style and rhythm and determine what works best for you."

The ACMS middle school archery team will compete in the state tournament at the Bell County Exposition Center in Belton, Texas on Friday, April 1.