Return to Headlines
Feb. 26, 2016
Lewisville ISD (LISD) has many behind-the-scenes employees who aren't always seen in the public, but are constantly making a huge impact on the lives of students and their daily learning experiences.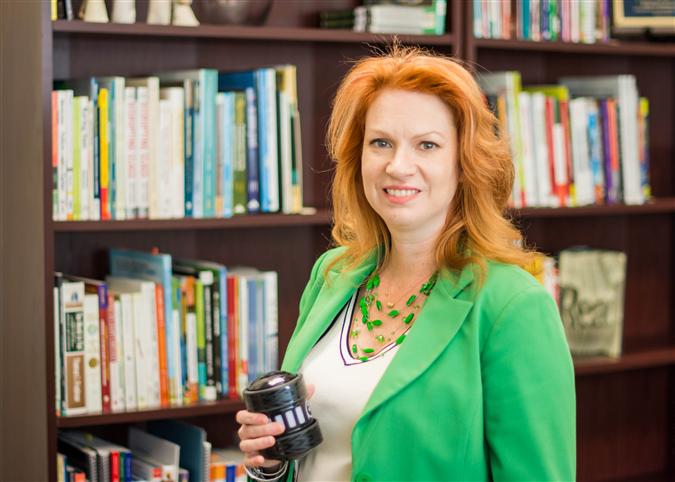 One of those employees is Library Media Services Supervisor Robin Stout, who mentors, supports and oversees all campus librarians.
While the traditional view of libraries may be just a place to check out books, LISD campus librarians fill their space with innovative educational opportunities, making the library another classroom to think critically, be creative and learn.
"Our librarians are teachers," Stout said. "Even with our involvement in the state and national organizations, we are educators first and we happen to work in a library."
This year, LISD's Library Media Services and Emerging Technologies department began the Mobile Makerspace, which allows campuses district-wide to checkout technical learning tools, like Bee-Bots and MaKey MaKey labs to enhance lessons and support STEAM (Science, Technology, Engineering, Arts and Mathematics) skills.
Beyond the addition of the Mobile Makerspace, another point of pride this year for Stout is seeing every fourth-grade student receive digital citizenship instruction. During these ongoing lessons, students learn to navigate the web while exhibiting appropriate online behavior.
Currently Stout, Jody Rentfro, LISD's Emerging Technologies Specialist, and Leah Mann, LISD's Library Media Services Specialist are collaborating and preparing to implement digital citizenship instruction at all middle school campuses next year. The main idea is to keep up with the needs of students in an ever-changing technological world.
"I try and be a future forecaster," Stout said. "I look to see what's coming out, what the trends are and how we need to adapt in order to stay current. We want to continue to improve our student's education."
While Stout continues supporting librarians throughout the district, another employee is maintaining the backbone that brings innovative and digital resources to students – LISD's network and Internet access.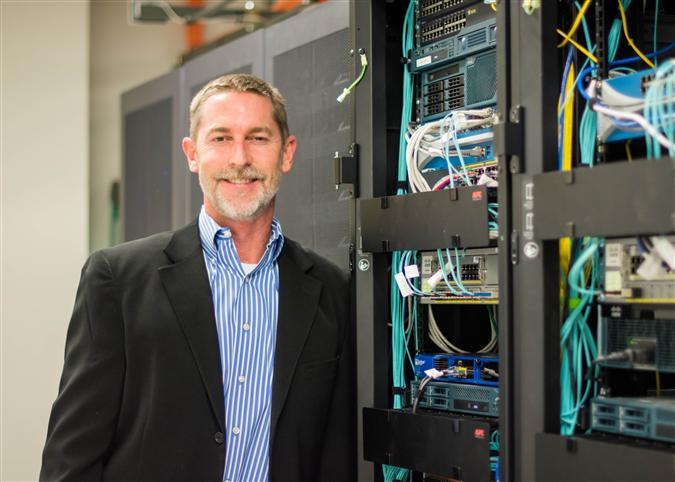 Patrick Johnson, LISD's Interim Director of Network and Technical Services, keeps the network operating for the 127-square miles, 69 campuses and 15 additional facilities that make up the district.
"We support all communications, data and telecom for the largest data network in Denton County," Johnson said. "Really, my job is to make technology as transparent as possible so teachers don't have to think about it. Their focus can stay on engaging the kids and instruction."
Johnson and his team manage more than 100,000 endpoint devices, which include iOS, MacOS, Windows and ChromeOS. Much of their daily functions are to ensure technology is running for all employees and ensuring students are using technology safely and efficiently.
"I believe in education and I believe that my job has an impact on hundreds of thousands of people over time," Johnson said. "The kids don't know who I am and the parents don't know who I am, but I really have a dramatic impact on how learning happens in the classrooms because of technology."
Each year, the Texas Computer Education Association (TCEA) recognizes educators who help integrate technology in schools through the TCEA Educator Awards. This year, Stout was named a top finalist in the category of District or Campus Administrator of the Year.
"To be included in this with a couple of campus principals was really an honor," Stout said. "If I'm able to help our librarians, I like being on the campuses working with them. I would much rather put my librarians out there and show all the awesome things they're doing and just quietly help them in the background."
As for Johnson, he was named a finalist and won Technology Administrator of the Year for exhibiting vision and management of district technology.
"I'm proud to represent Lewisville ISD at the state level and I feel that it just shows the caliber of this district," Johnson said. "I couldn't do my job without my team and the dozens of people and their many long hours that make this all happen."
Achievements like those made at TCEA are a direct reflection of the dedication and hard work that LISD employees display whether they are in the spotlight or behind the scenes.
"Looking at the attributes of these particular honors show that we have someone very capable of managing a high level of infrastructure and positioning the district to be successful," Bryon Kolbeck, LISD's Executive Director of Network and Technology Services, said. "Awards like these show that we are leaders in educational technology and that we have people in roles that are both confident and capable."