Return to Headlines
Feb. 23, 2016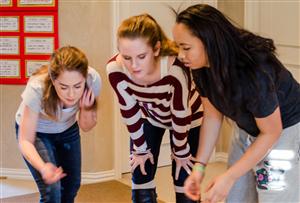 ImagiNation Runs Wild
LISD's Destination ImagiNation program boosts creative, problem-solving, team building and life skills through a diverse 21st century approach.
For the past 16 years, Lewisville ISD (LISD) has seen its Destination ImagiNation (DI) program expand beyond fathomable limits.

"Students who participate in DI are afforded the opportunity to combine what they learn in school, with their own interests and research to create innovative solutions to complex problems," LISD DI Coordinator Robin Napier said. "Not only do they solve problems, they define them."
DI is a creative extracurricular, problem-solving program sponsored by LISD for kindergarten through 12th-grade students interested in science, technology, engineering, art, math (STEAM), as well as community service. Students have the opportunity to participate on small teams with a parent volunteer as the leader, working to solve mind-bending problems, as they put their knowledge and creativity to work. In the end, groups spend two to three months on a project, called a DI challenge, which involves research, designing, building, acting, script writing, poetry, songs and/or crafting costumes and props.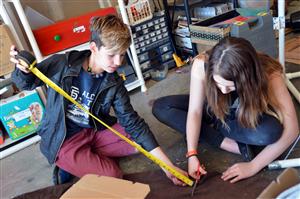 "It is a fun activity that builds teamwork, creativity and planning skills that reinforce LISD's curriculum through project-based learning," Napier said.
Since 2004, LISD has seen state champion teams move on to Global Finals -- the highest competitive arena for the program. Overall, the district has had four teams take second place at Global Finals, as well as one third place. Teams at Global Finals typically compete against 60 to 70 other teams.
For the Marcus High School (MHS) improv challenge team, most of the members joined forces beginning their third-grade year. Since then, the team has has qualified for state eight times and Global Finals six times.


"I was once really shy, but DI helps open you up, because you are in front of a huge room full of people presenting," MHS improv challenge and junior Katie Kelton said. "It's taught me a lot of the skills of having presence in the room. We also get points for teamwork and that's where I've notice us having success over the years because we genuinely have fun with one another and love one another and you can see that while we are acting up there."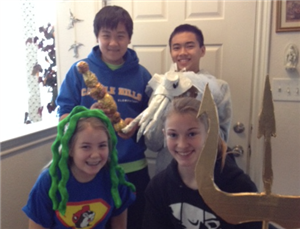 Teammate and MHS junior Madison Cook added: "I've always been incredibly shy and to a certain extent I still am, but DI has given me skills to feel more confident in my own opinions, thoughts and ideas," Cook said. "It helps me come up with fast solutions to a problem in ways that others may not have thought. I am a swim coach and I have little kids who don't want to swim and instead of it being a swimming lesson, I change it to have the kids go and search for treasure buried on an island and it helps me pull things to get these kids to do things they wouldn't want to do and that helps a lot."
The fast-paced realm of DI competitions has taught the team to respond logically and instantaneously.
"They are really thinking on their feet and our meetings are for us to come up with new things to put in the framework," MHS improv team manager Teri Guthrie said. "I think they learn to take it and work on it and make it happen. We've had so much success because we are just one big family."
Some teams have extended beyond their years to now become mother-daughter team managers.
"My daughter wanted to be a team manager after she participated from 2nd-12th grade," Killian Middle School team manager of The Nerdz team Terri Kinsella said. "However, this is her freshman year at college and she's taken on the challenge to lead a DI team. I thought I was going to stop when she graduated, but now we have a great new team."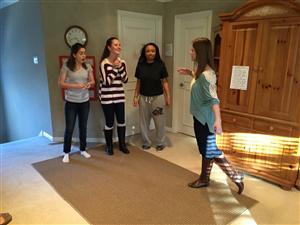 Some newly formed teams are making some promising strides in the DI competitive ring.


They might not be a Destination ImagiNation (DI) veteran team, but the future – as well as the present – is looking bright for the first-year Hedrick Middle School associated team the Rainbow Socks.
"I am excited about how energetic this team is," team manager Sorrel McCarthy said. "They are also very creative. It is wonderful to see how much their confidence has gone forward since we formed. They continue to come up with many amazing things."
Some team members, such as the Bryn McCarthy, have been on previous DI teams. She said this group has clicked and is here to stay.
"The bonds we have formed between us are special," McCarthy said. "I can go to anyone on the team if I have a question. We are learning great life skills together as friends. It is a lot of fun."
Hartsfield, a newcomer, could not agree more.
"We have really gotten to know each other and are all good friends now," Hartsfield said. "The teamwork is fantastic. We all understand each other. We cannot wait to get together, start working on projects and come up with new ideas."
Coach McCarthy is no stranger to DI teams. She led a squad for 10 years that included her oldest daughter, Elise, who is a Flower Mound High School graduate and current student at Austin College. That team, called the "Roy G. Bivletts," won numerous awards along the way and capped their run in 2013 with an 11th-place finish at the prestigious DI Global Finals. McCarthy can see the Rainbow Socks being just as successful one day.
"It takes a lot of time, perseverance and hard work to get to globals, but I think this team is definitely one that could take it to that level," McCarthy said.
According to Napier, LISD's DI program has reached levels beyond her imagination.
"When I started with this program as a supportive parent to a third-grade team in 1999, I viewed it as just a fun after-school program for my daughter to learn how to work well with others," Napier said. "Now, I see how it prepared her and the rest of team the ability to adapt to a fast-changing professional environment where creativity, flexibility and the ability to work with others are three of the most important qualifications to assure success in today's job market."
Throughout the school year, teams have been meeting if not once, but possibly twice a week, to go over their ideas and rehearse for the upcoming regional DI Regional Tournament, which is set for Saturday, Feb. 27 at Marcus High School (5707 Morriss Road, Flower Mound).

"These teams have worked very hard on their challenge solutions and would love to have the community's support," Napier said. "I hope all will consider attending for at least part of the day to watch a few teams and see what it's all about."
See photos of DI teams practicing and in action here.
---
UPDATE: Feb. 27 at the Marcus High School DI Regional Tournament, 15 teams from LISD placed to move on to the state tournament. See all the results
here
and check out new photos from the event
here
.
See a comprehensive list of all the LISD DI teams who are advancing to state
here
.