Return to Headlines
Old Settlers Elementary Giving Tree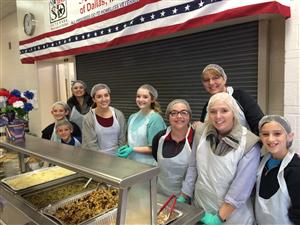 Jan. 27, 2016
Shel Silverstein said, "Once there was a tree…"
And there certainly is a tree at Old Settlers Elementary. It's actually a Giving Tree club for 3rd- through 5th-grade students to participate in organized community service projects throughout the school year.
"Our hope is for students to realize the impact they can make in their community by simple acts of kindness, doing for others and giving of their time," teacher and club sponsor Cassie Weaver said. "We want them to realize it doesn't have to involve a monetary donation, but that you can give of yourself and have a huge impact on others."
The club kicked off two years ago after Girl Scout Troop 4778 held a month-long contest for the campus to get involved in giving back to the community. The troop even held an assembly where various organizations spoke about their needs and encouraged students to help by giving their time. One of the expected outcomes from the contest was to ensure OSE didn't stop and continued its giving efforts. The following year the OSE Giving Tree Club came to life.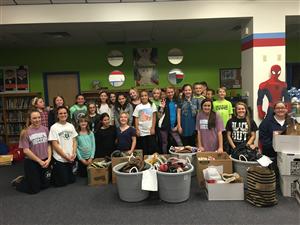 "I volunteered to head the club and decided that instead of a month-long event I would use the club as an opportunity to help our students understand the importance of giving back to their community on a regular basis, not just holidays or special occasions, but whenever the need may arise," Weaver said.


The Giving Tree meets monthly to participate in service projects and/or give back in some way. In the last two years, the club has grown from about 15 to 34 students and two lead teacher/sponsors, Mary Jo Brigance and Patricia Smith.

For some students, participating in the club is a family tradition.
"My sister was in the Girl Scout troop that started the giving tree," 5th-grader Lily Peck said. "I feel like I have a little bit of Giving Tree in me and I need to make it go on. It's fun being in the club, because everyone there wants the same thing that you do -- to help other people."

During the club's first year, they partnered with Keep Flower Mound Beautiful (KFMB) to adopt the area outside of the campus to keep clean. The group also attended the KFMB Spring Trash Bash in 2015. They worked with the Lewisville ISD (LISD) Angel Tree and adopted "angels" for Christmas. Students went shopping for their angel gifts with club sponsors and school volunteers. The group used it as an opportunity to shop, calculate costs and bond as a group. The next day they spent an afternoon wrapping gifts to deliver.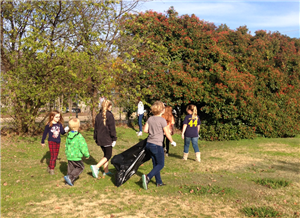 Students love the opportunity to be able to give back and believe it brings them closer together.
"I joined because I felt like my help was needed and I could make a difference," 5th-grader Jaydan Sena said. "When we are doing an activity such as donating shoes or making meals, the feeling of giving back to someone makes us want to do more together and support each other while we are helping other people."

In addition, the group also held a backpack drive and partnered with a local church to go out into Fort Worth, Texas to hand out backpacks to the homeless and serve lunch to the hungry.
Service projects outside of the classroom are inspiring more inside of the classroom. Traditionally around the winter holiday season, some classes make snowmen crafts out of socks and rice. However, two classrooms shared with their parents the importance of how collecting the socks, protein bars and additional toiletry donations from fellow friends, would be the class activity versus a craft. All were on board and the two classrooms were able to donate more than 100 pairs of socks and toiletries to the homeless.

"We couldn't do it without our generous teachers who commit their afternoons and go with us to all of the places," Sena said. "They are very helpful and I feel very inspired by them."
This year students have multpilied their service projects by participating in the following events: KFMB; Feed the Hunger; blanket drive to deliver to the homeless; served meals for the Dallas Veteran's Resources; hosted a shoe drive in partnership with the Flower Mound High School softball team to donate to Shoebank.org -- an organization that sends shoes to children in El Salvador where they are not permitted to attend school if they do not have shoes -- the club collected a total of 271 pairs of shoes.

"When we did Feed the Hunger, it was so much fun and it felt so good to help tons of people who barely have anything," 5th-grader Madeline Corn said. "I had this warm, fuzzy feeling inside of me after doing it."


This spring the club plans to participate in a snack drive for a fellow LISD school and has an opportunity to work with Feed the Hunger again.
"I feel very fortunate for the opportunity to lead these students and model what being a productive member of our community looks like," Weaver said. "We are very excited about the growth and hope that more students will continue to join."

Time spent participating in the club is valuable to students.
"Some may say they could be doing other things with their time," Sena said. "Well, time helping with the Giving Tree club to help others, is time well spent for me."
"And the tree was happy."