Return to Headlines
Briarhill Middle School Completes the Circuit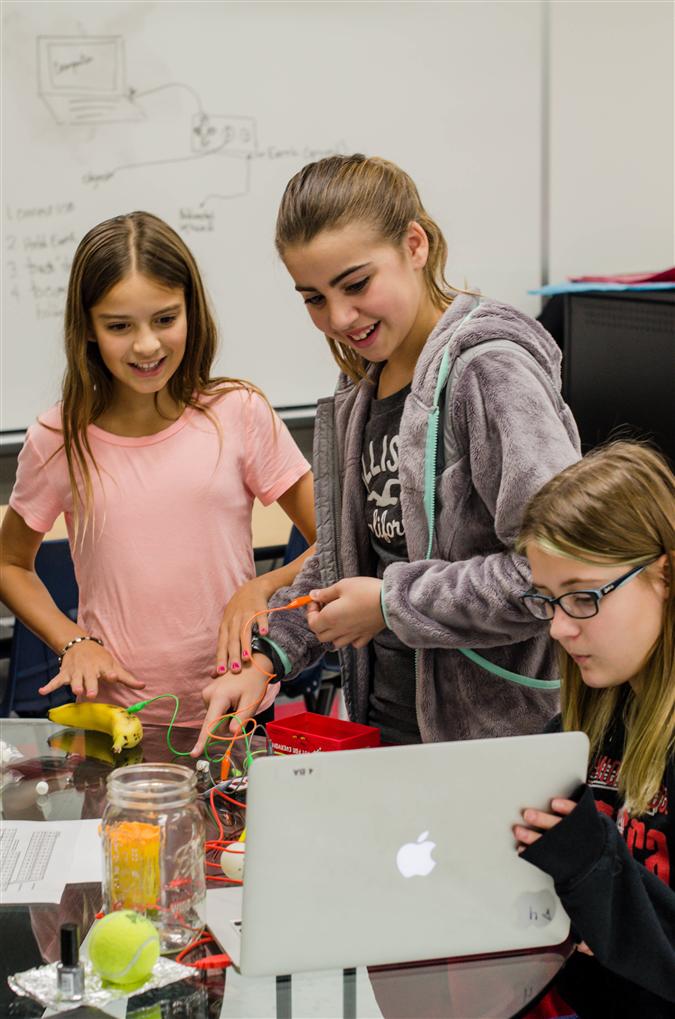 Currently, 6th-grade science classes at Briarhill Middle School (BMS) are learning about matter, metals and nonmetals -- one of the characteristics of metals is conductivity.

Therefore, 6th-graders in Shawna Baker's science classes are testing items like fruit and water to play fun games, drums or the piano via MaKey MaKey invention kits -- ultimately determining what conducts energy to complete a circuit.
"I was approached about the opportunity by our Library Media Specialist Trela Weesner and I thought this would be an amazing lab for my students to really experiment and explore," Baker said. "It's an inquiry-based way for them to learn what conductivity and insulators mean with a more hands-on, real-world application."

For the lab, students were able to bring in various items from home and create their own hypothesis of what would conduct energy. Items ranged anywhere from fruits, vegetables, toy cars to Play-Doh. Next, they split into groups and were instructed to use a laptop and visit makeymakey.com's "how to" section. From there and using their household items and MaKey MaKey kits, they were able to experiment and play various games and instruments by connecting circuits.

"Their brains works so quickly and they figured it out in no time," Baker said. "I see them get excited and how engaging this is for them, and it makes it fun."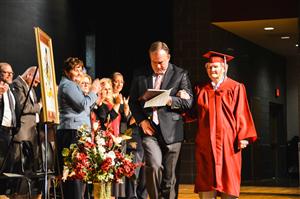 For example, one group member would touch an apple connected to the MaKey MaKey board and with their other hand, hold a cord that connects to the MaKey Makey board, which is connected to the computer. Then came the fun for students to play and experiment with the different MaKey MaKey games, because the computer thinks the MaKey MaKey is a regular keyboard/mouse and works with the online game options.

Students really enjoyed the lab.
"We get our own personal experiment and we have our own creativity that makes the game do what we want to do with it," 6th-grader Gage Smith said. "It's been fun testing with the experimental items we brought from home. I'm personally going to go back to my technology class and learn how the connections actually work with the computers and insulators."
Some were surprised by what actually conducted electricity.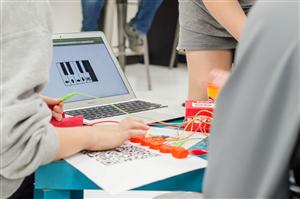 "I didn't realize marshmallows would be conductors and we were surprised by the clementine, as well," student Anna Robinson said. "This was a lot of fun."
MaKey MaKey is an MIT Media Lab invention kit for the 21st century. MaKey's turn everyday objects into touchpads and combine them with the Internet for students to experiment with art, engineering, science and more. MaKey's is just one of the many awesome learning tools Lewisville ISD (LISD)'s Library and Emerging Technologies Department's Mobile Makerspace uses.
"We have the best jobs," LISD Library Media Specialist Leah Mann said. "We get to meet and work with teachers and librarians all over the district to enhance learning and it's so fun to see the students way of thinking. We are looking for emerging trends and really helping our students be future ready. It's so more encompassing than just innovative. We hope experiments like these plant seeds that will ignite a passion our students can take with them later in life and into the workforce."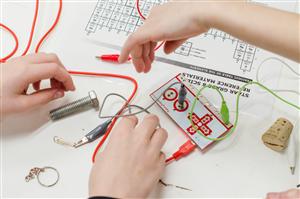 Up next, students are set to research and see what elements make up the items they tested. Then, they will build a puzzle based off the periodic table. Once they are all done, they will see how all the metals are on the left and nonmetals are on the right side of the periodic table.

See more photos from the MaKey MaKey lab here.