Return to Headlines
Griffin Middle School's LEGO Team Prepares for Regional Championship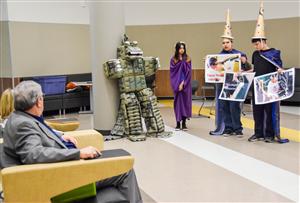 Jan. 22, 2016
The world's children spend five billion hours a year playing with LEGO bricks, but the students at Griffin Middle School (GMS) are taking this favorite past-time to a whole new level.
"The team started three years ago as an after-school program," said Ellen Wandtke, Coach of the GMS LEGO Team. "The Career Center presented to us different options for teams, but after doing research and finding out how many scholarship opportunities are available for students if they continue the LEGO team throughout high school, I knew that this was the best option for our kids here."
With all of that said, being on a LEGO team doesn't mean you get to play with LEGO bricks all day.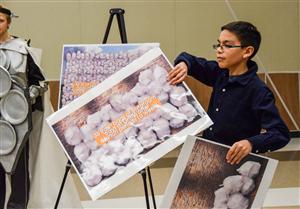 The LEGO team at GMS competes in an annual competition called First LEGO League, a challenge in which teams research a real-world problem such as food safety, recycling, energy, etc., and are challenged to develop a solution. They also must design, build and program a robot using LEGO Mindstorms technology, then compete on a tabletop playing field.
'This year the challenge is a recycle theme," Wandtke said. "So we started in the cafeteria. We looked at food waste, milk cartons, drink waste, and Styrofoam trash."
Eventually, the students decided to focus on the hundreds of Styrofoam trays that end up in trashcans among all Lewisville ISD (LISD) schools every day. They started by researching how many trays are thrown away during one lunch period at one campus. They then expanded that figure to determine how many trays were being discarded per school, and eventually district wide.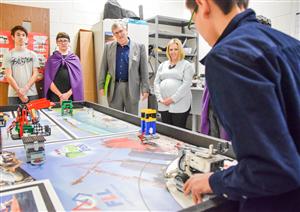 "It's important to us to make a difference with these food trays," said Justin Walker, 8th grade student at GMS. "We already contribute so much trash to the landfills and eventually that breaks down, polluting our air."
After completing months of environmental research, the students then had the opportunity to present their findings to LISD Superintendent of Schools Dr. Kevin Rogers. They presented four different alternatives to Styrofoam trays, but in the end the team favored the compostable and recyclable trays that are common in other large school districts such as Dallas ISD.
"As Dr. Rogers said, it's our world, so we need to preserve it," said Serena Shah, 8th grade student at GMS. "We think this is a really impactful way for our school district to make a difference in the world."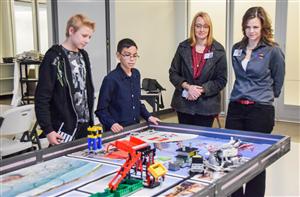 Ultimately, the alternative to Styrofoam trays comes down to cost. The team is researching companies that manufacture the compostable trays and working with the LISD food services department to weigh out options. With a presentation to the LISD Board of Trustees under their belt, the team looks forward to doing everything they can to make sure that LISD is taking care of the environment.
While the project focuses on a topic that the students take very seriously, they're not lost on the fact that there is some fun to be had when the team gets together. When asked what their favorite part of being on the team has been so far, they unanimously and enthusiastically said, "looking at Ethan in his costume!"
The GMS LEGO team will present their recycling movement as well as their LEGO Mindstorms arena and robot at the First LEGO League Regional Championship on Feb. 6 in Dallas, TX.
To see photos of their presentations, click
here
.