Return to Headlines
LISD Nov. 14 Board Meeting Recap
The Lewisville Independent School District Board of Trustees met for their regularly scheduled Board Meeting on Tuesday, November 14th.
BOND ELECTION INFORMATION
The Board canvassed votes from the November 7, 2023 special election. Details
CONSIDER ITEMS DISCUSSED IN CLOSED SESSION
The Board discussed Personnel Recommendations.
The Board consulted with the Board Attorney.
The Board discussed Purchase, Exchange and/or Sale or Value of Real Property.
The Board deliberated regarding security devices, security audits or implementation of security personnel.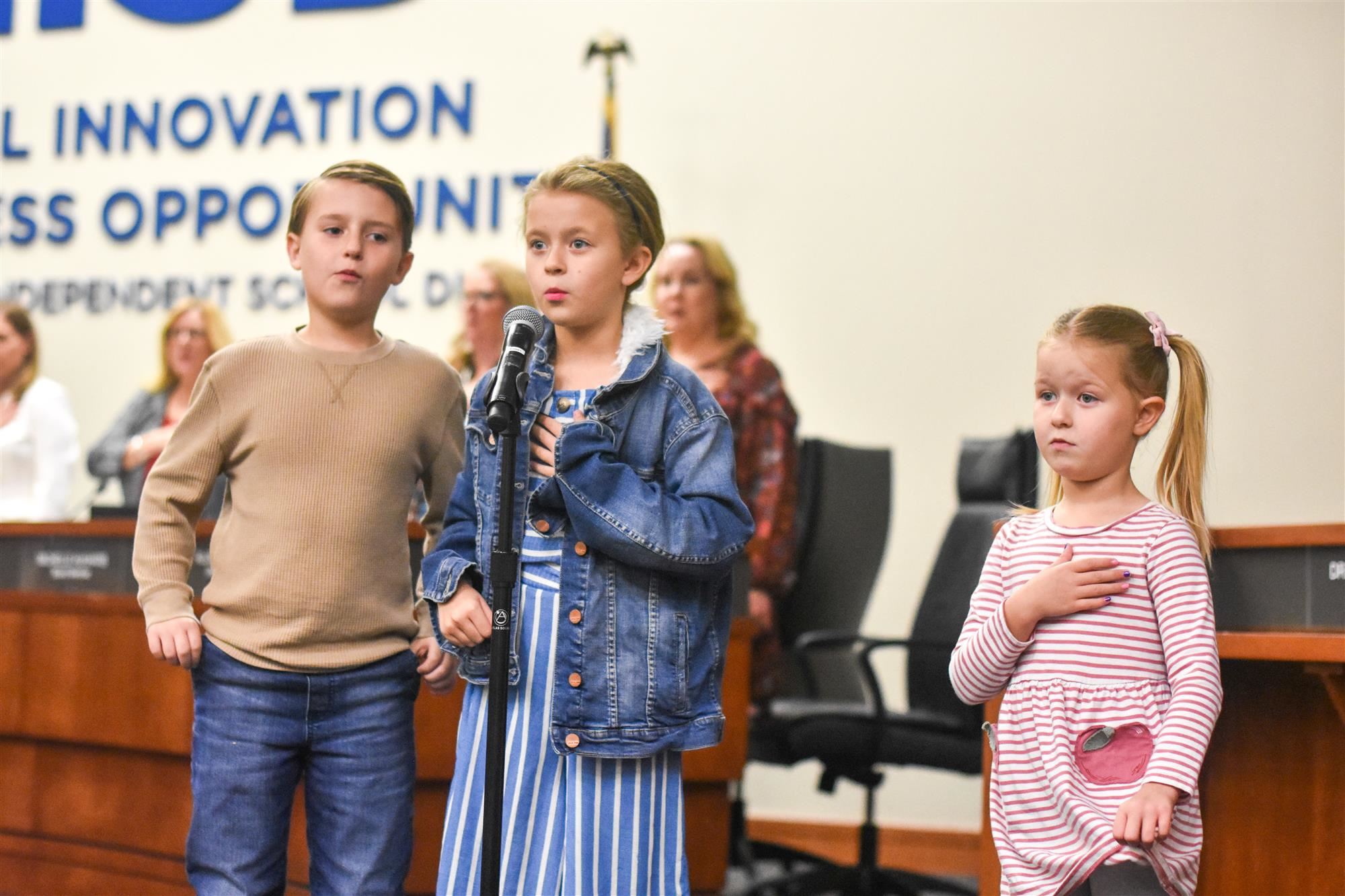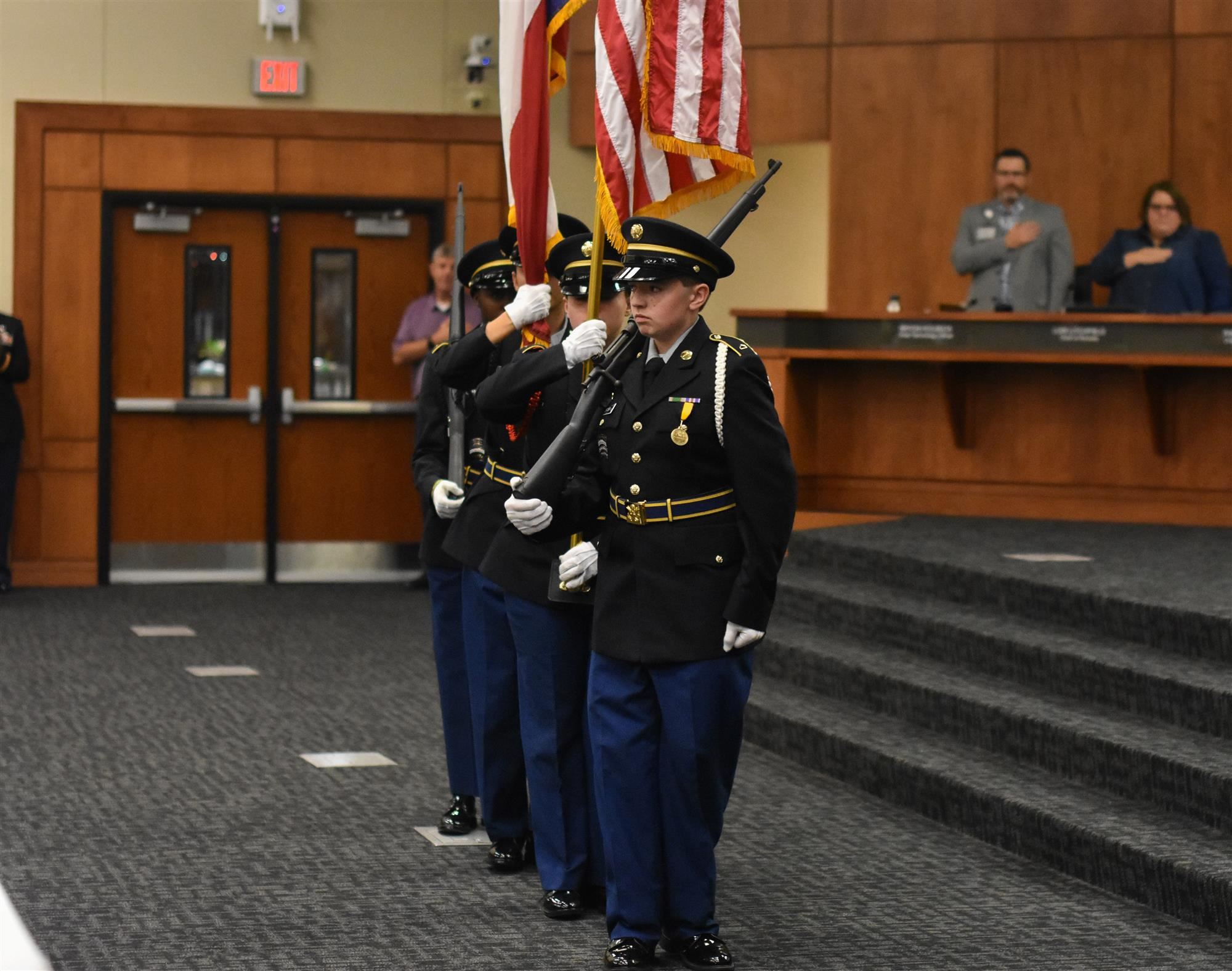 PLEDGE OF ALLEGIANCE
Students from Camey Elementary led the Pledge of Allegiance. The JROTC from The Colony High School presented the flags.
RECOGNITIONS
Student councils from Donald, Forest Vista, Garden Ridge, Hicks, Liberty, Peters Colony were recognized for receiving the Texas Elementary Principals and Supervisors Association's Student Leadership Award. Donald and Garden Ridge both received the American Student Council Association School of Excellence Award.
The Marcus High School Boys Water Polo team was recognized for their win in the 6A Water Polo Tournament.
Flower Mound High School junior Page Matthews was recognized for achieving a perfect score on the AP World History Exam. Page was one of only six students in the world to do so!
See photos HERE.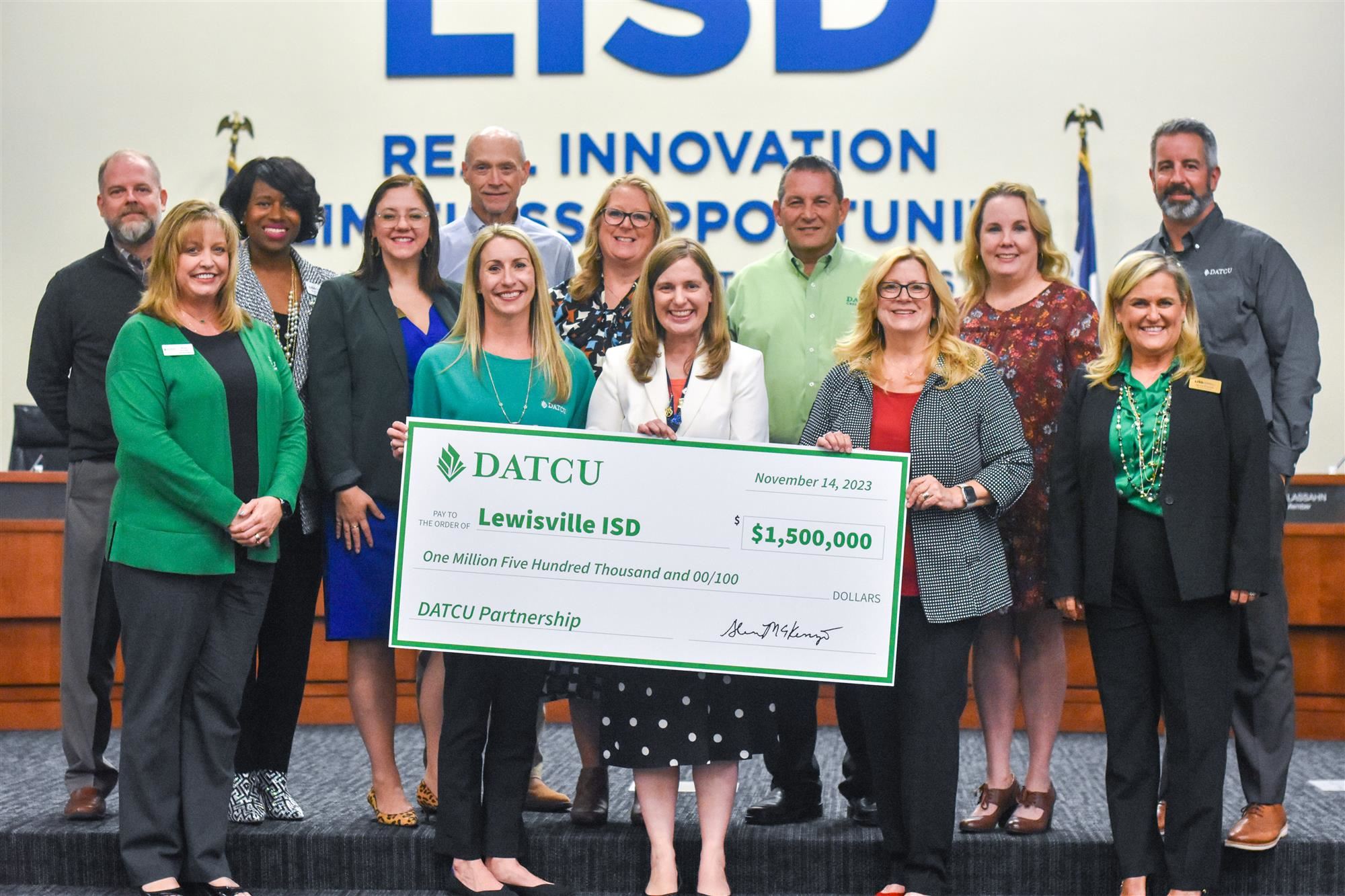 DATCU SPONSORSHIP AGREEMENT
DATCU presented the Board with a $1.5 million donation. Details
SUPERINTENDENT UPDATE
As a part of her update Superintendent Dr. Lori Rapp discussed Veterans Day celebrations around the district, highlights from recent student advisory groups and connection groups, results from recent communication surveys and more.
PUBLIC COMMENT
Two community members shared their gratitude for LISD.
PUBLIC HEARING ON THE FINANCIAL INTEGRITY RATING SYSTEM OF TEXAS (FIRST) REPORT
The Board heard the Financial Integrity Rating System of Texas (FIRST) Report. Details
CONSENT ITEMS
The Board approved the Consent Agenda. See the agenda HERE.
INFORMATION ITEMS
Chief Executive Director Accountability & Evaluation Dr. Sarah Fitzhugh and Chief Learning & Teaching Officer Adrienne Gall presented a Student Learning Update. Details
Chief Technology Officer Bryon Kolbeck presented the Monthly Technology Report. Details
DISCUSSION ITEMS
Chief Financial Officer Paige Meloni presented Monthly Financial Reports including the Bond Report, Land Sale Report and the Monthly Investment Summary. Details
Chief of Staff Dr. Shawna Miller presented the 2024-25 Academic Calendar options. Details
Chief Executive Director Accountability & Evaluation Dr. Sarah Fitzhugh presented an Accountability Update. Details
Chief Schools Officer Lori Litchfield provided an update on Targeted Improvement Plans. Details
Superintendent Dr. Lori Rapp presented a Legislative Update. Details
Director of Safety & Security Matt Garrett presented Districtwide Intruder Detection Audit Report Findings. Details
ACTION ITEMS
The Board approved the Agreement for the Purchase of Attendance Credit in Accordance with Chapter 49 of the Texas Education Code. Details
The Board adopted a Resolution Casting the Votes of the Lewisville Independent School District for Candidates to the Board of Directors of Denton Central Appraisal District. Details
The Board adopted a Resolution Casting the Votes of the Lewisville Independent School District for Candidates to the Board of Directors of Tarrant Appraisal District. Details