Return to Headlines
LISD Feb. 13 Board Meeting Recap
CONSIDER ITEMS DISCUSSED IN CLOSED SESSION
The Board discussed Personnel Recommendations.

The Board consulted with the Board Attorney.

The Board discussed Purchase, Exchange and/or Sale or Value of Real Property.

The Board deliberated on security devices, security audits or implementation of security personnel.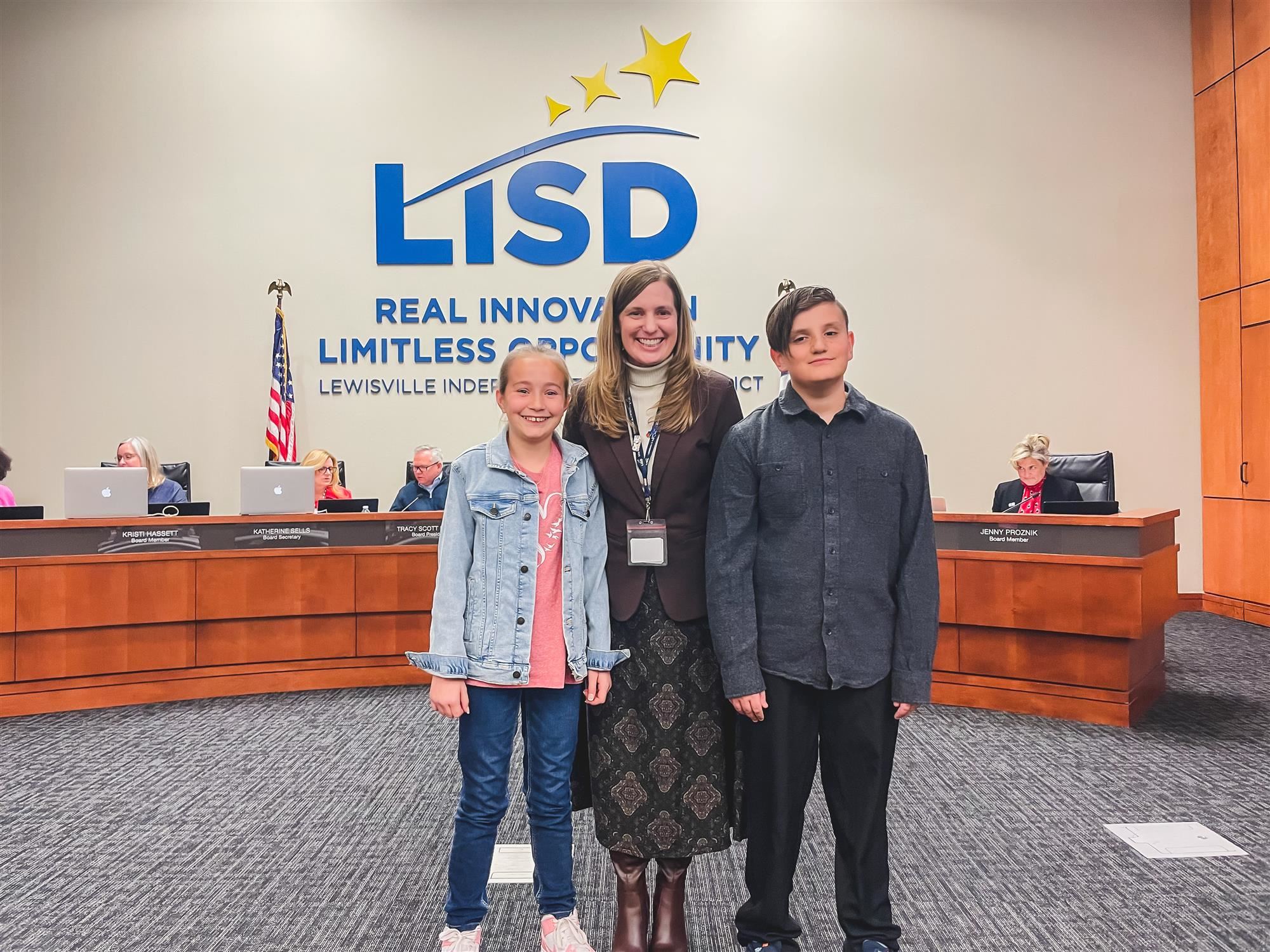 PLEDGE OF ALLEGIANCE
Students from Old Settlers Elementary led the Pledge of Allegiance.
CONSIDER ACTION OF ITEMS DISCUSSED IN CLOSED SESSION
The Board approved the resolution and contract to sell the Stewarts Creek Elementary campus site and the adjacent 10.2 acres to the City of The Colony. Details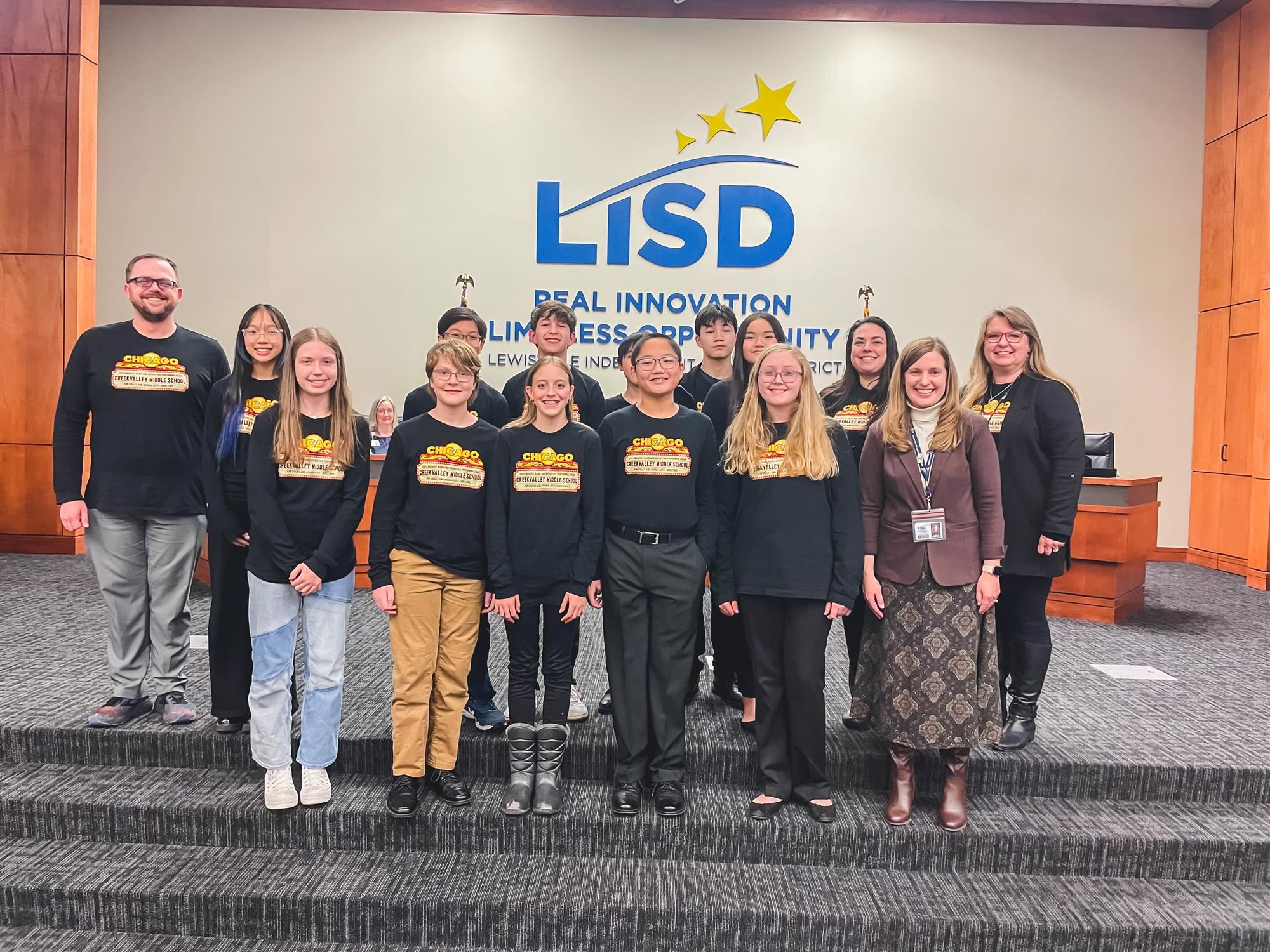 RECOGNITIONS
Creek Valley Middle School's Honor Winds program was recognized for their performance in the Midwest Band and Orchestra Clinic this December in Chicago. CVMS was one of only three middle school bands invited to perform.
Superintendent Dr. Lori Rapp was recognized for completing her first year as Superintendent of Lewisville ISD.
SUPERINTENDENT UPDATE
As a part of her update, Superintendent Dr. Lori Rapp discussed the Martin Luther King Day event at LHS, an inside look at the work across ES/MS/HS advisory groups, a reminder of the STOPit reporting app pp and a thank you to voters for supporting the 2017 bond.
PUBLIC COMMENT: LEWISVILLE ISD STAKEHOLDERS
An individual stated her intent to run for a position on the school board.
PUBLIC HEARING ON TEXAS ACADEMIC PERFORMANCE REPORT (TAPR) FOR 2021-22
Chief Executive Director Accountability & Evaluation Dr. Sarah Fitzhugh, Chief Human Resource Officer Shelia Smith and Chief Financial Officer Paige Meloni conducted a public hearing regarding this year's TAPR data. Details
CONSENT ITEMS
The Board approved the Consent Agenda. See the agenda HERE.
INFORMATION ITEMS
Chief of Staff Dr. Shawna Miller provided a District Improvement Plan update. Details
Koby Stringer and Tammy Williams presented a Gifted & Talented program update. Details
Chief Technology Officer Bryon Kolbeck presented the Monthly Technology Update. Details
DISCUSSION ITEMS
Chief Financial Officer Paige Meloni presented the Monthly Financial Reports including the Bond Reports and the Monthly Investment Summaries. Details
Superintendent Dr. Lori Rapp and Chief Financial Officer Paige Meloni provided an update on the 88th Legislative Session. Details
Chief Executive Director of Employee Services Shelia Smith presented a Compensation Update based on the recent staff survey. Details
Chief Student Services Officer Jeffrey Kajs and Executive Director of Student Services Rebecca Clark presented an Attendance Software Update. Details
Director of Safety & Security Matt Garrett presented the Districtwide Intruder Detection Audit Report Findings. Details
ACTION ITEMS
The Board approved calling for the 2023 Board of Trustees General Election for Places 6 and 7. Details
CLOSED SESSION
The Board deliberated on the Level III Student Discipline Appeal.
The Board consulted with the Board Attorney.
RECONVENE INTO OPEN SESSION
The Board took no action on the Level III Student Discipline Appeal, advised action from the Superintendent.