Return to Headlines
CONSIDER ITEMS DISCUSSED IN CLOSED SESSION
The Board discussed personnel appointments .
The Board consulted with the Board Attorney.
The Board discussed purchase, exchange and/or sale or value of real property.
The Board consulted with legal counsel regarding student safety, student services, staffing levels and other subject matters.
PERSONNEL APPOINTMENTS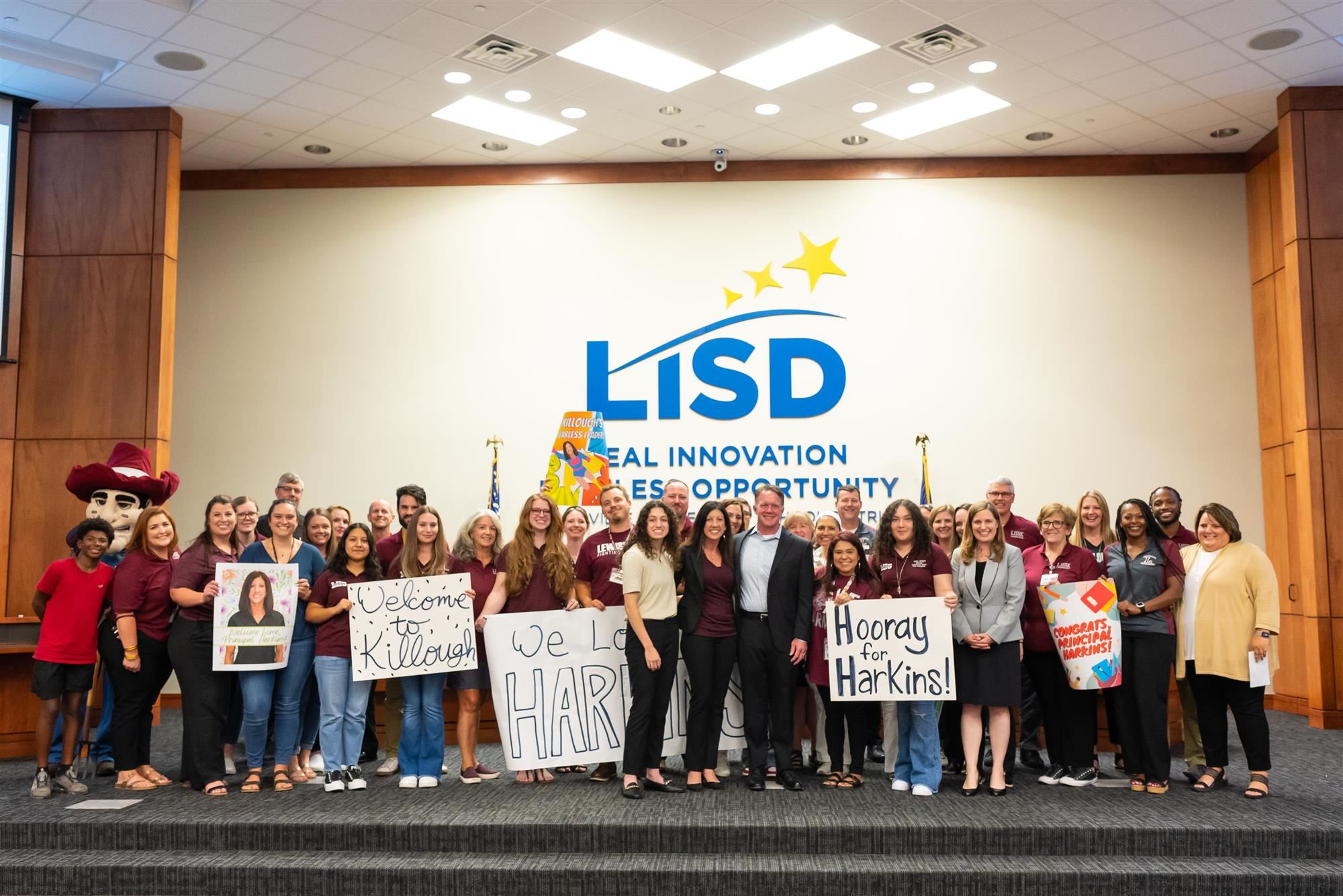 The following individuals were recognized for their appointments in June of 2022.
RECOGNITIONS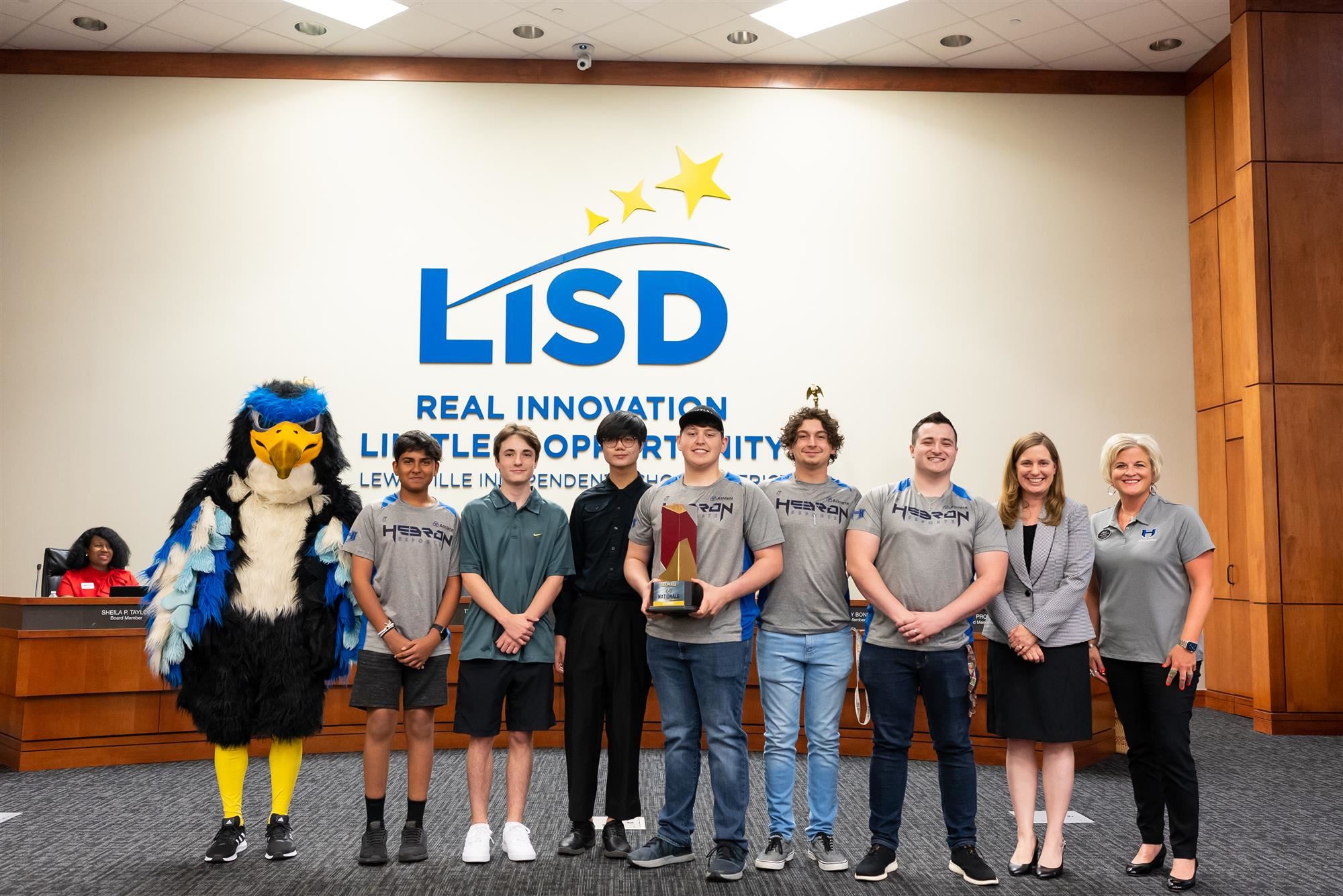 Hebron's Esports team was recognized for winning the first-ever H-S-E-L National Championship.
The following individuals were introduced as the new head directors and head coaches at our high schools:
The Colony High School
Head Tennis Coach | Jamie Edwards

Head Track/XC Coach | Christopher Lowry

Head Girls Basketball Coach | Chanice Smith

Head Orchestra Director | Matthew Lovelace
Flower Mound High School
Head Choir Director | Lindsay Swartwood
Hebron High School
Head Football Athletic Coordinator | John Towels

Head Track/XC Coach | Chance Edwards

Head Wrestling Coach | Jacob Green
Lewisville High School
Head Girls Soccer Coach | Richie Sanchez

Head Boys Wrestling Coach | David Rozanski

Head Theatre Director | Kaiden Maines
Marcus High School
Head Boys Basketball Coach | Matthew Wright

Head Girls Basketball Coach | Mallory Singleton-Lynn

Head Cheer Coach | Jenna Wilkins

Head Volleyball Coach | Lindsey Petzold
SUPERINTENDENT UPDATE
Dr. Lori Rapp discussed a few updates for the start of the 2022-23 school year including safety and security practices, COVID-19 information and LISD's communication commitments.
HEAR REQUESTS TO ADDRESS THE BOARD
Cassie Whitely addressed the board regarding compensation of LISD Child Nutrition employees.
CONSENT ITEMS
​​The Board approved the consent agenda. See the agenda HEhttps://meetings.boardbook.org/Public/Agenda/1194?meeting=539166RE.
INFORMATION ITEMS
Chief Financial Officer Paige Meloni presented the Annual Report on LISD Membership-Related Fees with Purchasing Cooperative Contract (Details) and the Annual Review of Investment Policy CDA(LEGAL) and CDA(LOCAL) (Details)
Chief Technology Officer Bryon Kolbeck presented the Monthly Technology Report. Details
Chief Human Resource Officer Shelia Smith and Director of Compliance Dr. Courtney Hart presented the results of the Employee Engagement Survey. Details
Chief Human Resource Officer Shelia Smith presented updates to the 2022-23 LISD Employee Handbook. Details
DISCUSSION ITEMS
Chief Financial Officer Paige Meloni presented the Monthly Financial Reports (for May and June) including the Bond Reports and the Monthly Investment Summaries. Details
Chief of Staff Dr. Shawna Miller presented the District Improvement Plant. Details
ACTION ITEMS
The Board proposed and unanimously passed a resolution regarding the lack of confidence in the Denton Central Appraisal District and disapproval of the DCAD 2023 budget. Details
The Board considered the selection of TASB delegate and alternate for the 2022 Delegate Assembly. Dr. Buddy Bonner was selected as delegate and Katherine Sells was selected as the alternate. Details