Return to Headlines
Dr. Lori Rapp Begins Tenure as LISD's New Superintendent
Read what the Board had to say.
Dr. Lori Rapp will officially begin her tenure as Lewisville ISD's new superintendent Wednesday, Feb. 16 after being appointed by the Board of Trustees on Jan. 25.
"I am honored to serve the students, staff and community of Lewisville ISD as the new superintendent," Rapp said. "LISD has been my home for the last 26 years - it has become family to me. I am truly humbled to have the opportunity to serve such an incredible district in this capacity."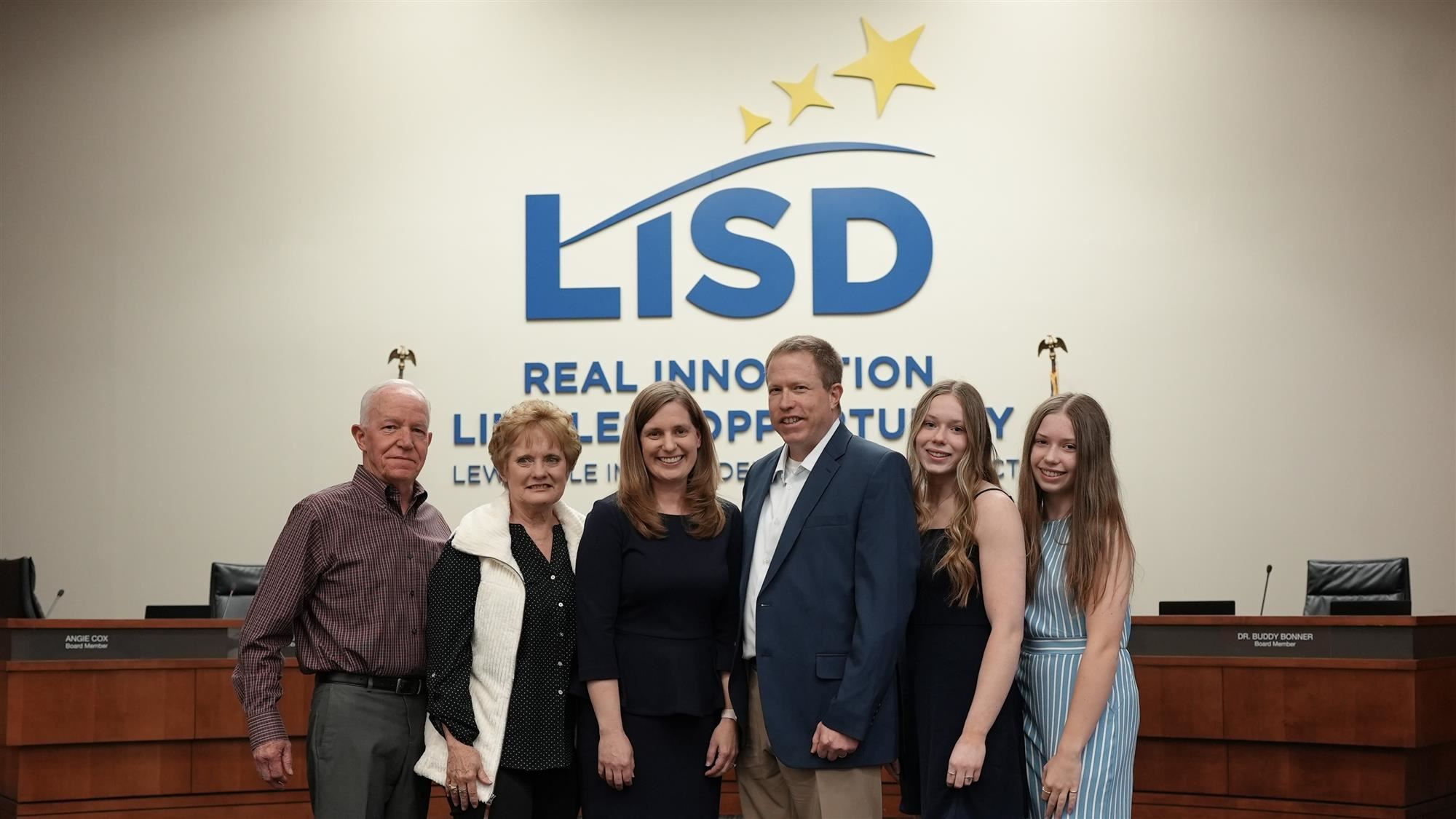 Dr. Rapp with her family

Rapp will begin her first day as the district's new leader greeting students at campuses, and traveling throughout the district to honor LISD's teacher of the year finalists. Rapp will continue to make her way across the district throughout her first few months as superintendent, visiting with campus leadership and staff, central administrators and community leaders.
The LISD Board of Trustees worked with a national search firm Walsh-Gallegos, and search consultants Mr. Gary Patterson and Dr. Karen Rue to identify Rapp as the best candidate to succeed recently-retired Dr. Kevin Rogers
"I want to express my sincere appreciation to the Board of Trustees for entrusting me to lead one of the best school districts in the state of Texas," Rapp said.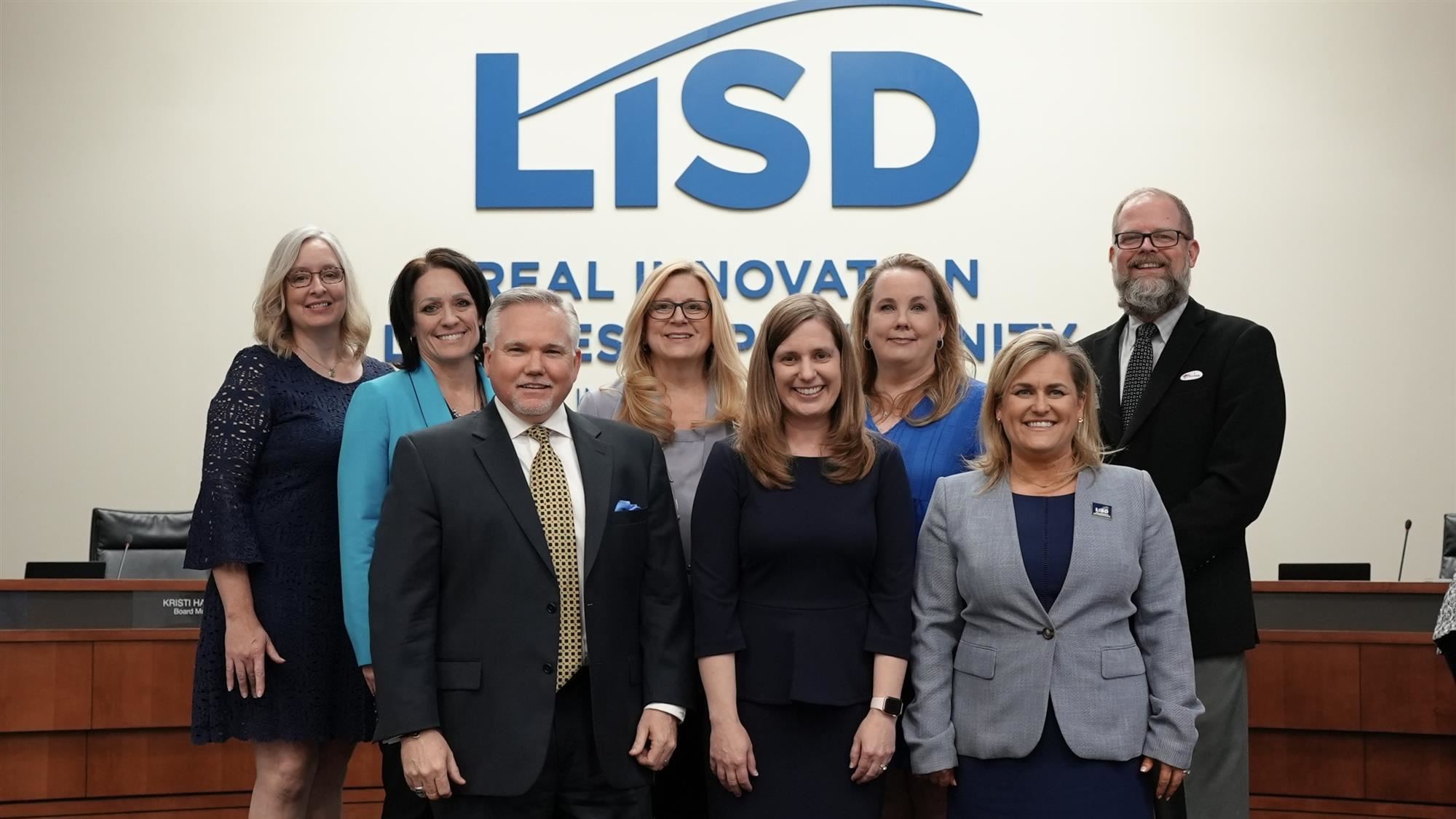 Dr. Rapp and the LISD Board of Trustees

Rapp served LISD as Deputy Superintendent since 2017 before her appointment as Superintendent. She began her career in education serving as a math teacher at The Colony High School for eight years. She progressed into an administrative role after serving as a Secondary Math Teacher on special assignment, providing professional learning and instructional support for secondary math teachers. In 2008, she was named LISD's Director of PreK-12 Curriculum, where she served for three years before being named Executive Director of Learning Design and Support. In 2015, Dr. Rapp was selected as the district's Chief Learning and Teaching Officer, overseeing the district's elementary and secondary curriculum and programs, digital learning, professional learning, special education, and assessment and accountability.
Rapp is widely recognized as a respected educational leader across the district and across the state, noted for not only her deep knowledge of curriculum and instruction, but for her ability to lead change in a collaborative way.
During her tenure in LISD administration, Rapp led a team that accomplished remarkable milestones. She had a pivotal role in developing unique learning pathways for students, including the establishment of LISD's Programs of Choice, which includes the LISD STEM Academy at the elementary and middle school levels, the Collegiate Academy at TCHS, robust world language programs, the tuition-based Discovery Academy, and more.
Rapp was integral in the work that created the LISD Four Cornerstones, the guiding principles of Lewisville ISD. She provided leadership and guidance throughout the 2017 Bond Campaign, the largest bond ever approved in LISD history, and has directed the focus of all LISD schools earning Common Sense Media Recognition, an achievement dedicated to helping kids safely thrive in a world of media and technology. She is experienced in partnering with community members, parents, and organizations throughout LISD to create innovative learning environments for all students.
The LISD Board of Trustees shared their excitement for Dr. Rapp to begin her tenure as LISD Superintendent:
"When we began the very difficult task of naming the district's next superintendent, the Board was committed to finding the absolute best person for the job. There were dozens of outstanding applicants, and each of those we met with in person displayed qualities that would have made any of them a good choice for the job. I'm very confident in the process the Board went through to make this decision, and every detail of the process mattered to us. Dr. Rapp showed us without question why she was the right person at the right time with the right vision for what comes next for LISD. She provided us with the comfort and confidence that she is an amazing leader and an amazing person, who will serve our district well over many years to come. I have no doubt LISD will continue to thrive under her leadership, and we are proud she is now a member of the Team of 8." - Tracy Scott Miller, President

"We are so thrilled to have Lori as superintendent. She is a dedicated, brilliant educator that is totally devoted to making LISD the best it can be. I am looking forward to working with her driving LISD into a future that each student and staff member will have a part of creating." - Allison Lassahn, Vice President

"I've had the pleasure of working alongside Dr. Rapp during my tenure on the Board. There is no question she is ideally suited to be this district's leader, and we are so excited for her to get started as Superintendent of Schools!" - Katherine Sells, Secretary

"I'm excited about the selection of Dr. Lori Rapp as Lewisville ISD's next Superintendent of Schools. Lori's long-term tenure, cultural awareness of LISD, and professional capacity will serve the District well. With Lori at the helm, Lewisville ISD will continue to shine as the premier pre-K to 12th grade public school district in Texas." - Dr. Buddy Bonner, Place 1

"I am excited about the hiring of Dr. Rapp as the LISD Superintendent. She knows the district inside and out, strengths and weaknesses and will hit the ground running." - Angie Cox, Place 3

"Dr. Rapp's intelligence, hard work, and dedication to students set her apart in a field of amazing servant leaders. Dr. Rapp is a strong organizational leader who leads with confidence and capability. I am confident she will continue improving and creating structures and processes that will add value to our teachers and students alike. She is ready to meet the challenges of today and lead us well into the future." - Kristi Hassett, Place 6

"I'm excited for the community to see in Dr. Rapp what the Board saw, a dedicated leader whose primary focus is students and their success. She will bring her vision to LISD and keep us a destination district." - Jenny Proznik, Place 5