Return to Headlines
LISD Announces Dr. Martin Luther King, Jr. Essay, Art, Photography Contest Winners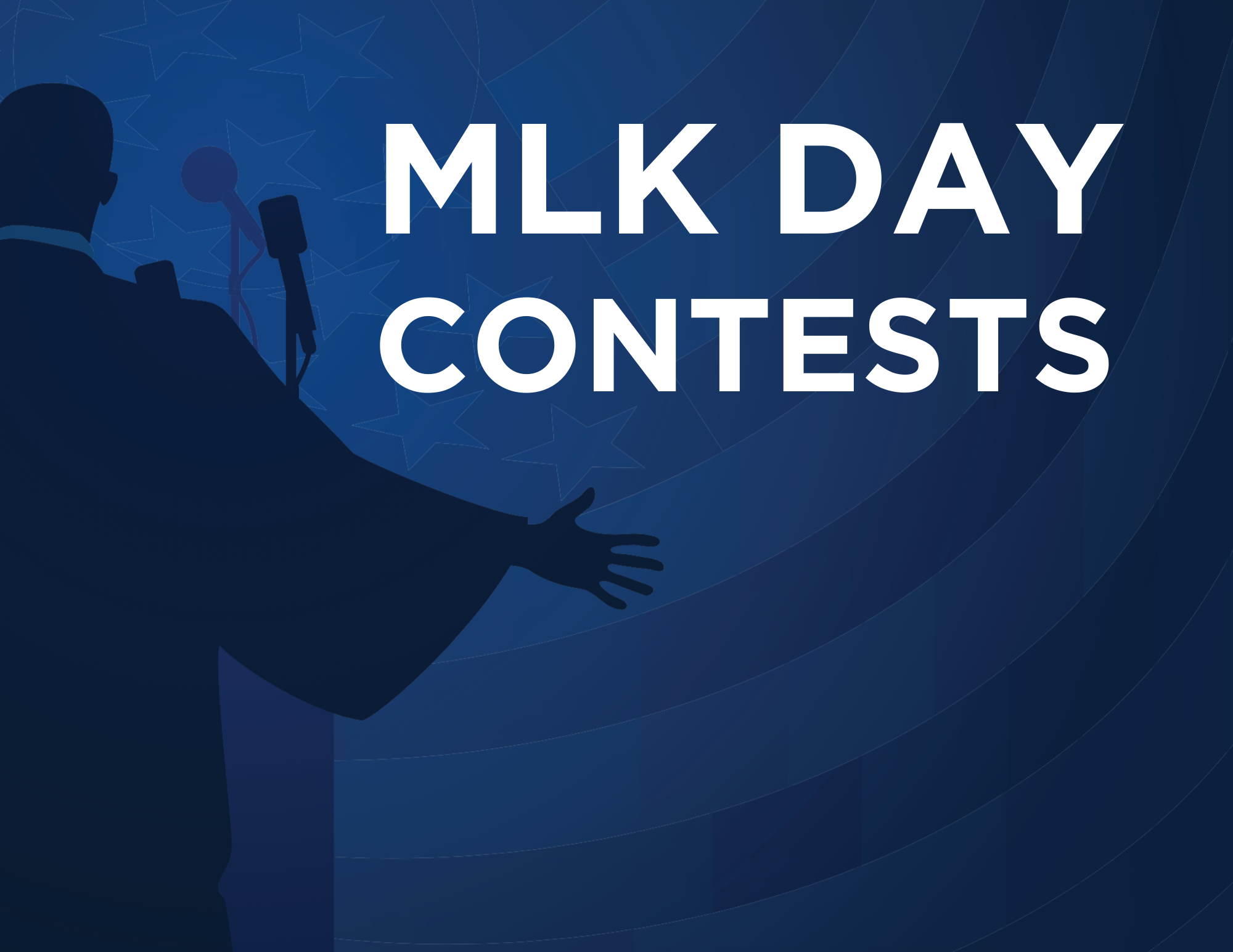 Congratulations to the Dr. Martin Luther King, Jr. Essay, Art and Photography Contest winners!
The winning Lewisville ISD students (listed below) will be recognized at the 27th annual Dr. Martin Luther King, Jr. Celebration on Monday, Jan. 20 at 6 p.m. at Marcus High School's Auditorium (5707 Morriss Road in Flower Mound). The theme for the event is "One Human Family: A Better Vision for 2020 and Beyond." The winning entries will be displayed in the foyer of the auditorium beginning at 5 p.m.
Entertainment will include more than 75 LISD students, including the Central Elementary Hispanic Club Dancers, Lewisville High School Choir and MHS Choir. Boy Scouts from the LHS feeder pattern will make the presentation of the colors. Lt. Col. (retired) Carlen Charleston of Erase Race and Strengthen Ethics (E.R.A.S.E) will be the keynote speaker.
Admission is free. LISD staff members can receive one trade credit hour by attending and completing a reflection form.
Following the event, winning art and photography will be displayed at MCL Grand Theater in Lewisville (100 North Charles Street) until Feb. 15. Gallery hours are 10 a.m.-5 p.m. Tuesday through Saturday.
For more information about the event, visit MLKofNorthTexas.org. For questions about trade credit, email LISD's K. Kaye Nyquist at nyquistkk@lisd.net. To see photos from last year's event, click here.


2019 Dr. Martin Luther King, Jr. Essay, Art and Photography Contest Winners

Essay
4th Grade
1. Aman Chavali, Liberty Elementary School, Ms. Ducote
2. Shivam Trivedi, Hebron Valley Elementary, Ms. Drummond
T3. Rishita Medhi, Liberty Elementary School, Mrs. Strong
T3. Erin Shaw, B.B. Owen Elementary, Mrs. Scalise
5th Grade

1. Maryam Aziz, Castle Hills Elementary, Mrs. Robertson
2. Thiyanah Numallan, Wellington Elementary, Mrs. Quinn/Mr. Hanson
T3. Gideon Etufush, Castle Hills Elementary, Mrs. Karnes
T3. Jordan Ferreira, Hebron Valley Elementary, Mrs. Spurgin
6th Grade
1. Shreyes Suribhotla, Shadow Ridge Middle School, Mrs. Reinacher
2. Madeleine David, Downing Middle School, Ms. Leverett
3. Izma Amina Fias, McKamy Middle School, Mrs. Moore
7th Grade

1. Imara Vidhani, Creek Valley Middle School, Ms. John
2. Addison Fletcher, Downing Middle School, Mrs. Phan
3. Madison Dickerson, DeLay Middle School, Ms. Voltrain
8th Grade

1. Rileigh Schutzmann, McKamy Middle School, Mrs. Miller
2. Mark Kahley, Briarhill Middle School, Mrs. McKnight
3. Jackson Hanish, Briarhill Middle School, Mrs. McKnight
9th Grade

1. Tina Luo, FMHS 9, Mrs. Harper
2. Advika Varadharajan, LHS Harmon, Mr. Boyle
3. Liliana Gonzalez, LHS Harmon, Mr. Boyle
10th Grade

1. Ngun Tin Thlem, LHS Killough, Mr. Cooper
2. Sowmya Sridhar, Flower Mound High School, Mrs. Schmaltz
3. Allison Chen, Hebron High School, Ms. Bertrand
11th Grade

1. Natalie Yook, Flower Mound High School, Mrs. McMichael
2. Frederique Mailand, Flower Mound High School, Mrs. McMichael
3. Dylan Oreeson, Flower Mound High School, Mrs. McMichael
12th Grade

1. Brandon Halsema, The Colony High School, Mr. Meyrat
2. Nikhita Ragam, Marcus High School, Mrs. Hale
3. Semi Ojerinde, Lewisville High School, Mrs. Hardaway

Art
4th Grade
1. Akshita Ande, Liberty Elementary School, Mrs. Echols
2. Esha Sreemanthula, Wellington Elementary, Mr. Ebert
3. Avantika Kumar, Wellington Elementary, Mr. Ebert
5th Grade

1. Kaelyn Campa, B.B. Owen Elementary, Ms. Abbas
2. Teagan Hubbard, Homestead Elementary, Ms. Manning
3. Braylynn Runyon, Homestead Elementary, Ms. Manning
6th Grade

1. Kerrti Konda, McKamy Middle School, Mrs. Cox
2. Sophia Nguyen, Forestwood Middle School, Ms. Gentry
3. Aanya Patel, McKamy Middle School, Mrs. Cox
7th Grade

1. Vamika Bangarukathi, Killian Middle School, Mr. Jacks
2. Aanya Nuna, McKamy Middle School, Mrs. Cox
T3. Eric Jeon, Durham Middle School, Mrs. Bartel
T3. Aishi Setiawan, Killian Middle School, Mr. Jacks
8th Grade

1. Joilyn Jones, Griffin Middle School, Ms. Nelson
2. Jada Paniagua, DeLay Middle School, Mrs. Shaw
3. Vidhi Jadeja, McKamy Middle School, Mrs. Cox
9th Grade

1. Jaime Campopiano, MHS 9, Mrs. Murdock
2. Riya Jadeja, FMHS 9, Ms. Kucuk
3. Audrey Webb, MHS 9, Mrs. Murdock
10th Grade

1. Zoe Thompson, Marcus High School, Mrs. Bellevue
2. Angie Kim, LHS Harmon, Mr. Fletcher
T3. Emily Cho, Hebron High School, Mr. Mennsfield
T3. Saloni Mistry, Marcus High School, Mrs. Lawrence
11th Grade

1. Ananya Subramanian, Hebron High School, Mr. Mennsfield
2. Maggie Ku, Marcus High School, Mrs. Bellevue
3. Londyn Meeks, Flower Mound High School, Mrs. Harper
12th Grade

1. Caitlin Reimer, Marcus High School, Mrs. Bellevue
2. Max Stockdale, Flower Mound High School, Mrs. Harper
T3. Regan Starin, Marcus High School, Mrs. Bellevue
T3. Allie Williamson, Marcus High School, Mrs. Bellevue

Photography
Elementary School

1. Jason Wade, Liberty Elementary School, 4th, Mrs. Ducote
2. Erin Swiedom, Creekside Elementary, 5th Mr. O'Brien
3. Olivia Fechter, Valley Ridge Elementary, 5th, Ms. McDonie
Middle School

1. Iris Wang, Killian Middle School, 7th, Mr. Jacks
2. Vidhi Jadeja, McKamy Middle School, 8th, Mrs. Cox
3. Samantha Higginbotham, Downing Middle School, 8th, Mrs. Mick
High School

1. Jayden Calloway, LHS Harmon, 10th, Mr. Brenan
2. Riya Jadeja, FMHS 9, 9th, Ms. Jones
3. Joana Candelas, LHS Killough, 10th, Ms. Jennings

*Chairman's Prize*
Jenna Schmidt, Flower Mound High School, Mr. Kruk (Art, 11th Grade)