Return to Headlines
Advocacy Matters: Supporting Public Education in Texas
As the 88th Legislative Session draws to a close in Austin with several key bills pertaining to public education being discussed, a group of Lewisville ISD educators and administrators continue to embrace the importance of advocacy for public schools.
This group of ten LISD Teacher of the Year winners, alongside Superintendent Dr. Lori Rapp, traveled to the state capitol to meet with elected officials representing the district. The trip, and its importance, presented an exciting opportunity to present real-world information and stories with senators and representatives during the session.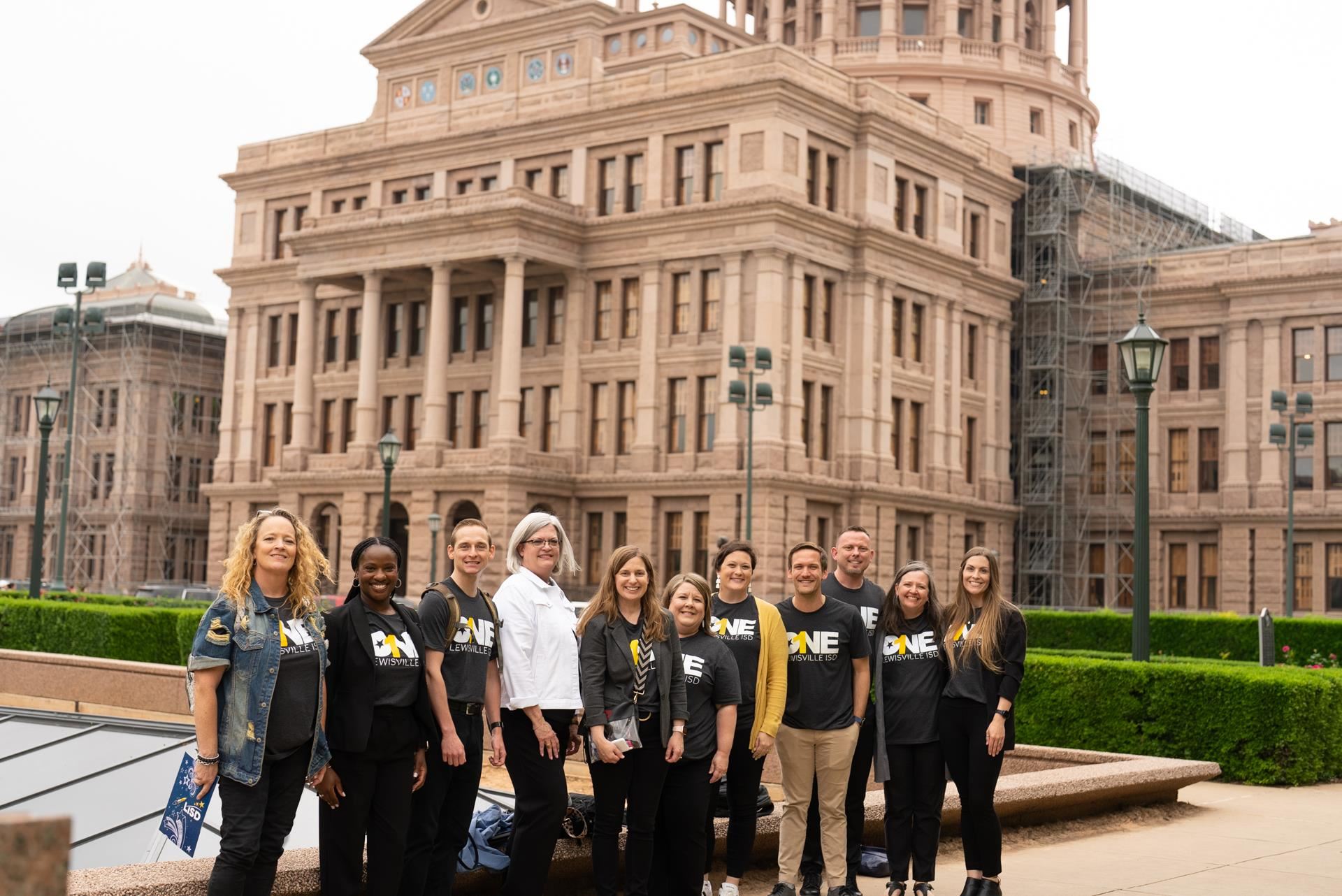 "It is honestly a little surreal that Dr. Rapp asked," expressed Hebron High School English teacher and 2015 Secondary Teacher of the Year winner Donna Friend. "I'm 'just' a classroom teacher, doing my job to grow readers and writers to the best of my ability. But what an honor and privilege and opportunity I couldn't pass up."
2022 Elementary Teacher of the Year winner Peggy Hill from Rockbrook Elementary emphasized the importance of building relationships with elected officials in order to paint an accurate picture of the public school environment.
"Having the opportunity to meet with the representatives helped me to see the importance of building relationships with them," said Hill. "They are making important legislative decisions that have direct impact on public schools, but do not always have firsthand knowledge from the people on the frontlines. It is important that we build a partnership with them to promote our mission and to be a resource as they make these decisions."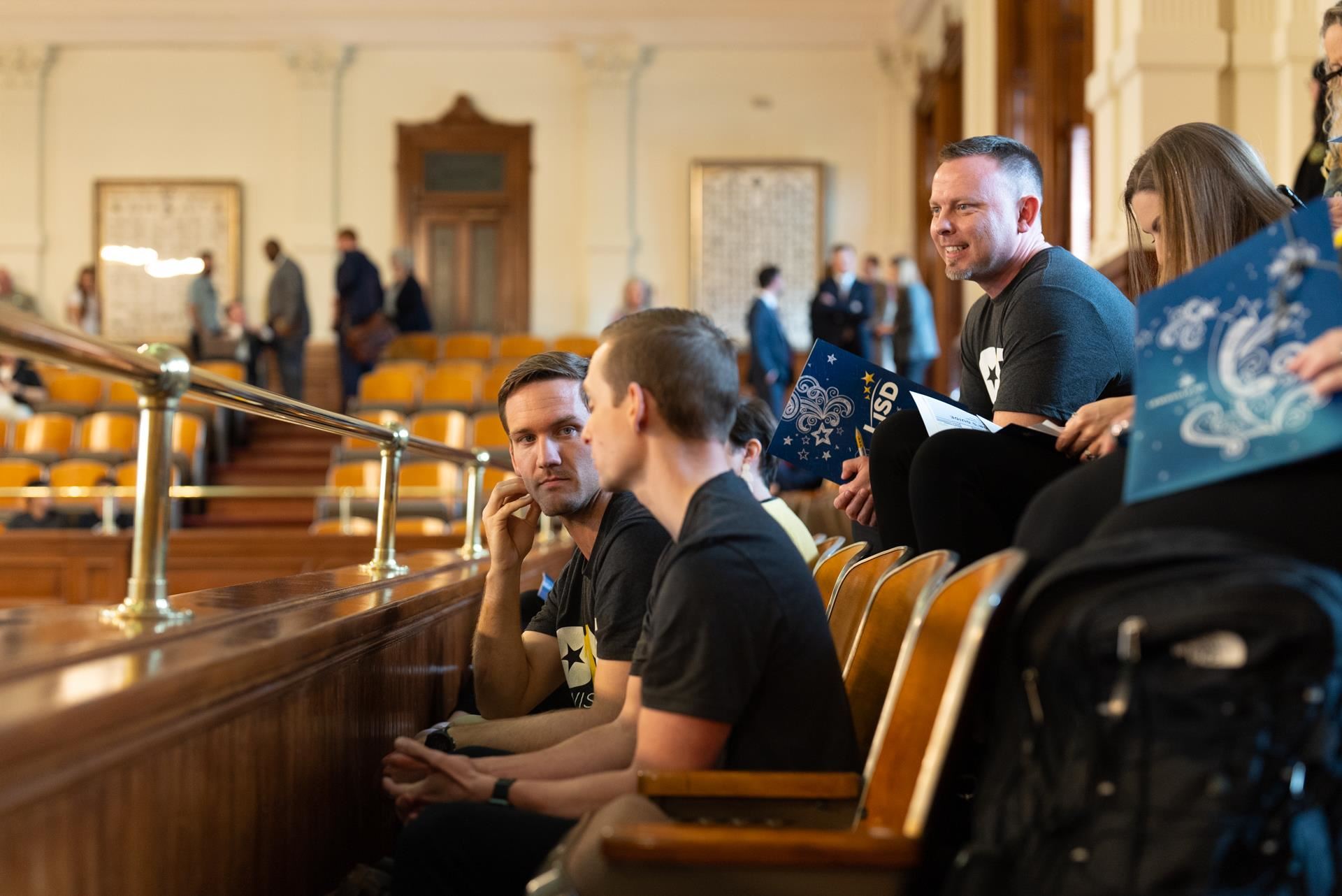 The trip to Austin began with a visit to the House of Representatives gallery, where the group was formally recognized in House Resolution 1421 by Rep. Kronda Thimesch (District 65). Following the recognition, the educators spent time discussing the state of education and legislation being considered with Thimesch, a former member of the LISD Board of Trustees.
Seeing the House in action and speaking with members currently in session proved to be an eye-opening experience for LISD educators.
"It was extremely informative to see how the legislative process works and to meet face-to-face with all the legislators that represent LISD," said Curry Goff, 2021 Secondary Teacher of the Year and current assistant principal at Arbor Creek Middle School. "It reminded me that they are humans, just like the rest of us, and they deserve grace and compassion as they navigate the difficult work of making Texans happy. Nevertheless, it reminded me of the importance of sharing our stories so that they know firsthand what is happening in our classrooms. We have to be the voice for our students and our colleagues so that they hear the good that we do every day."
Heather Lewis, 2010's Elementary Teacher of the Year from Ethridge Elementary, agreed with the impact and importance of meeting with legislators.
"It was an honor to be able to share our messages and stories with our elected officials. They have so much on their plates with decisions to be made about much more than I ever realized. Sharing the struggles and victories we are all experiencing helped me understand the dire need of speaking up for our educators and students."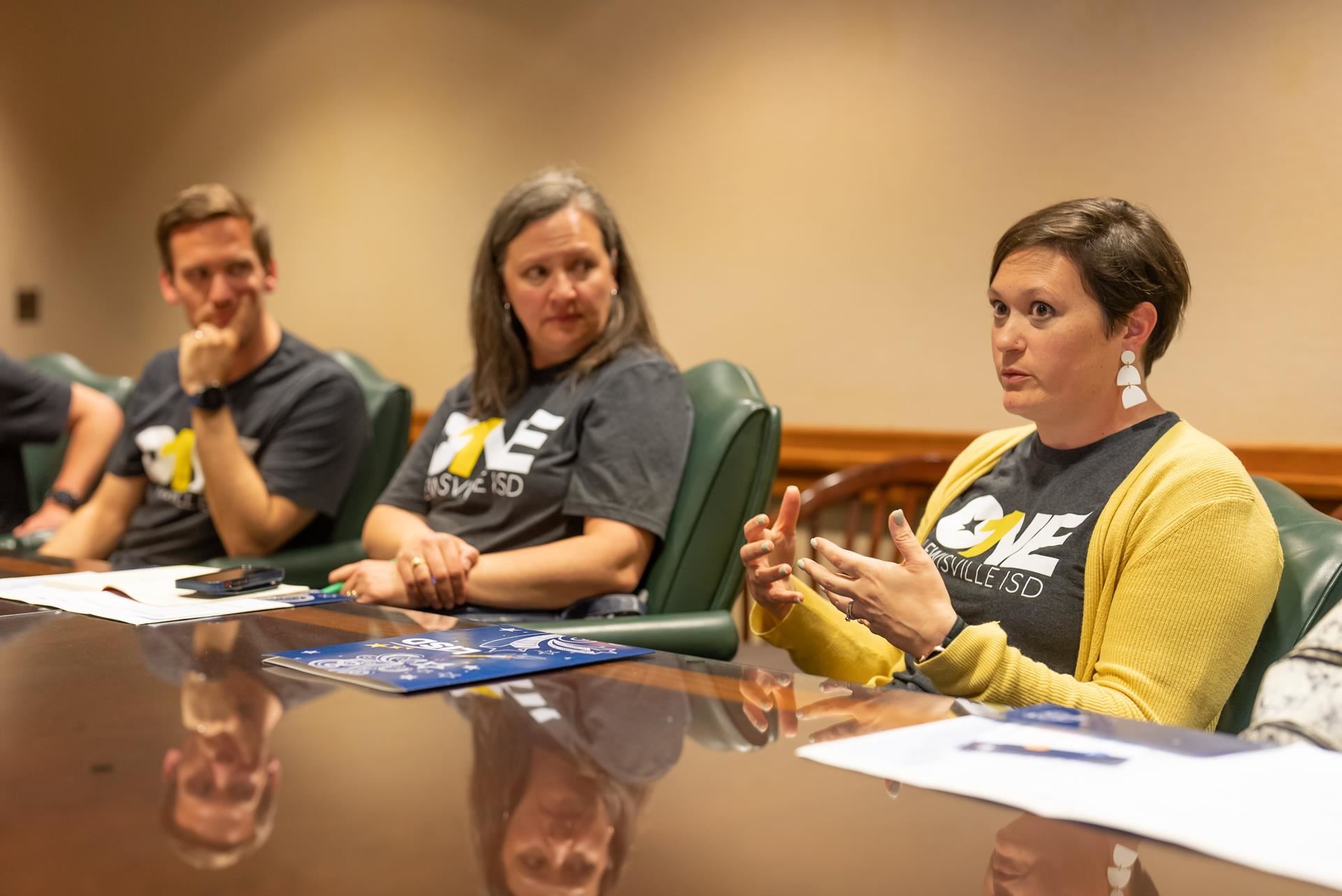 As the LISD contingent made their rounds through the capitol, meeting with Representatives Richard Hayes (District 57), Ben Bumgarner (District 63), Giovanni Capriglione (District 98) and Jared Patterson (District 106) and Senators Tan Parker (District 12) and Drew Springer (District 30), they continued to press the importance of issues surrounding school finance, teacher requirements and the impact of curriculum and standardized testing on students.
Topics such as basic allotment and recapture have become hot-button issues for public schools in recent years. Basic allotment, referring to the funding that public schools are granted on a per-student basis, has remained at $6,160 since 2019 and has not been raised to account for the impacts of inflation and COVID-19. Based on estimates from the Bureau of Labor Statistics' Consumer Price Index, this number would have been $7,075 in 2022 if adjusted for inflation.
While school districts can pull funding from additional sources, such as increased property taxes, many of the state's more property-rich districts, such as LISD, are subject to recapture, in which funds are theoretically redistributed from wealthier districts to lower-income districts. However, this money is funneled into the state's general fund, with little-to-no transparency for how they are ultimately used.
This year, 240 districts will pay approximately $5 billion in recapture, with LISD estimated to send $60 million back to the state.
While many are concerned with the fiscal impact that current legislation is having on public schools, the temporal and mental impact on educators is making it increasingly difficult to recruit and retain teachers. Alexis Miller, 2020 Elementary Teacher of the Year from Southridge Elementary, hopes that discussing these issues and hearing others share their stories can change the narrative on what educators experience every day.
"Hearing the experience of others affirms that when we (as educators) know our impact in classrooms and beyond classroom walls, we walk differently, and we definitely talk differently. We are charged to ask ourselves and others: "Are you in the paint or on the sidelines?" That mentality influences our impact on students. Our purpose becomes focused, and quite frankly it becomes very personal. I feel blessed to know many passionate educators. This visit was special because there was an unexplainable trust. We trusted one another to tell the story."
As the day of advocacy drew to a close, hope remained high that the words and stories shared with legislators would continue to be considered throughout the session and beyond. Nearly every meeting concluded with an invitation for each representative to visit an LISD classroom for a day to get genuine experience of what it is like to be in the classroom.
Mandy McKnight, 2017's Secondary Teacher of the Year from Briarhill Middle School, echoed the sentiment shared by many on the trip.
"By carving out time to meet with us, our seven representatives showed their openness to hearing about how they can support public education. They seemed to genuinely want to better understand the challenges faced by educators, and I am glad to know that I can continue to speak up in support of our incredible schools and leaders! Really, we all can. Our representatives want to hear from us -- educators, parents, students, community members -- all of us."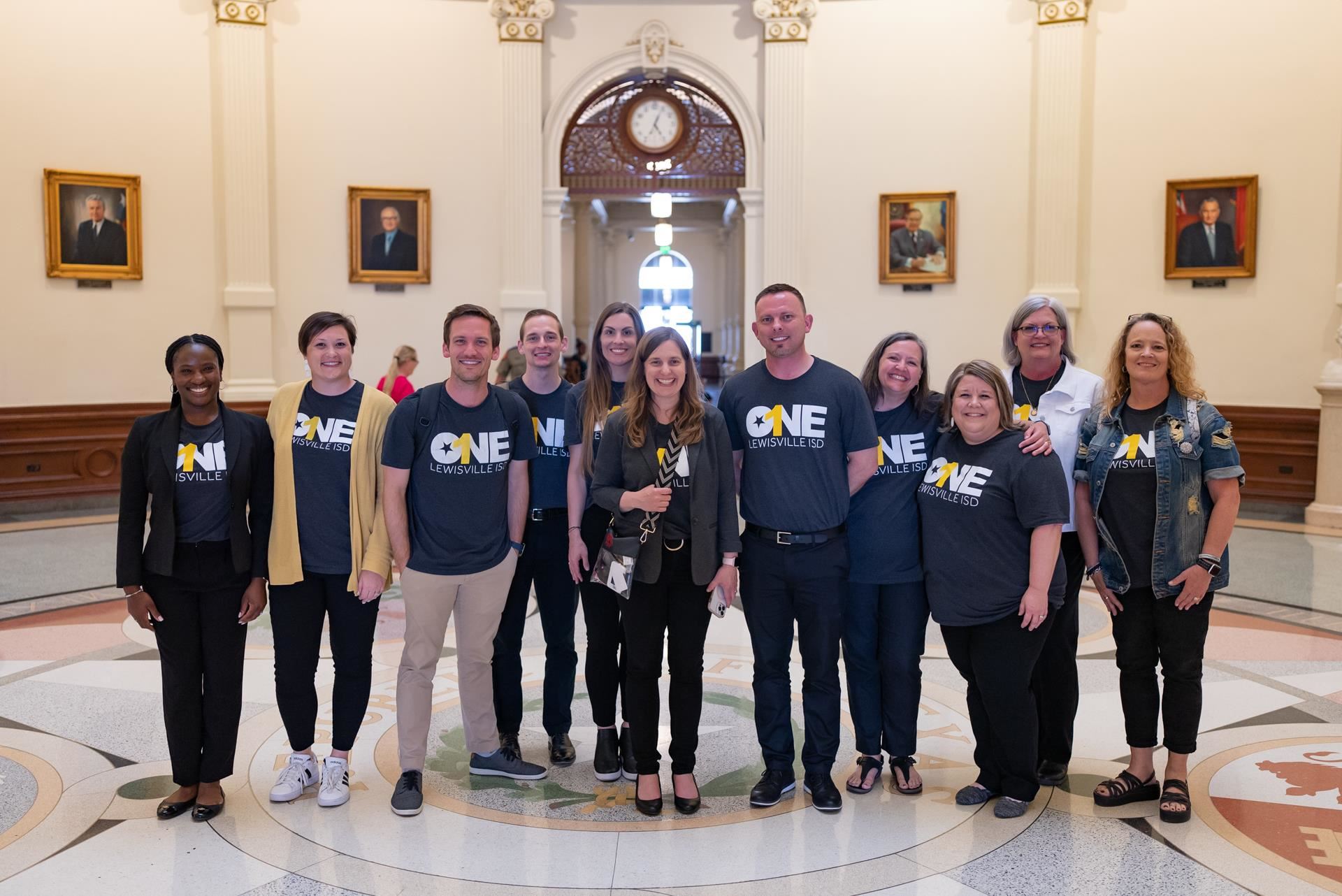 The following day included a meeting with public education advocacy group Raise Your Hand Texas, spanning an overview of bills that were recently passed or currently being considered, as well as a roundtable discussion of how to become effective advocates and communicators.
"Meeting with Raise Your Hand Texas was a vital experience that educated our team regarding advocacy and what it means to champion public education," explained Bre Manuel, elementary math facilitator and 2019 Elementary Teacher of the Year winner. "We walked away with the tools and resources necessary to cultivate a pro-public education constituency within our district and across the state of Texas.
"As Raise Your Hand Texas did for our team, I aspire to allot time to build capacity in our stakeholders regarding how bills are created, explaining specific wording as well as funding allocations and money pots, enlightening them on the voting process, and informing them of how current bills, if passed, directly impact public education. Most importantly, we must help all stakeholders recognize the impact their voice holds and the power that voting yields."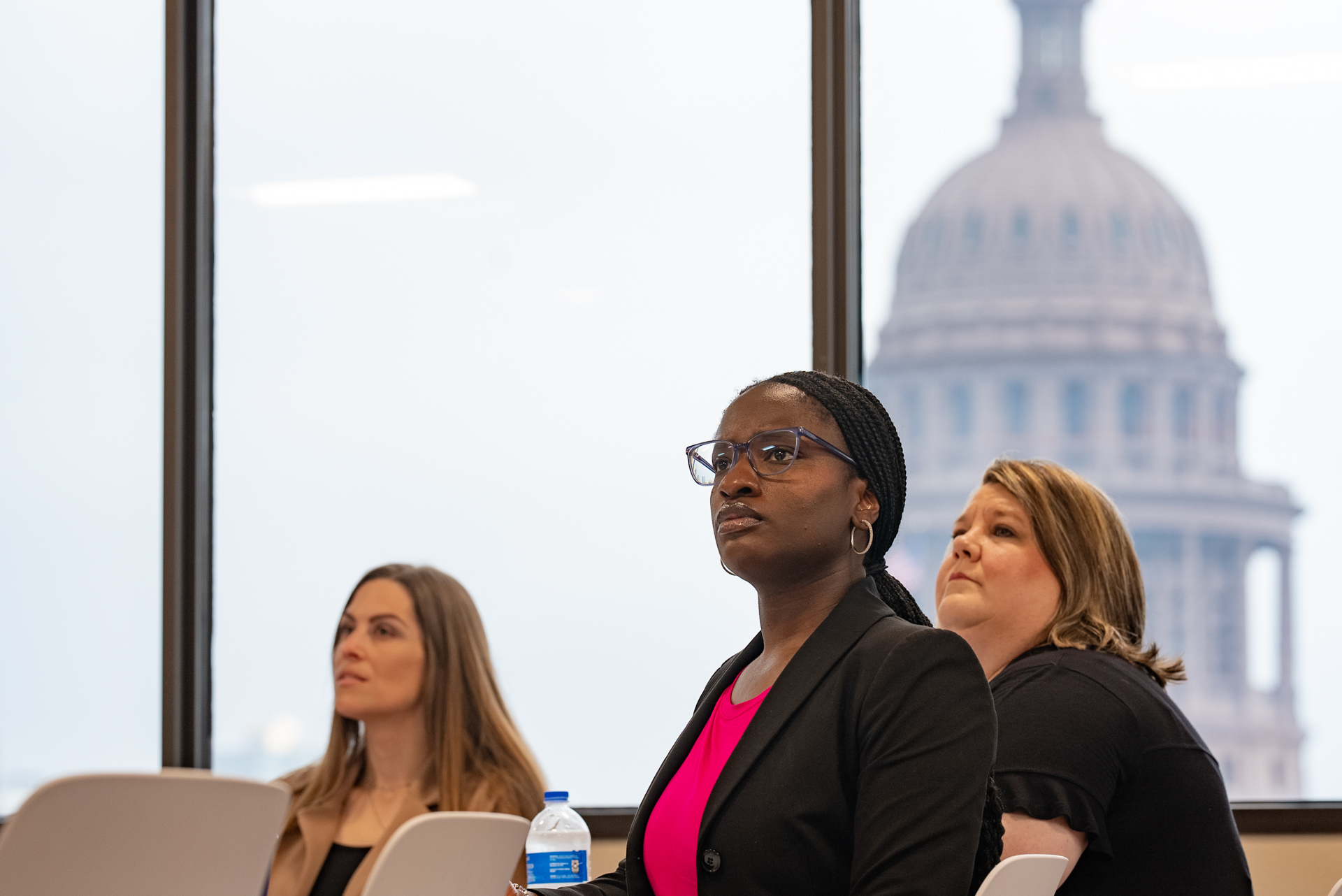 The overarching message of Raise Your Hand Texas was clear: advocacy is a marathon, not a sprint. Despite current challenges, the importance of advocating, voting, and effectively communicating with representatives and public education stakeholders is an ongoing effort.
"The time is now," exclaimed Bradley Willi, assistant principal at The Colony High School. "We need to educate ourselves, invite our representatives in, and work together for our children. We have to remember we are walking a 100-mile journey with short-term gains and long-term goals."
Following the conclusion of the trip, the LISD advocacy leaders remain in constant contact, sharing a group text message thread to discuss the status of the legislative session, bills being considered and general day-to-day thoughts on public education. The group has also remained busy planning and coordinating advocacy campaigns alongside fellow educators. The group recently came back together to speak to the LISD Board of Trustees during their May meeting, sharing their experience and elevating the importance of working together with legislators to promote public school education.
"Everyone is very excited about next steps and moving forward with LISD – we definitely appreciate the opportunity," expressed Doug Emery, auto tech teacher at TECC-East and 2019 Secondary Teacher of the Year during the meeting. "One of the biggest things that a lot of us learned, me especially, that we talked about with Dr. Rapp was that we have to work with [legislators] as partners. Getting on social media and trying to berate them is not going to do anything, but working together as partners so that we can actually win some hearts and minds and hopefully get that [basic] allotment up. That's a big goal for us and what we kept steering them back to.
"We don't know if we made a big impact during this session, but we're already preparing for the next session. So as soon as they're out we already have game plans and motives to hopefully make a difference the next time around."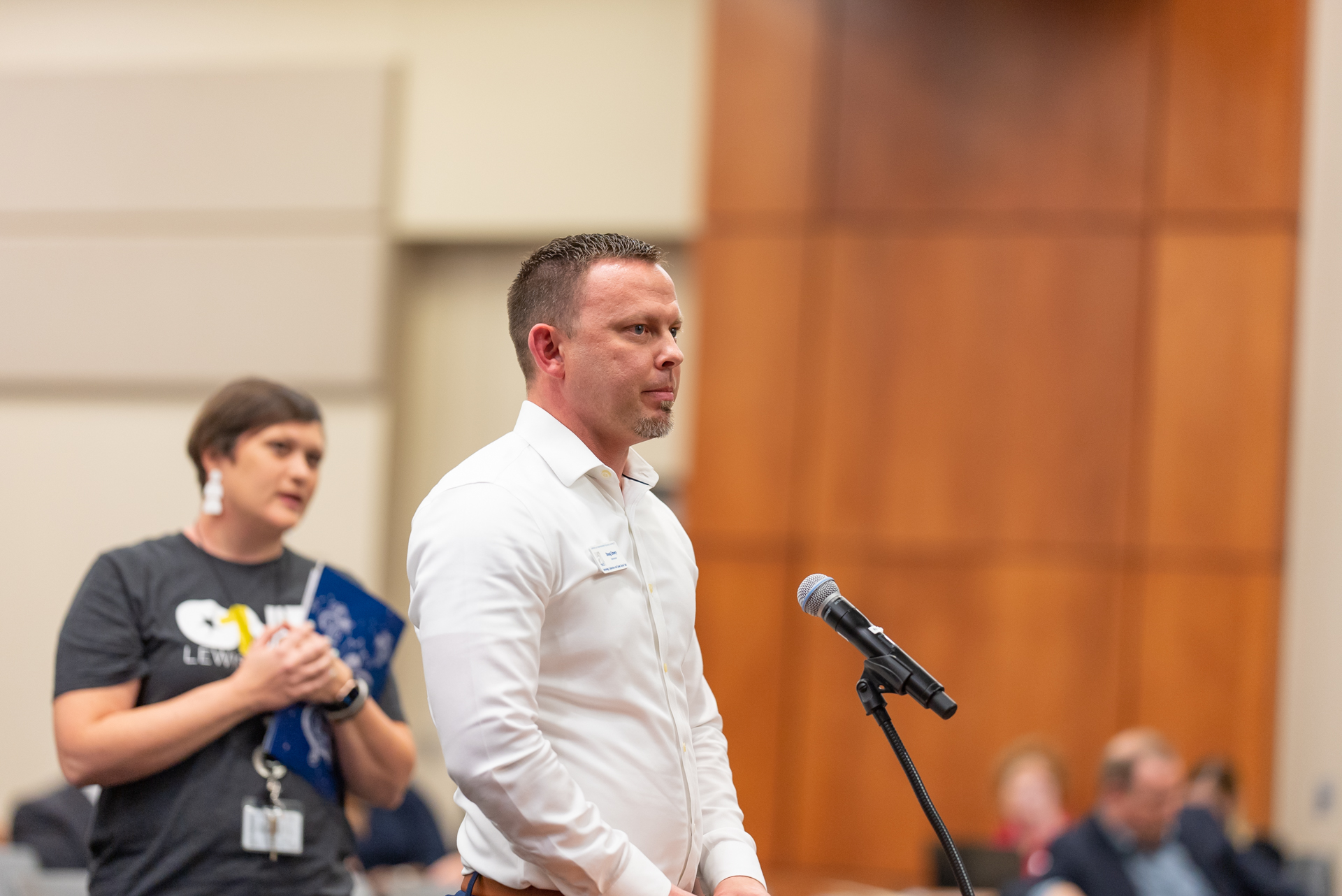 As the group remains steadfast in their goal to continue advocating for LISD students and educators, the theme of unity permeates every discussion. By continuing to reflect on their time together at the capitol and further amplifying their message to state representatives, confidence remains high that together, public education in Texas can continue to thrive.
"One of my favorite quotes about advocacy is by Marian Wright Edelman, "'If we don't stand up for children, then we don't stand for much,'" summarized Marlene Price, 2018 Elementary Teacher of the Year from Wellington Elementary. "We must stand up together for our children by using our voices and get louder and louder until they are heard."
Lewisville ISD encourages district educators, families and all stakeholders to visit LISD.net/Legislative to advocate for public education, for current district legislative priorities, a list of current representatives, legislative news and more. Click here to view LISD's recently published Call to Action and letter to elected officials.
Click the following links to visit the Texas.Gov page for Senator Tan Parker, Senator Drew Springer, Rep. Richard Hayes, Rep. Ben Bumgarner, Rep. Kronda Thimesch, Rep. Giovanni Capriglione, and Rep. Jared Patterson.
---
From the beginning, Lewisville Independent School District has committed to ensuring all students are confident, equipped with the knowledge and skills to thrive and adapt for their future. Visit Best Schools in Texas for more information about joining the LISD family.