Return to Headlines
STUDENT SHOWCASE: ELEMENTARY SCHOOL ART SHOW
Every year, the Lewisville Grand Theater spotlights artwork from every LISD school in the district in its main art gallery. The exhibition recently featured work by LISD elementary school students, showcasing the talents of these young artists. We recently sat down with distinguished participants and their art teachers to discuss their work, inspirations and future goals.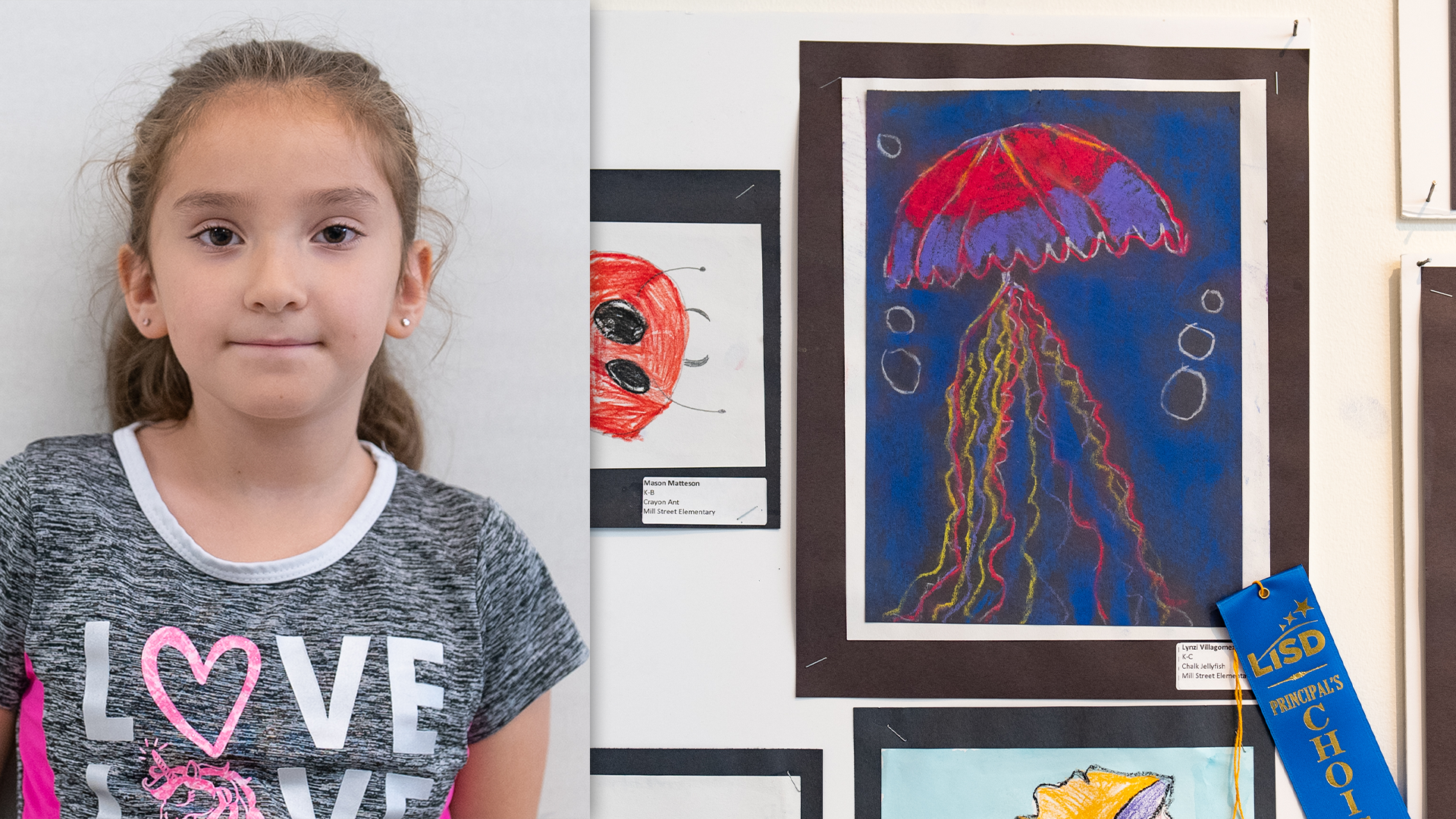 Lynzi Villagomez
Mill Street Elementary – Kindergarten
On showcasing her work:
"It made me smile."
On art class:
"It's so much fun. I like to paint and draw."
Janean Loyd
Mill Street Art Teacher
"Our biggest thing for elementary is that we inspire the kids and we encourage them to have confidence. That's probably our biggest takeaway and that they get to have this experience [to showcase their work] because not every student will get to have all of the experiences that some others might. There is nothing more exciting than to see a child come in and look at their artwork hanging on that wall and realizing that all of these people are there to look at it."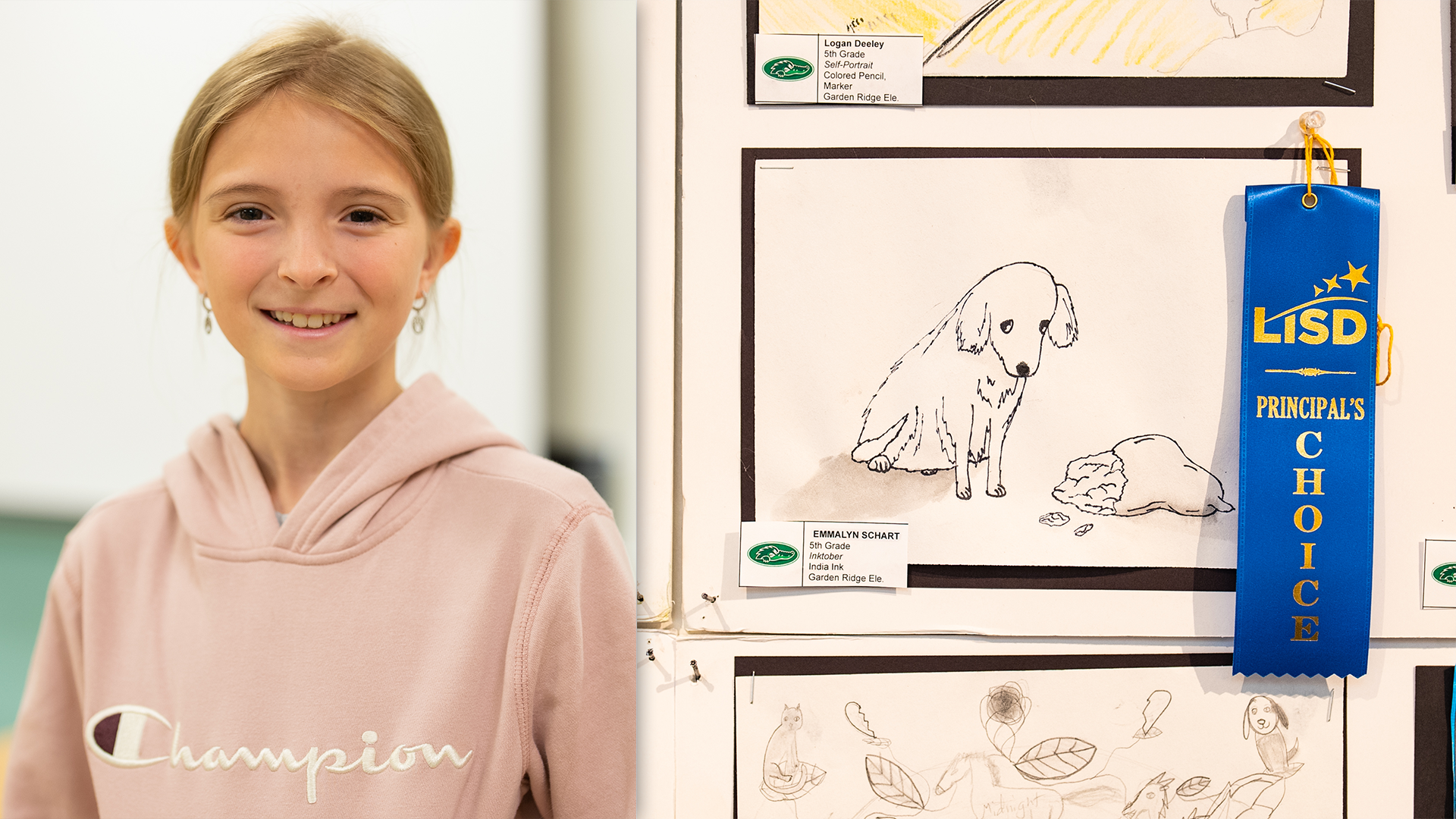 Emmalyn Schart
Garden Ridge – 5th Grade
On showcasing her work:
"I was very proud of my art and I was excited to see it in the art show."
On inspiration:
"We were doing a project for Inktober and I saw that 'a bad dog' was a choice [to draw] and I just thought of a bad dog ripping something up! I actually have three dogs and two of them don't [rip things up] but we have a puppy and he rips things up."
Angela Grella
Garden Ridge Art Teacher
"It's so important for [the students] to have the opportunity to see their artwork displayed in a professional setting. They see it displayed here and it's not that exciting at school, but when they go to a gallery setting and there's white walls and it's kind of quiet and serious, but it's still so exciting. It's great for them to have that experience in the same way that the students who do performing arts perform and have an audience."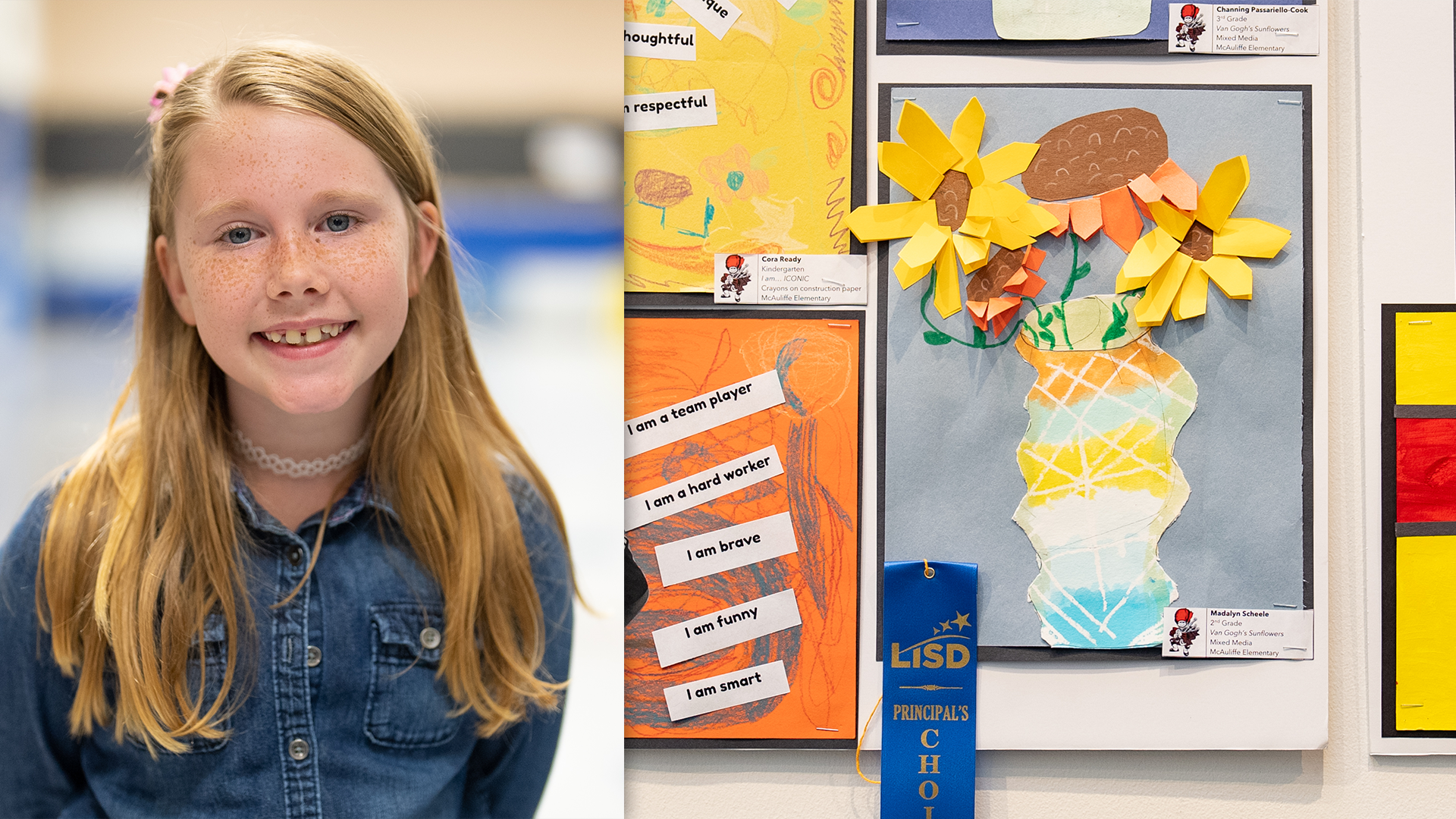 Madalyn Scheele
McAuliffe Elementary – 2nd Grade
On showcasing her work:
"I was just so happy that I got to be in the art show!"
On inspiration:
"I just thought it would be fun to make a swirly vase and pointy flowers because I knew it would be so unique."
Haley Nall
McAuliffe Art Teacher
"It's so special just to, number one, be a part of something that the whole district is doing and for [the students] to get to see that it's not just here at McAuliffe that we're doing these awesome things, but at all the schools. And two, it makes the kids feel so special to get to have their artwork displayed especially kids who may not excel in sports or whatever it may be to see that they're really excelling in something and get to go to a cool event with their family and their friends. It's just really special."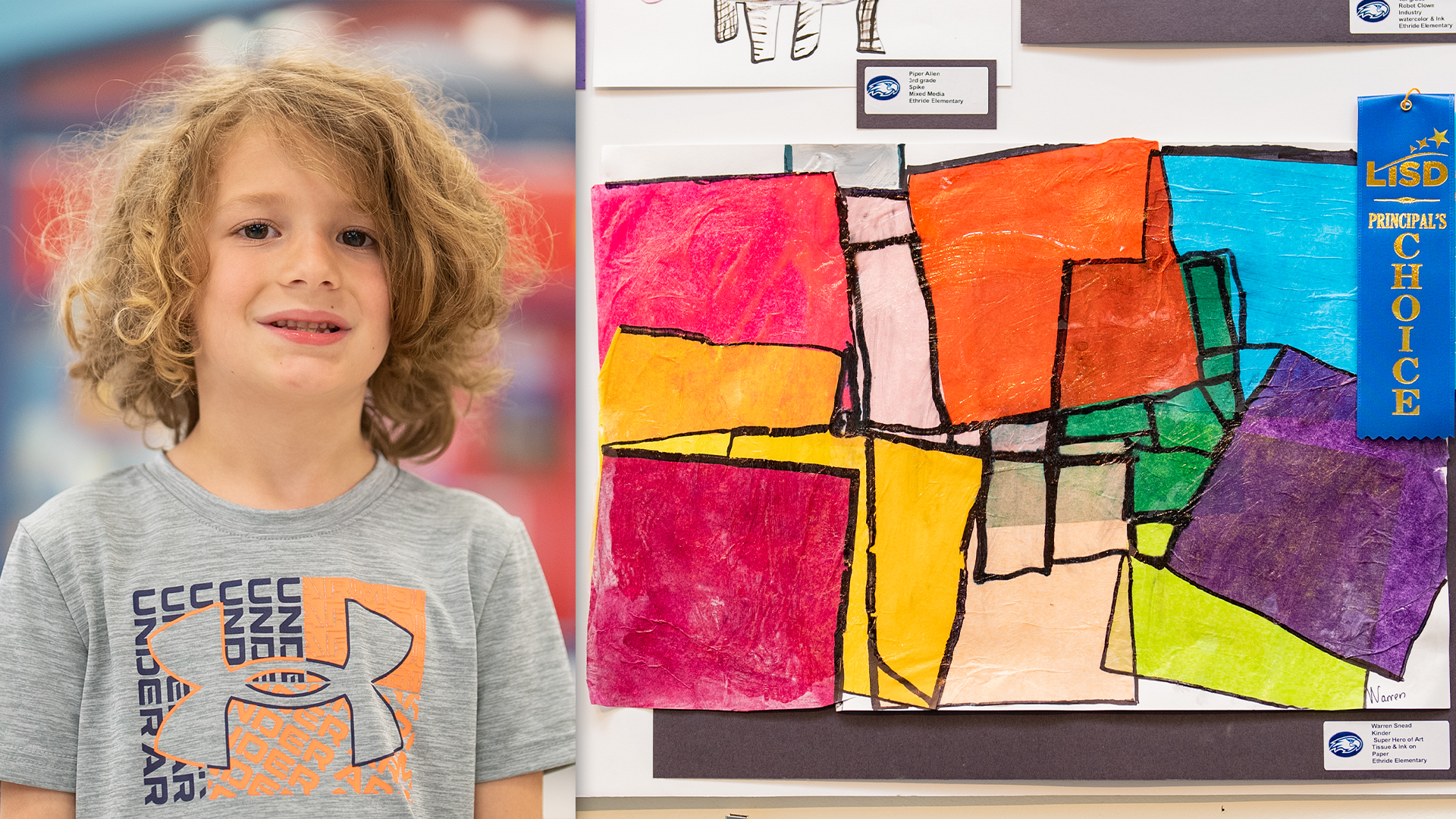 Warren Snead
Ethridge Elementary – Kindergarten
On showcasing his work:
"I was happy to be in the art show."
On inspiration:
"My teacher told me to make it, so I put these squares on top each other with glue."
Chelzee Lentz
Ethridge Art Teacher
"The LISD district art show allows us, as fine art educators, the opportunity to communicate with each other, the district, the public, the administration, the community, and the families of our budding artists' our dedicated work that we do every day and our passion for kids' development through the arts. For the kids, the intrinsic reward is invaluable. The chance to have their artwork chosen for the show motivates them to create and experiment with art. The district's exhibition experience gives an art appreciation and an awareness that art matters."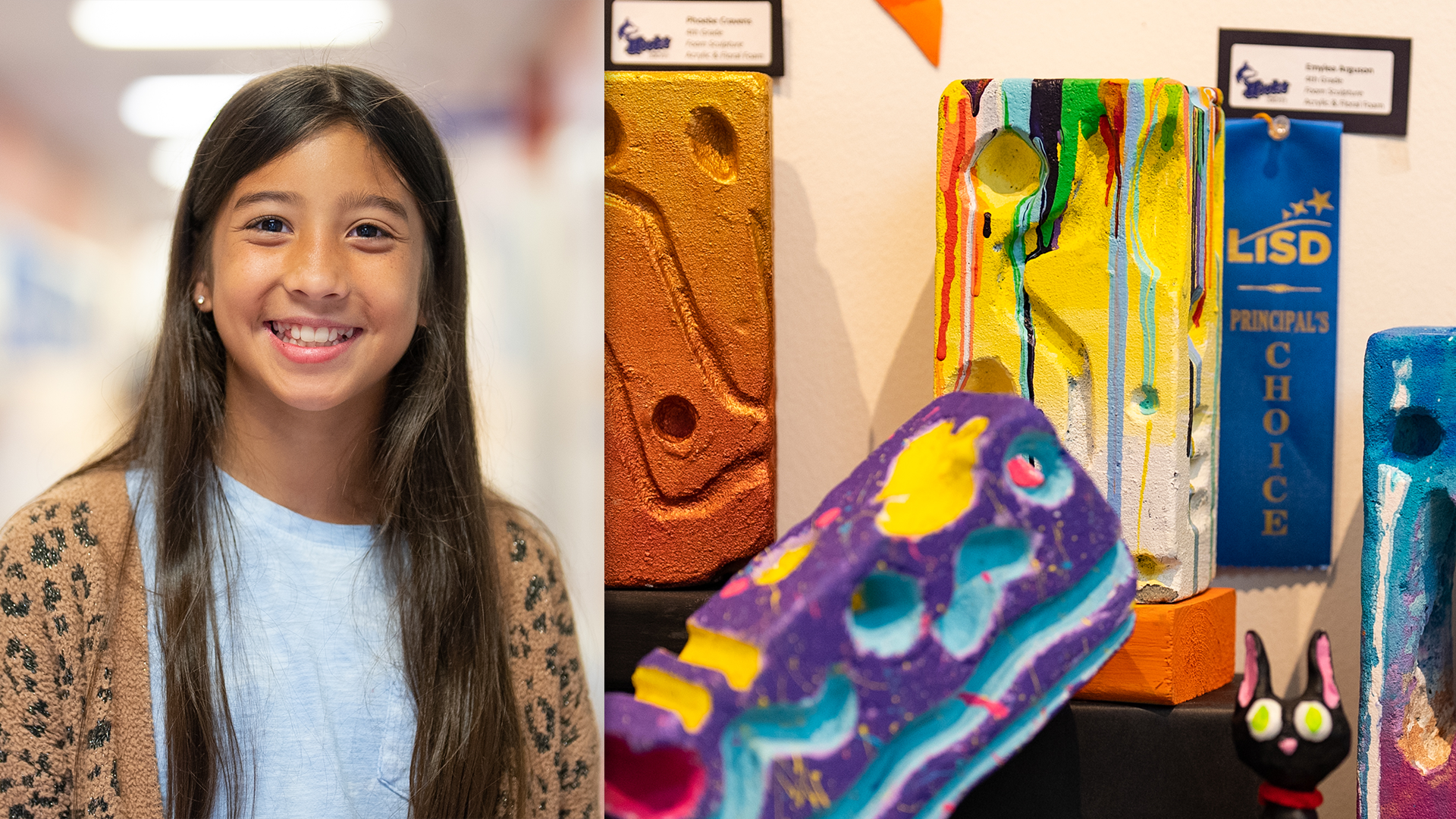 Emylea Arguson
Hicks Elementary – 4th Grade
On showcasing her work:
"I'm very proud of myself and proud that I made it. All of the artists in the district are really talented."
On inspiration:
"Yellow and white are two of my favorite colors and I like to use drips within my art a lot. And I like to bake a lot."
Christina James
Hicks Art Teacher
"I think that [the art show] makes everyone feel super special and the goal is to highlight each individual artist and make sure that they have a start in art. I've been told from students later in life that it was being displayed in the district art show that made them want to pursue art more."
---
Lewisville ISD would like to thank the Lewisville Grand Theatre for their continued support of LISD Fine Arts and students.
Click here to visit the Lewisville Grand Theater website to learn more about the venue and art galleries.