Return to Headlines
Ethridge Elementary Gets Surprise Donation From Southwest Airlines
This year marks the 25th anniversary of the Southwest Airlines Adopt-A-Pilot Program, a community initiative aimed to support STEM education for 5th graders across the country. The program connects Southwest pilots with classrooms to engage students in fun, aviation-related lessons and experiments that inspire the next generation.
Ethridge Elementary has been involved in the program for years after "adopting" pilot and former Ethridge parent Dave Martin. Martin visits 5th grade classrooms to teach students about his profession. "He talks about how the subjects [they're studying] will relate to real life, and how many different occupations there are in the airline industry," principal Tasia Thompson explained. "They love for him to come."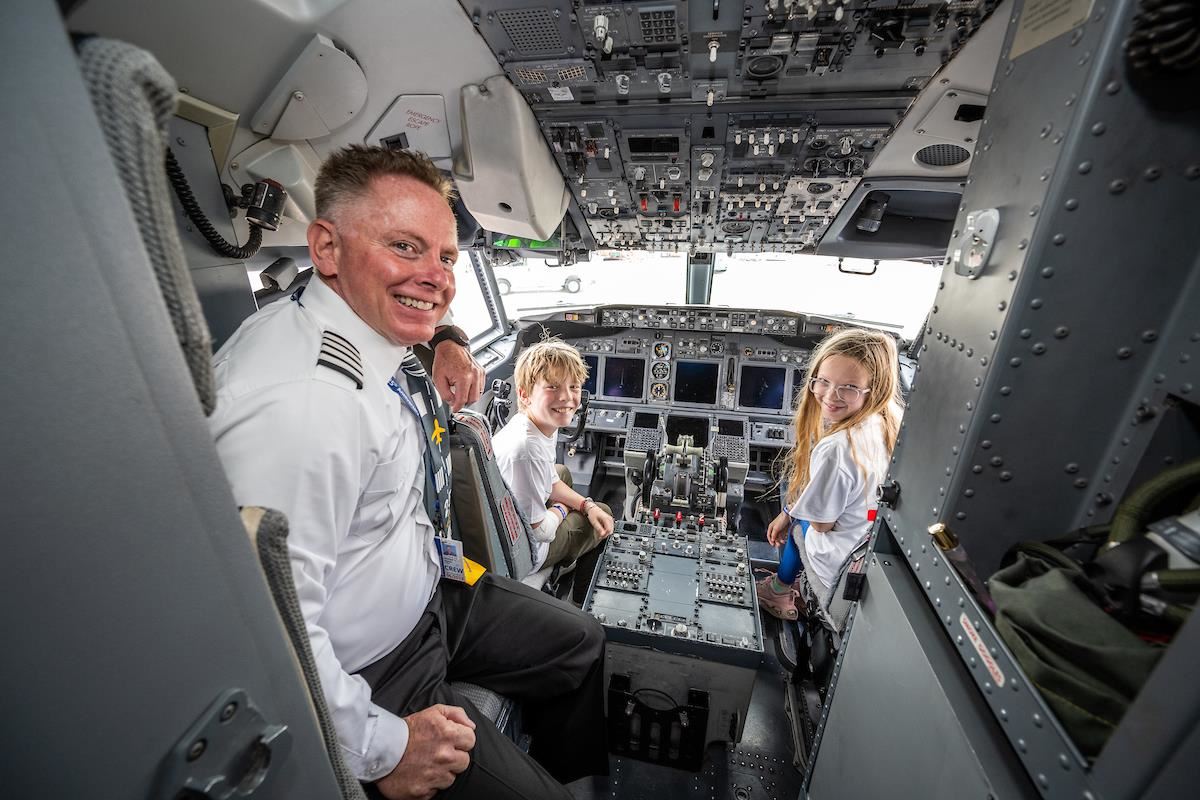 Dave Martin gives Ethridge students a tour of the cockpit.
To celebrate the landmark anniversary of the Adopt-A-Pilot program, Southwest invited Ethridge Elementary 5th graders to their headquarters in Dallas for a day full of fun and surprises. The first of these surprises was a special edition AAP aircraft that was unveiled for the first time at this celebration.
One of the long-standing traditions in the AAP program is the annual tie contest, where students design a tie for Southwest pilots to wear with their uniforms. This year Southwest designer Brianna Juda created a special 25th anniversary tie, which was worn by both students and pilots at the celebration. That same artwork was used to create the special-edition AAP plane, which will fly throughout the country for the next six months.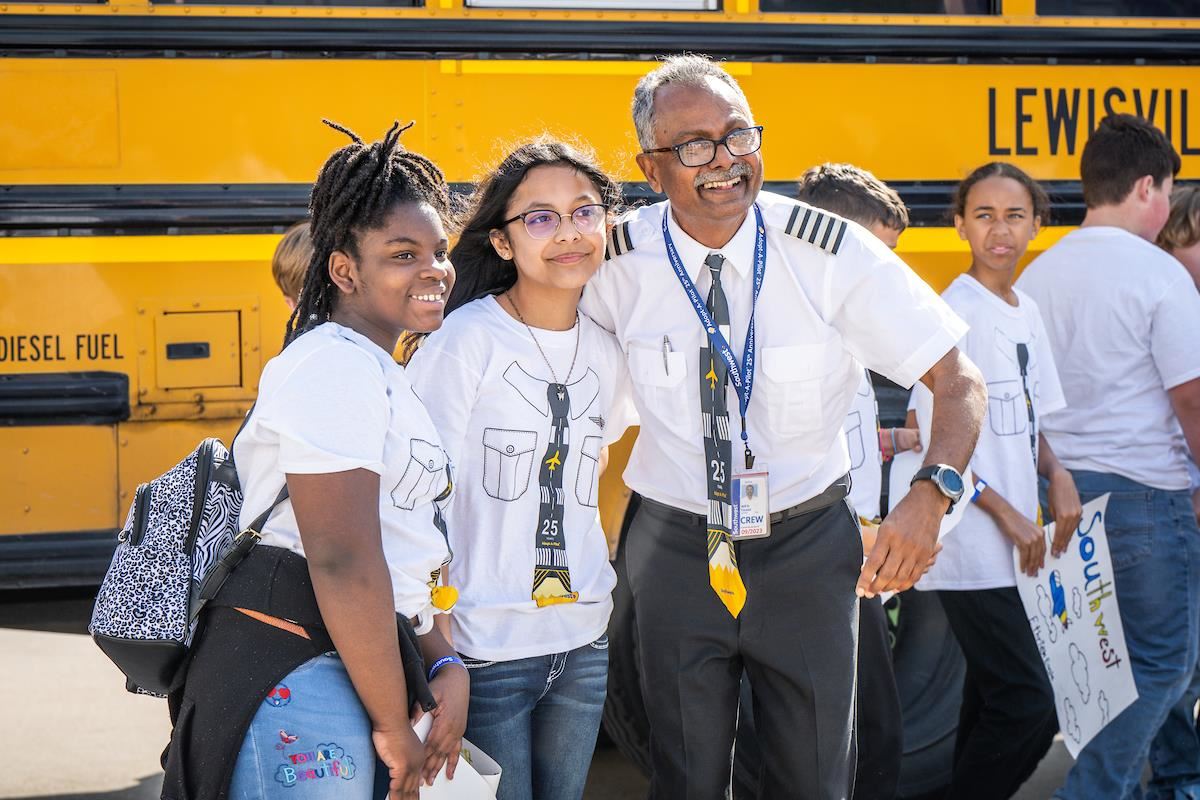 The Adopt-A-Pilot 25th anniversary tie was on display at the anniversary celebration.
Needless to say, Ethridge students were stunned to see this special aircraft up close. "I've never been on a plane before," said Miles, a 5th grader at Ethridge who also happens to be the nephew of Dave Martin. "So I didn't think they were that big."
Southwest leaders took a break from their busy schedules to teach Ethridge students about the rest of the operation as they enjoyed lunch. "I liked when we had Chick-fil-A," Miles aptly summarized. "And when they taught us about their jobs."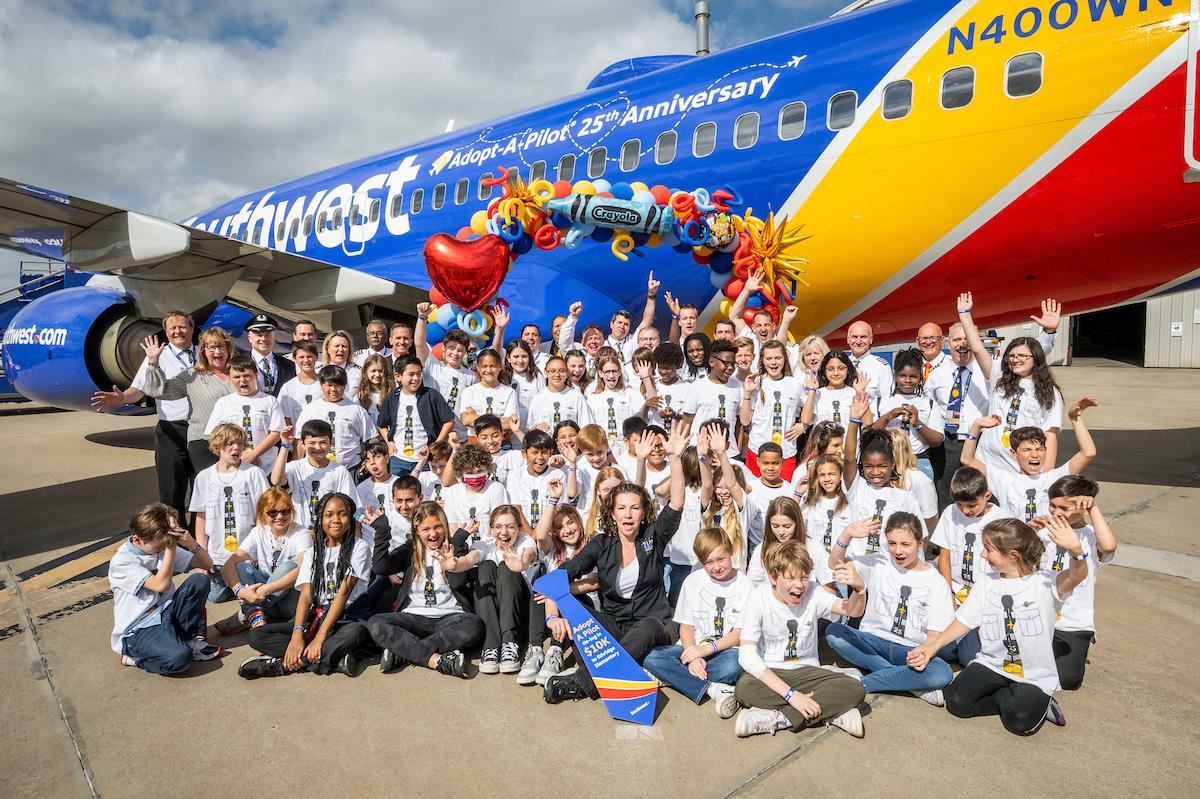 Ethridge students pose with the special edition anniversary plane.
But before they headed back to school, Southwest had one more surprise in store for the Eagles. The airline presented Ethridge Principal Tasia Thompson with a $10,000 donation to purchase supplies and equipment for STEM education.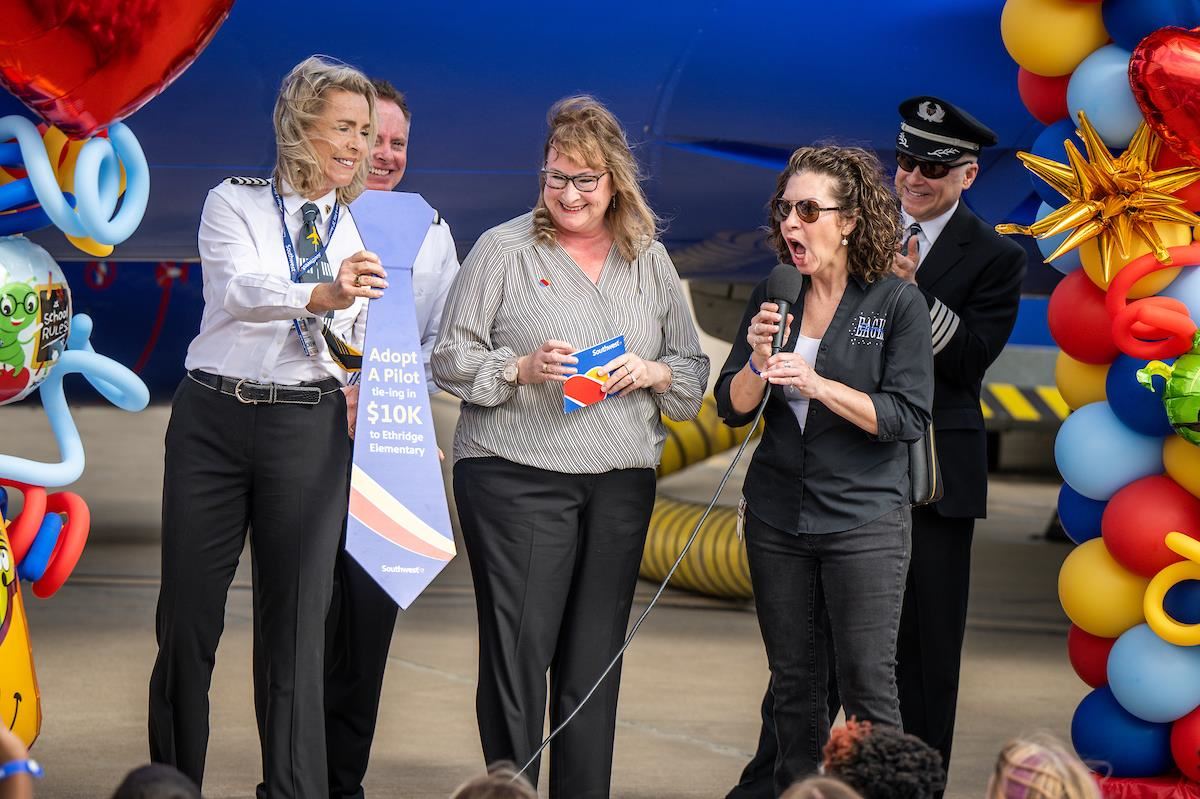 A group of pilots join Linda Rutherford, Southwest's Chief Administration & Communications Officer and former LEF Governance Committee Chair, to present Ethridge principal Tasia Thompson with the surprise donation.
This generous donation will give Ethridge teachers more ways to get students interested in STEM-related subjects. "We want to the donation for MakerSpace and some other STEM Academy-type things," 5th grade teacher Tiffanni Waesch explained. "To have STEM field trips for these kids would be awesome. Especially for the girls, it's powerful to see women and have speakers come in and talk about the paths women can take [in STEM]." This was already evident with their field trip to Southwest. "For the 5th grade girls who attended, being able to see a female mechanic was awesome," she said.
It's safe to say that the LUV airline showed their love to these students, and to the future generations of Ethridge Eagles.
"For such a big corporation like Southwest to take an interest in local schools," Tasia said, "is just really a testament to how much they live their vision and mission out."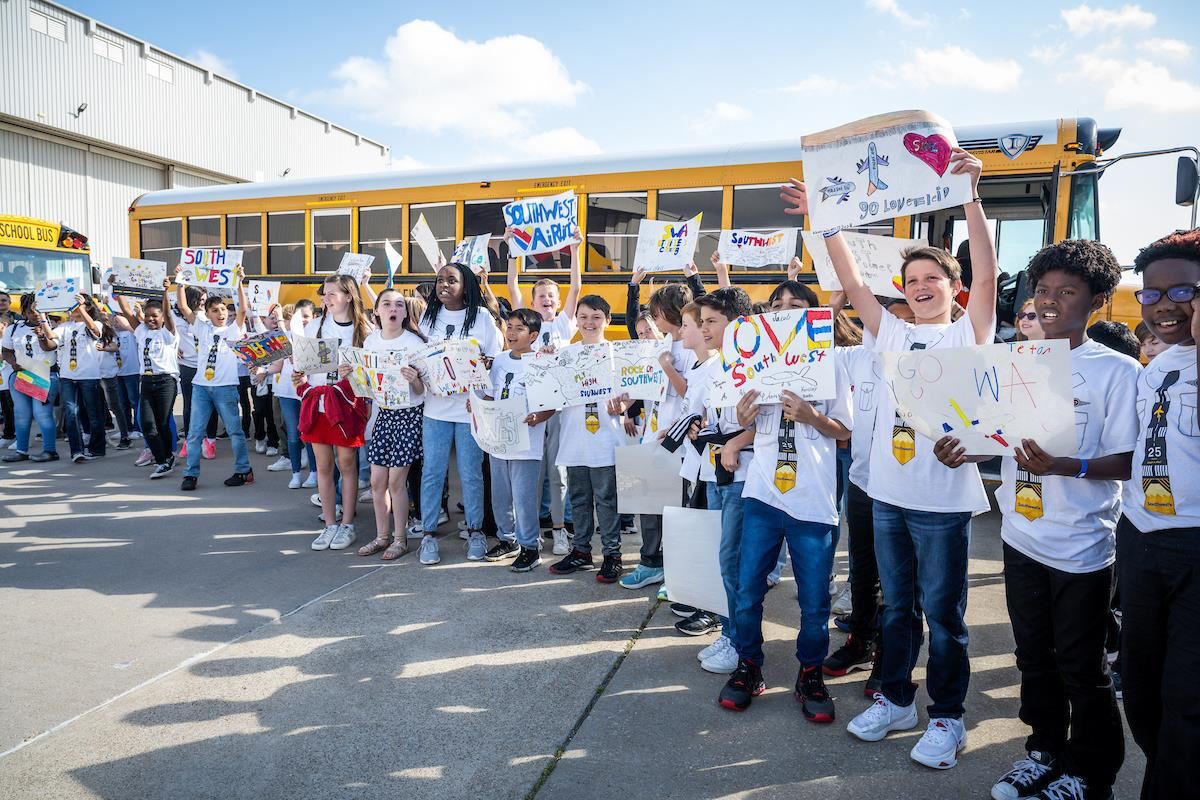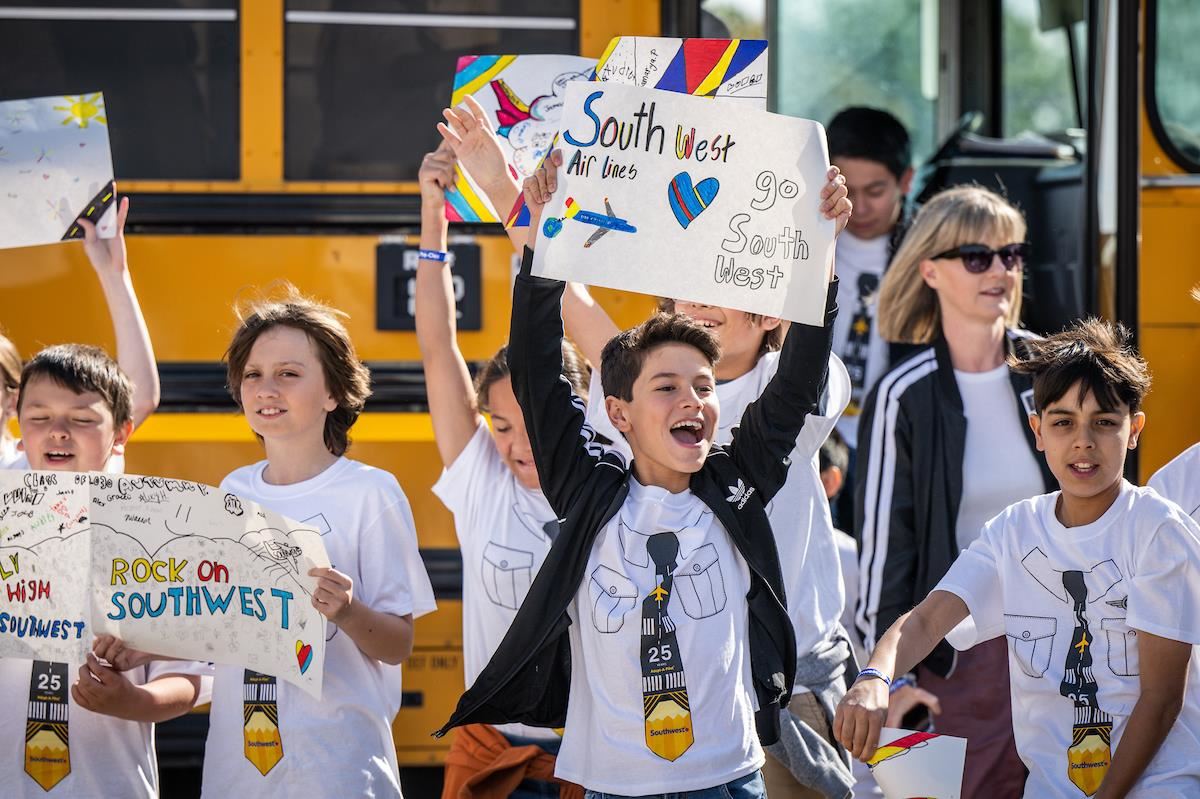 All photos were taken by Southwest Airlines.
---
Ethridge Elementary is an elementary school in The Colony, Texas, serving Kindergarten through 5th grade with future-ready learning experiences in the Lewisville Independent School District. Ethridge feeds into The Colony High School attendance zone. Follow Ethridge on Facebook and Twitter to see more student experiences throughout the school year. Join the Lewisville ISD family by enrolling today, or visit Best Schools in Texas to learn more.