Return to Headlines
Nicole and Samantha Humphries: Twins Who Win
Twin sisters Nicole and Samantha Humphries know what it's like to be confused for one another. The two are identical, mirror-image twins. This means they have reverse asymmetrical features even down to their dominant hand. Their lives have been mirrored off of each other's as well, both enjoying the same circle of friends, the same hobbies and more. And for as long as they can remember, both Nicole and Samantha have shared a love of running.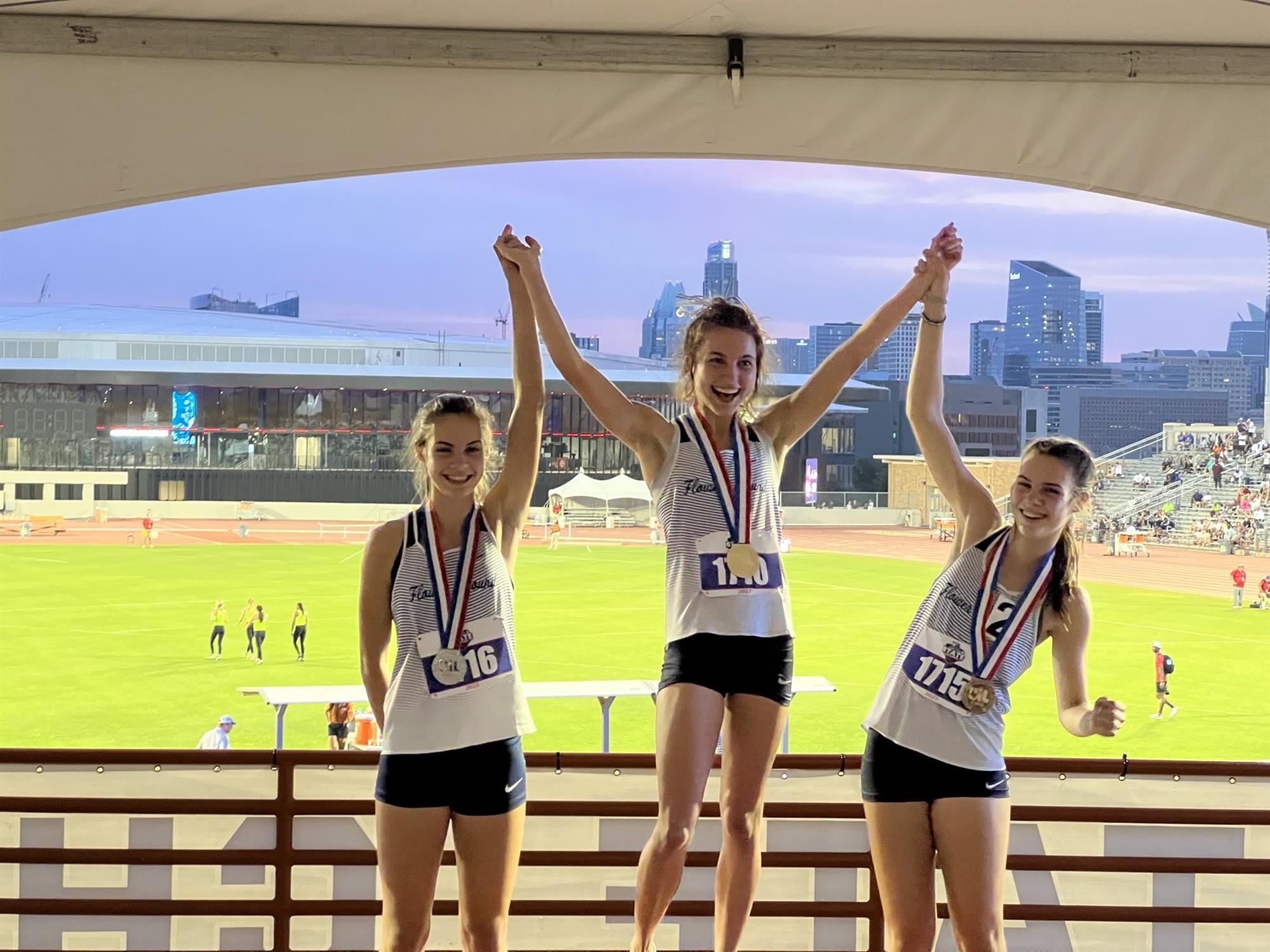 Nicole and Samantha share the podium with former FMHS runner Natalie Cook.
They began the sport in the second grade after their soccer coach recommended that they give it a try. Later they were introduced to Coach Andrew Cook, the longtime Flower Mound running superpower whose daughter was named Gatorade's Athlete of the Year in 2022. Cook would help the two refine their skills and later coach them again in high school.
The sisters both went on to join the Flower Mound High School Track and Cross Country teams, where they are currently in their third season. They share a training schedule, and enjoy running alongside each other daily. The two and their teammates attend practice each morning, cross-train with other forms of cardio and practice regular strength training.
But this November, Nicole and Samantha found themselves sharing something new – the top spot on the podium. Both athletes were competing at the Texas 6A State Cross Country Meet in Round Rock, Texas. They were neck and neck, barreling ahead of their competitors.
"I heard [Samantha] say 'Let's tie'," Nicole told the Cross Timbers Gazette. Nicole agreed, and the two finished at the exact same time of 17:36.4. The event made history, and was made even sweeter by FMHS sophomore Alexandra Fox finishing in third place with a time of 17:48.6.
"That's nearly impossible to do," Samantha said of their finish. "To be able to share the win was really cool."
But for all their similarities, and there are a lot, Nicole and Samantha have quite a few differences too.
"Well Nicole is definitely more outgoing," Samantha started.
"And I don't know if this is a real thing, but Samantha is more left-brained," Nicole continued. The two have a theory that their asymmetric features are mirrored in their personalities. "[Sam] is more mathematical and logical, whereas I'm more creative and artistic. She's more goal-oriented and on top of things, whereas I'll procrastinate and say 'whatever happens happens'."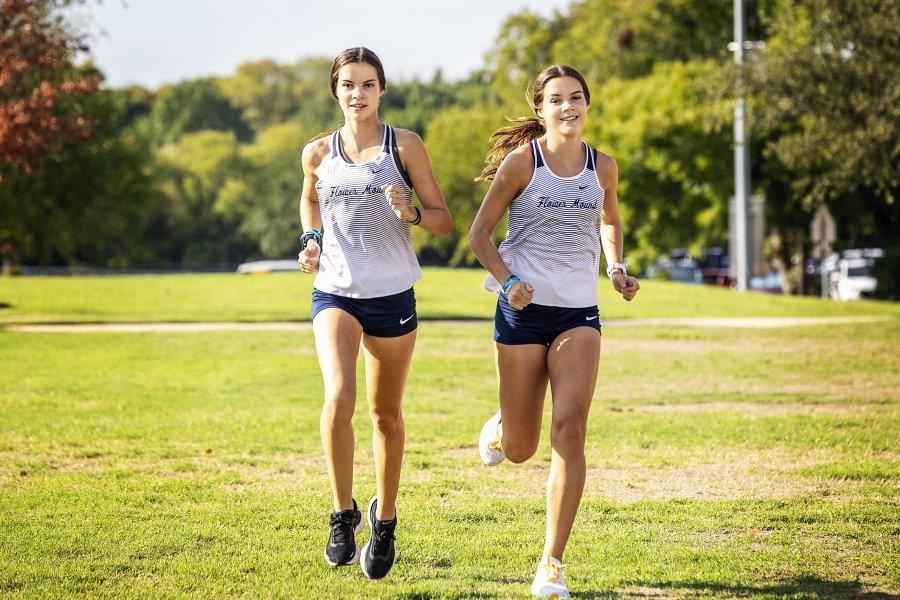 Samantha (left) and Nicole (right) pictured running. Photo credit: Seeden Photography
Some of these differences even come out in their running.
"Nicole will kill me in sprint workouts," Samantha joked. "But freshman year, I was a lot better at the two mile and Nicole did really well in the 800m. And those are two very different types of running."
"But then last year we switched again," Nicole added. "She beat me in the 800m and then I beat her in the two mile."
And throughout the past two and a half years at Flower Mound, the girls have faced their own unique challenges. "We've gone through a lot of ups and downs," said Samantha. "Like our freshman year we each had injuries. And then sophomore year there was a little bit of a gap between us for whatever reason."
Though compared to each other often, both Nicole and Samantha stressed that they aren't competitive when one runs a better race. "If she were to beat me by a lot, in my head I'd just wonder why I'm not up there with her," Samantha explained. "Being twins, we're chemically the same. So when something happens for one of us and not the other it's like, what am I doing wrong?"
Despite their ups and downs throughout their time at FMHS, Nicole and Samantha both emphasized how in-sync they've felt this year, as evidenced by their state final. "This year we ran together for a lot of the races, and had very similar abilities again," said Samantha. "It kind of reminds me of when we were younger because it used to always be that way."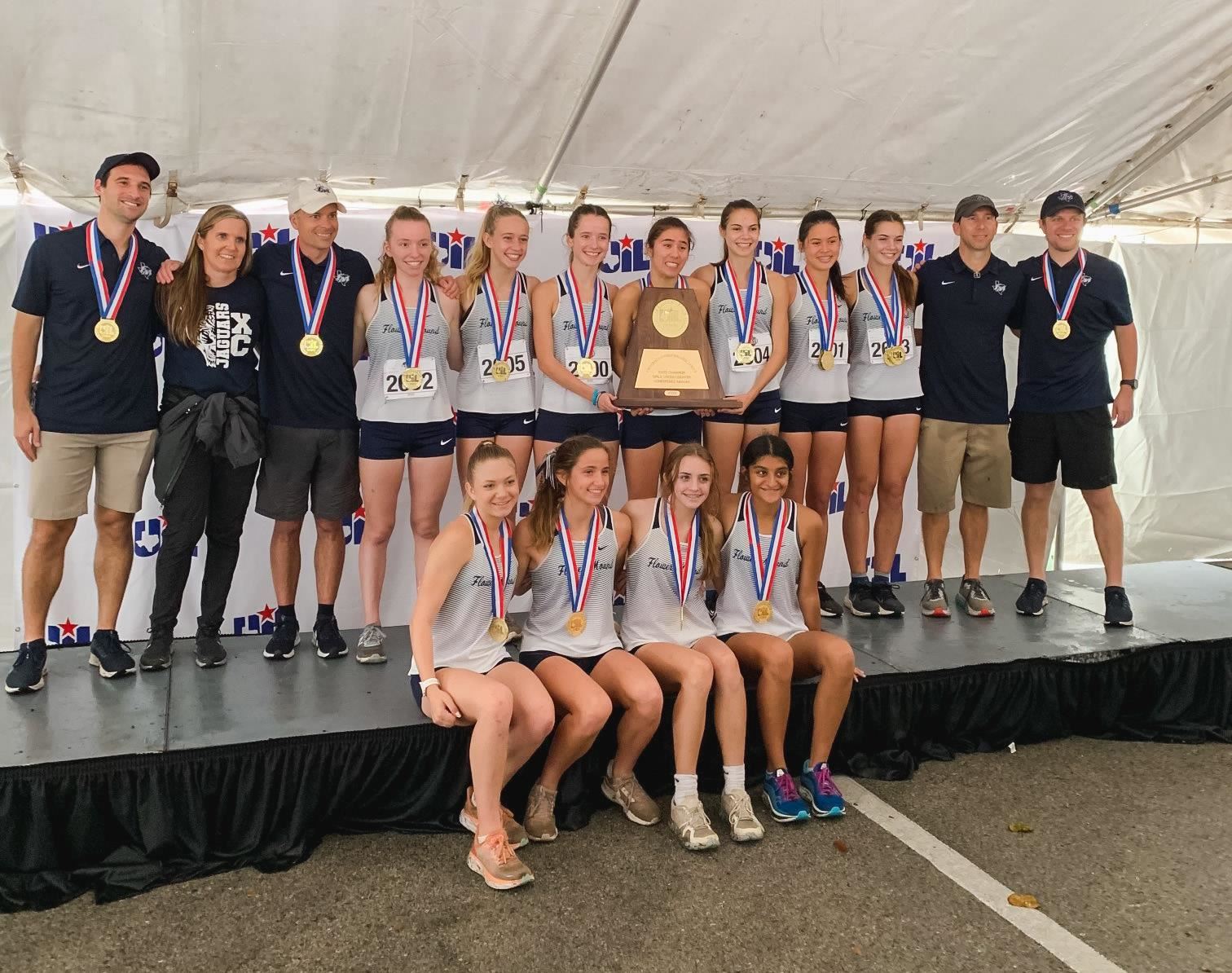 The FMHS Girls Cross Country Team pictured after winning the State Championship for the third year in a row.
With track season off to a strong start, the two are looking forward to extending the team's winning era. "We want to continue the tradition," Nicole said, referring to the 2020, 2021 and 2022 State Cross Country Championships and 2022 State Track and Field Championship the FMHS Lady Jaguars have clinched. "And we want to build our own legacy."
"Coach Cook and I look forward to watching Sam and Nicole compete this year," Assistant Coach Clint Davidson said. "They always bring such a special energy to each race.
"Not only are they amazing competitors," Head Coach Andrew Cook said, "but they also help to inspire the rest of our team with their work ethic and show them what it takes to be an elite athlete. We can't wait to see where they end up taking their journey after high school."
As far as what that journey holds, the girls aren't quite sure what college they'll attend. But they are sure they'll go there together. "I don't think there's any way to go without each other," Nicole said. "I want to go to college with Sam, but it's also just because we have so many similar interests. Even if we didn't [mean to], we'd probably end up looking at the same places. Because what I'm thinking I know she's thinking it too."
When asked what their favorite part about being a twin, the two answered in their typical, in-sync fashion.
"We're just better together," Nicole said.
Samantha added, "I was about to say that too."
---
Flower Mound High School is a Lewisville Independent School District high school in Flower Mound, Texas, serving all Jaguars with engaging educational experiences, strong traditions, storied extracurriculars and future-ready opportunities. Follow FMHS on Facebook and Twitter to see more throughout the school year. Join the Lewisville ISD family by enrolling today, or visit Best Schools in Texas to learn more.