Return to Headlines
The Loop: Why Mavs Fans Love LHS Alum Bobby Karalla
This feature was first seen in Lewisville ISD's quarterly magazine The Loop.
---
It's 4:30 p.m. on a Thursday at the start of November, less than 24 hours after the Dallas Mavericks defeated the Utah Jazz the night before, and Bobby Karalla is back in Studio 41 at the Mavericks practice facility sitting behind the microphone getting ready to record another video for the team's website where he breaks down the victory for thousands of diehard basketball fans.
Karalla, a 2009 Lewisville High School graduate, is the Digital Content Manager for the Mavericks and has become a must follow for Mavs fans on multiple online platforms. Whether it's streaming his Numbers on the Boards podcast on Twitch, breaking down plays on the Mavs' YouTube channel with The Film Room, or providing engaging tweets every game to his 23,000-plus Twitter followers (@bobbykaralla), he is constantly giving Mavs fans plenty of content to stay up-to-date with their favorite team. During the season, Karalla provides 10 hours' worth of video and audio content a week.
"We put out videos and content every day," Karalla said. "This job is fun and it's always something different. All that matters is making sure the people that are watching the Mavs are enjoying it. This job is about entertainment. I can't imagine another job that's more fun with a combination of sports and working in the studio trying new things and making content."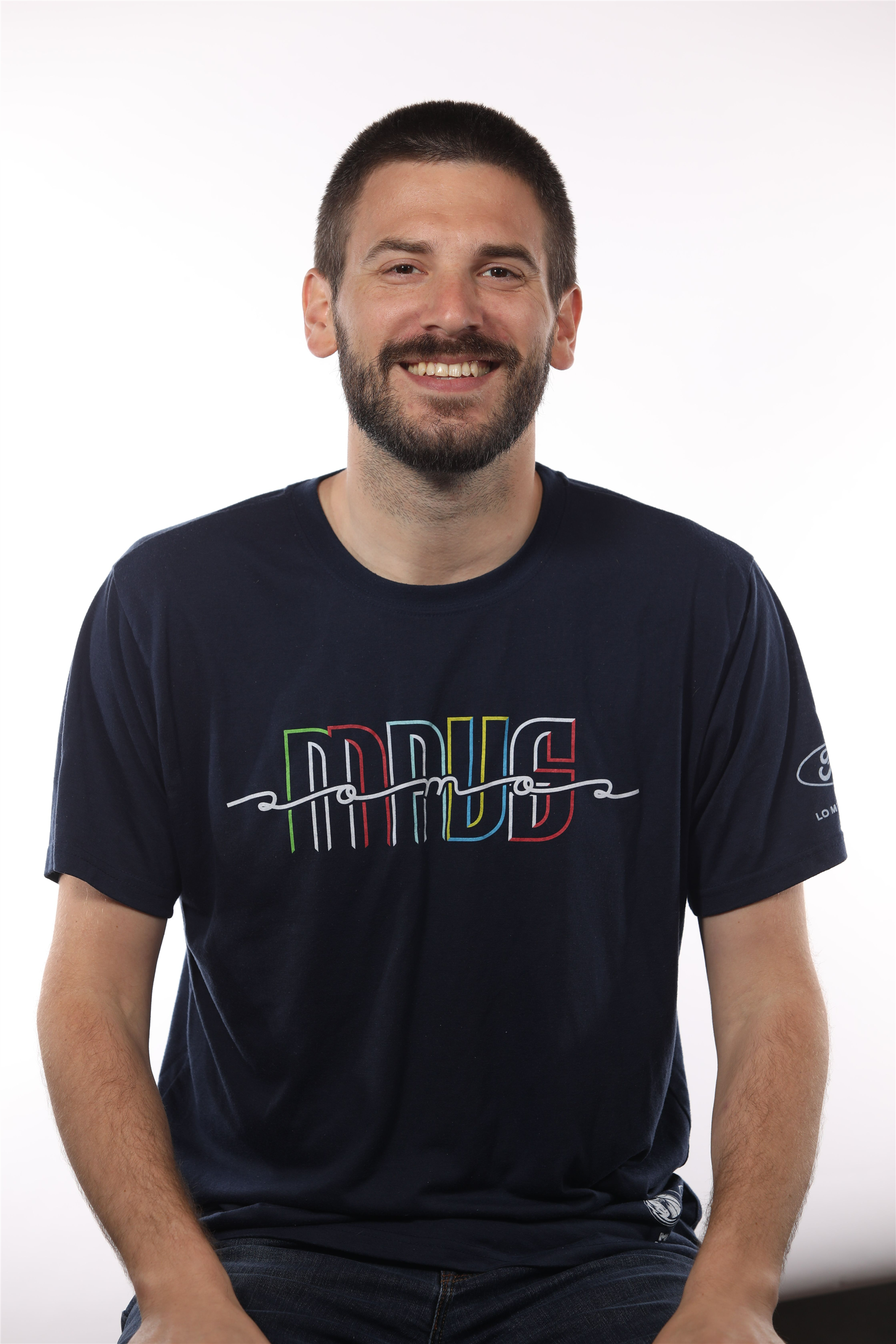 Growing up in Lewisville, Karalla always had a passion for sports – especially the hometown Dallas Mavericks. He attended Lewisville ISD schools all throughout his education that began at Degan Elementary and Huffines Middle School before he made his way to Lewisville High School. Karalla knew in middle school that he wanted to be a sports writer and involved in sports in some way.
"I always knew I wanted to be a sports writer because I love to write and I thought about how I could be involved with the game without playing," Karalla said. "I grew up watching ESPN and sports talk shows with my dad and I said I can do what they do. Little did I know I wouldn't be writing, but on camera. I started practicing and used my Xanga as a sports blog where I would write season previews and on Myspace, I'd write big long notes about sports. I was constantly practicing."
With all the writing practice Karalla would do in his youth to reach his dream of being a sports writer, one would think English was his best subject in high school. But if you're familiar with Karalla's work, he loves to talk about basketball stats, numbers and trends in his videos and tweets. Although math and numbers might be a focus for him now, it wasn't always the case for Karalla in school.
Karalla was an excellent student at LHS, taking honors courses and involved in gifted and talented classes each year. But somewhere along the way towards the end of his junior year, he caught an early case of senioritis, as most students tend to do as their focus drifts towards summer break and their upcoming senior year.
As his grades began to slip in precalculus, Karalla needed a wakeup call. The wakeup call he got from his teacher, Teresa Chiles, still sticks with him to this day and he believes it was the turning point for his career.
"I was failing Mrs. Chiles' class 95 percent of the way through the semester," Karalla said. "My junior year was really hard for me and I was so checked out at the end of the year. Without telling me, Mrs. Chiles called my parents and told them, 'Bobby should not be failing my class.' My parents gave me a talking to and I went to Mrs. Chiles the next day and asked what can I do to fix this?
"I came in early before school every day for two or three weeks to make up all my tests, quizzes and homework that I skipped or failed. It made me re-learn all the course work and study hard, so for the rest of the semester I was acing all the assignments. That all happened right before the SAT, so because she put me through this 'precalculus boot camp,' I became really good at math and took the SAT and got a 750 on the math part. I ended up getting a full ride to college because of my SAT. Mrs. Chiles could've just said 'you don't care about my class and you never gave me a chance so why should I give you a chance?' But she must have felt like it was her teacher calling to give me another chance to prove myself and it ended up changing my whole life because of her. She's amazing and I can't thank her enough."
When told about the influence she made on Karalla's life and where he's at now, Mrs. Chiles was blown away with emotions but said the ability was always there for him. He just needed that reminder.
"I don't like watching a student's potential go to waste," Chiles said. "Bobby proved in the first semester that he could handle the math and he didn't need me to force him to do the work. He put in the hard work and it paid off. In a big way. I am so excited for him and his success."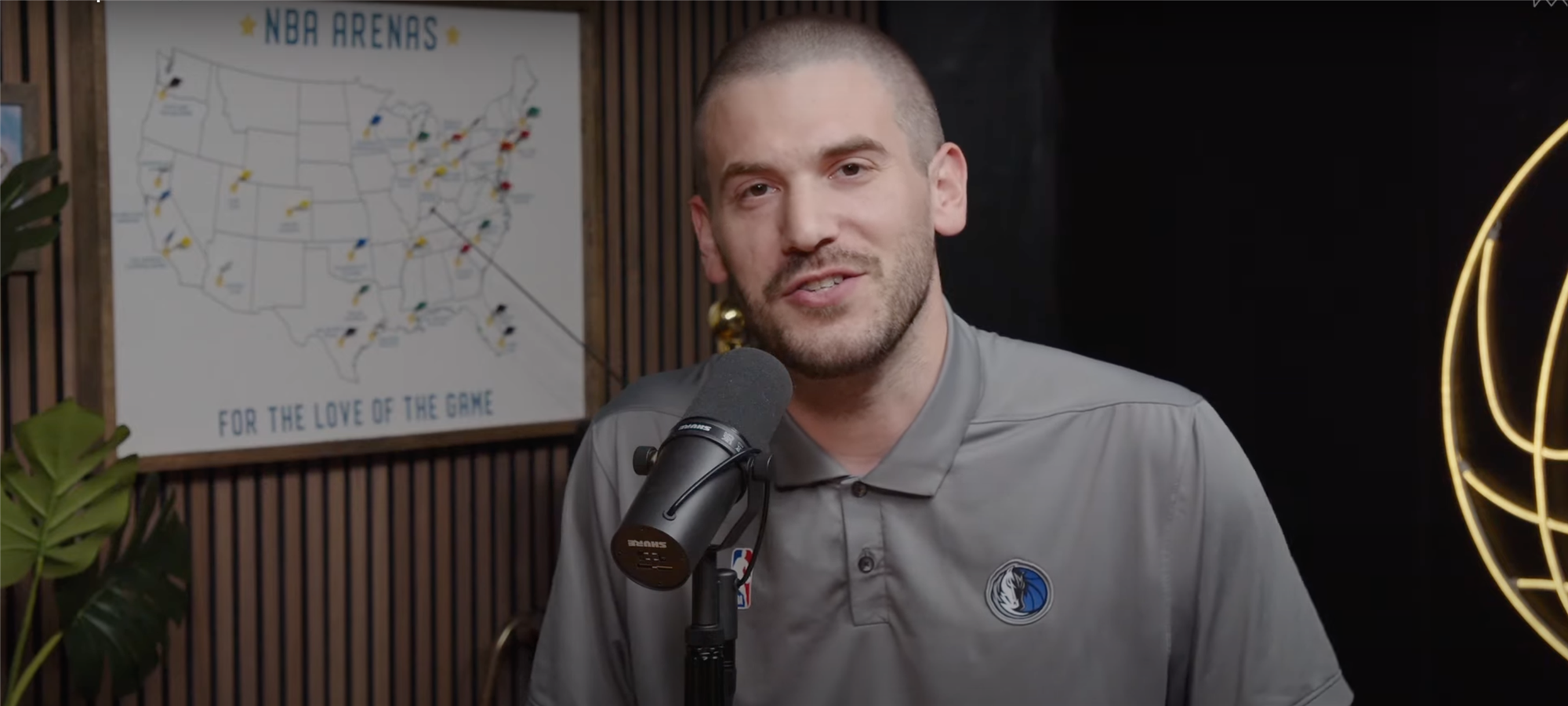 After graduating from UT Dallas with a degree in Communications and Media Studies, where he was also the Editor-in-Chief for the student newspaper, The UTD Mercury, Karalla went on to intern for D Magazine. It just so happened that one of his first assignments was covering a Mavs community event. The Mavs liked what Karalla had written and how he covered it, so they offered him an internship to write for Mavs.com. "I was very lucky," a grinning Karalla said.
Now going on seven years with the team, Karalla began working for the Mavs full-time in 2015. His job changes every year, thanks to working for a tech-savvy and innovative owner like Mark Cuban who's always challenging Karalla and his colleagues to try new things.
"When I got hired, it was only to write for the team website, Mavs.com. At the time, we were the only team that had a writer on staff – no other NBA team produced their own content. I came along and started doing stat-focused articles – real nerd-type stuff. After a while, we started to notice that people aren't reading articles, they want to watch videos or listen to podcasts, because this is sports and they want to see or hear the content. We started focusing on podcasts and live streaming.
"[Mark] Cuban definitely encourages us to create content like that all of the time. He's always thinking of the next big thing. Now that we have been doing this for a year, he's probably bored of it and thinking of what we can do next. It kind of makes it a challenge to keep up with his mind, but also at the same time, we are the only team in the NBA that does any live streaming and in-house podcasts, so we have a lot of freedom from him to experiment and tinker with content. So that's a huge advantage having someone like Mark giving us the green light."
Being on camera and behind a microphone wasn't natural at first to Karalla, but it's something he's gotten used to and excels at now. He credits the transition from being a sports writer to an on-camera basketball analyst and show host to his mentor and Numbers on the Board podcast co-host Jeff "Skin" Wade.
"Skin is my mentor. He's taught me as much as anyone in this industry. In a few years, there's going to be the next line of kids that come along and it's going to be up to me [and other media members] to let them in and mentor them like Skin and other guys have for me."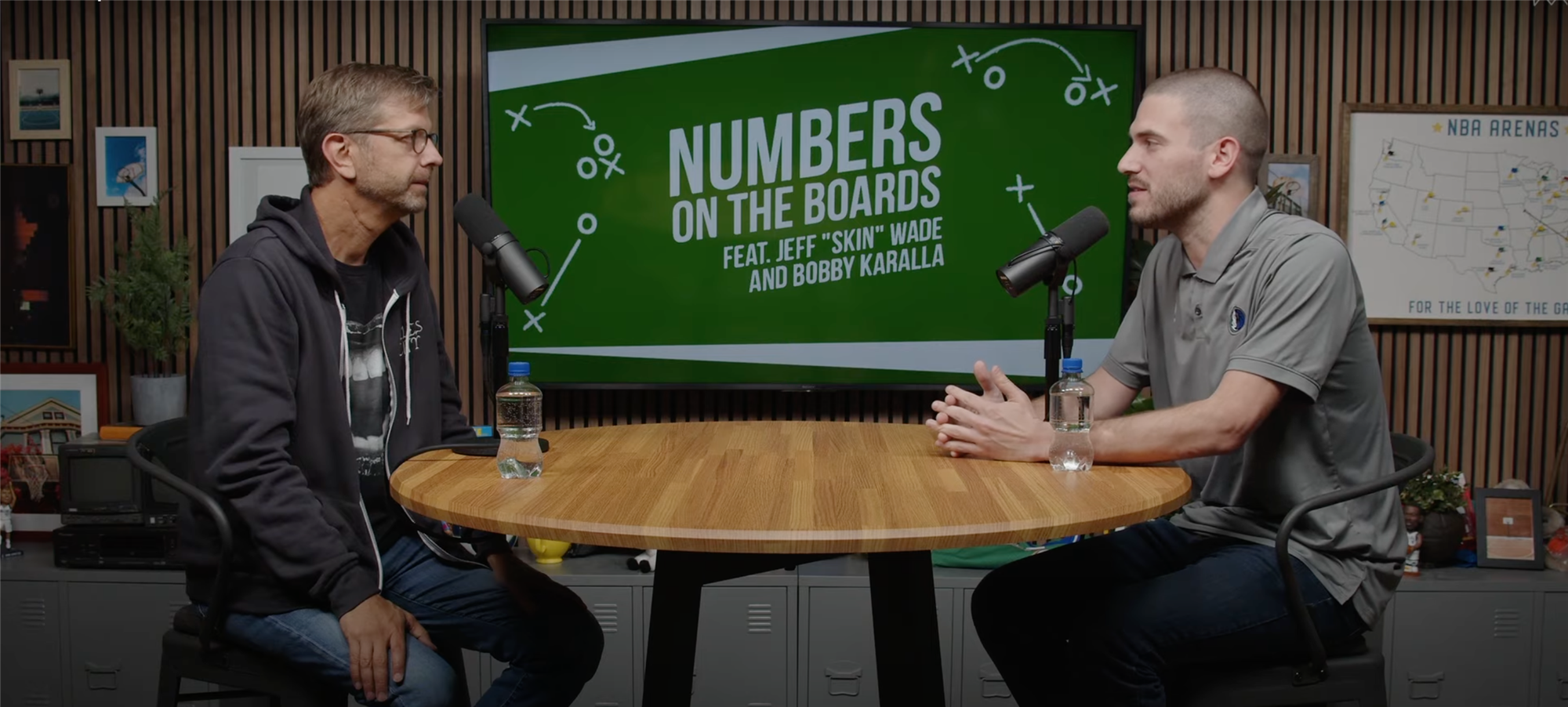 Skin saw ability in Karalla early on and they have become a dynamic duo for Mavs fans ever since they teamed up on Numbers of the Boards.
"I'm older than Bobby and I've been through similar things, so I kind of knew what I felt like I would have needed at his age. I just helped provide those things to where it was encouraging and supportive, but also let him go get it on his own," said Skin, who also started his 14th season as an analyst on the Mavericks television broadcast.
"Bobby is a real easy guy to want to work with because of his enthusiasm, knowledge and passion for basketball," Skin added. "Most people that listen to Bobby are going to get some sort of element that they haven't considered yet because he's put in the additional work. I can tell you that other people notice it, too. How Bobby carries himself and does the quality of work that he does, other people that are in this business notice it and I think that's fantastic."
Not only is Karalla learning things from Skin, but also having players and coaches to pick their brains and change the way he views and covers the sport has helped him grow professionally. Who better to learn the game from than one of the sports all-time greats in Dirk Nowitzki. Karalla remembers the first time he interviewed the Mavs legend, even though Dirk may not have remembered him right away.
"When I first interviewed Dirk, it was 100 percent that 'I've made it moment'. But he misunderstood me when I introduced myself the first time as Bobby and he thought I said my name was Robby, so Dirk called me Robby for a while," Karalla said with a smile. "But he's Dirk, he can call me whatever he wants."
Earlier this year, Cuban made a surprise appearance at Karalla's alma mater to visit with LHS entrepreneurial students in the INCubator program. Although Karalla didn't get to attend with Cuban to return to his old stomping grounds, he knows the students got to experience something unique.
"I thought it was great and so cool to see Mark [Cuban] at my old high school. I don't think Mark or the Mavs have ever done anything at LHS before or even in LISD outside of a pep rally event. The kids must have been in awe."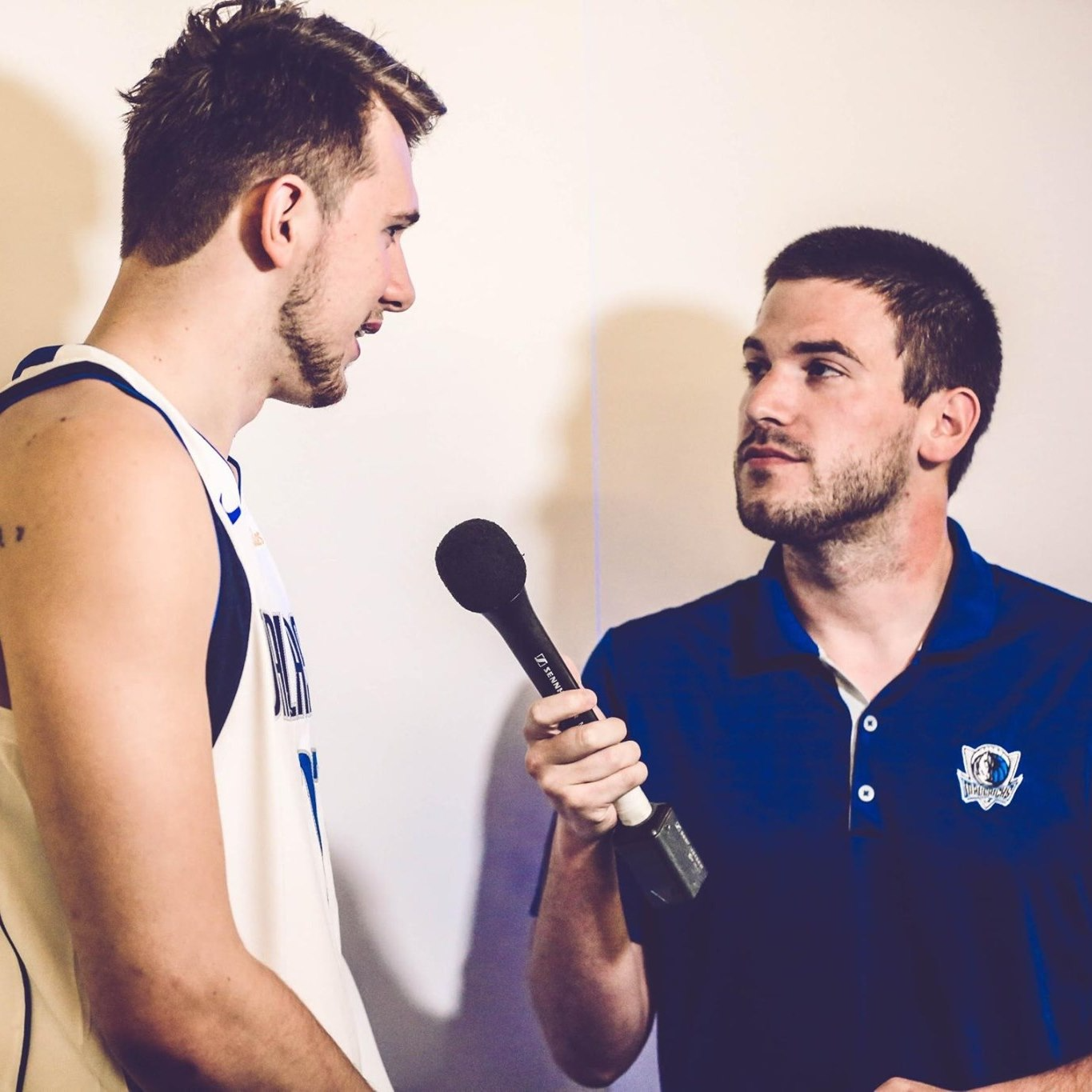 Had Karalla been in attendance, he would have given some of his own advice to the students that were interested in a sports media career like himself.
"Practice makes perfect. Do something every day that will make you better. Every assignment I had, I always tried to put a sports spin on it to tie it back to what I wanted to do. Whatever you're passionate about, whether it's sports, music, politics, there's always ways to turn those assignments into practice for what you want to do."
All that practice has led Karalla to his dream job with the Dallas Mavericks. After he wrapped up his video podcast that night, Karalla had to get ready for the Mavs game the next night. He has more content to produce.
---
The Loop is a quarterly magazine from the Lewisville Independent School District, showcasing the latest stories, photographs and achievements throughout Lewisville ISD schools. Click here to read previous issues.