Return to Headlines
It Takes a Village: A Look Inside the New Teacher U Program at LISD
This feature was first seen in Lewisville ISD's quarterly magazine The Loop.
---
At the start of the 2022-23 school year, thousands of new students walked into an LISD classroom for the very first time. But students weren't the only individuals new on campus – they were joined by over 180 new teachers beginning their first year of teaching here at LISD.
When a first year teacher is hired at LISD, they are immediately admitted into the New Teacher U program. This three-year program began in 2017 as a replacement for the previous one-year iteration. "We have so many different needs and new hires in multiple roles," LISD Professional Learning Coordinator Alex Kixmiller explained. "These diverse needs are reflected in our new three-year program."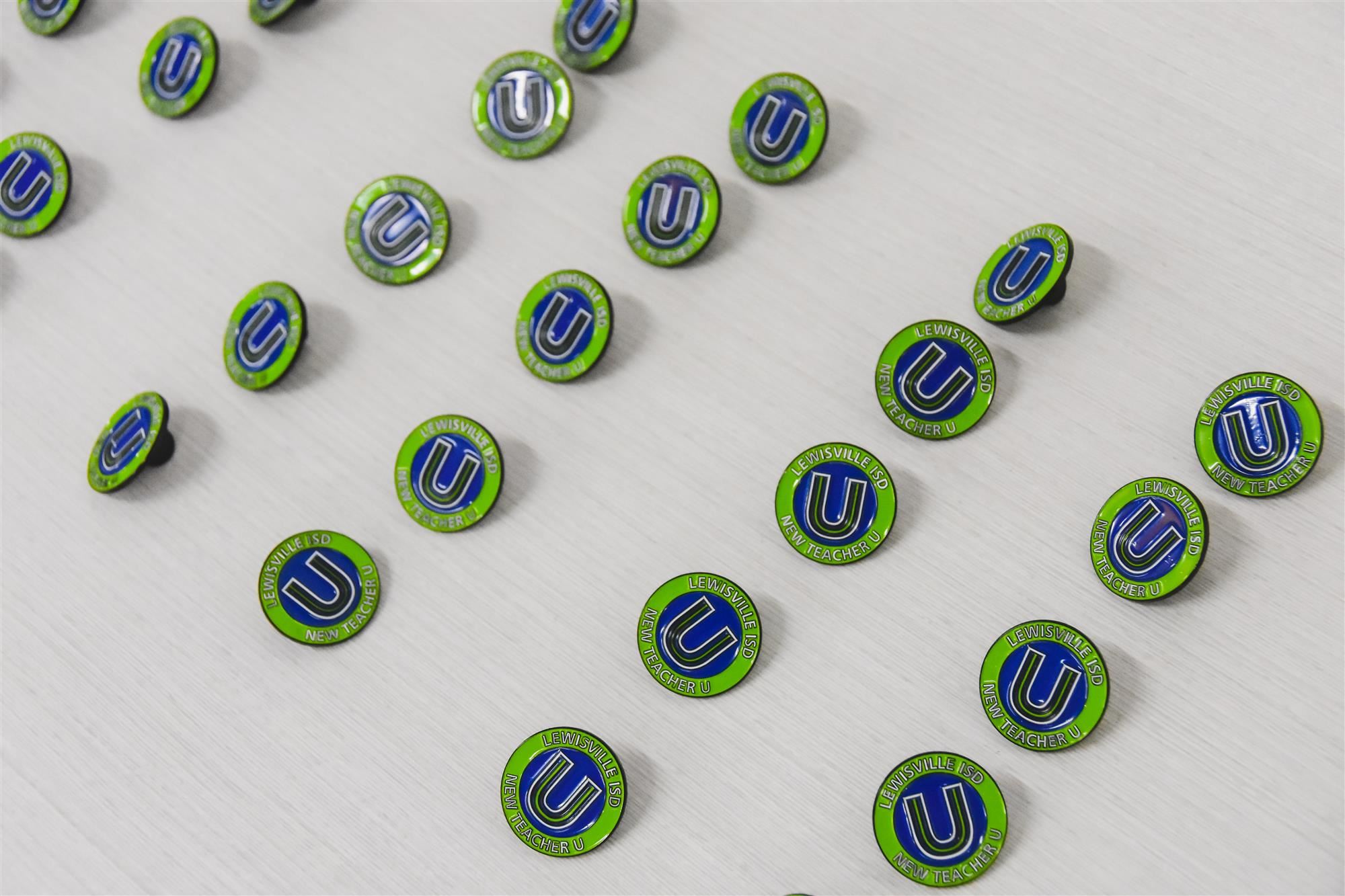 New Teacher U pins on display at the yearly graduation ceremony.
New Teacher U, or NTU, is designed to support the growth of new teachers during their first three years in the classroom. "The goal for the end of the third year is for all teachers to be fully developed and successful classroom teachers, as aligned with LISD's LEAD goals," Kixmiller explained. Following the LEAD (Lewisville Educator Appraisal and Development) system, teachers focus on different subject matters in each year of the program. In Year One, the focus is on establishing a learning environment and instructional strategies. In Year Two, new teachers learn best practices for student engagement and lesson design. During the last year of the program the emphasis is on formative assessments, and how to use data from these assessments to make decisions as a teacher.
One of the larger pieces of NTU is the mentorship program, a favorite amongst participants. New teachers are matched with a mentor and remain partnered with them for two years, a critical time in the journey of a new educator. Kixmiller and her team spend hours pairing each new teacher with a mentor suitable for their needs. "We really focus on differentiating the support," she explained. "Some new teachers are paired with a retired LISD teacher that has a similar background or expertise. ALT-certified teachers are paired with current teachers in the same content area and Special Education teachers are paired with former and current LISD Special Education teachers." Beginning in the 2021-22 school year, the group has even hired back retired LISD athletic coaches that mentor our first-year coaches.
Holly Weston, a 6th grade ELA teacher at Delay Middle School, just completed her two years of mentorship through the NTU program. "From the word 'go', my mentor was there for me for everything," she said of the experience. "She was always welcoming and helpful. I felt as if I always had someone there to bounce ideas off of, give me feedback, or just to hear me out. Even now, I reach out to my mentor even if it is just to ask a simple question or get her opinion on something."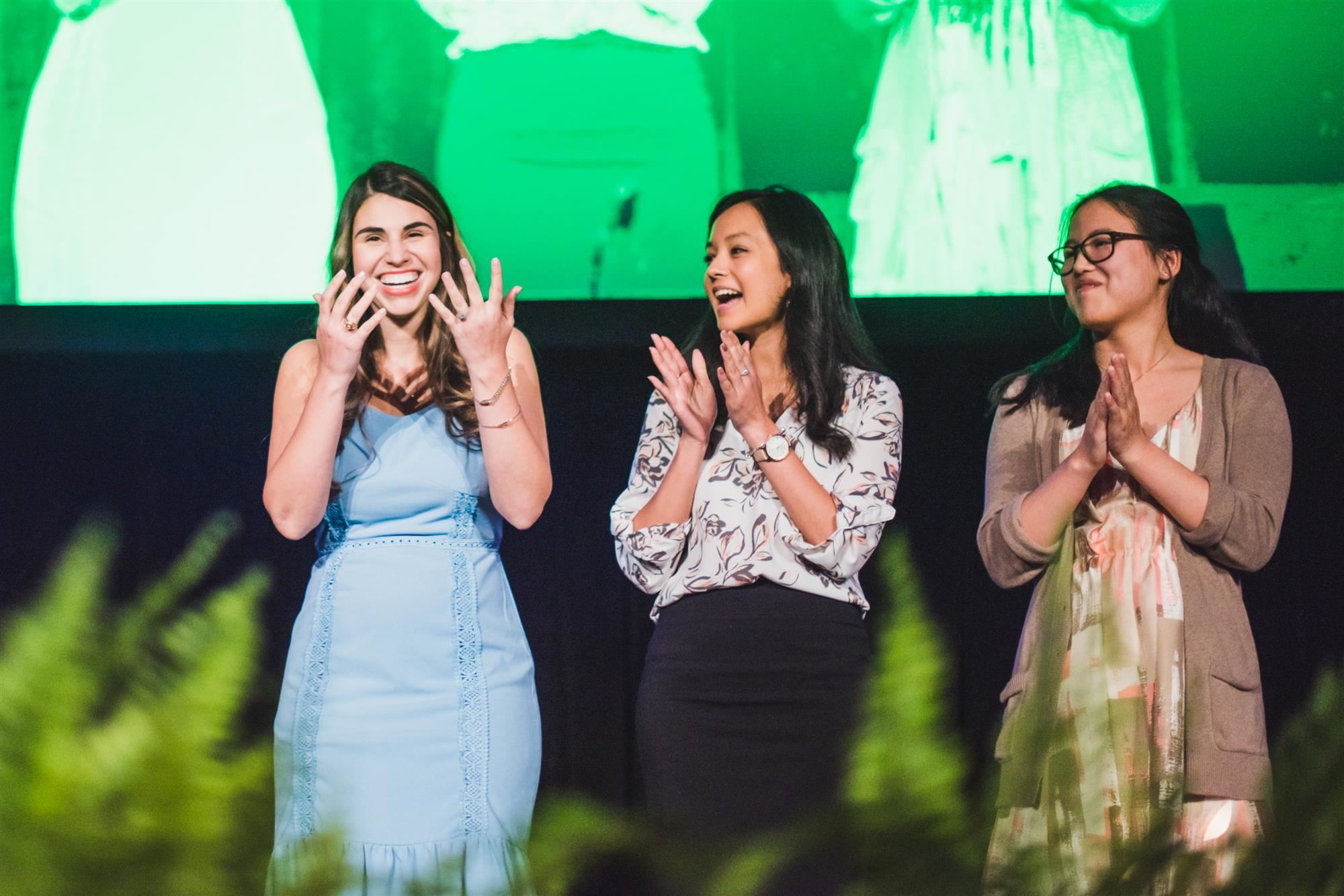 Ashlyn Brothers wins First Year Teacher of the Year at the 2018-19 LISD Employee Awards Banquet.
The sentiment was echoed by Ashlyn Brothers, a 7th grade science teacher at Griffin Middle School. Brothers participated in the program herself, and now serves as a mentor for other new teachers. "The NTU mentor can be a listening ear, a safe-place for frustrations and questions, and a resource for classroom management and instructional practices," she said.
Besides the mentorship program, new teachers receive several other opportunities for growth throughout their three years in the program. As a part of their orientation into the program in August, teachers spend half of a day in a "model classroom," which is home to an exemplary LISD educator. "They also go back to that classroom in October," Kixmiller explained. "It's important for them to see and experience this exemplary classroom once the school year has begun as well." The opportunity to visit classrooms is a valuable one for our new hires, who don't get many chances to do so beyond the NTU program. That's why NTU also requires first-year teachers to visit four teachers on their campus during the course of their first year, to better learn from their peers.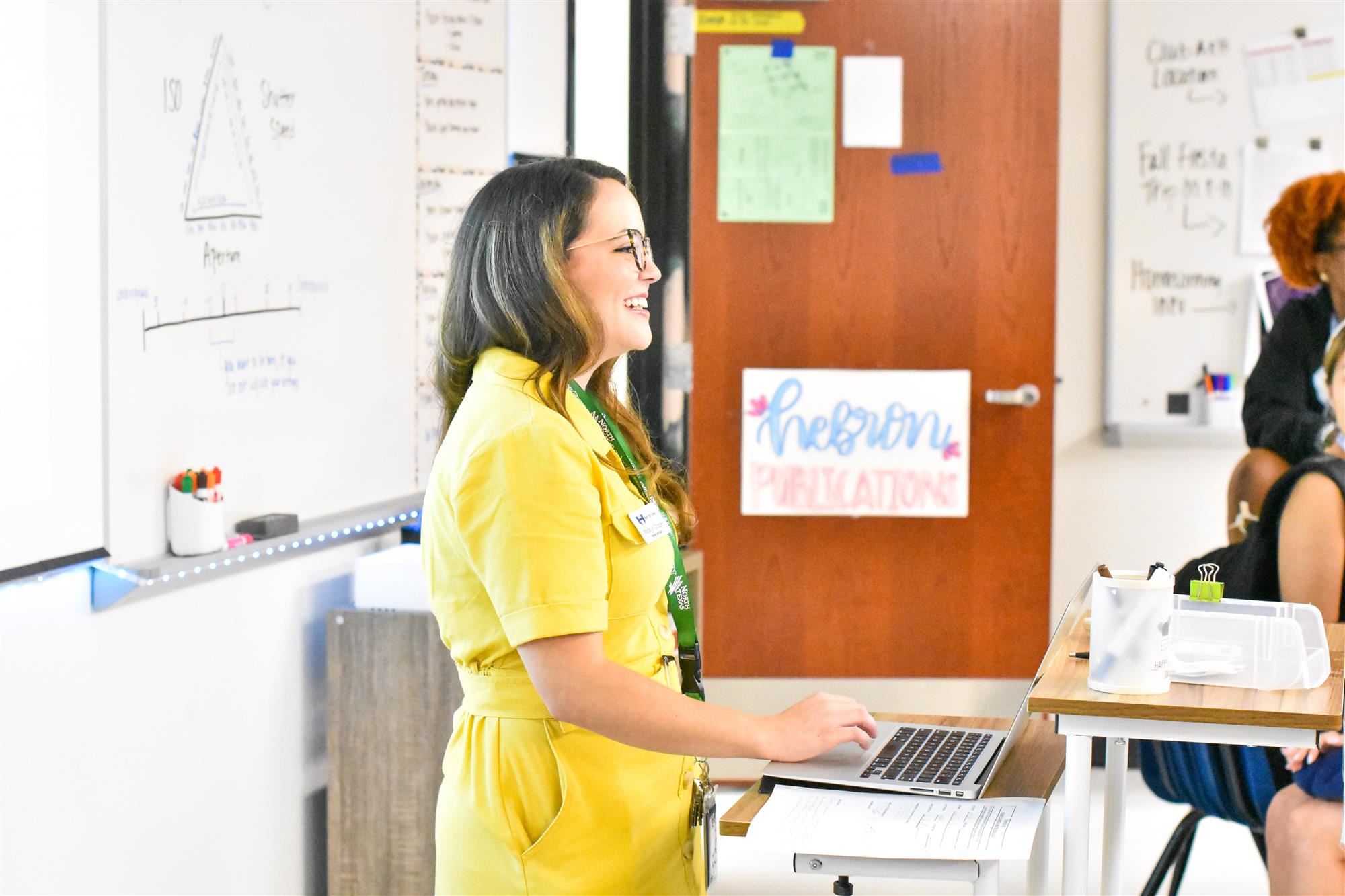 Madalyn Cooper, a recent graduate of the NTU program, teaches her Journalism students at Hebron High School.
Another invaluable opportunity is the various training NTU offers. These trainings include both ESL and Special Education training for all teachers, in order to equip them to serve all of our students here at LISD. Madalyn Cooper, a Journalism teacher at Hebron High School and recent graduate of the NTU program, described the training as one of the most influential pieces of the experience. "The training that we did also helped me to solidify why I decided to go into teaching in the first place: to empower our students and be advocates for their learning," she said. "It was also such a huge help to discuss different teaching strategies with those who were on almost the same experience level. After each training we were required to attend, I always left with new ideas that I was able to implement in my classroom."
Once teachers complete the three years of NTU, Kixmiller and her team host a graduation ceremony for all graduates of the program. The graduates invite their mentor to join them, as well as any other LISD staff member influential to their teaching journey. Because of the COVID-19 pandemic, last year was the first opportunity for an in-person ceremony. "It was a rewarding event for us," Madalyn Cooper said of the event. "I loved the idea that we were able to invite a special guest that helped us throughout our first three years."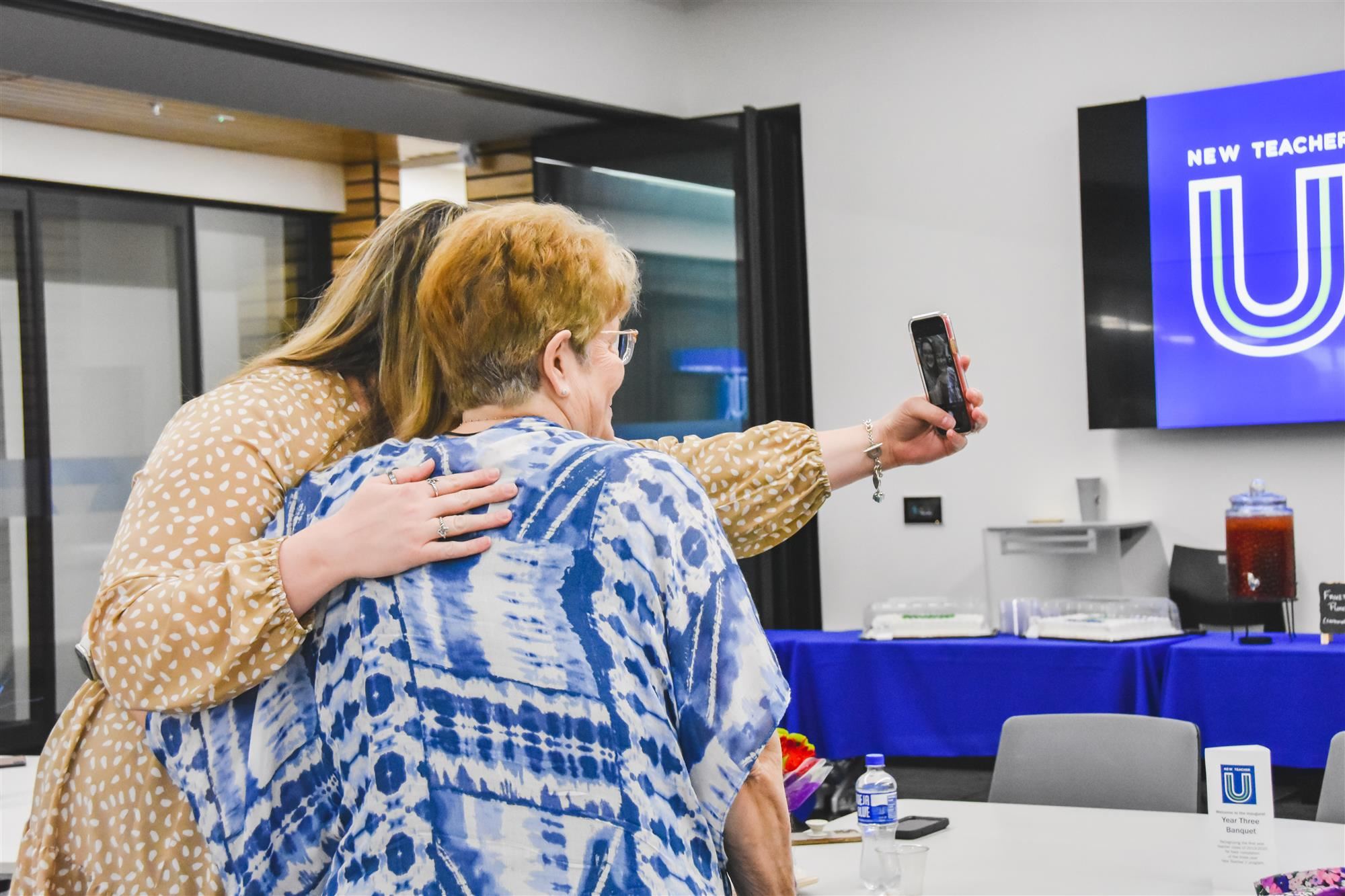 A NTU graduate and her honored guest snap a selfie at this 2021-22 graduation ceremony.
Tara Fehlis, a second-year teacher and current NTU participant, described the impact the NTU program has had on her career. "Teaching is hard, but it can be so rewarding. It really does take a village."
It's certain that the New Teacher U village – Professional Learning, new teachers, mentors, and more – has made an immeasurable impact on Lewisville ISD.
---
The Loop is a quarterly magazine from the Lewisville Independent School District, showcasing the latest stories, photographs and achievements throughout Lewisville ISD schools. Click here to read previous issues.