Return to Headlines
For most of us, defining our lives with one word would be nearly impossible. But for substitute educator Mr. John Campbell, this would be easy. His life is clearly defined by just one word – service.
We sat down with Mr. Campbell to talk about his time in LISD in honor of Substitute Educator Day. But what we got was far more than just a simple story about his time in the classroom. Instead we got a picture of 75 years of service throughout the life of John Campbell, and how the lessons he has learned are being passed down to our students on a daily basis.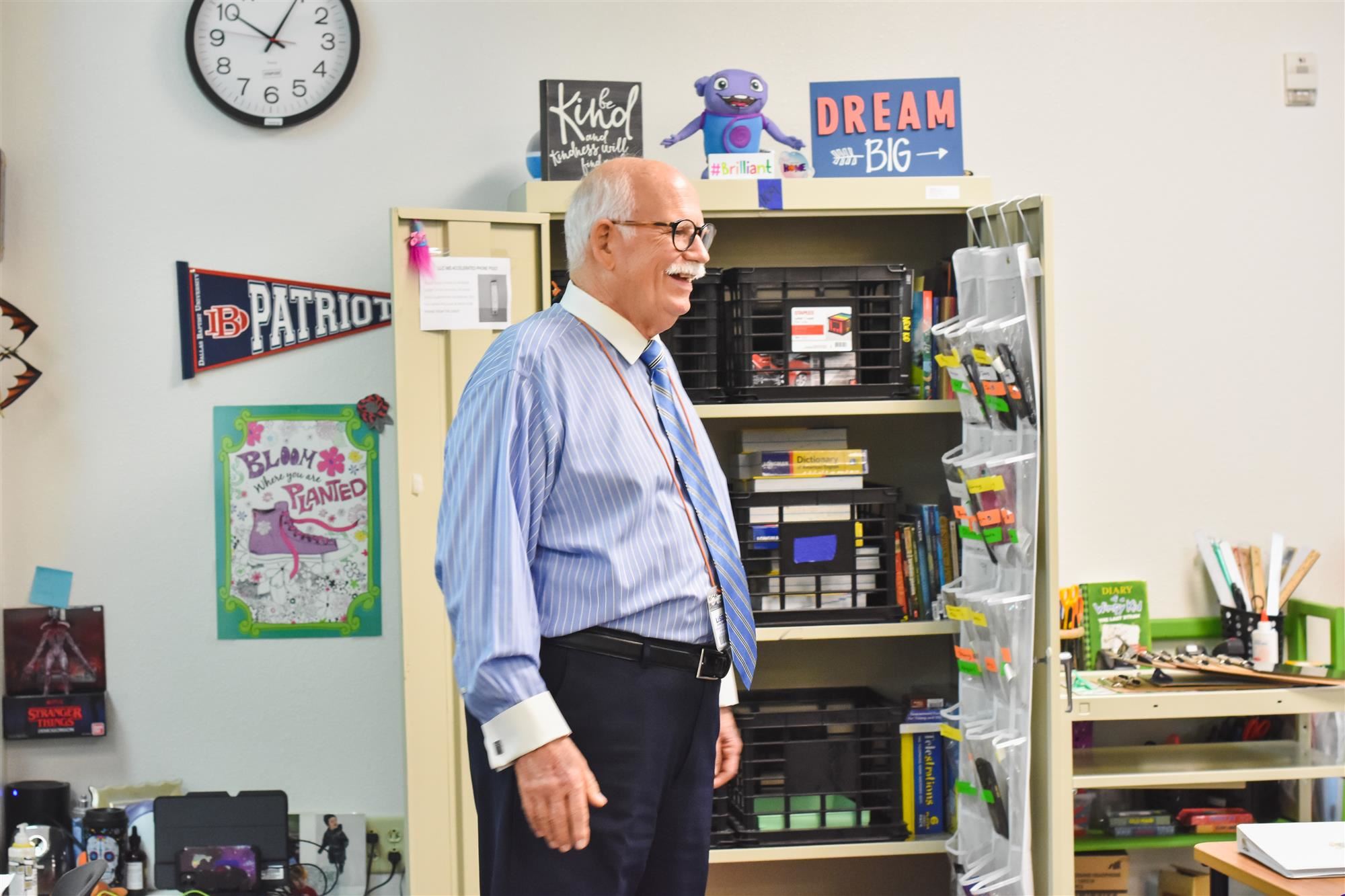 Long before Campbell got his start in the district, he was keenly aware of his responsibility to serve others. His mother served as the Den Mother for his Boy Scouts troop, and he played an active role in this organization throughout his adolescence. He became a member of the Order of the Arrow, an honor society within the Boy Scouts organization that recognizes those who live out the Scout oath in their daily lives. But his life changed at age 16, when he was awarded the Vigil Honor. It's the highest honor in the Order of the Arrow - awarded only to those who show completely unselfish interests and have made distinguished contributions to their community.
"When I was 16, I swore I would provide service," Mr. Campbell said of the Vigil Honor. "I went through a ceremony where you're required to make a commitment [to serve]. So I just decided to live by that my entire life."
This commitment continued on a grander scale as he served in the Vietnam War, where he was awarded the Bronze Star Medal for Valor. "I served in the Vietnam War because I felt it was my responsibility as an American citizen," he said simply. Later he would earn the title of Verger in the Episcopalian church, which he still holds, where his job is to serve the priest in any capacity. He also became a member of the Community Emergency Response Team for the city of Lewisville, another organization he is still an active part of.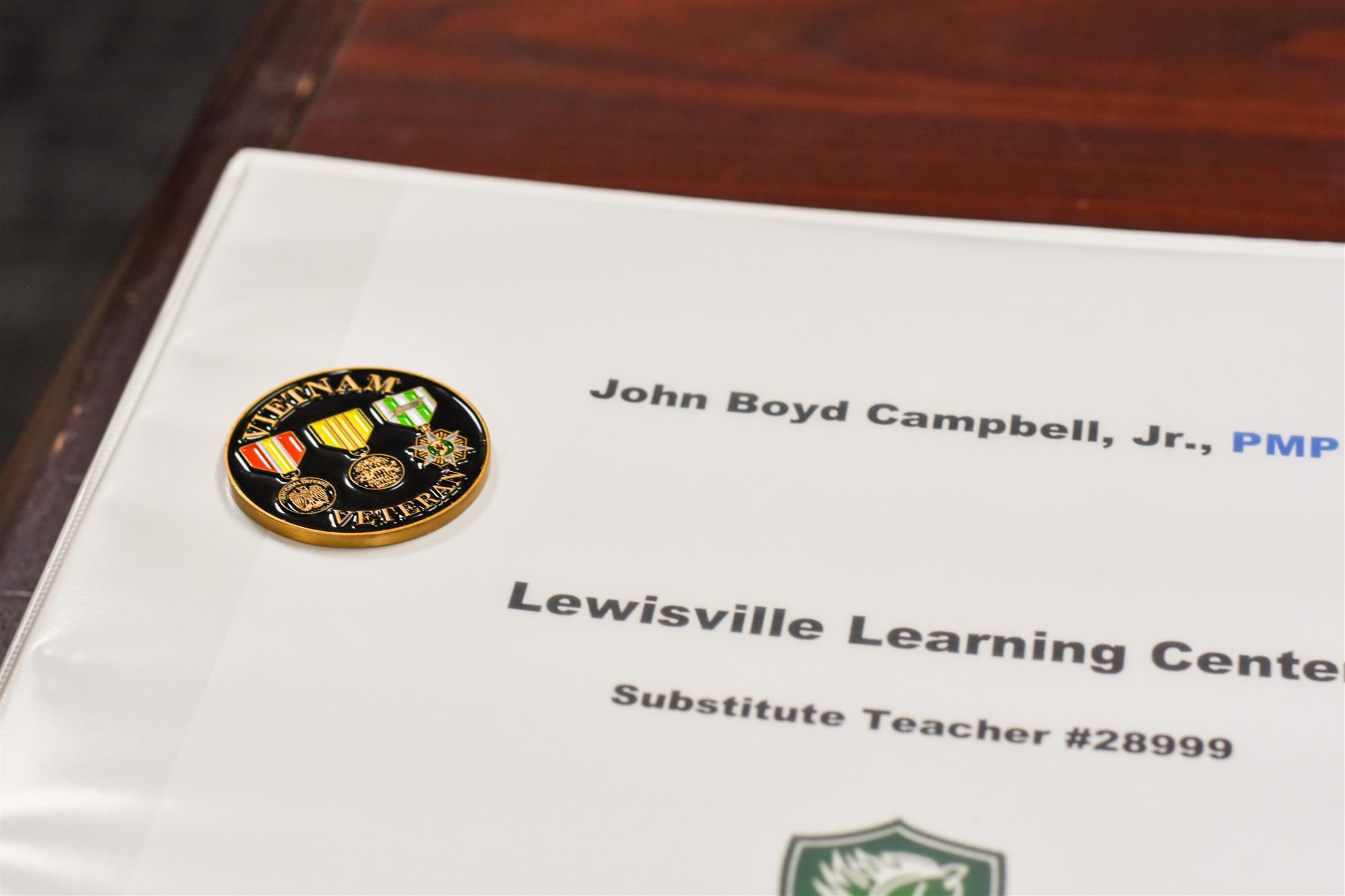 Throughout his 49-year career in professional project management, he worked to lead his peers through a series of impressive projects. He would eventually become the Vice President of Design and Construction at Omni Hotels, before his retirement to become a full-time caretaker for his wife Dianne. But because professional project managers have to get ongoing professional training, he decided to volunteer his time in retirement to help them reach their goals. So to this day, Mr. Campbell teaches online courses on emotional intelligence, project risk management and project scheduling for those in his former profession.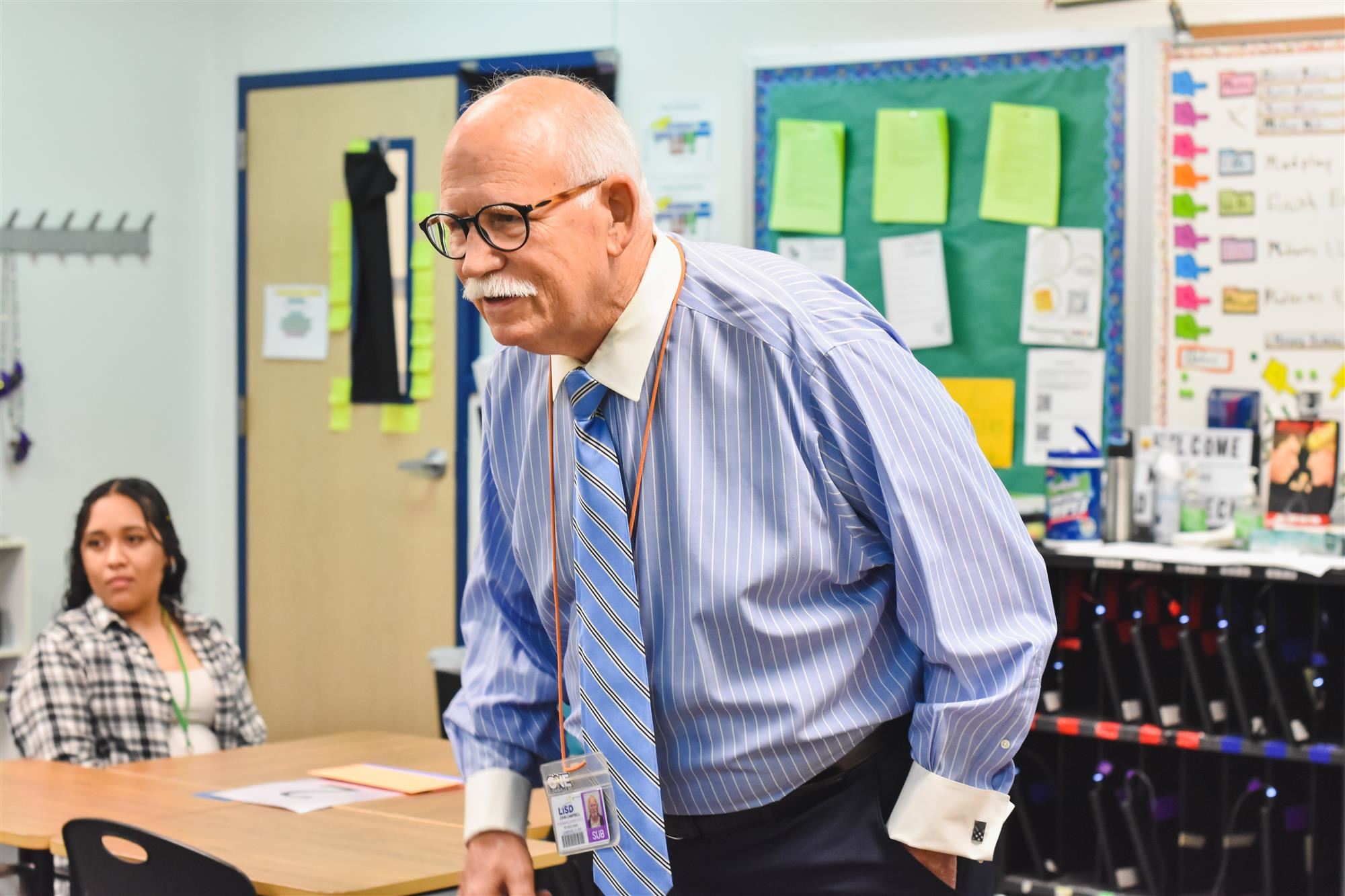 When his beloved wife Dianne passed away, he was faced with a choice. "I just made a conscious decision after that that I wanted to make an impact for my kids, my grandkids and students," he said. "I feel that I've been blessed, and I'd just like to give back."
This is when the story of Mr. Campbell and LISD converged, as he decided to make this impact by substitute teaching in our district. "When I first started this, I'd go campus to campus," he said. "But then during COVID the Lewisville Learning Center asked for me to be a full-time substitute, and so I decided to do it. This is a smaller group, and they have different needs. I thought, 'Well, I'm going to go where I think I can make a difference.' If I touch one kid, and they think they can come to me and ask me questions and talk about real life or whatever it might be…that's what I wanted to do."
And make a difference he has in his time at the campus. He stands outside each morning to greet students, and says the most fulfilling part of his job is just interacting with them in these moments. "I have a dry sense of humor so I always have jokes for them," he added. "I try to come up with things that I hope they might laugh about." He even has a powerpoint presentation, complete with a cartoon version of himself, that he shows to new classes when he meets them.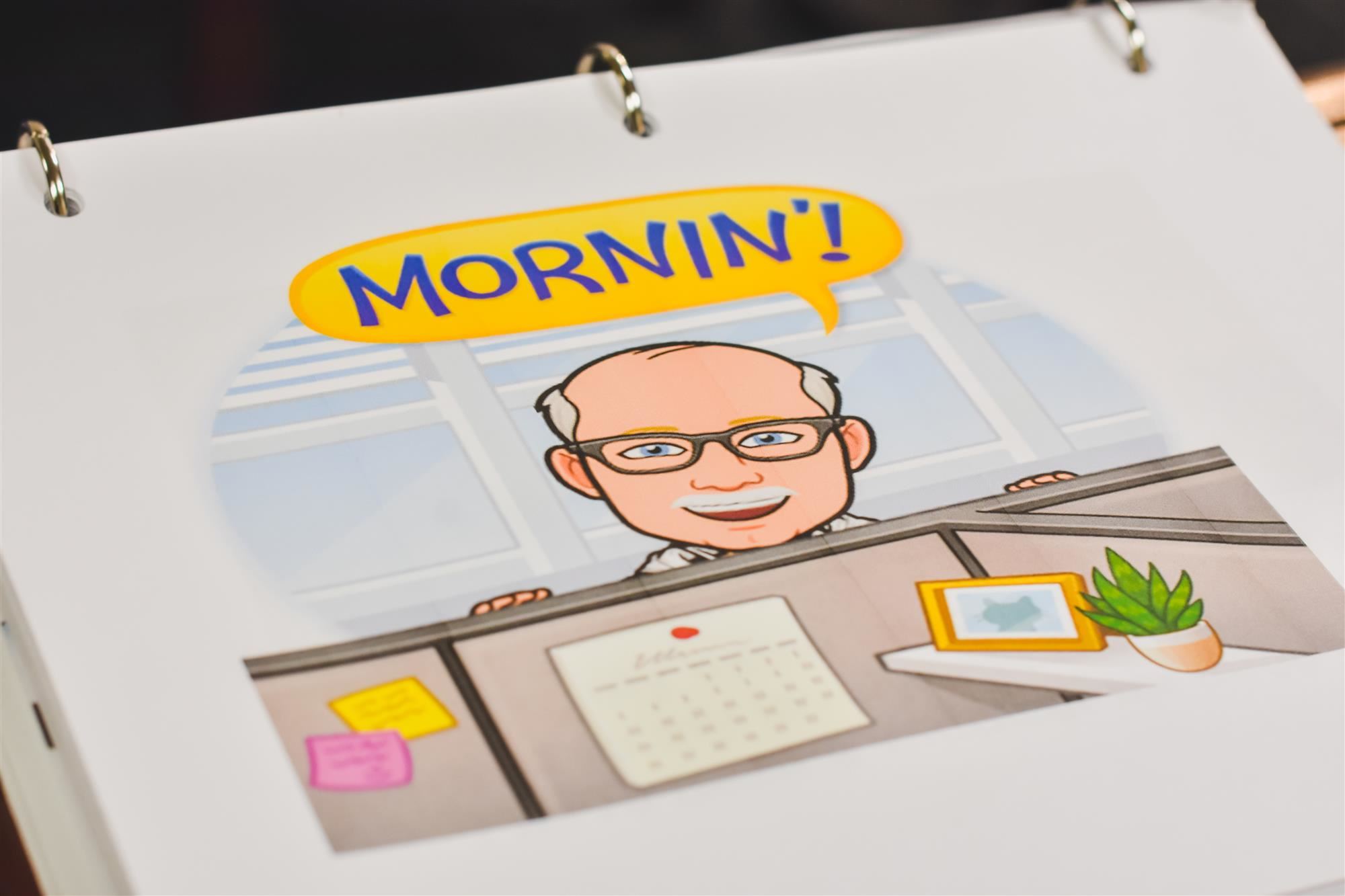 But of course beyond the jokes, he also tries to instill knowledge in them. "I tell my students a lot to not just think about today, but to think about their future," he said. "I tell them 'think about who you want to become, because you have that right and you want to be proud of it. You want people to be thankful for what you do.' I hope I can relay that to them."
And outside of the classroom, Mr. Campbell serves the students in ways that might go unnoticed. Like when a student discovered a series of books in the library that she fell in love with, but realized the library didn't have the second half of the series. Mr. Campbell took it upon himself to visit a bookstore and purchase the remaining books, but the bookstore was also missing one. "So I had the last one shipped in from England," he said simply. And he didn't stop there, buying the remainder of another series when another student discovered the LLC didn't have the complete collection. "Here are kids that really struggle to even think about reading, and now they've found books they're interested in," he explained. "I love reading, so I wanted them to have that opportunity…when I see a need, if there's something I can do that's what I do. And those two times felt really good to me."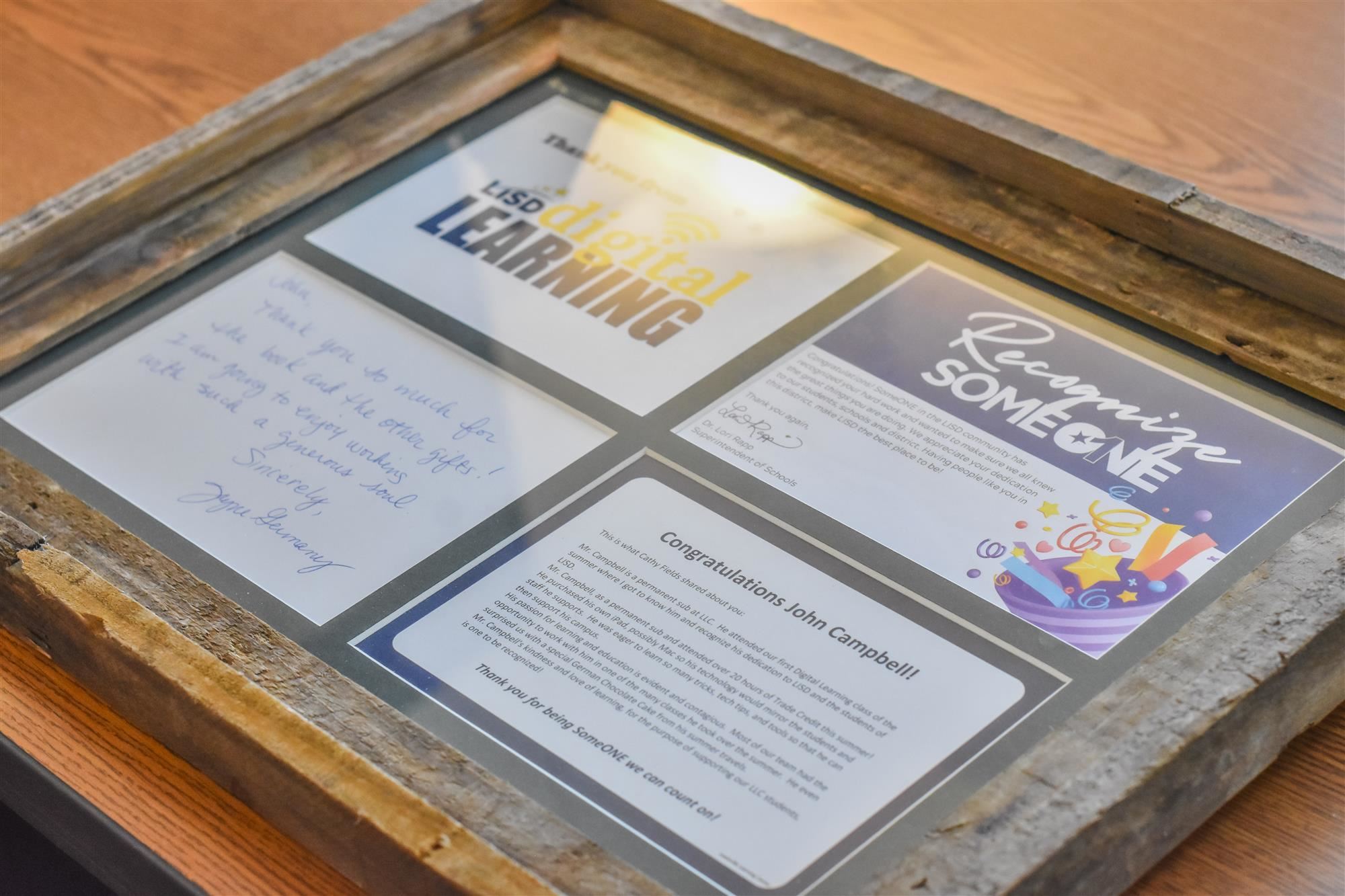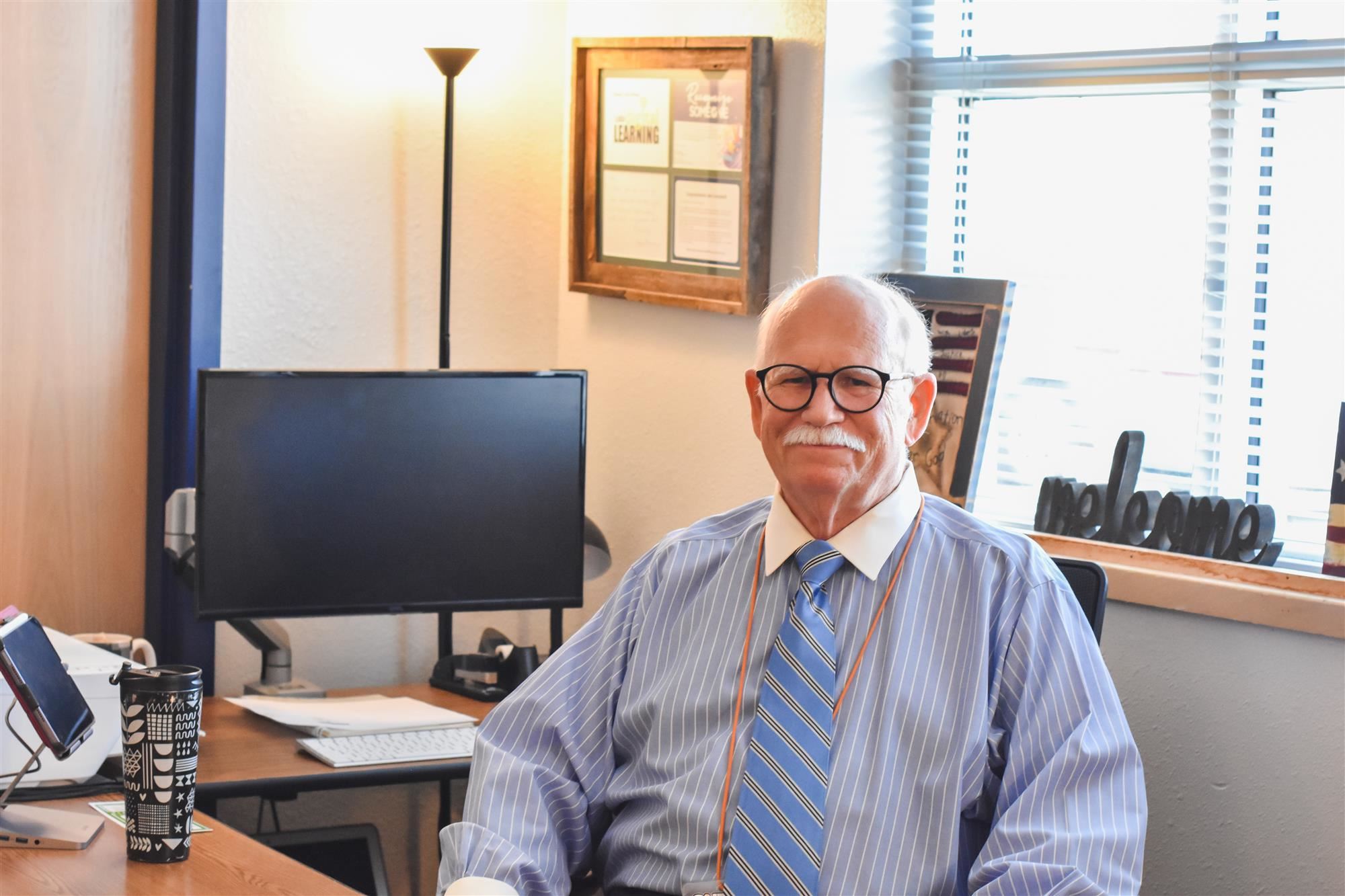 Mr. Campbell's service to our students has undoubtedly benefited them, but he emphasizes the impact it's had on him too. "One time I was reading a prayer in church, and the last line said something about 'those who are alone.' And it dawned on me for a moment, 'Ooh…that's me'," he paused. "But then I said 'wait a minute - I'm not lonely. I come here five days a week, I know these kids and they know me'. It really gives me meaning and purpose."
We are so proud to celebrate Mr. Campbell, and all of our substitute educators, on Substitute Educators Day. If you would like to learn more about substitute teaching at LISD, click HERE.
Thank you, Mr. Campbell, for sharing your story with us. We are so proud to have you as a part of our LISD family!