Return to Headlines
All Signs Point to Arbor Creek Middle School
Over 90 different languages are spoken by the nearly 50,000 students in Lewisville ISD. But for a group of students at Arbor Creek Middle School, they are learning how to communicate through a language without words. For the first time at ACMS, there is now an American Sign Language (ASL) club and students have been eager to join.
It's a new club that is led by Arbor Creek eighth grade science teacher and 2021-22 ACMS Teacher of the Year, Karen Reed. With around 20 students in attendance for only the club's second meeting, the students are already engaged with learning a new language. The club's popularity might stem from the fact ASL is the fourth-most used language in America behind English, Spanish and Chinese. While September is Deaf Awareness Month, it's an awareness needed year-round since 28 million Americans are deaf and use ASL to communicate every day, so it was important to Reed to help get this club started.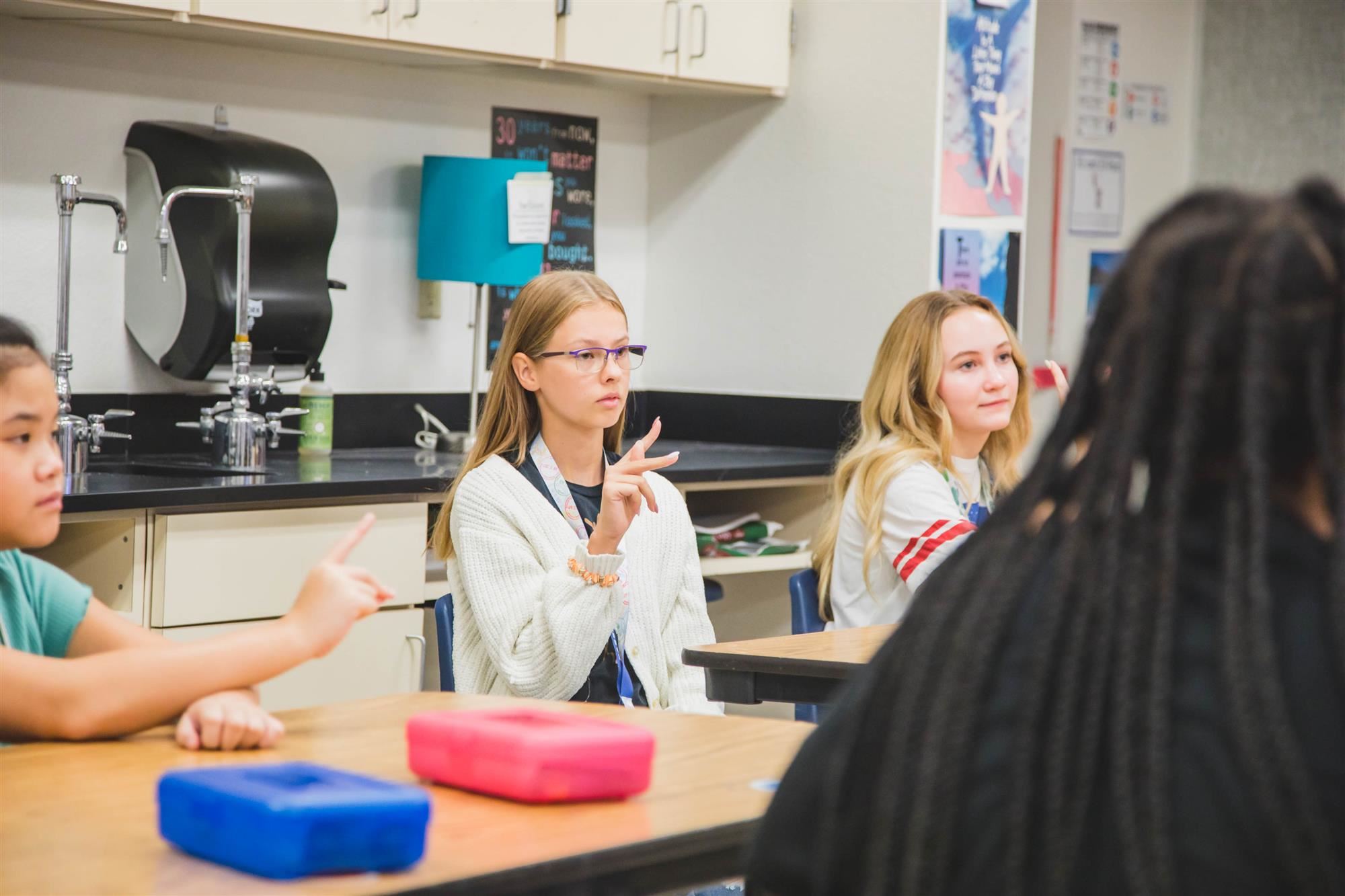 "Our principal, Mrs. [Amy] Obenhaus, sent out an email about clubs and I thought, 'Oh, I'll just do a science club,'" Reed said. "Then I saw American Sign Language and told myself I'm going to learn to sign. I want to be able to speak to people through sign and have conversations in the hallway with students that way. There are more ways to communicate than just verbal communications."
Since Mrs. Reed is learning ASL just like the students she teaches, she reached out to Hebron High School's ASL teacher, Melissa Shadow – who teaches ASL I, II, III, and IV – for advice and guidance. Reed even told her students in the first meeting, "Although I'm still learning sign, I still mess up because I'm learning it just like you are. But I like for the students to see that you can be my age and still learn and that learning never stops." After talking with Shadow, that's when the idea of Arbor Creek's ASL club format came to be.
"I reached out to Mrs. Shadow and within minutes she responded with all kinds of ideas about her high school students working with my middle schoolers to hopefully feed the ASL program at Hebron for years to come and grow a generation of these kids using sign language," Reed said.
So now Mrs. Shadow's Hebron ASL students, some of which are former Arbor Creek students, are split into groups to come up with lessons and modules and create the videos themselves to help the middle school students learn sign language.
"To be honest, I was surprised my students were so excited about it, but all I did was give them topics and they went with it," Shadow said. "They planned the lessons, made the videos and created games for the middle schoolers. They really want the kids to have a good time and love ASL as much as they do. It brought me joy and I was proud that they saw the value in teaching kids in middle school as positive work they could do for their community."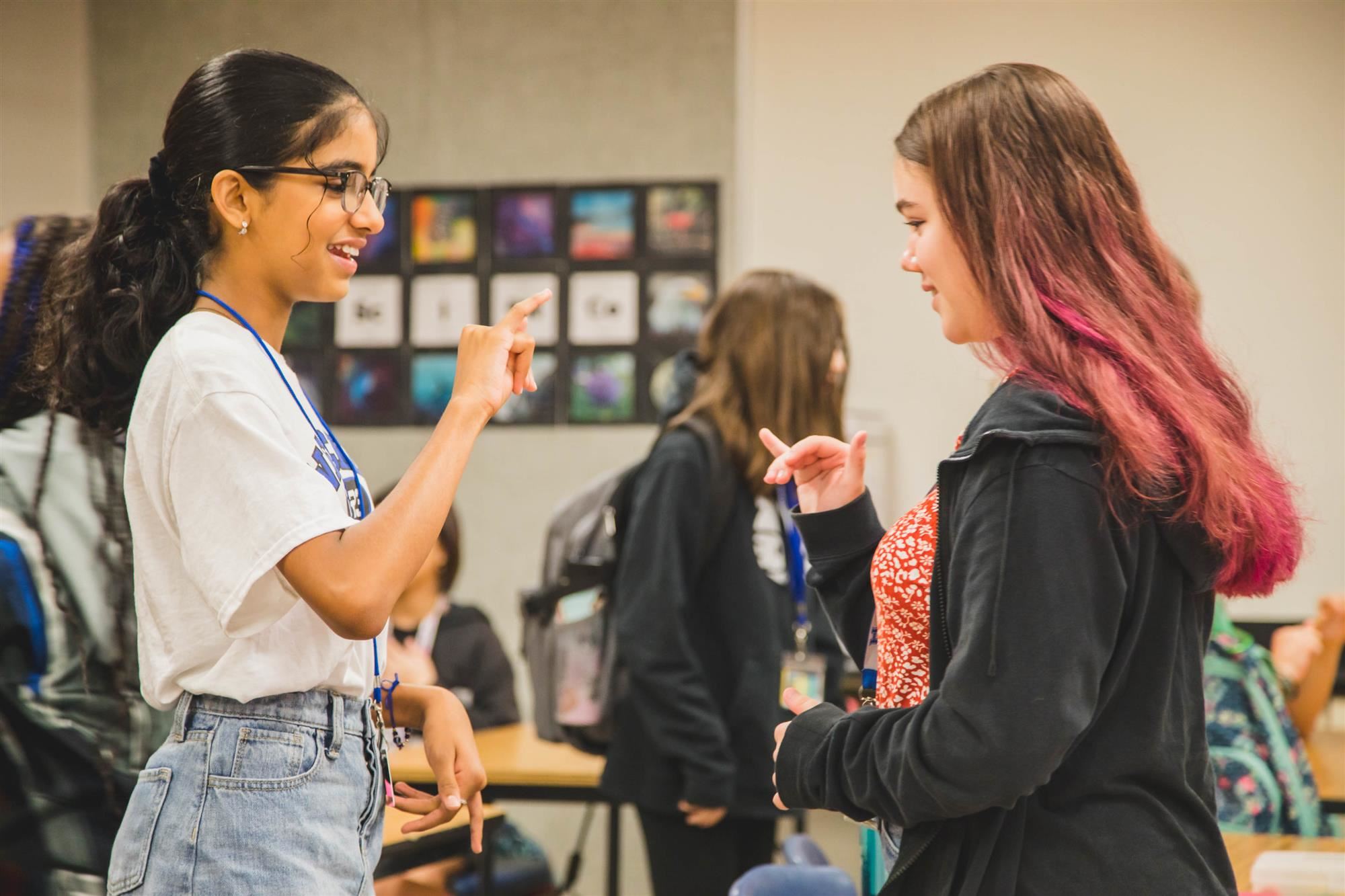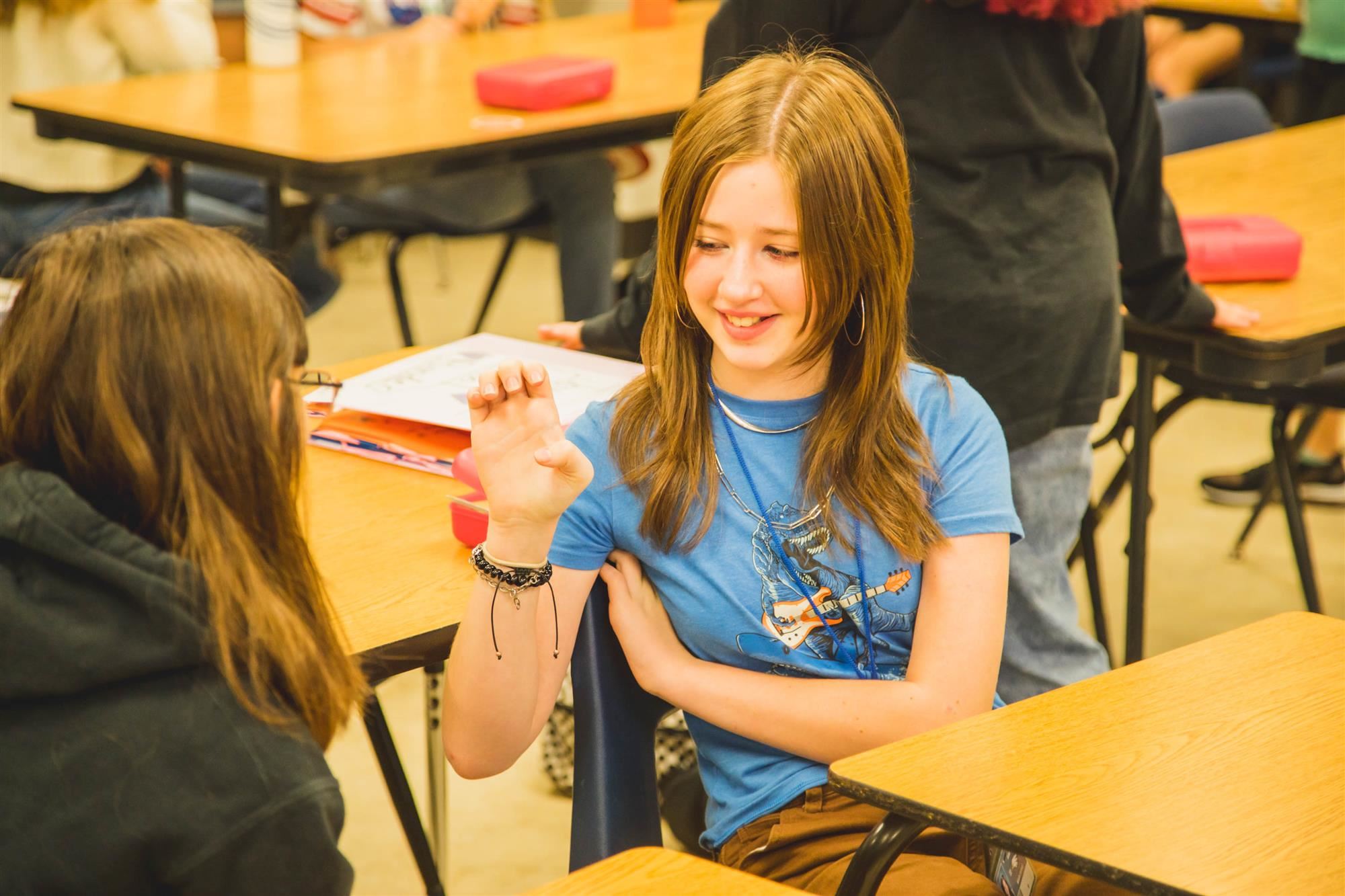 In just the second ASL meeting at Arbor Creek, students were learning to sign numbers up to 20 and sign vocabulary and phrases. Some of the phrases like "What is your name?" or "How are you?" and "What are you doing", along with responses to those questions.
A few Arbor Creek students have experience with ASL already and are using the club to further enhance their knowledge of the language. In fact, one of the students in Mrs. Reed's class has a sister learning ASL from Mrs. Shadow at Hebron and helps teach the middle school club in the videos. For another student of Mrs. Reed's, Isabella Zoller, a seventh grader at Arbor Creek, has been practicing sign language for a few years now.
"My cousin is going to become a speech therapist, so during COVID I did lessons with her every day because it helped her with her signing and helped me learn the language as well," Zoller said. "I also took a signing summer course online through LISD's Virtual Learning Academy and learned a lot. I thought it would be fun to join this club to practice and get better."
Although it's only a club and students don't receive class credit, Zoller sees value in learning sign language. In addition, Zoller said she can speak three other languages: English, Spanish and Romanian. Learning a fourth language was intriguing to her.
"I think it's like any other language but most people don't know sign language," Zoller said. "There are deaf and hearing-impaired people all around us and we don't even realize it. They would rather go mute or learn to lip read because it's easier for them to communicate since not everyone knows ASL. But ASL is their language and culture, so it's important for us as people to learn it to communicate with them."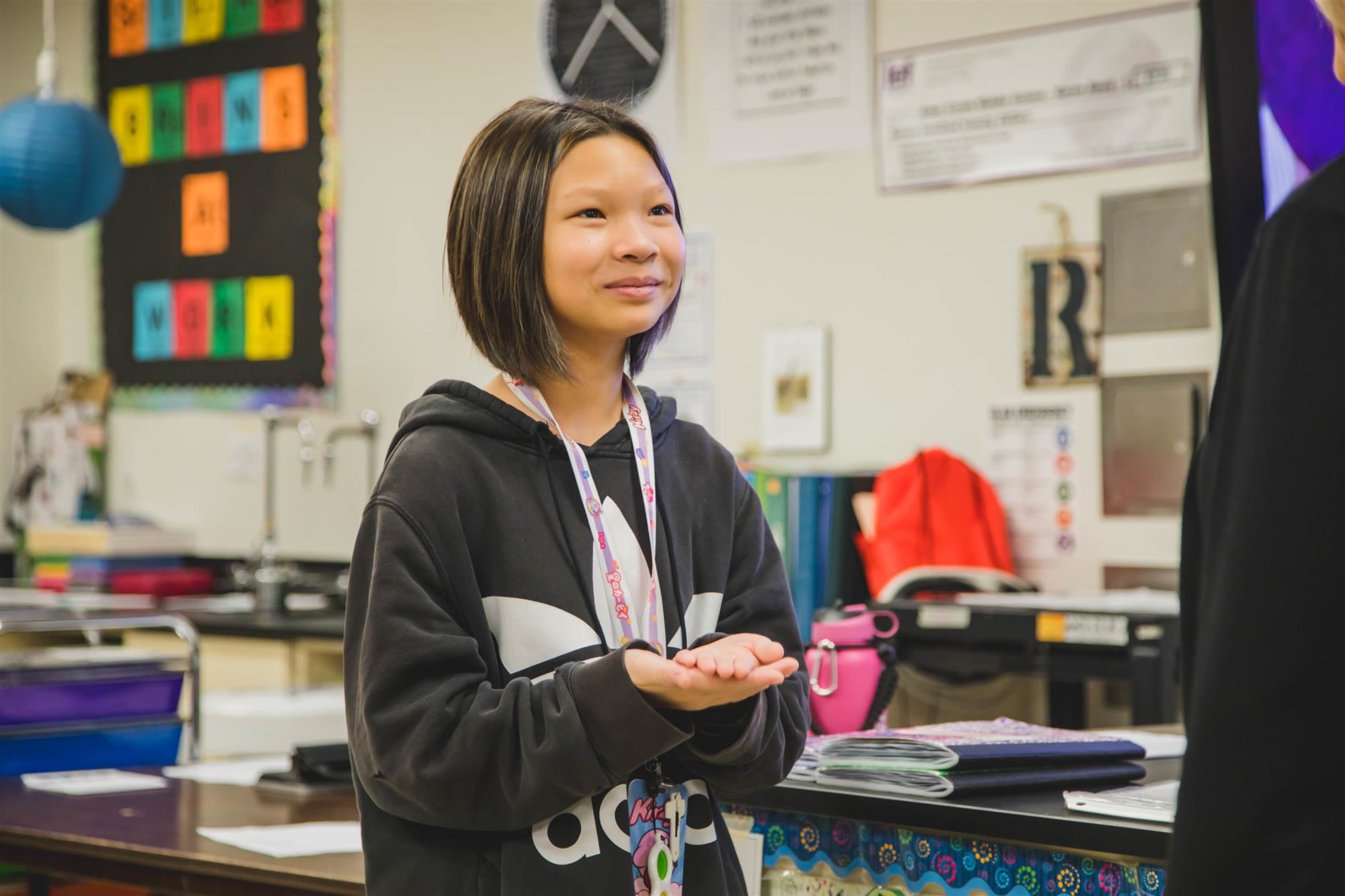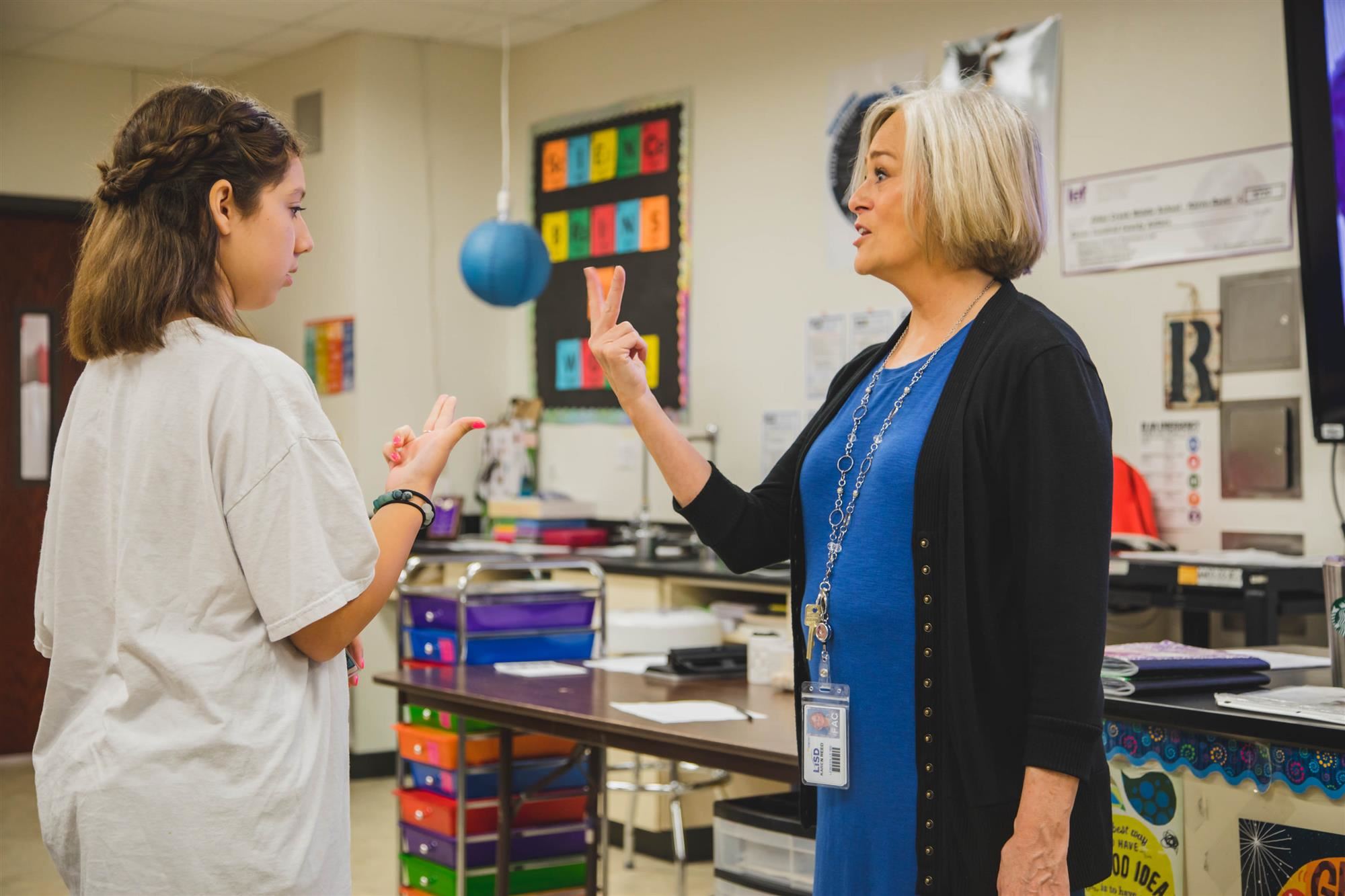 Mrs. Reed has already told her students, one of her goals for the club is when students pass her in the hallway, she wants to talk in sign language. Reed hopes the ASL club can bring students together and create new friendships.
"It's a unique way to form relationships with each other in school and belong to something that's not your typical involvement like band, choir or athletics and this becomes their niche," Reed said. "I hope they take it further and learn ASL in high school and then take it out into the world."
As one of the founding students of the American Sign Language club at Arbor Creek Middle School, Zoller encourages others to join in the future and learn to sign because of the impact it can make outside of the classroom.
"I encourage people to join the ASL club because it's going to impact the world. Even with just a small class like this knowing ASL, one day one person could become a speech therapist and help a lot of deaf children learn how to sign. Learning to sign can make an impact on others and that's what's important."
---
Arbor Creek Middle School is a Lewisville, Texas middle school serving 6th, 7th and 8th-grade students in the Lewisville Independent School District. Follow along with Arbor Creek on Facebook and Twitter to see more student experiences throughout the school year. Join the Lewisville ISD family by enrolling today, or visit Best Schools in Texas to learn more.