Return to Headlines
From Flower Mound to Modern Florals
This feature was first seen in Lewisville ISD's quarterly magazine The Loop.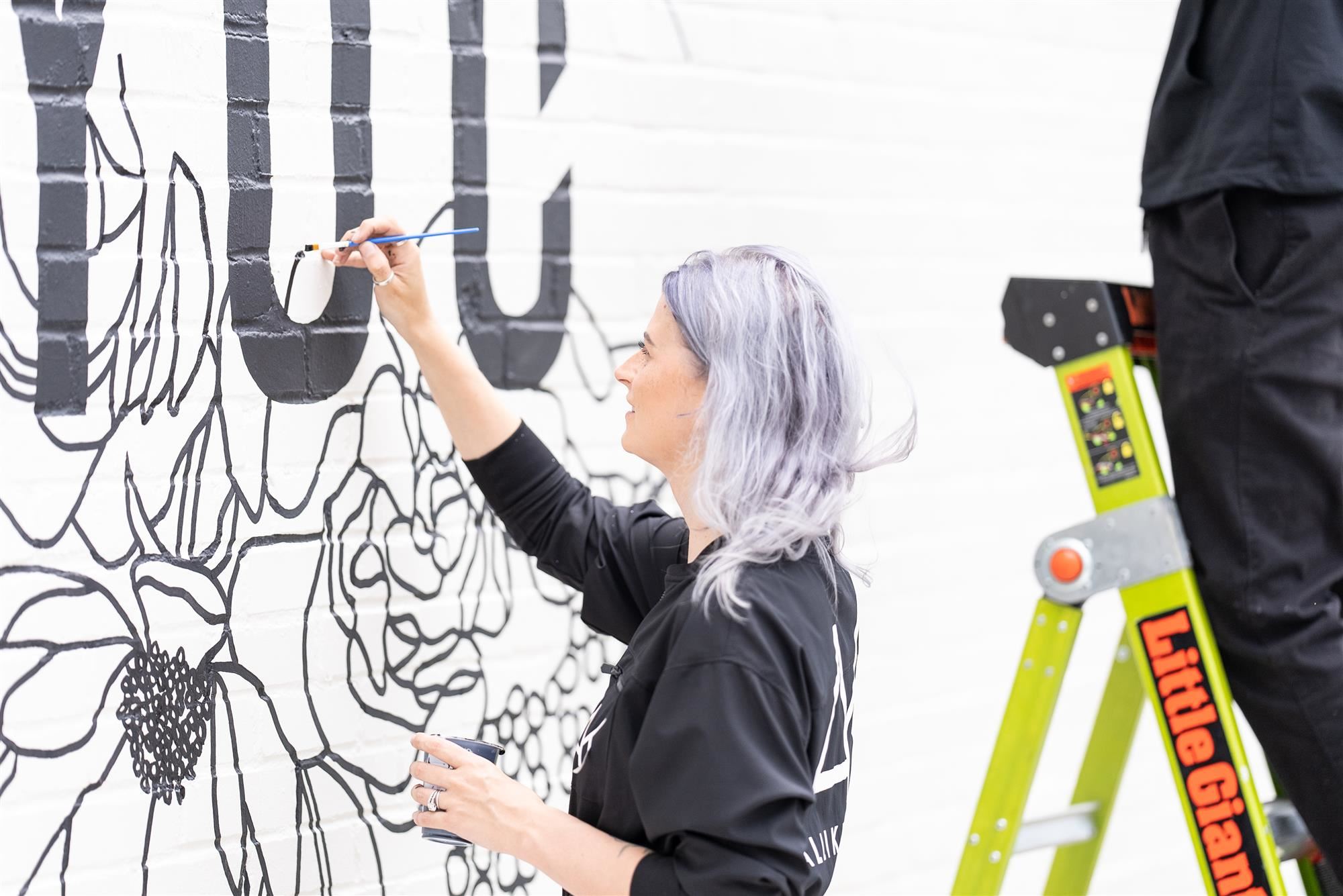 Driving up to Alli Koch's Richardson worksite felt like being transported into an old polaroid. The stark, white wall of the downtown building was contrasted by the sharp black lines of the artist's unfinished mural. Even the sky, while not uncharacteristic of an early May afternoon in Texas, was darkly overcast, painting the entire scene in a monochrome greyscale -- save for a neon yellow ladder and Koch's silvery purple hair.
Alli Koch, a business owner, public speaker, mentor, podcast host and best-selling author (to name just a few of her ventures) is a colorful antithesis to the black and white artwork that has made her one of DFW's most sought-after talents. But the Flower Mound High School alumna remains firmly rooted in her artistic pursuits, hoping to inspire others' creativity to bloom, one work at a time.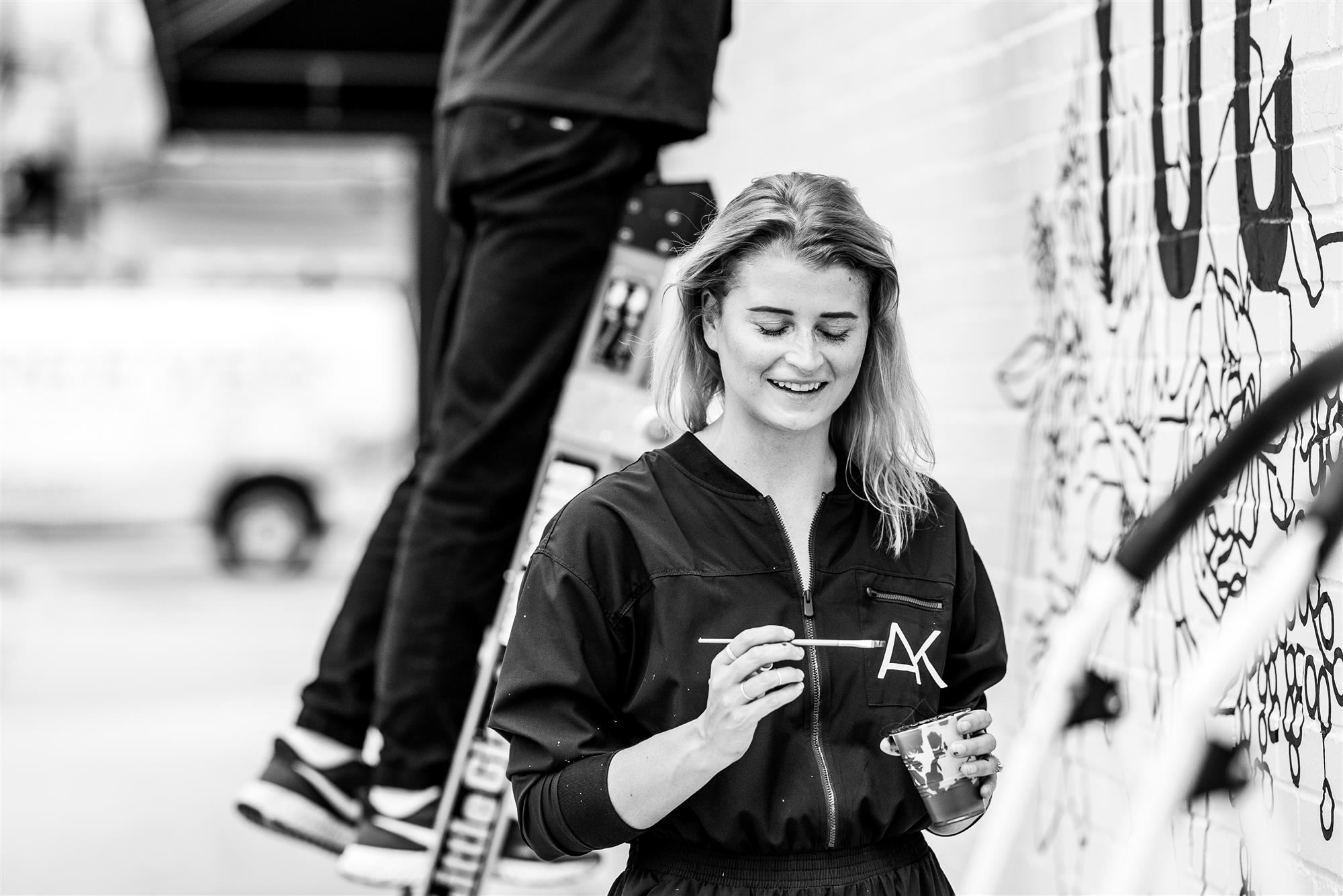 After graduating from the University of North Texas with a marketing degree, the DFW-native decided to turn her life-long love of calligraphy and painting into a business. In 2014 Koch created Alli K Design, selling prints and offering custom services through her Instagram account. According to her, however, pursuing art professionally was not something she imagined early on.
"I always turned to art and doodling in my free time," she explained. "I grew up not wanting to be a 'starving artist,' so I saw art as a hobby or something I would do when I retire. I definitely didn't think I could own my own business. I thought owning my own business meant needing a lot of capital or a storefront or a crazy idea to get onto Shark Tank."
She would soon learn that she could design her own success through hard work, creativity and a distinct visual style.
By 2016, Koch had moved Alli K Design into a dedicated studio space, was offering classes and mentoring services to aspiring artists and had begun working with local and national businesses on various branding and advertising projects.
In January of 2017, Koch announced that her first published book, How to Draw Modern Florals, was on the way. The step-by-step guide launched three months later to instant acclaim. Seeing such a positive response to the book was a watershed moment for Koch.
"I've doubted myself a lot throughout my career – honestly I sometimes still doubt myself. But the moment I published my first book and saw others learning and creating things that I was able to teach them was when it first hit me. That I'm someone who is not only creating things people love but making an impact on others."
And that impact has only continued to grow since the launch of her first book.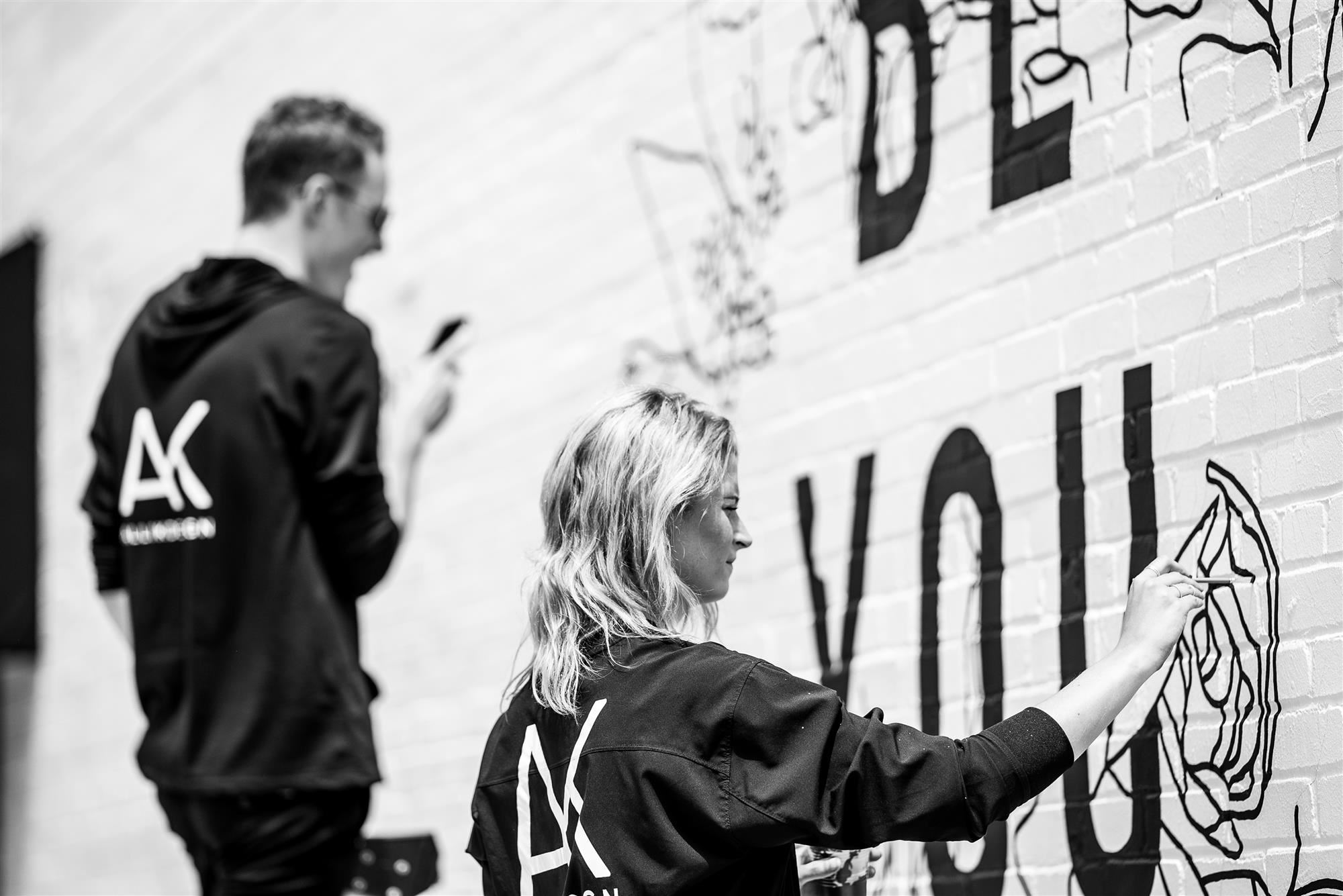 Immediately following the success of Modern Florals, Koch launched a podcast with her father. The show, which features Alli, her father Tony Bridwell, and occasionally special guests, follows the pair's longstanding tradition of weekly conversations over eight-count chick-n-minis and sweet tea at Chick-fil-a.
"My dad and I have had breakfast almost every Saturday since I was 13! The conversations we've had have shaped me into the person I am today and were too good to keep to myself. But also I wanted to remember the conversations forever and the podcast is the perfect time capsule."
Koch views the podcast as another important touchpoint for inspiring others, while still keeping her family in the forefront.
"I am a huge family person," stated Koch. "They are my number one fans and supporters. Being an entrepreneur is hard and a lot of times lonely. I quickly realized I can't do it alone and my family is the best support there is!"
Nowhere has that support been clearer than in her husband's recent decision to leave his corporate job to work full time for Alli K Design.
Landon Koch, also a Flower Mound High School alum, has been by Alli's side through every stage of her career.
"My husband and I are higheart school sweethearts," exclaimed Alli. "First and only loves! We met the summer going into high school and I was smitten from the start. We started dating freshman year and the rest is history! I love that we have so many inside jokes and memories dating all the way back to high school!"
For several years after the couple married, Landon maintained a 9-5 corporate career in management. Eventually, inspired by seeing Alli chase and create her dream, he decided that going all in on working with her would be a much more fulfilling endeavor.
"I was at a point in my life where the corporate grind wasn't worth it anymore, financially or mentally," he expressed. "Being the master of my own time was, and still is, my top priority and I saw my wife living that everyday. Our quality of life has improved dramatically and the change has been the best decision I've ever made -- besides marrying Alli!"
Now, the couple work in tandem, laughing and planning each sketch and brush stroke together, as they were that cloudy day in Richardson. As it turns out, Alli's artistic journey was – in a way – coming full circle that afternoon.
While onlookers stood and appreciated the beauty of the work in progress, the painting held a much more personal meaning for Alli. It was a recreation of the first-ever mural that she had painted professionally, done on the wall of her first studio that has since been painted over. Now, several years, eight books, dozens of murals across the United States and thousands of people impacted later, the message that Alli holds for herself and hopes to inspire in others remains the same.
"BE YOU."
---
You can find Alli and her work online at www.allikdesign.com and connect with her on social media @allikdesign or by email at hello@allikdesign.com.