Return to Headlines
This feature was first seen in Lewisville ISD's quarterly magazine The Loop.
When Mike Campbell retired in 2021 after spending 47 years as the head baseball coach at Lewisville High School, district administration didn't have to look far for its new skipper.
Later that summer, Mike's son Stephen, then-head coach at Irving High School, was named the successor to the Fighting Farmer program his father led for nearly five decades. Stephen was coming home.
Stephen has always had Fighting Farmer blood in his veins. Starting as a bat boy and later a player, Stephen grew up on the field his father spent his entire career on. From playing catch together in the outfield, to looking up to the man he idolized by helping mow the grass and chalk the lines since he was eight years old, the job Stephen always wanted was his.
"It's always been on my mind to have this job," Stephen said. "It's been 15 years in the making as far as my career with all the jobs I've taken to eventually get here at Lewisville High School. It's my second home."
Although Stephen knows the LHS baseball program as good as anyone – well, everyone except his father – he admitted there might be an ounce of pressure taking over for the winningest coach in school history.
"There's a little bit of pressure," Stephen said with a chuckle. "I put pressure on myself because I'm a competitive person with him, so I want to try and do better. I definitely put a lot of pressure on myself to out-achieve him in his career. It's going to be really hard to do."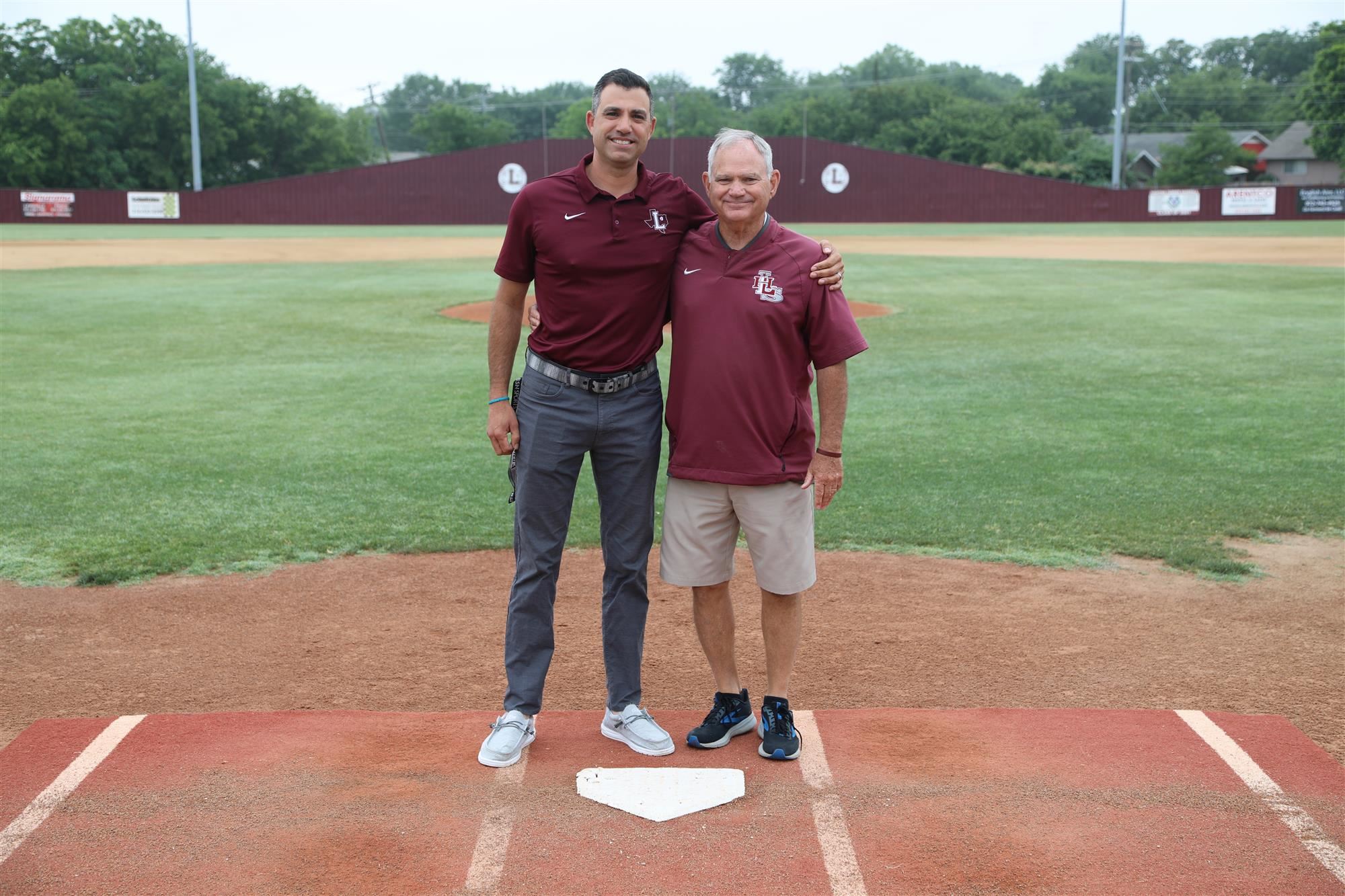 Before Stephen's hiring was announced, there was one phone call that needed to be made first. LHS Principal Jim Baker picked up the phone and called Mike to tell him the news he always dreamed of.
"Mr. Baker called me before he called Stephen and gave me the excuse that he lost Stephen's number and needed it to tell him he got the job," Mike said with a smile. "I knew since he was about 10 years old that he wanted my job. I was ecstatic."
Stephen, a catcher, played for his father from 1998-01 and later played collegiately at UT Tyler. Playing for his father was one of his favorite memories, even though Mike pushed Stephen as hard as anyone he ever coached. "It was fun and I enjoyed playing for him. He probably got after me more than the other guys because I had to play well being his son. I enjoyed it and it helped me become a better player. I loved it actually."
After college, Stephen began his trail of following in his father's footsteps and coaching baseball. He started at Lon Morris College and ventured to the Coastal Plain League in North Carolina before returning to his roots in Texas. Stephen landed a coaching job at Arbor Creek Middle School in Lewisville ISD and then moved to San Angelo for three years as an assistant. His first head coaching job was in Llano before moving back to the metroplex to take an assistant job at Frisco and most recently spent the last three seasons leading Irving's program.
"I coached at those places to get the experience and build my resume to have a chance at this job," Stephen said. "I didn't want it to be 'Oh, he's Coach Campbell's kid and got the job.' I wanted it to be about how I did this on my own."
Having experience at 6A high school programs and the knowledge he learned from one of the state's winningest coaches, Stephen knew he was ready to take over his alma mater.
"There are some similarities between us," Stephen said when comparing his coaching style to his father's. "You have to love the kids and make sure they know you love them too. Some things he taught me were making sure we stayed disciplined and that the basic fundamentals have to be taught at a young age. But the relationships come first. You want success for those kids so bad that you coach."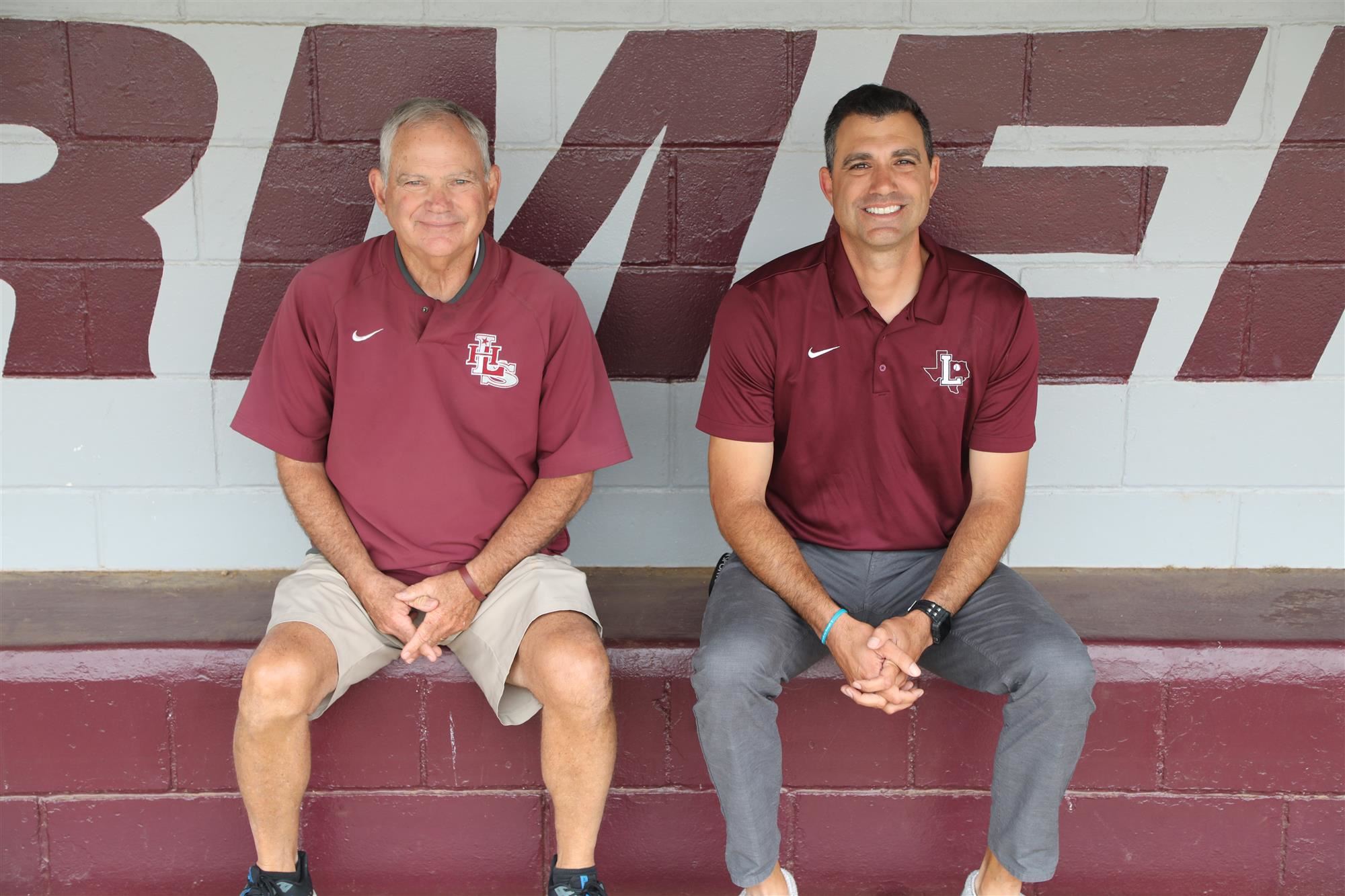 Some might look at Mike Campbell's win total to determine his success. After all, he retired as one of the winningest baseball coaches in the Dallas-Fort Worth area with an astounding 703 wins. But for Mike, it was the relationships, life lessons and molding his players into men that meant the most to him during his career.
"The relationships mean more to me than any wins or losses," Mike said. "Wins and losses made a little difference to me, but nobody ever gave me a hard time about that because I feel like I treated people correctly and taught them life lessons."
Mike set the foundation for what a program should be and has set the standard for the true definition of a student-athlete by representing the school with class on and off the field. It's a core value that Stephen is proud to continue as head coach.
"Almost every kid in our program is a member of the Student Council, Circle of Friends, and Fellowship of Christian Athletes," Stephen said. "That's pretty special for a program. I believe we have the best character kids in the school and high academic student-athletes. It's fun to coach them and that's what we strive for our program to be."
Those relationships with players and coaches that Mike developed over his career were on display when Lewisville ISD approved the naming of Lewisville High School's baseball stadium to Mike Campbell Field during a pregame ribbon-cutting ceremony in April. Former players, fans, and community members gathered with a standing-room-only crowd to share their love and appreciation and honor a man who dedicated his entire career to one school.
Even though Mike never looked to be in the spotlight, it was a dream of his late wife, Debbie, to have the field named after her husband of nearly 50 years. Debbie passed away on March 1, 2022 after an illness – just eight weeks prior to the field naming dedication for Mike.
"I've enjoyed the attention [from the field naming] and I never was an attention seeker, but I've enjoyed the naming of the field – which [Debbie] really wanted," Mike said while holding back tears. "I never thought it would happen."
"I'm sure as things change for me that I'll sit back and say, 'Hey, you know what, my career was pretty darn good.'"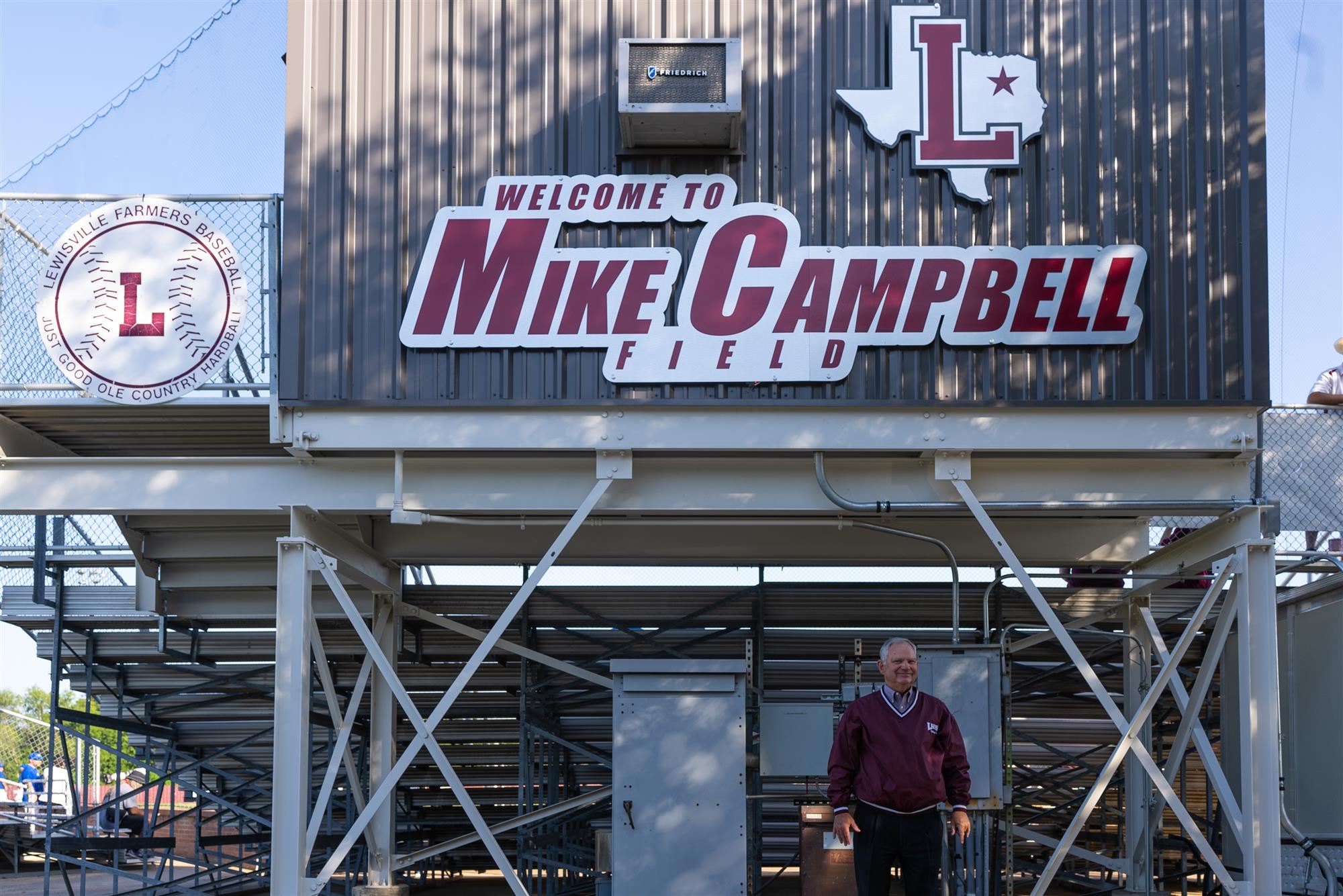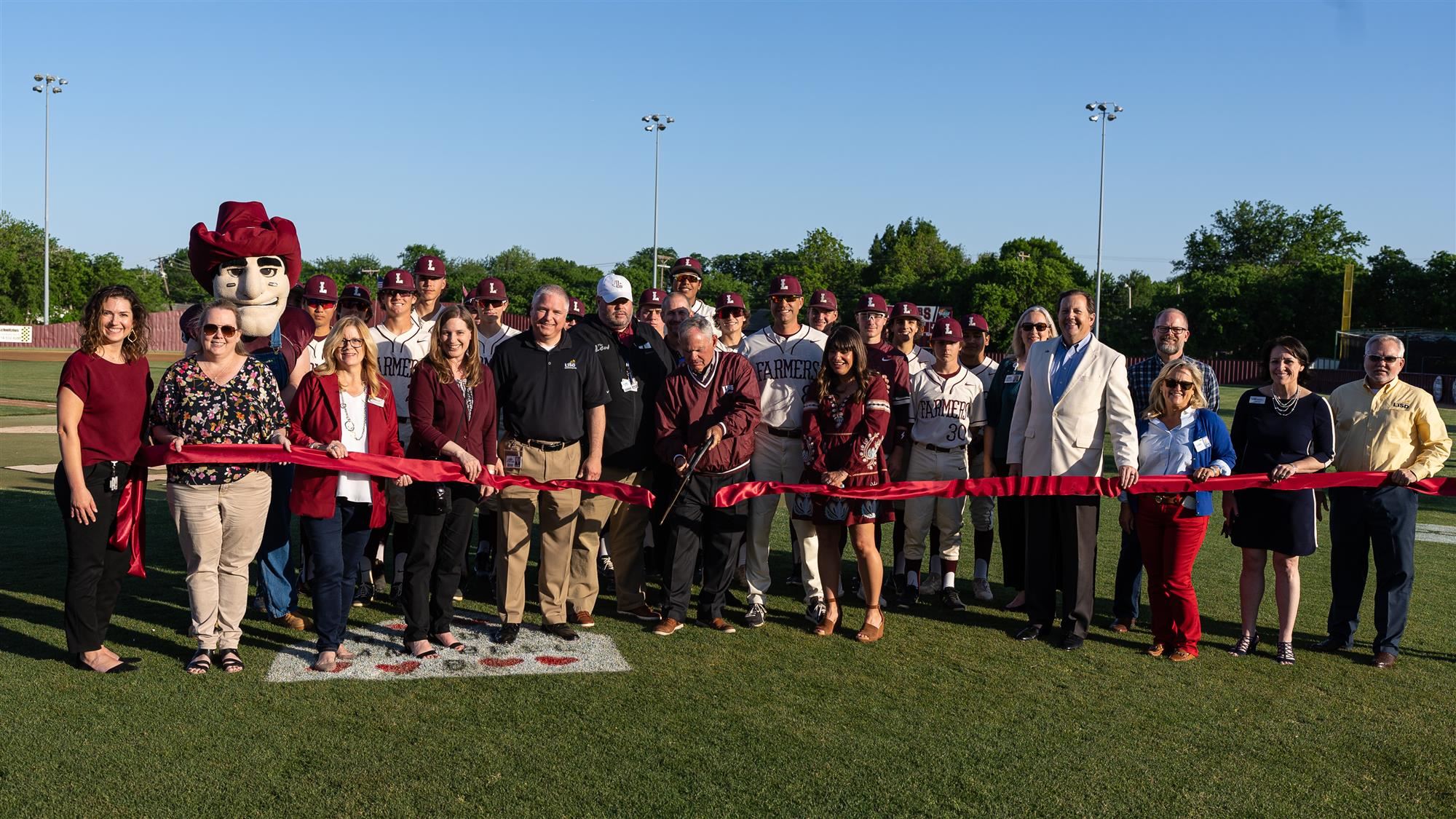 Mike has leaned on his daughter, Lesley, and Stephen to navigate these new days ahead. Even Mike's former players continue to stay in touch with him after all these years. "As far as guys coming back to see us, they come from all over the place," Mike said. "At our visitation for my wife, four guys from my first team in 1975 showed up. Those relationships are special and mean a lot to me."
Now that he's retired, Mike still tries to stay involved with Lewisville baseball, although he admits he doesn't want to get in the way of Stephen running the team. But even being retired after 47 years of coaching the game he loves, Mike still misses being on the field in uniform.
"I miss the everyday routine of coaching," Mike said. "Being in charge of something. Stephen still lets me come up and fiddle around on the field and that's great. Above all, I miss being around the kids every day. The kids keep you young."
It's been a whole new experience for Mike watching his son coach from the stands. After coaching all these years, including the four years Stephen played for him, Mike acknowledged he still gets a little nervous as a father in the bleachers – the same way he used to when Stephen was up to bat.
"I have to admit, every time [Stephen] came to the plate when he was playing, I said a little prayer for him," Mike joked. "That's nerve-racking, but you knew what he was going to do. He was a good player, even in college he was a good player."
Although they never got to coach together like he always envisioned and hoped, Mike got to experience the thrill of coaching against his son for the first time in his career. On April 2, 2019, Mike's Fighting Farmers hosted Stephen's Irving Tigers in a district matchup. The two head coaches met at home plate to exchange lineups and both told each other "Good luck" but also hugged and said "I love you." Little did Mike know that two years after handing over lineup cards, he'd be handing over his No. 8 LHS jersey to his son, which is now Stephen's game uniform.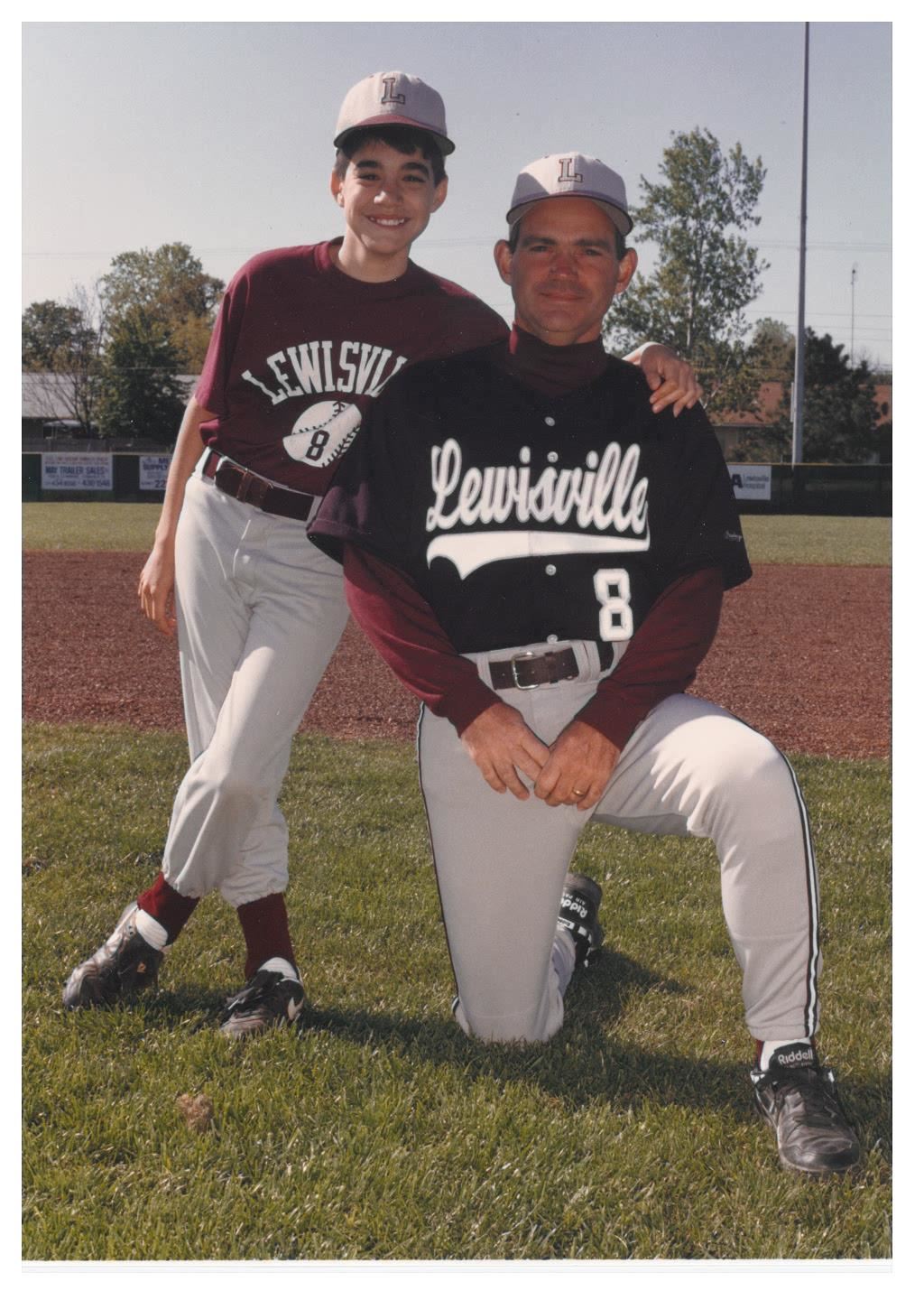 As Stephen reflected on his first year as head coach of Lewisville High School, he sat in the press box overlooking Mike Campbell Field thinking about what his father's legacy means to him. It's hard to sum up 47 years into a sentence or two, but Stephen said there's one thing that's synonymous with his dad's career – the field.
"The field itself is his legacy and gift to the community," Stephen said. "The hard work and grit he poured into that field for 47 years is what he stands behind and how he lives his life."
As for Stephen's legacy, it's too early in his career to write. But he has the blueprint to follow and leave a lasting impact like his father did.
"I want us to be competitive every year and be leaders in the classroom and the community," Stephen said. "When opponents think of LHS, they think we have to play perfect to beat them, just like it was when Dad coached. That's my goal for this program."
---
The Loop is a quarterly magazine from the Lewisville Independent School District, showcasing the latest stories, photographs and achievements throughout Lewisville ISD schools. Click here to read previous issues.