Return to Headlines
Theatre Arts Takes Center Stage
This feature was first seen in Lewisville ISD's quarterly magazine The Loop.
For years, LISD has developed and maintained a tradition of excellence in theatre arts programming. With thriving programs across the district, students have the unique opportunity to receive exceptional theatre arts training in their very own classrooms.
LISD students have the opportunity to enroll in theatre starting in middle school. "Depending on which class the students are enrolled in; Theatre 1, Theatre 2, or Production class, we spend the year learning basic concepts such as the parts of the stage, basic blocking concepts and basic vocalization techniques," explained Lamar Middle School Director Kate Volenick. "Then they learn more advanced skills like script analysis, character objectives and more."
Middle school students also begin learning about the mental preparation and creativity that acting requires. "Innovation and growth mindset are two key skills that we develop in our classes," Hedrick Middle School Director Amanda Rojas said. "Something that we work on in theatre is not just seeing things for what they are, but what they have the potential to be. As theatrical artists, we have to see the potential in everything."
Skills gained in entry level theatre classes at the middle or high school levels remain relevant for students regardless of their continuing pathways. At Creek Valley Middle School, Director Raye Ann Cox said her students gain "the confidence to speak in front of others and how to be good listeners. They get a chance to see how important working together is." Cox was with the district for over 18 years before retiring this spring. "Theatre arts has shaped my life by allowing me to work with some of the most awesome young people," she said of her career. "One of my favorite quotes is 'I don't dream of meeting my favorite actors, I taught mine'."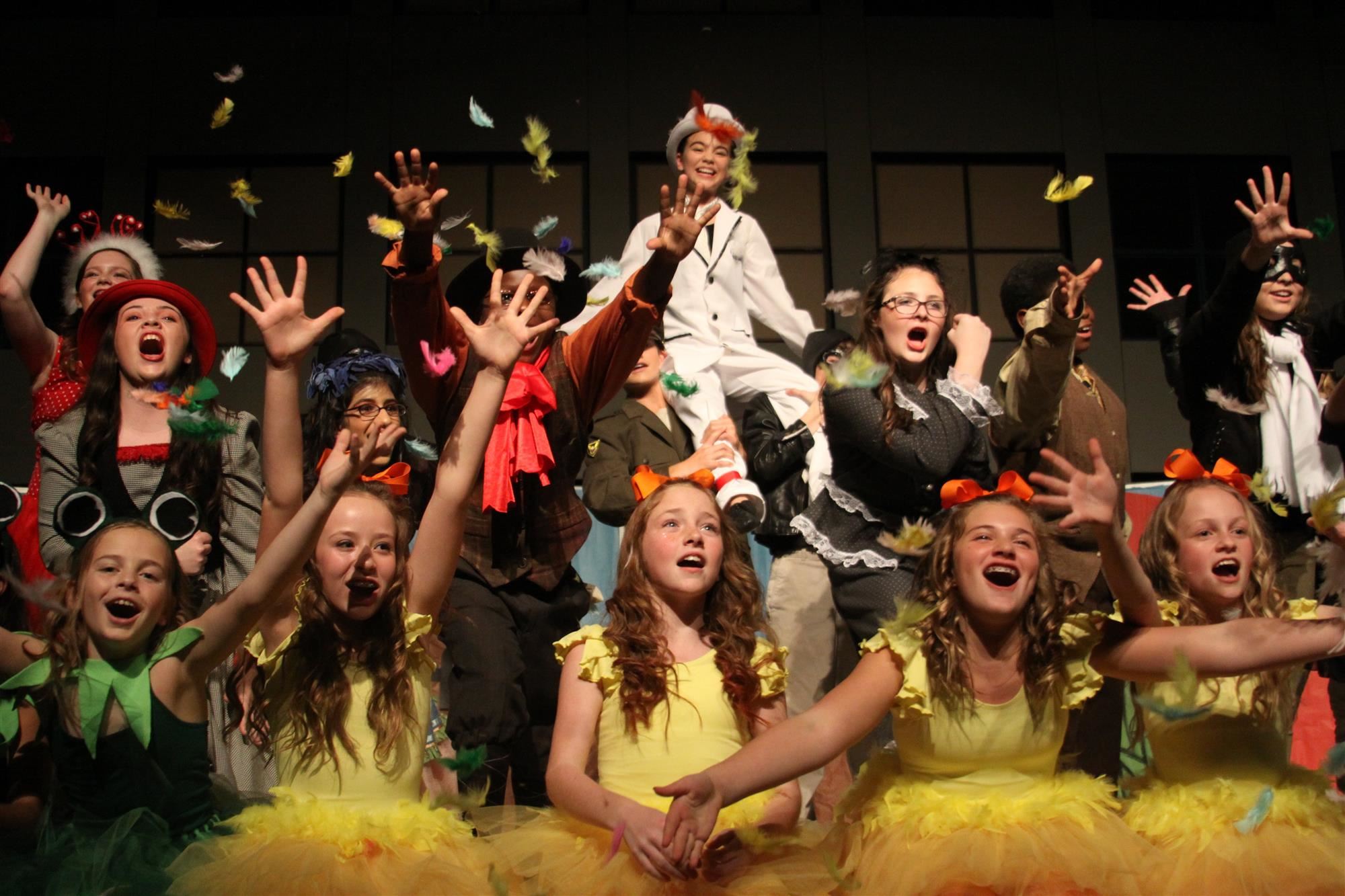 Students at Creek Valley Middle School perform. Credit: Creek Valley Middle School yearbook class
For students who want to continue their theatre arts education, LISD high school's offer entry level and advanced courses with additional specialized offerings. Each high school offers theatre classes to hone acting skills, study the conventions of theatre and analyze theatrical literature. They also offer courses in technical theatre, during which students learn the 'behind the scenes' elements and components of theatre productions. Students who enroll in technical theatre courses learn about lighting, set design and costuming, with courses taught by a dedicated technical theatre director.
"Through both the specialized theatre courses and large-scale plays and productions, LISD students are really gaining high-level access to a variety of advanced components of the discipline," said LISD Fine Arts Director Amanda Drinkwater. "This makes LISD's theatre students stand out when applying for entry into university programs - their portfolios include advanced skills and significant performance experiences already."
Throughout the year, students across classes work together to produce and perform shows for their peers, parents and community members.
One of the most well-known production endeavors for high school theatre students is the UIL One-Act Play. Each high school prepares and performs their one-act play annually for competitive evaluation and advancement opportunities. The one-act play is a condensed version of a full play, containing a single act which must be performed in under 40 minutes. This year, The Colony High School's performance of "The Old Man and the Moon" placed second in the UIL One-Act Play 5A State Competition. This was The Colony's fourth time to advance to the state level of competition since 2014.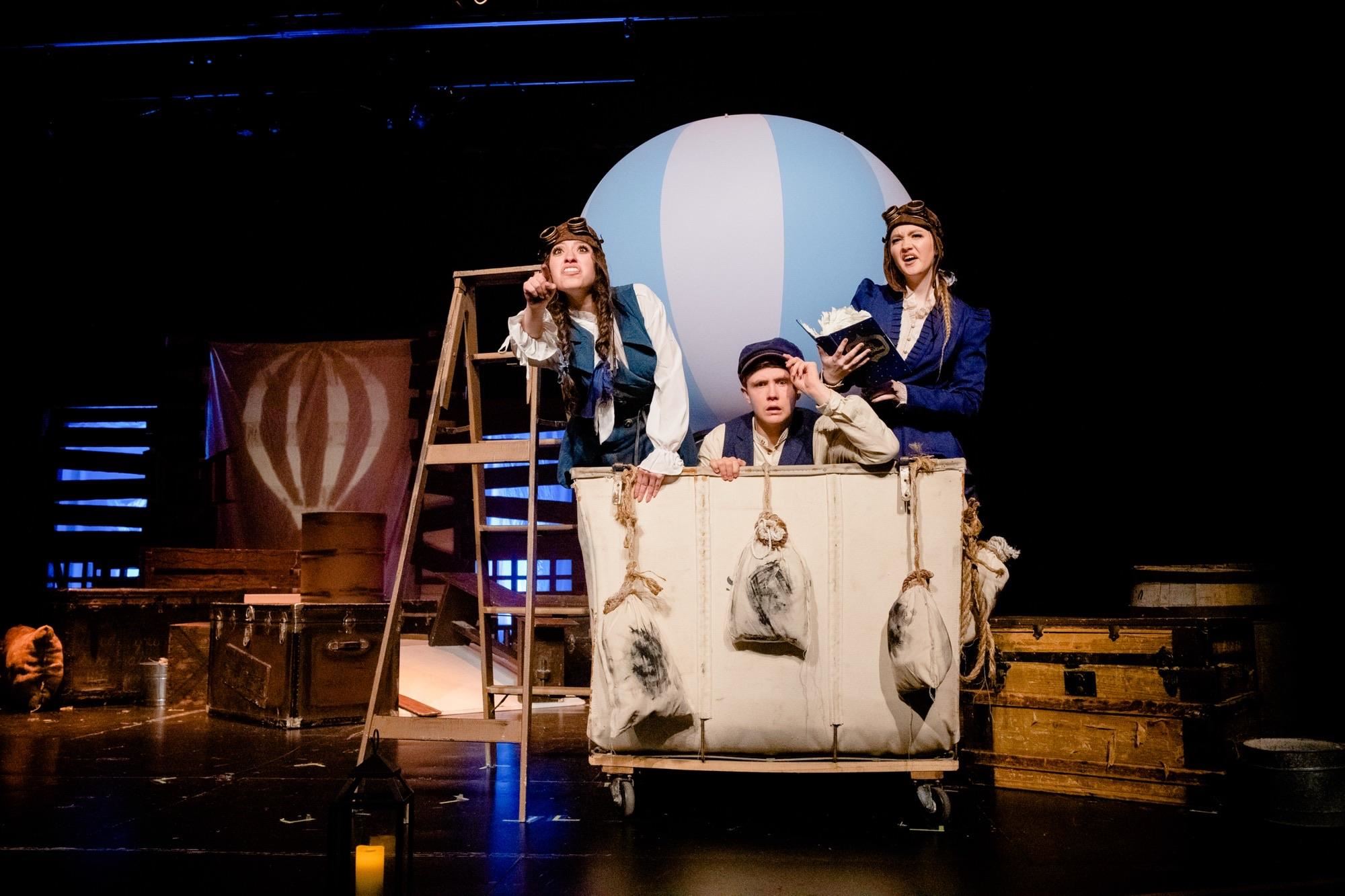 TCHS' "The Old Man and The Old Moon" placed second in the 2022 UIL One-Act Play State Competition. Credit: Shawn Walther
TCHS' one-act cast members spent months preparing for their competition season after directors Dwayne Craig, Ronda Craig and Brandon Smith selected the play over the summer. Students auditioned for the show in December, participated in weeks of table reads and even participated in a weekend masterclass to better connect with both their characters and each other. They balanced "The Old Man and the Moon" rehearsals with the other shows that the group performed concurrently.
"Our students live up to challenges," Ronda Craig said. "And if they're hit with a problem…that's when you see them come together and succeed." Succeed they did, with an impressive second place finish out of 254 schools who originally entered the competition.
High school theatre and choir directors collaborate annually to bring LISD's musical productions to the stage. Musicals often include student performers from additional performing arts organizations as well as the general campus population. At Flower Mound High School, "Cinderella" was this year's show, an all-school musical that involved lengthy preparations…and even a flying actor.
FMHS is well known for their all-school musicals, where students from across campus are encouraged to audition to become a part of the production. "In choosing the show, one of the first things I say is that I want as many people as possible to be in it, and I want as many people as possible to come and see it," said FMHS Director Scott Taylor.
Because the musical is an extracurricular activity involving students with varying course schedules, rehearsals are held outside of school hours. The cast, crew and musicians work tirelessly to perfect every element before opening night. "We're a very dedicated bunch," said Sophia Campbell, Thespian Club President at FMHS, who was cast as Cinderella. "We're always finding time to develop our technique as best we can. It's a lot of work to prepare our singing, our dancing, our acting."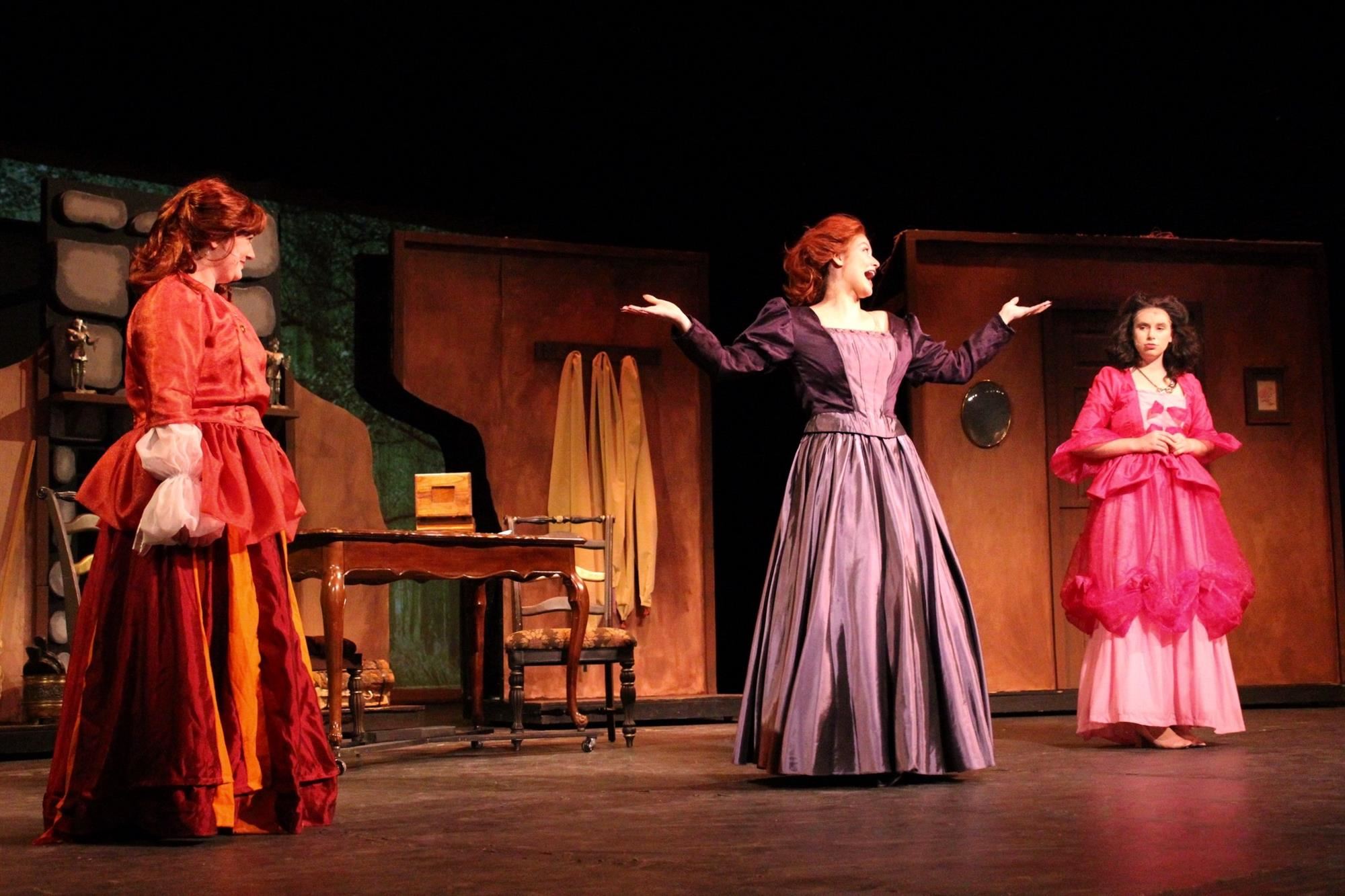 FMHS performs "Cinderella" for their community. Credit: Atley Standiford
When the curtain came up, it was clear that their hard work paid off. "What made Cinderella special was that there were so many different elements that came together," Sophia continued. "There was great music composition, a wonderful pit orchestra, the complex set design…and of course the flying too. There were just a lot of elements that came together that made it a really big deal, and I think a lot of us really enjoyed that."
At the end of their weekend of performances, the FMHS students described the feeling of accomplishment they shared, as well as a bit of sadness to end their time with the show. "That magic is just for that one instant, and you've made the most out of it," Mr. Taylor reminded them. "It becomes a memory now."
For Fine Arts Director Amanda Drinkwater, this magic created by students goes far beyond what audiences see on stage. "Performing gives our students an opportunity to express themselves," she said. "Engagement in the arts provides students a chance to embrace qualities that make them unique and to better recognize commonalities inherent to the human condition."
---
The Loop is a quarterly magazine from the Lewisville Independent School District, showcasing the latest stories, photographs and achievements throughout Lewisville ISD schools. Click here to read previous issues.