Return to Headlines
New Coach, Same Tradition: Towels ready to continue winning football at Hebron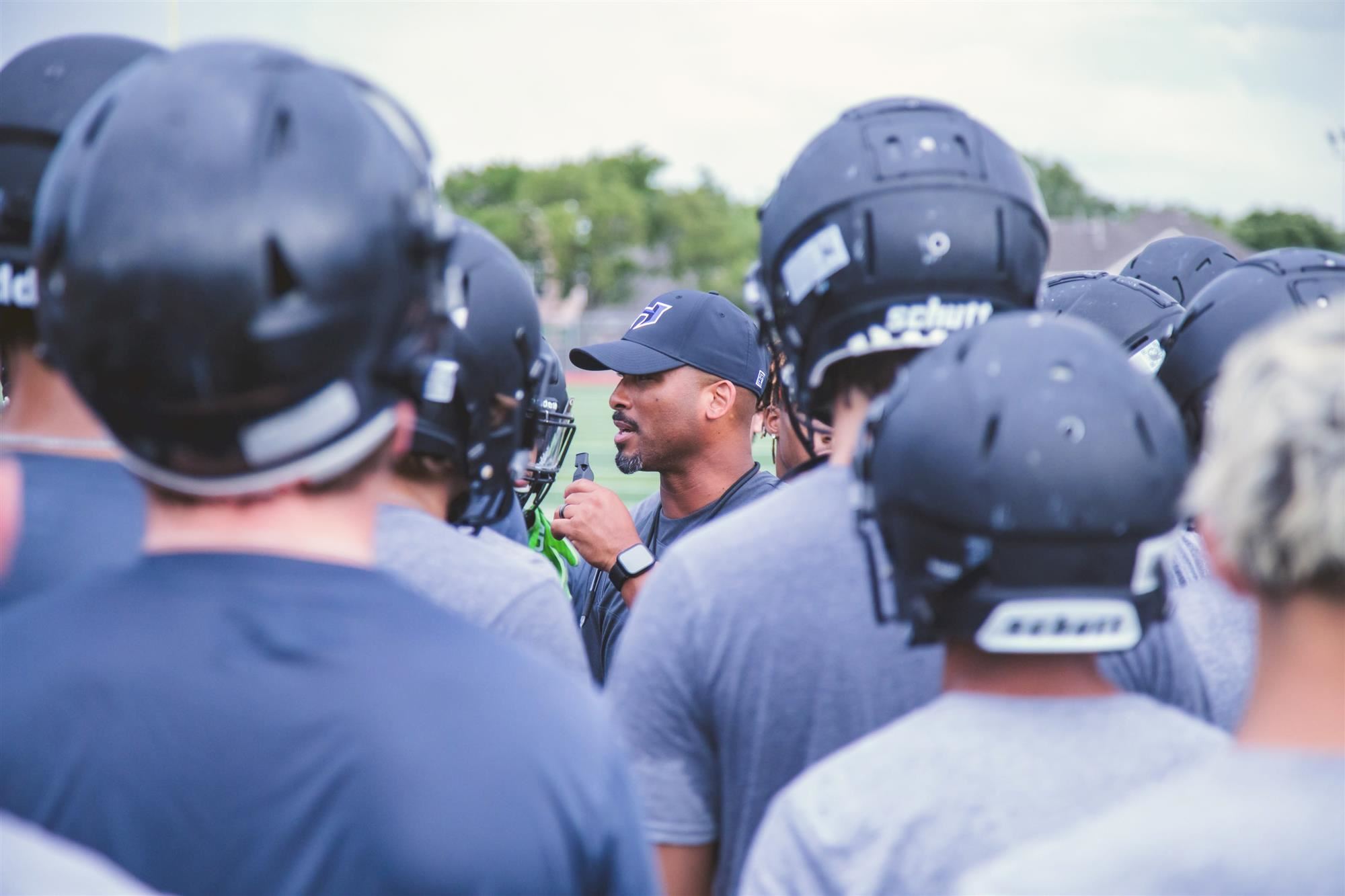 When the 2022 Hebron football season kicks off on August 26, the Hawks will have a new head coach on the sidelines for the first time since 1999 – the year the school opened.
John Towels III was named the second head football coach in Hebron history on June 10, taking over for Brian Brazil, who announced his retirement from coaching in May after 22 seasons and a 152-97 record leading Hebron, including winning the 2005 4A Div. II state championship.
Towels comes to Hebron from Friendswood Clear Brook where he was the head coach for the last two seasons. He most notably led a top-ranked defense at Duncanville High School as the defensive coordinator where the Panthers made it to back-to-back 6A Division I state championship games in 2018 and 2019, allowing an average of 9.4 points per game those two seasons. In his four years at Duncanville, the Panthers went 40-3 with Towels as the defensive coordinator and won three undefeated district championships.
When the Hebron job opened up, Towels was asked what attracted him to come to Hebron and he said it was an easy decision for him to return to north Texas.
"It's Hebron. That's the funny thing about it, Mrs. [Amy] Boughton asked me in the interview 'Why Hebron?' and I thought it was a trick question because Hebron is well-known across the state," Towels said. "You have The Woodshed, Bring the Wood and the program that Coach Brazil built here from the ground up. And it's not just football, there's success all across the school in all programs here at Hebron. It was a no-brainer. Of all the places you can wind up, this is one of the top places you can get a job in the state."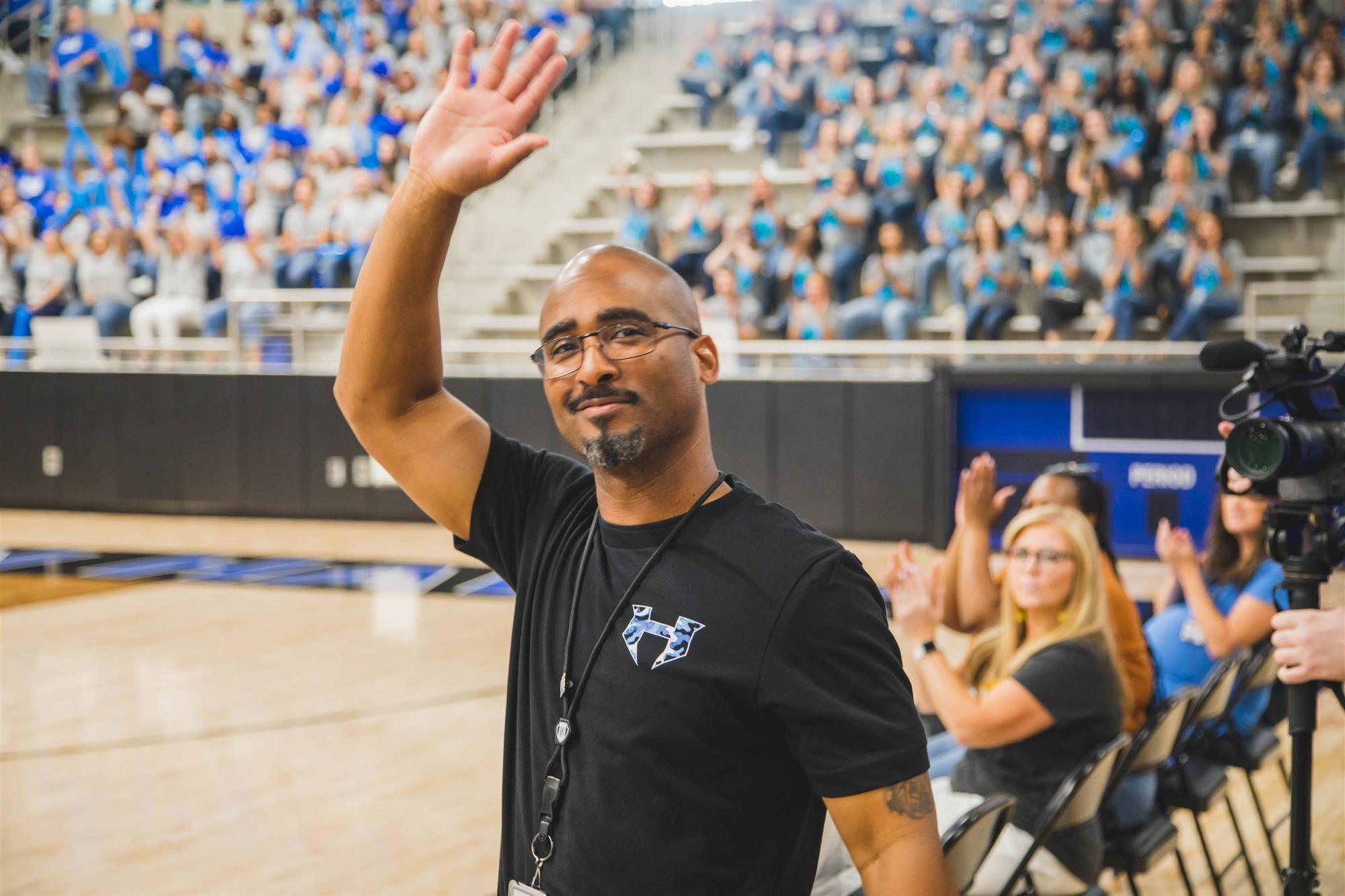 The transition to a new school for a head coach can be challenging. But coming to a school with an established and tradition-rich program like Hebron has Towels ahead of schedule and ready for the season.
"The transition has been fast and furious, but it's been exciting and really good," Towels said. "There are over 300 kids in the program. That's the most I've ever had as a head coach. The number of players out for football is amazing. It's not because of the excitement of a new head coach or anything like that – that's because it's Hebron. The tradition of the program and the players that have walked through these doors is what drives the program numbers up."
The fieldhouse doors at Hebron have seen nearly 200 players that have gone on to play at the next level collegiately and beyond in the short two-decade existence of the school. Across from the locker room leading to Hawk Stadium is a college wall that lists every player in program history that has played collegiately. Towels said that's where the motivation comes from for the players and for him to prepare them for the next level.
"We'll be at summer workouts and there will be four or five NFL players working out," Towels said. "To have those guys that close to you and for the players to see that you can get there from Hebron, that's a big deal for those kids. When you look down the hallway and see on the college wall all the players that have gone on to play at the next level – we're talking about 10 guys or more every year – that opportunity to be a part of something great is important to everyone."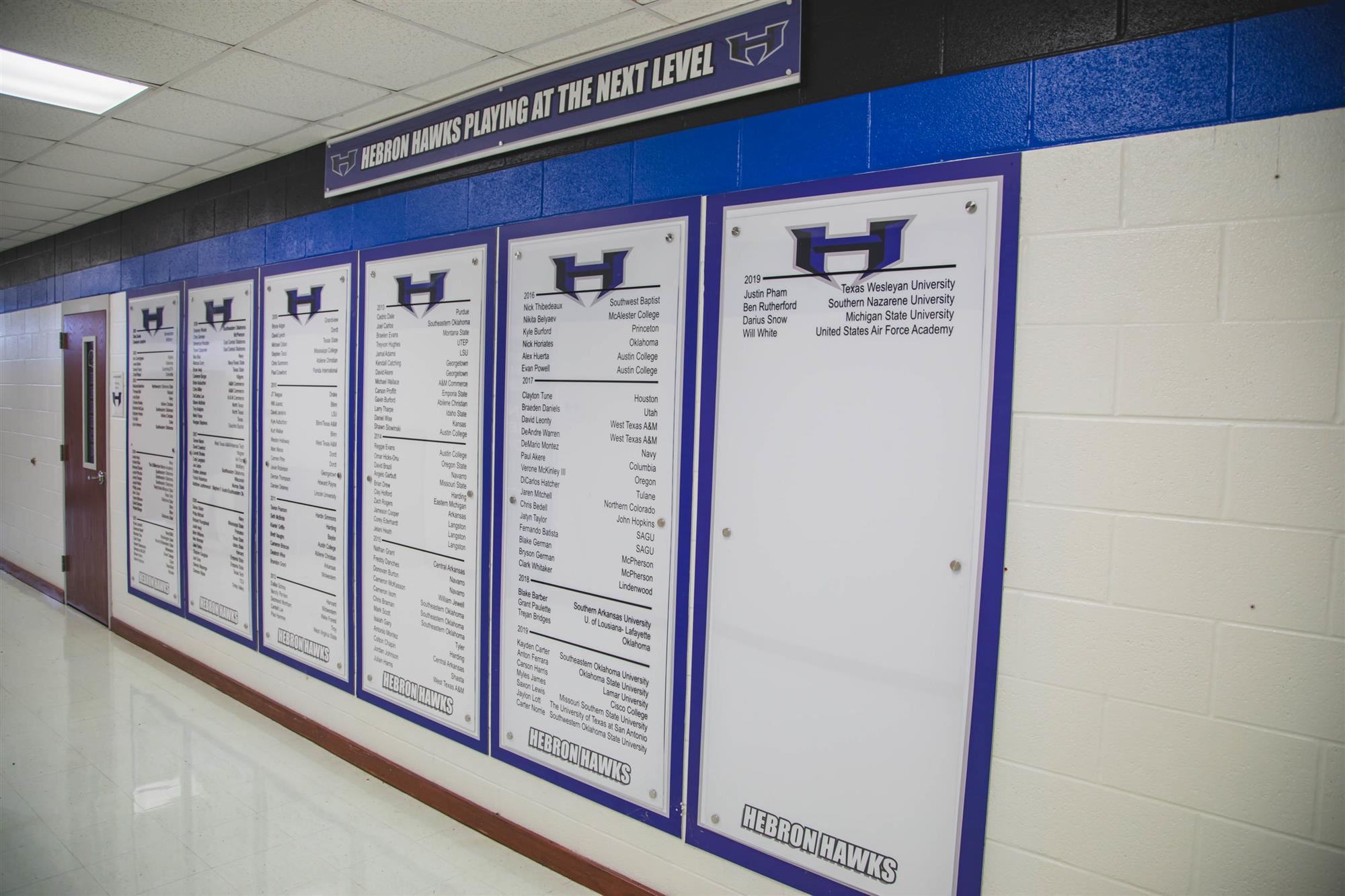 Towels has been around that kind of individual success and talent his whole career and knows how to translate it into team success. Being at Duncanville and getting that taste of making deep playoff runs every season is something he wants to continue here at Hebron – a program that has been to the postseason in 16 of its 22 seasons. However, Towels humbly points out that not everyone is Duncanville, but he's prepared to continue that path of winning big at Hebron.
"Anytime people hear you're from Duncanville, they light up," Towels said. "I'm quick to tell them, just because I'm from Duncanville, that doesn't make it Duncanville as soon as I walk through the doors. Duncanville is Coach [Reginald] Samples. That success is his stamp on the program. I have to create my own stamp here at Hebron. I learned a lot from Coach Samples, which some of those things continue to help me coach to this day. There will be some things we utilize at Hebron that we did at Duncanville, but everyone has to walk their own path and create their own success."
Towels has been busy implementing his schemes and play-calling philosophies to the players in preparation for the season opener next Friday, August 26 at Dallas Jesuit. He wants to play fast and put the ball in his playmaker's hands on offense and keep things simple on defense so they can be successful.
It also helps that he inherited a wealth of experience and talent in his first year at Hebron. Towels said just about everyone on offense will be a senior, but he has plenty of young playmakers on both sides of the ball and more importantly depth on the roster to be able to reload and not rebuild year after year.
"We want to send the seniors out on a high note," Towels said. "We don't want to say, 'Oh, we have a new coach so we are rebuilding.' That's not fair to the seniors, so we are still going to attack this season and take care of business. I told the kids, we are going to take it one day, one week, one game, and one win at a time."
Towels is thankful for his two seasons at Clear Brook High School, but he's excited to be a Hebron Hawk and he already has his own expectations. Like any coach, he wants to put his players in position to be successful on and off the field and prepare them for life after high school football. But he also wants to win and win big.
"I loved my time at Clear Brook High School. It's a phenomenal high school with great kids, administration and staff. But at the same time, you can't turn down an opportunity like Hebron High School. We are going to go out there every Friday night trying to win games and make the community proud."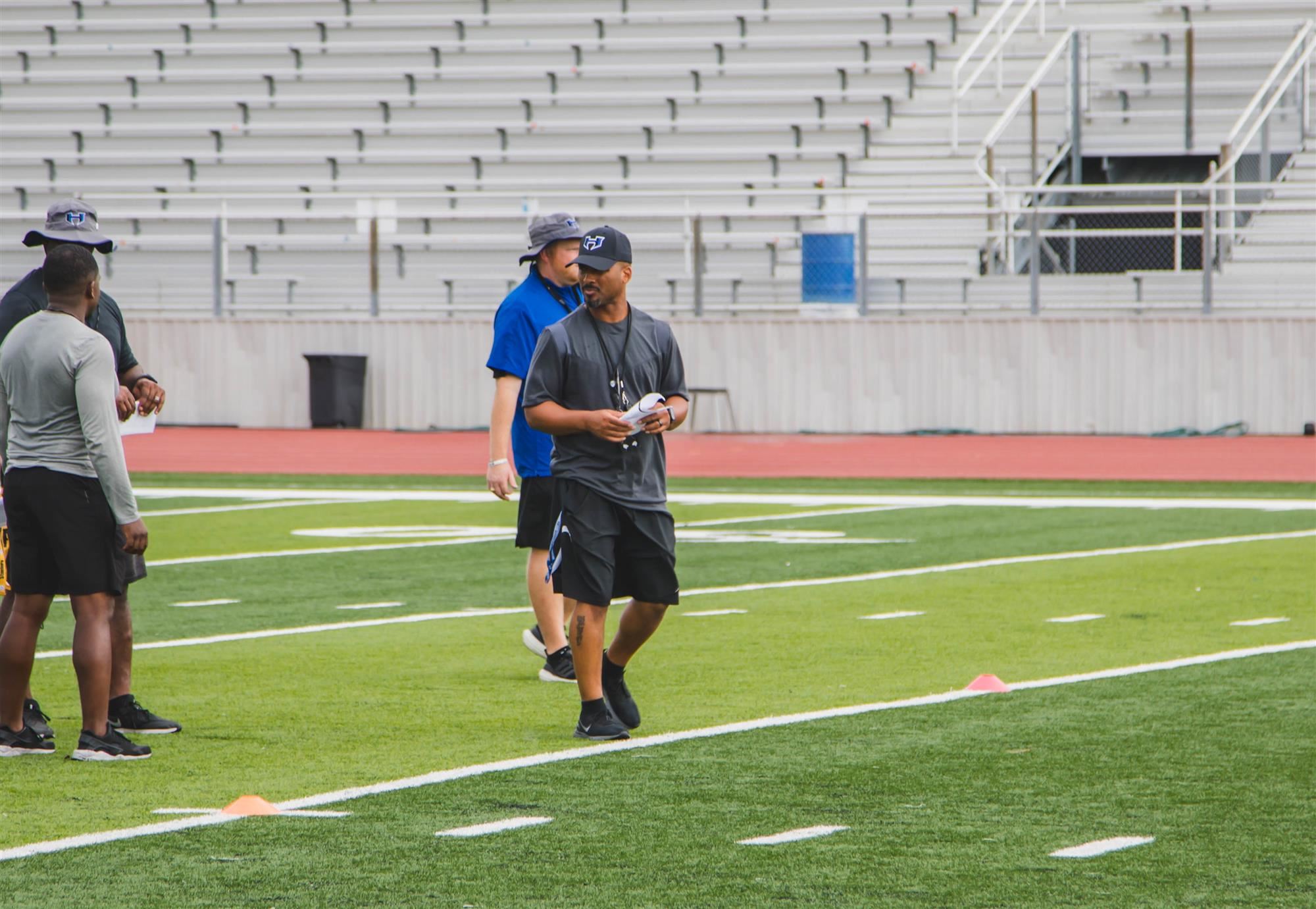 ---
Hebron High School is a Lewisville Independent School District high school in Carrollton, Texas, serving all Hawks with engaging educational experiences, strong traditions, storied extracurriculars and future-ready opportunities. Follow HHS on Facebook and Twitter to see more throughout the school year. Join the Lewisville ISD family by enrolling today, or visit Best Schools in Texas to learn more.