Return to Headlines
LISD Paraprofessionals Receive $124,500 Worth of Grants to Continue Their Teaching Careers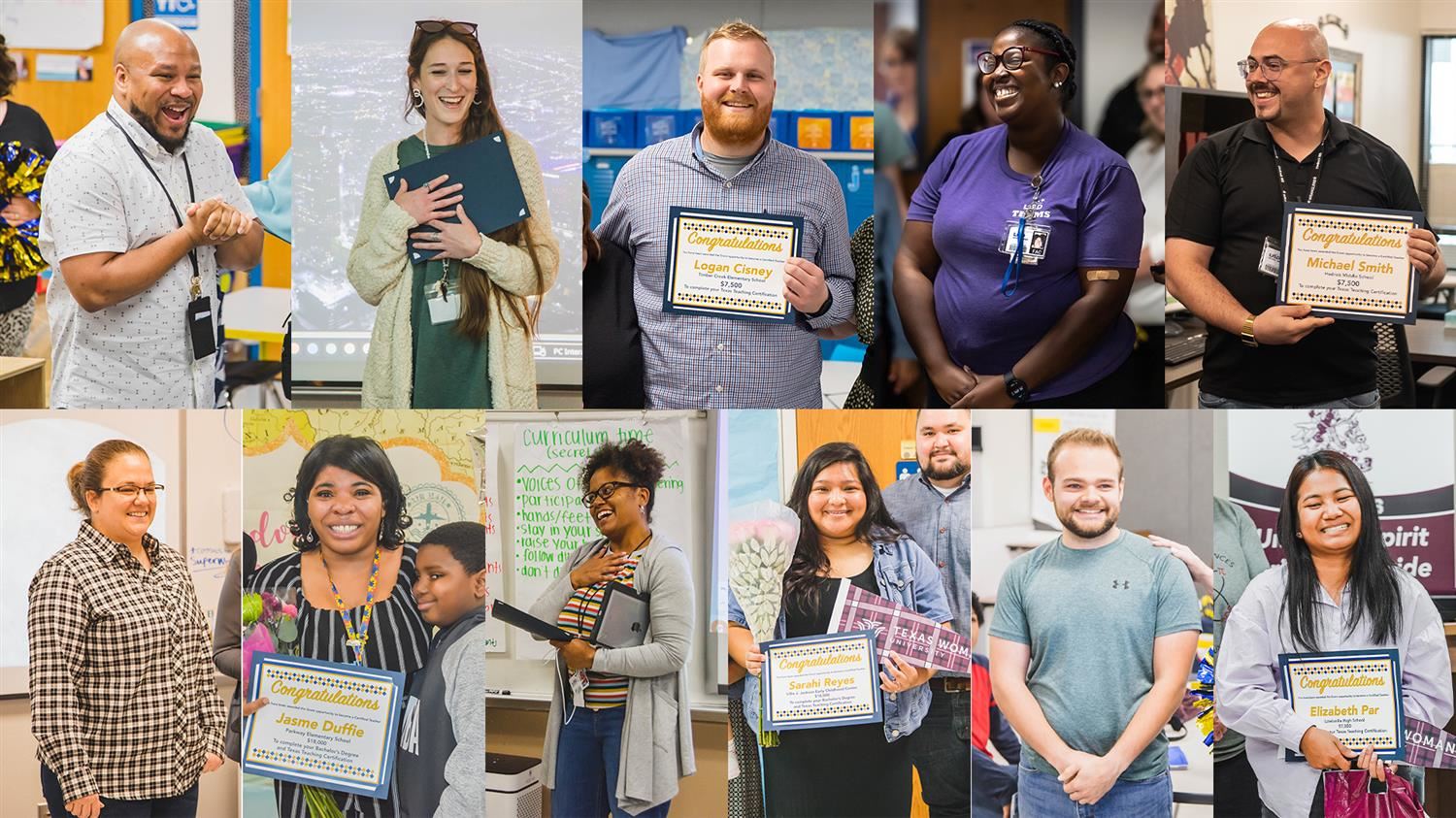 Here at LISD, we celebrate our paraprofessionals and the daily impact they make on students' lives. Over the last two months, LISD surprised 11 paraprofessionals across the district who were awarded grants to help fund their education for finishing their degrees and teaching certifications.
LISD awarded $124,500 worth of grants to district paraprofessionals. The stipends are possible in part through a three-year grant provided by TEA as part of its Texas COVID Learning Acceleration Supports (TCLAS) program, which provided the original six awards. The LISD Board of Trustees chose to expand the grant program, and funded awards to five additional employees.
There were two pathways available to receive the grant. The $7,500 stipend was for candidates that have a bachelor's degree and are seeking a Texas Teacher Certification. The $18,000 stipend is awarded over a two-year period for candidates enrolled in a University Educator Preparation Program seeking a bachelor's degree and Texas Teacher Certification.
Winners of the paraprofessional grants are: Elizabeth Par (Lewisville High School), Sarahi Reyes (Lillie J. Jackson Early Childhood Center), Jennifer Dean (Flower Mound High School), Trevor Collie (Prairie Trail Elementary), Jasme Duffie (Parkway Elementary), Caroline Rodgers (Morningside Elementary), Arais Williams (Student Success Center), Stephen Surrell (Rockbrook Elementary), Logan Cisney (Timber Creek Elementary), Michael Smith (Hedrick Middle School) and Madison Mitchell (Forest Vista Elementary).
"It is truly a rare moment when you have the opportunity to be present when someone's life changes forever, in one moment," LISD's HR Director of Compliance Dr. Courtney Hart said. "Every day in public education is rewarding, and there is no shortage of occasions when we are reminded that teaching is an amazing profession. These 11 awards, going to this amazing group of future teachers, has emerged as both humbling and uplifting in that our district's future is in amazing hands, and that it is truly a joy and a privilege to work in a place that can provide moments like this."
LISD Superintendent Dr. Lori Rapp, district administration and members of the LISD Board of Trustees made their way across the district to present a certificate to the selected winners and celebrate the paraprofessionals as they become one step closer to becoming teachers in LISD.
When district leadership entered each classroom, the award winners were overcome with excitement and emotions when they realized they were receiving their grants and shared what this grant will do for them and their futures.
"I feel so blessed to have received such an amazing gift. I appreciate all of my coworkers, administration, and the district for the support and surprise. God is good," Parkway's Jasme Duffie said. The student's at Parkway, including Jasme's own son, filled the halls with cheers and chants as Ms. Duffie received congratulatory hugs from her colleagues at Parkway.
While holding her young daughter, surrounded by her fiancé and mother, Lillie J. Jackson Early Childhood Center's Sarahi Reyes was holding back tears as she described what this grant means to her. "This grant helps so much. It's going to help me focus on my school and my daughter because I've been working two jobs. This is going to alleviate a lot of stress that I've had and motivate me to finish school and become a teacher at LISD."
Elizabeth Par is an ESL paraprofessional at LHS and has a unique perspective as a Chin student who graduated from LISD and wants to help other students learn English. "This grant means a lot to me because I always wanted to be a teacher. Ever since I started school here [at LHS] as an ESL student, I've always wanted to help other students who are struggling with English or any other language. I want to be a part of their life and their education."
---
From the beginning, Lewisville Independent School District has committed to ensuring all students—your children—have the resources they need and want to ultimately thrive in a future they create. Follow Lewisville ISD on Facebook, Instagram and Twitter to see more student experiences throughout the school year or visit Best Schools in Texas for more information about joining the LISD family.