Return to Headlines
Wellington Wildcats learn about Hydroponics and Vertical Gardening
Students in Gina Alday's science class at Wellington Elementary are getting a hands-on approach to a unique way of gardening and chemistry. Thanks to the Lewisville ISD Education Foundation (LEF), a $2,500 grant was donated to Ms. Alday's class for hydroponics and vertical gardening.
Ms. Alday teaches science and STEM classes at Wellington for students in kindergarten through fifth grade. The LEF grant money purchased seven hydroponic stations for her students and they have done the bulk of the work behind planting, maintaining, and monitoring all the plants.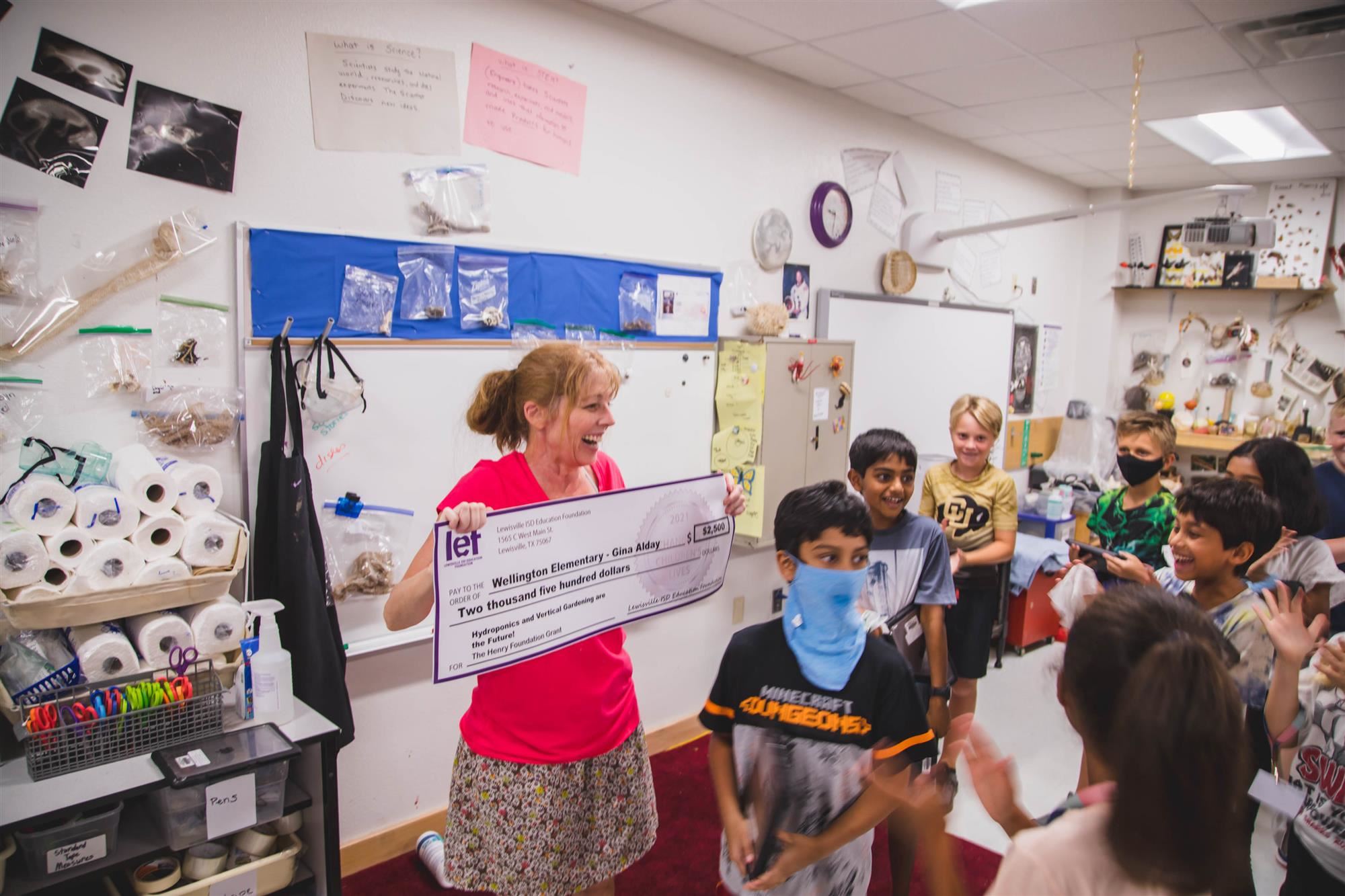 "I want to thank LEF from the bottom of my heart for this grant," Ms. Alday said. "It has been so exciting. All the students set everything up and take care of the gardens themselves. I even have the kids check the chemical balances of the water."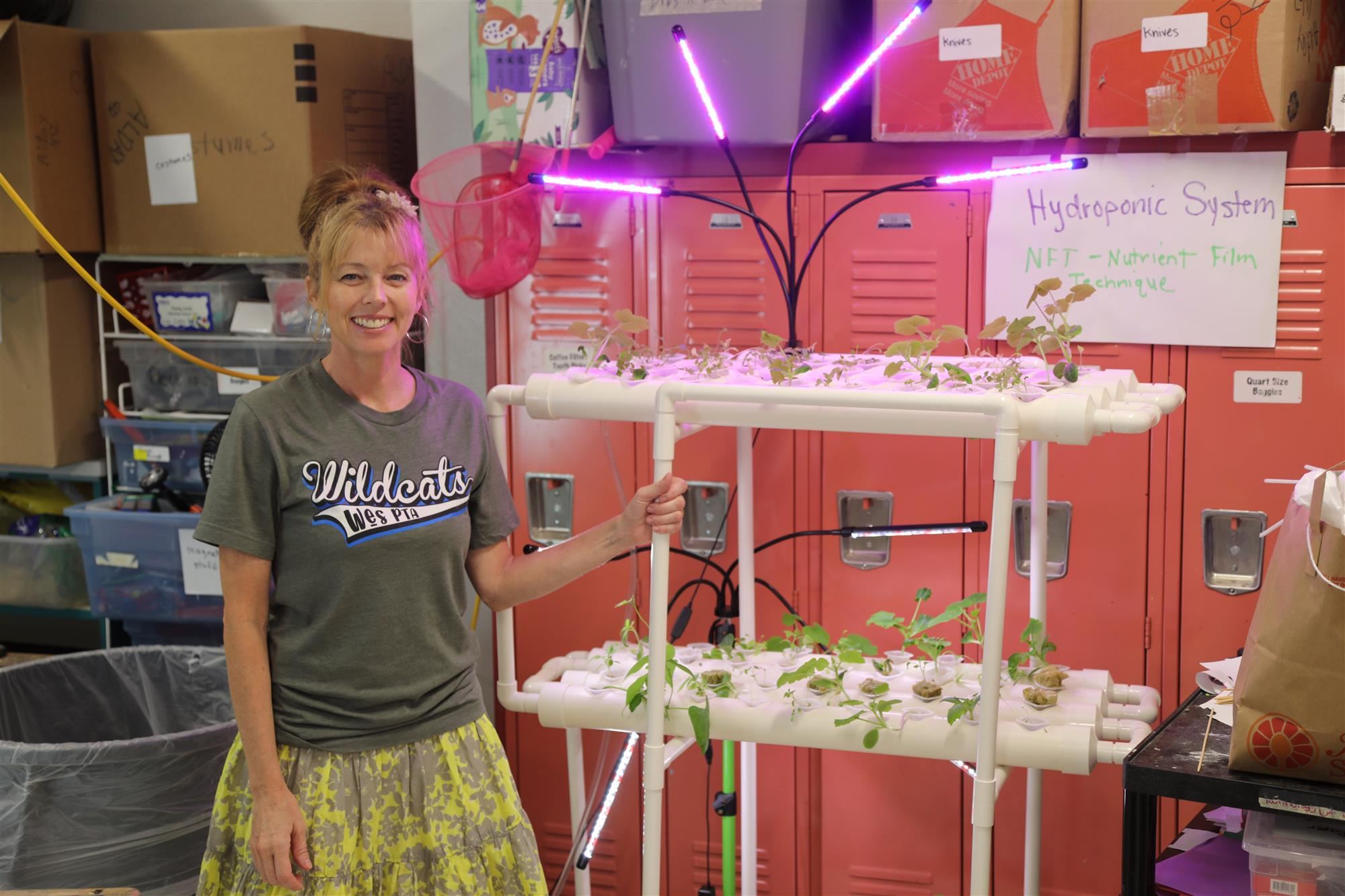 Ms. Alday taught the kids to monitor, read, and test the PH levels of all the hydroponic systems and chart them in a report folder. The LEF grant bought chemicals called PH Up and PH Down to help read the PH levels in the water. Kids come in every morning and write the PH levels to keep a consistent chart of all the stations.
Other things the LEF grant money purchased were numerous supplies, fertilizer, a PH kit, rockwool, timers, seeds, lights, fish chemicals and vaccum, and clay balls.
Below is a list and description of all the hydroponic and vertical gardening systems purchased with the LEF grant money.
Aquaponics and Hydroponic Deep Water Culture System
Aquaponics System: With this system, Ms. Alday's class is growing lettuce greens on top of a fish tank, which currently has fish inside the tank. Everything they grow is edible and pesticide free. Aquaponics uses a wicking system that absorbs water and nutrients from a solution and supplies it to the plants – in this case an aloe vera plant. A wicking system is a hydroponic growing set-up that uses a soft fabric string known as a wick.
Hydroponic Deep Water Culture System: This system is growing beans and cucumbers and is positioned on a shelving station that has pumps built in to provide moisture to the plants. The roots are already growing and the plants are several inches tall.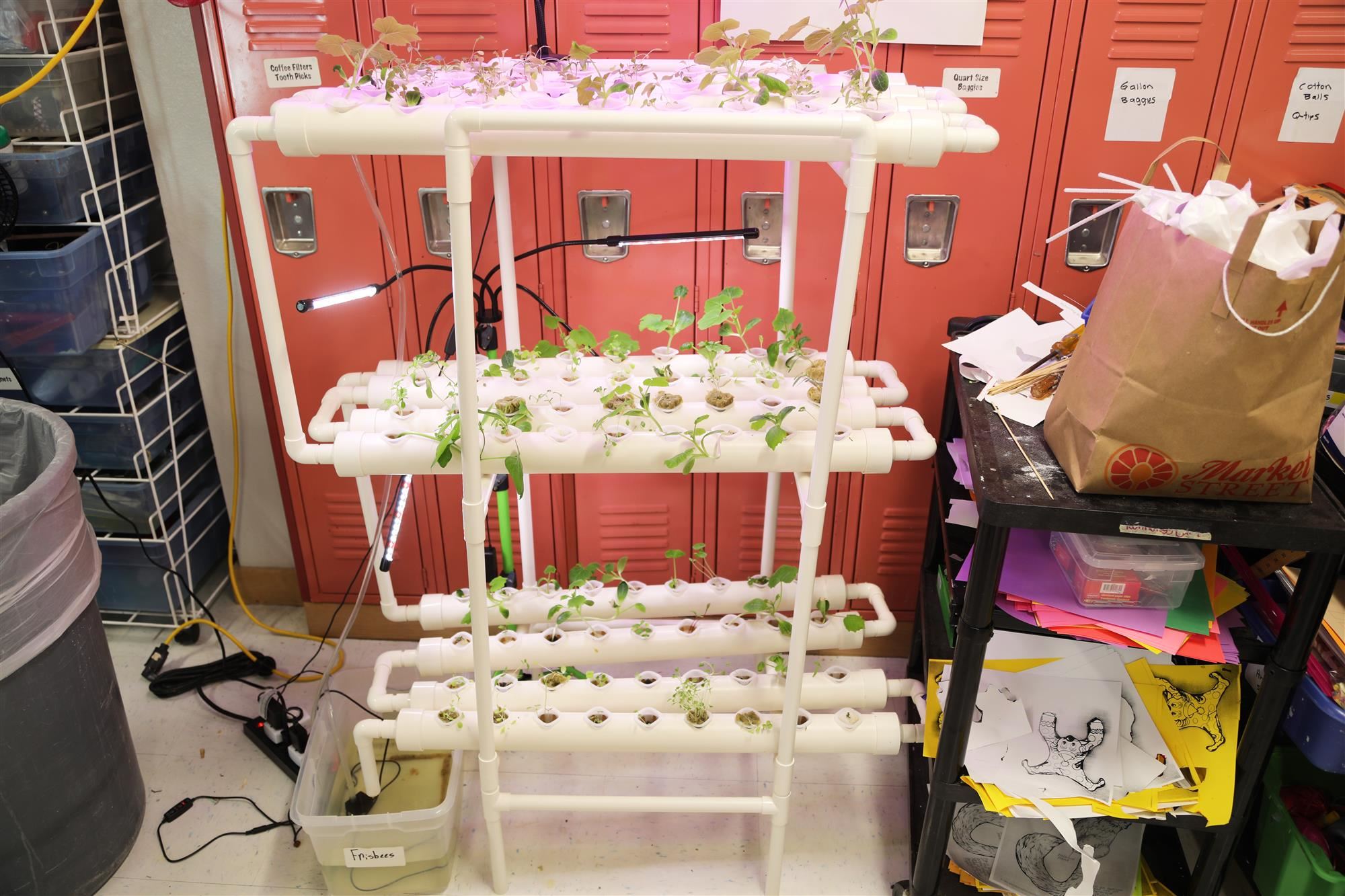 Hydroponic System - NFT
Hydroponic System – Nutrient Film Technique (NFT): This is a personal favorite station for Ms. Alday, which is also a process she said they use at Disney World for growing plants. She purchased rockwool to grow the plants because it holds the moisture the best. The system is operated by a pump that is set on a timer to provide the moisture to the plants.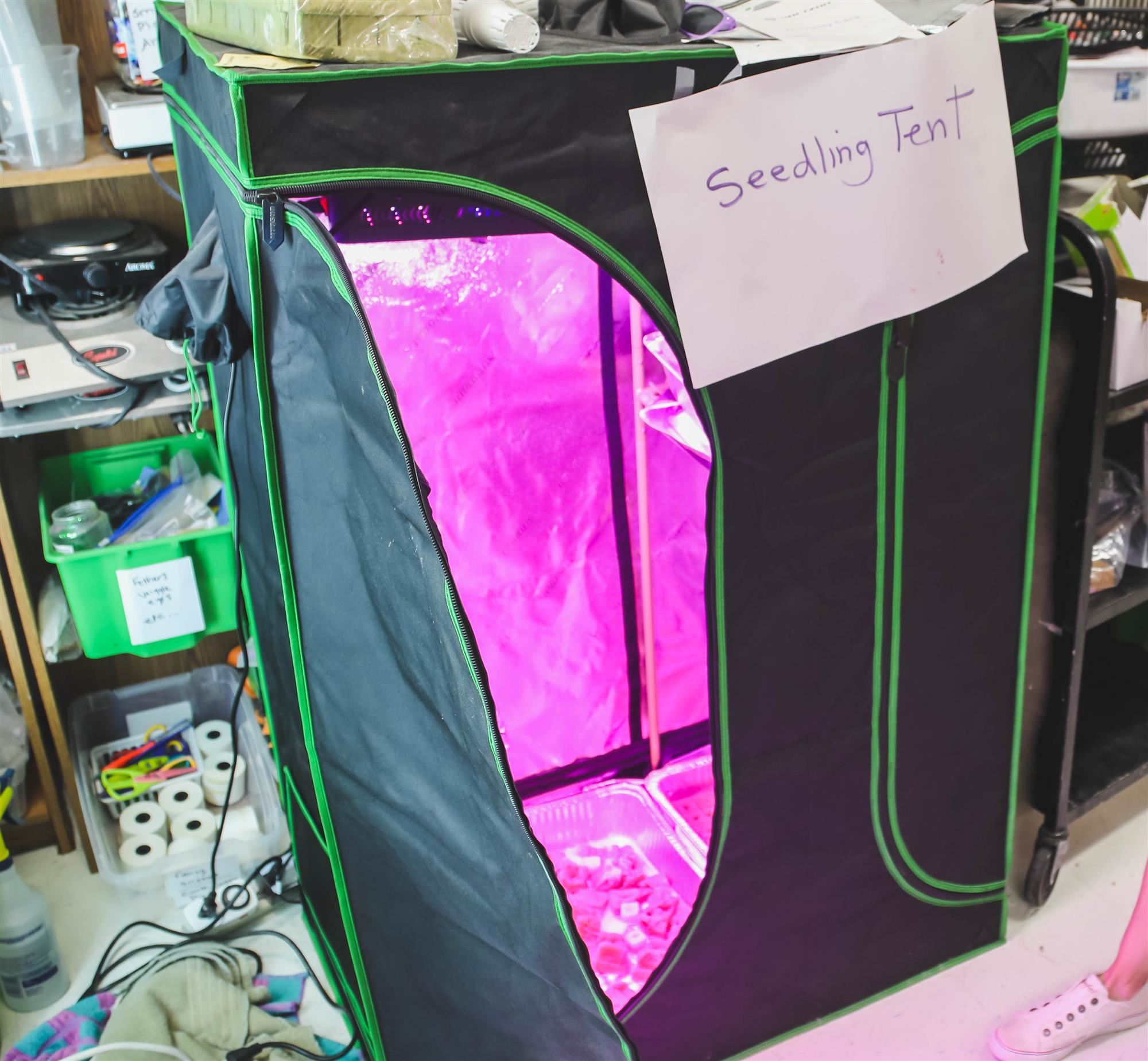 Seedling Tent
Seedling Tent: This hydroponic tent stands about four feet tall and the humidity and lighting in the tent allows for growing seeds indoors. Ms. Alday's classes are using rockwool to grow more seeds to eventually harvest. The tents are made out of flexible materials and include fans, lights and timers, which were all purchased with the LEF grant money. Seedlings benefit from the enclosed environment as it allows complete control over the seed climate and lighting.
Hydroponic Drip System
Hydroponic Drip System: This system was generously donated by a Wellington parent after learning of all the hydroponics that Ms. Alday is teaching students about. "Our community has come together to help with hydroponics and we've really benefited from their generous donation," Ms. Alday said. The drip system is an active hydroponic system, meaning it uses a pump to feed the plants with nutrients and water regularly. The students monitor the drip system and continue to add water to keep the plants growing.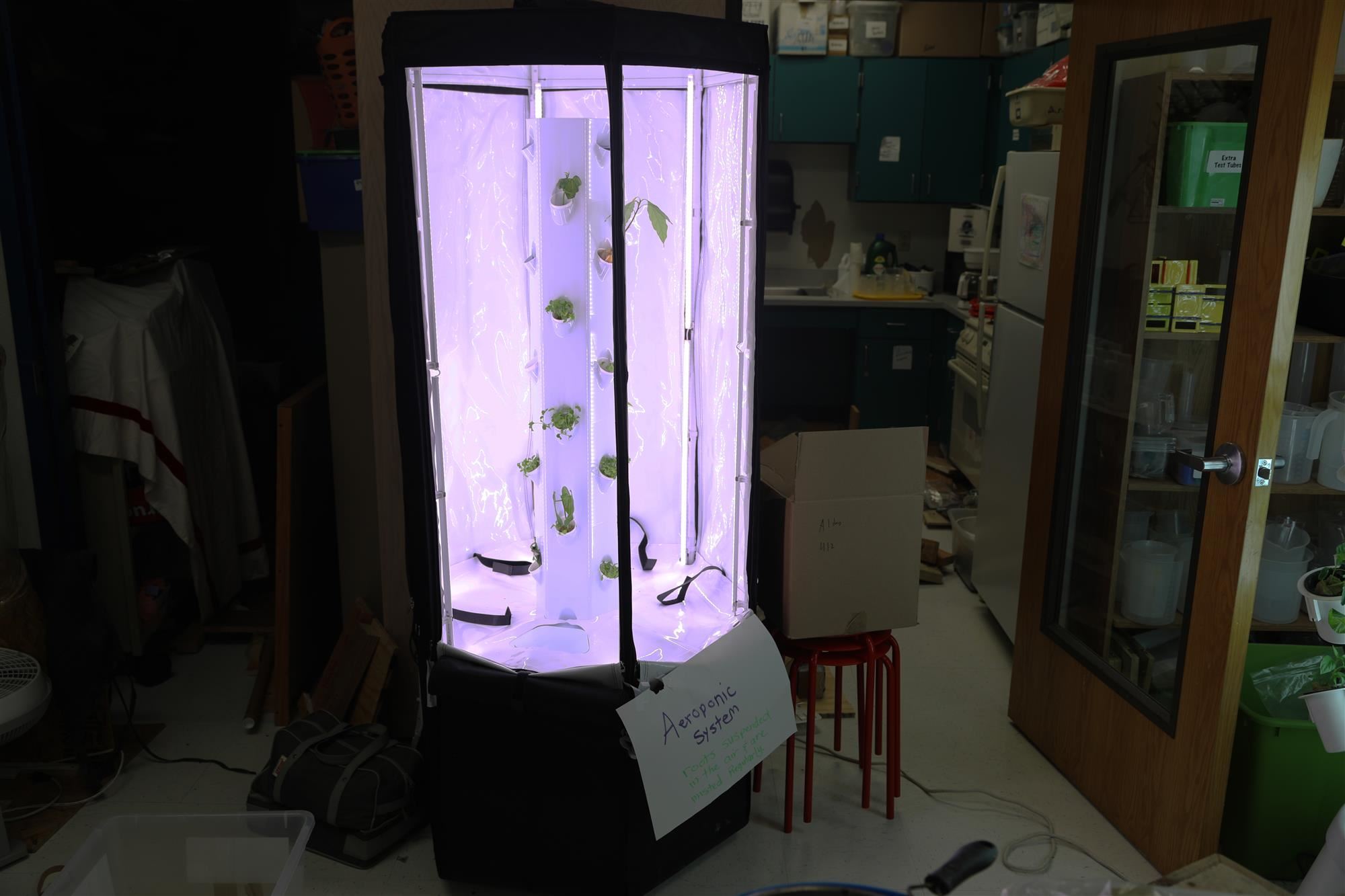 Aeroponic System
Aeroponic System: This was Ms. Alday's biggest purchase with the LEF Grant money. The aeroponic system is a process of growing plants in an air or mist environment rather than with soil. The aeroponic system uses very little water and mostly air to grow the plants. It has a built-in light system and water pump for the misting and features a fan inside the top of an enclosed standup tent station. The system takes care of itself, all the students and Ms. Alday do is add water and check the PH levels.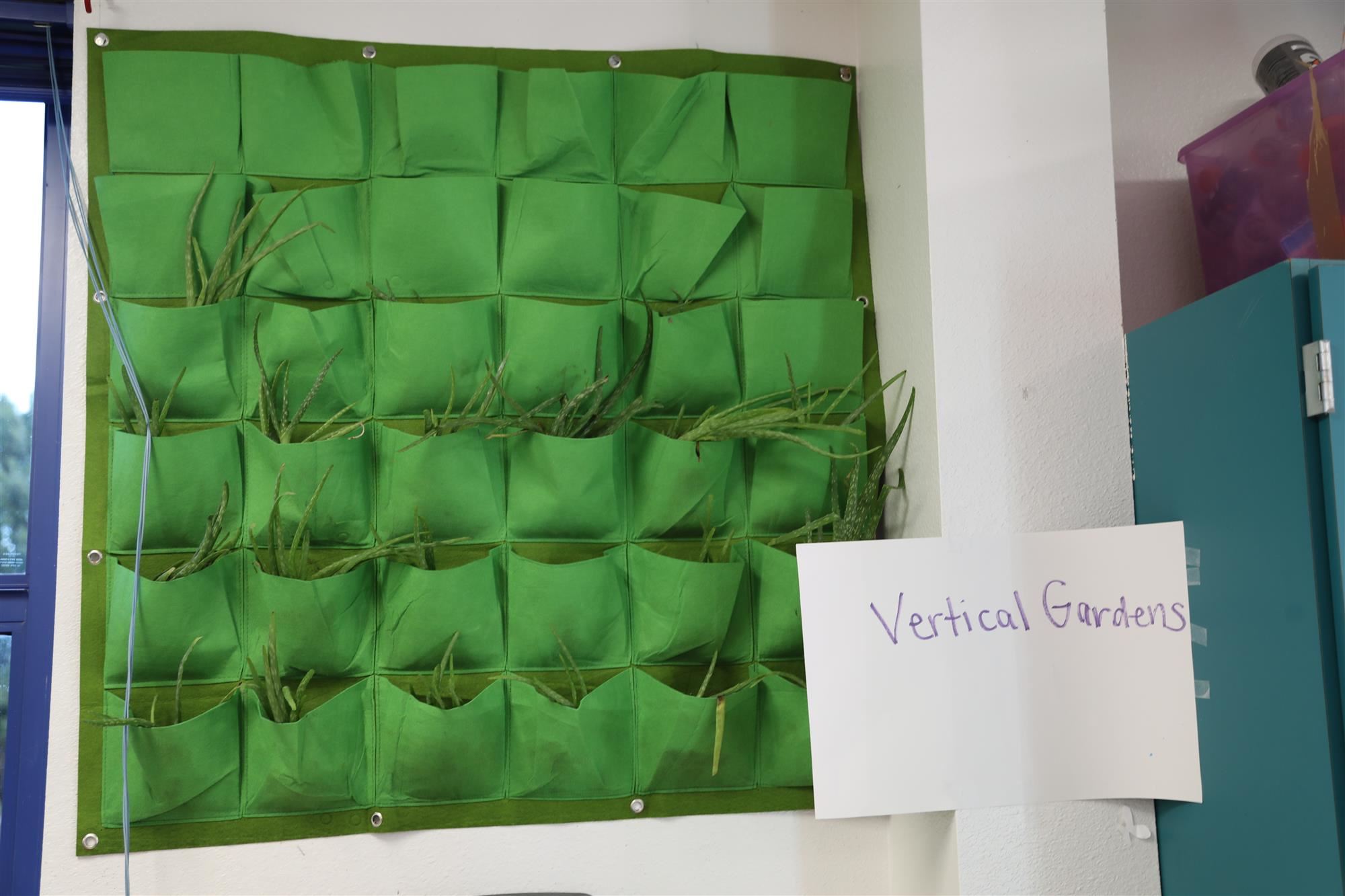 Vertical Garden
Vertical Garden: In this station, Ms. Alday's kindergarten and first-grade students set up a vertical growing station on the wall for students to grow aloe vera plants in each pocket. These plants grow off of clay balls that were purchased with the LEF grant money. Vertical gardens are essential in some countries to allow for more room to grow up instead of across land to save space.
The hydroponics system isn't something just for this year either, it's a system Ms. Alday plans to use for many years to come and future students get to benefit from thanks to the Lewisville ISD Education Foundation. "It's been an amazing journey watching the students learn and grow all the plants. Thank you, LEF, once again for your generosity," Ms. Alday added.