Return to Headlines
Local Police Veteran Returns to His Roots in the Classroom at TECC-East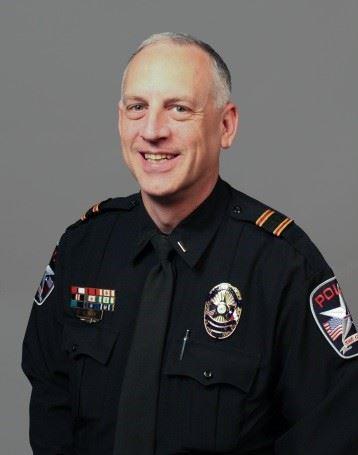 Charles Wood always had a knack for teaching, even as a police officer and lieutenant for The Colony Police Department for the last 24 years.
After retiring from the force on August 31, 2021, Lt. Wood didn't get to enjoy retirement for long. On September 1, Wood went from police officer and lieutenant to teacher as LISD's new Law Enforcement Instructor at TECC-East.
However, the teaching aspect was always there for Wood. While as a police officer at The Colony, Wood would teach courses for police officers and was heavily involved in the Law Enforcement Explorer program. The program's main purpose is to acquaint young men and women with careers in Law Enforcement. Wood would teach leadership skills, participate in community service activities and prepare the Explorers as citizens, community leaders, and as police officers, all of which are skills he plans to bring to his classroom at TECC-E.
"I've always been used to teaching," Wood said. "I taught police officers and ran the Explorer program at the police department for kids since 1998. Coming in here to teach on day one was an easy transition for me."
Wood had an early interest in law enforcement as a student in LISD. Wood went to Central Elementary, DeLay Middle School, and graduated from Lewisville High School in 1986. It was at LHS that he first participated in the Explorers program and learned about law enforcement, thanks to a friend who brought him along.
"One of my friends dragged me to a meeting to check it out," Wood said. "I was like 'OK whatever, I'll go', but it was fun and it really piqued my interest. After highschool, I went to UT-Arlington to go into architecture but I decided I didn't want to sit behind a desk for long periods of time. I wanted to get out and do stuff. I remembered my time in Explorers and how that was a lot of fun, so I decided to go into law enforcement."
Wood began his 31-year career in San Antonio with the SAPD for seven years before returning home and to join The Colony PD where he hoped to make an impact in his hometown.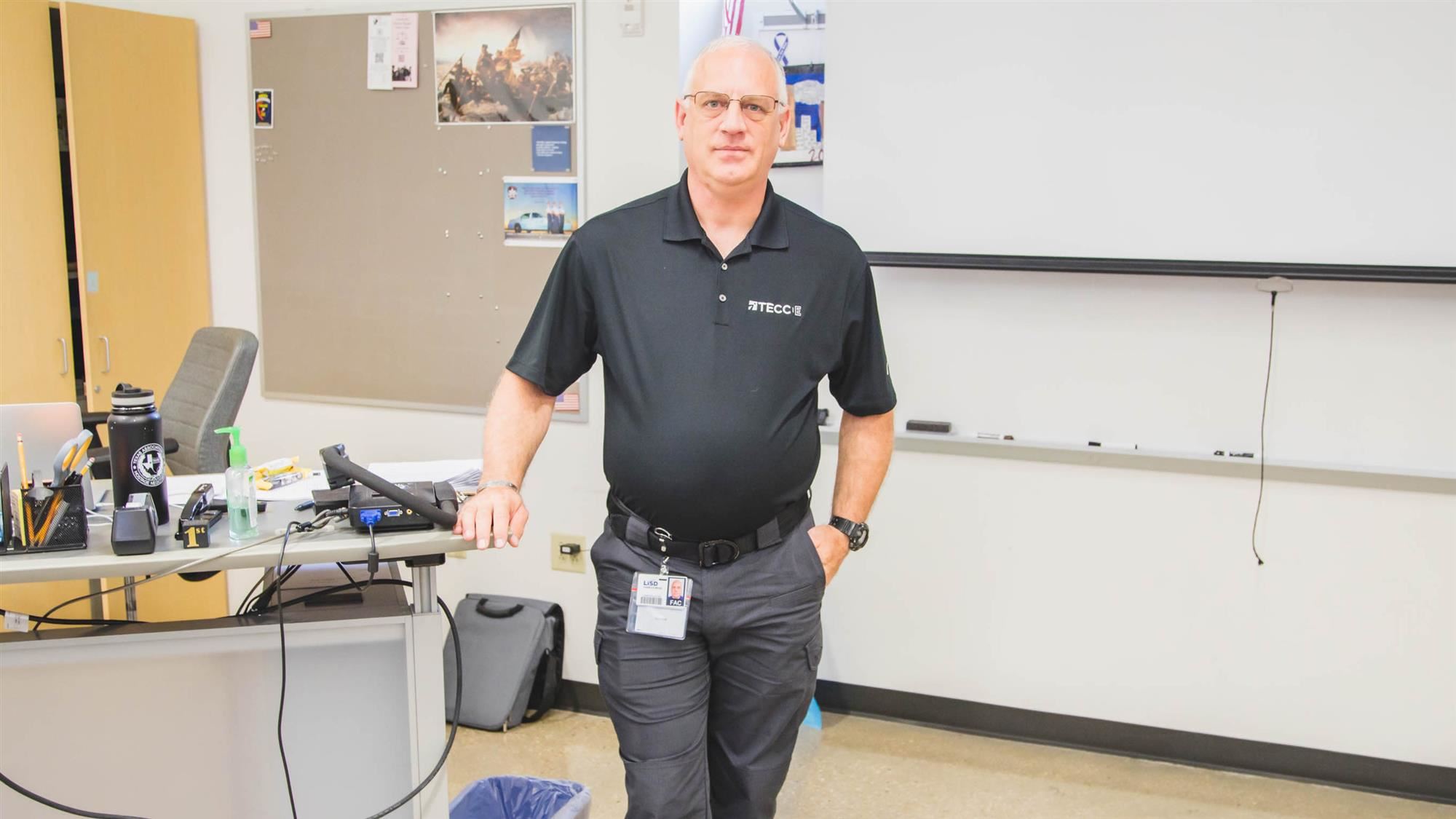 Those that worked with Wood always knew his passion was teaching about law enforcement and his former Police Chief at The Colony, David Coulon, knows his knowledge and skills can help the future generation of police officers from LISD.
"Lieutenant Wood has always exhibited a dedication not only to law enforcement and the City of The Colony, but also to the youth of our community," Chief Coulon said. "Years ago, the Police Explorer program was abandoned and no longer active. Lt. Wood took it upon himself to restart the program and start teaching our youth the ideals of fair law enforcement and responsible citizenship. He did this without pay and with very little recognition. The area departments now have more than a dozen of his students working as full-time police officers for our communities.
"His passion is teaching youth and bringing up the next generation of police officers," Coulon continued. "His position with LISD gives him a chance to fulfill his calling and it gives LISD a top-quality instructor and mentor."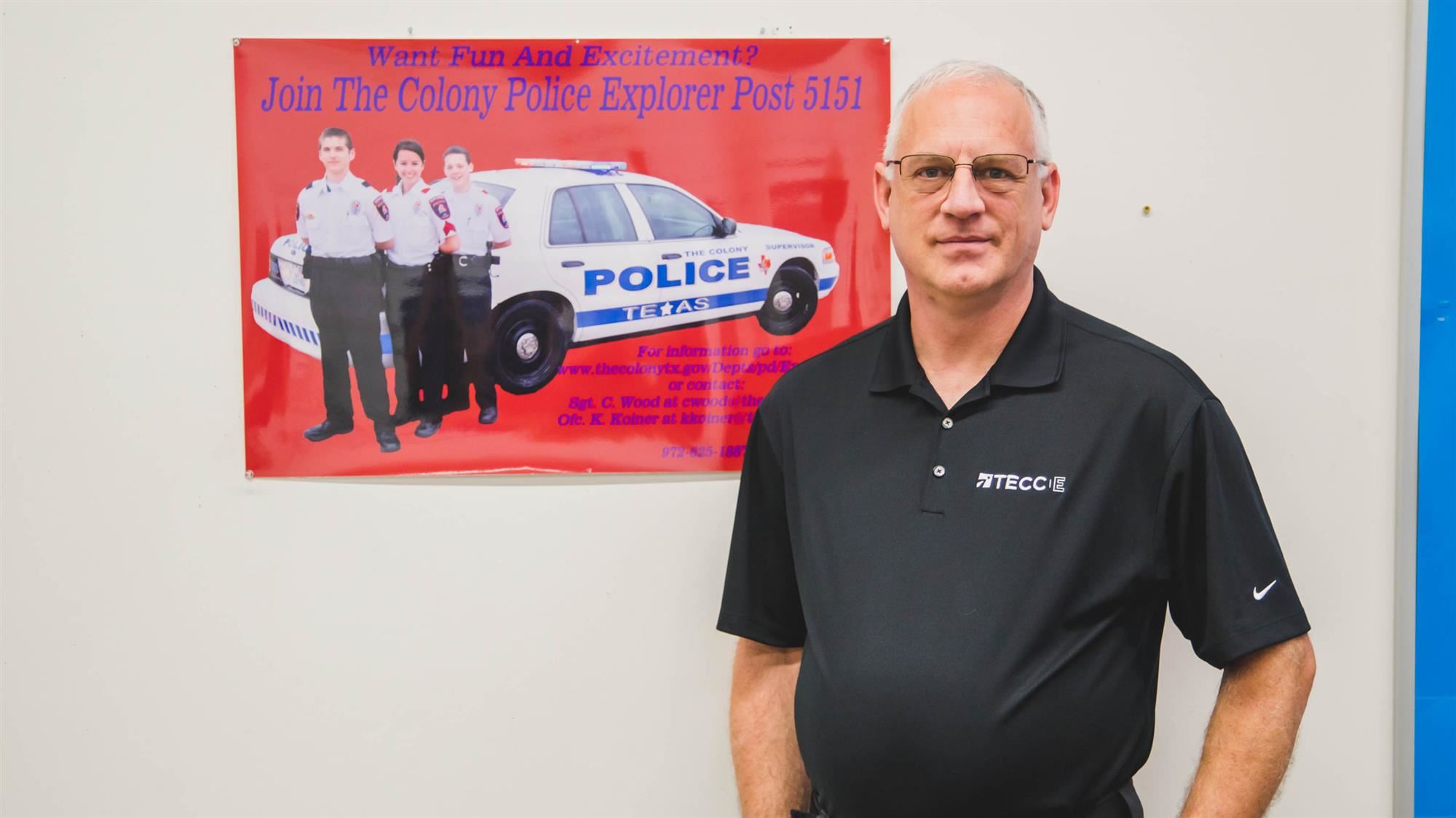 With not even 24 hours to fully prepare a lesson plan after a brief retirement, Wood relied on his experience with teaching the Explorers program on his first day and new career at TECC-E.
Wood is teaching his students about the history of law enforcement, penal code and criminal laws, fingerprinting, as well as traffic stop procedures with mock scenarios where students talk on the radio and have contact with "drivers". Wood is also teaching building searches and how to search a house for a burglar and the tactics involved.
"His vast experience and knowledge will be a tremendous benefit to the students," Adrian Moreno, Director of TECC-E said. "Being able to share with the students the many opportunities within law enforcement will help our students determine the path they want to take."
Wood has 26 students at TECC-E over the course of two classes each day – one in the morning and one in the afternoon with each class being two and a half hours long. Wood has already hit the ground running in the classroom like a seasoned veteran and issued out a test in just his second week.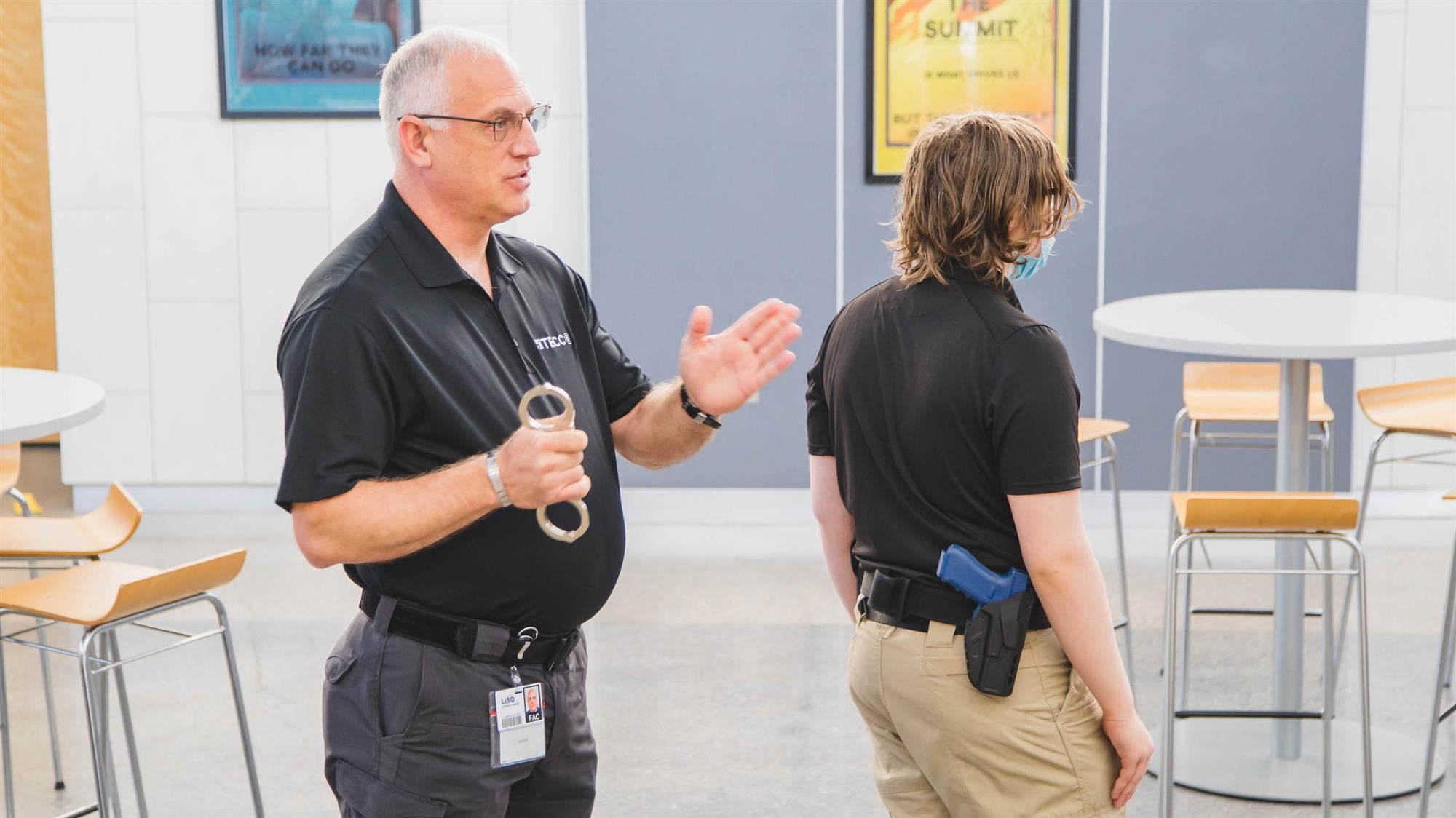 "My first day coming in here was after the start of the school year and I wanted to make the first day easy so I taught them a few basic procedures. The students loved it and we went out every morning and practiced handcuffing each other. Their first test was on the proper technique of handcuffing."
While it's been a whirlwind of a month for Wood, going from retiring as a lieutenant police officer to teaching at TECC-E the next day, the busy schedule isn't over for him just yet. Wood is also getting married this fall and is excited about this next chapter in his life; a moment that has come full circle as the former LHS student in Explorers is now shaping the minds of future law enforcement officers in a classroom of his own.
"I'm excited to be a part of LISD and instill some of my knowledge and experiences in these students so they can get some first-hand information on law enforcement," Wood said. "The students will get some true on-the-job, hands-on, everyday police officer training and I'm happy to be here teaching once again."