Return to Headlines
The Loop Feature: The Library Media Center's Pandemic Pivot
This feature was first seen in Lewisville ISD's quarterly magazine The Loop.
The function of the school library is not what the old movie stereotypes once presented it as. It no longer serves as the location to only pick out a book and walk out as quickly and quietly as you walked in. For most schools, the library media center is the lively central hub of the campus. In Lewisville ISD schools, it's the space where engineering mindsets are challenged, fairytale dreams come true and maker imaginations are empowered. Most years, that is.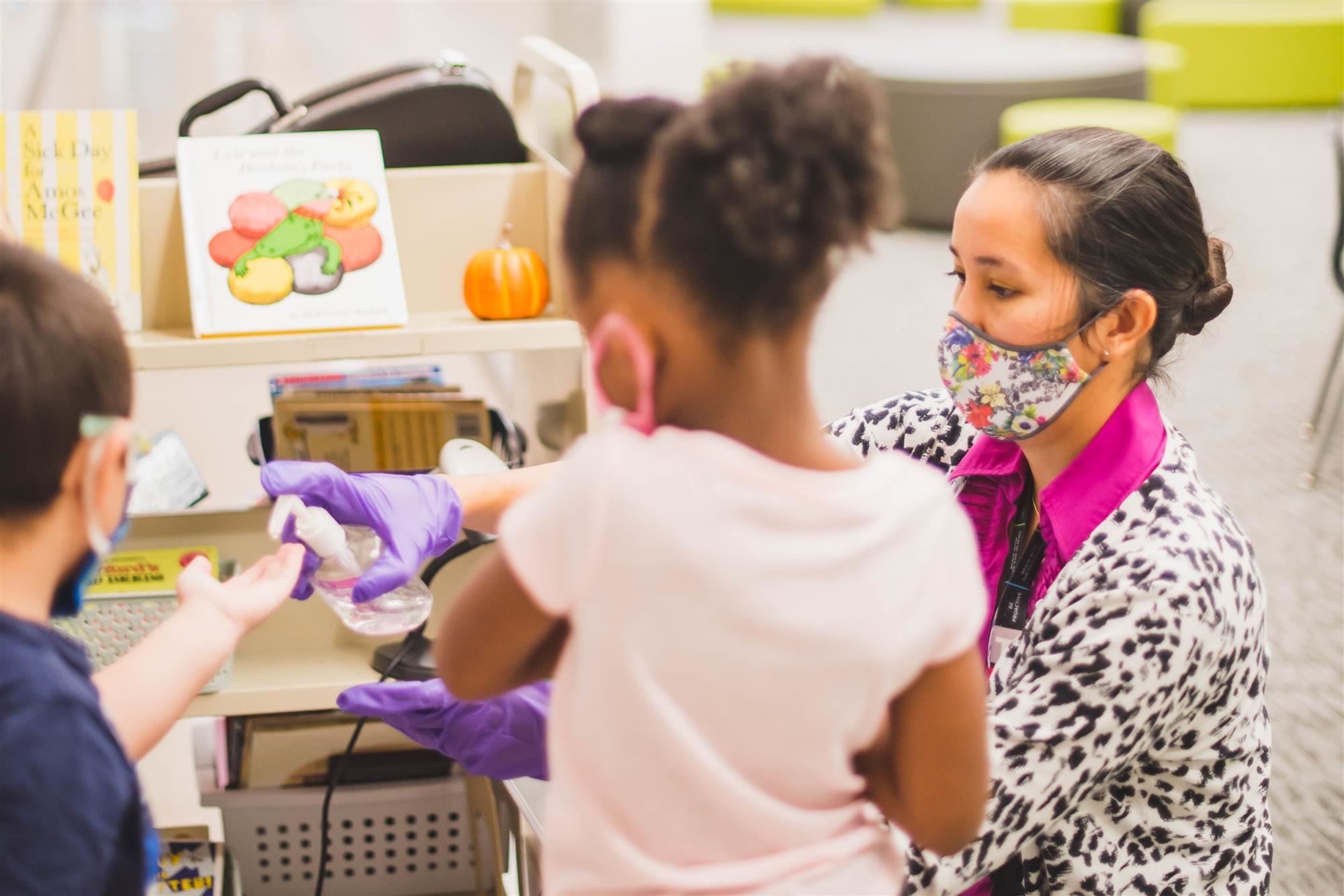 When the global pandemic changed school safety protocols, large gathering places like libraries were some of the first areas on campuses to close temporarily. With the resilient hearts of true educators, LISD Library Media Specialists worked to meet this new challenge head-on. If the students couldn't come to the library, the library would have to come to the students.
"In this new-normal, librarians are embracing embedded librarianship to provide in-person learners with access to reading materials by bringing the library to the classroom," LISD Supervisor of Library Media Services Brandi Dawson said. "This allows librarians to have more of a one-on-one concierge service for our in-person learners to help foster students reading identity and finding books of interest."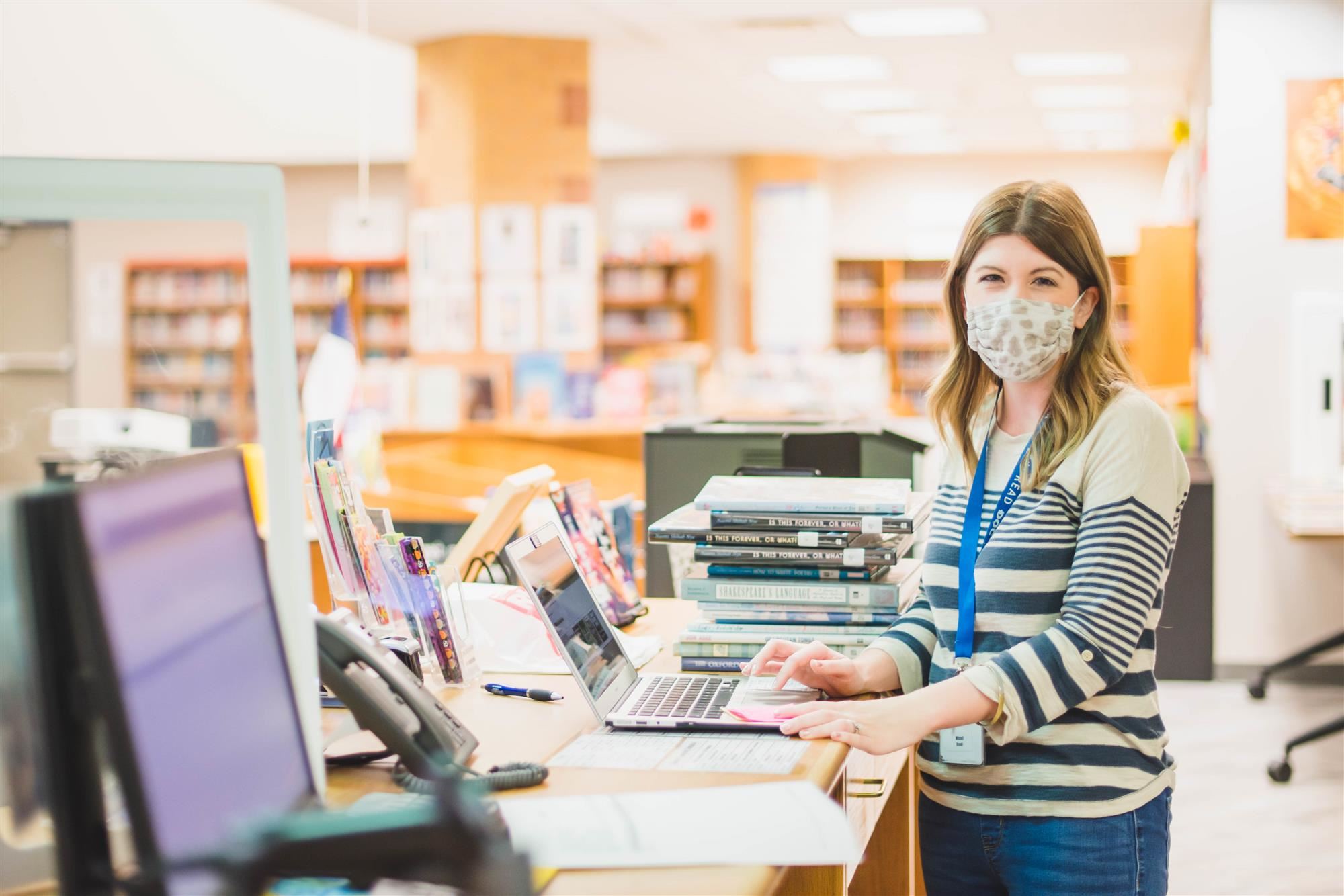 There are two current models being used by the Library Media Specialists to bring library books to the classroom, based on different time constraints.
"The librarian either brings a cart of books into the classroom and teaches a mini-lesson, reads a book, conducts a book talk, or just has the students do individual or small group browsing," Dawson said. "The other model has been, the librarian has a cart outside the classroom and students come out either one-by-one or in small groups, browse the carts, make their selections and then go back into the classroom."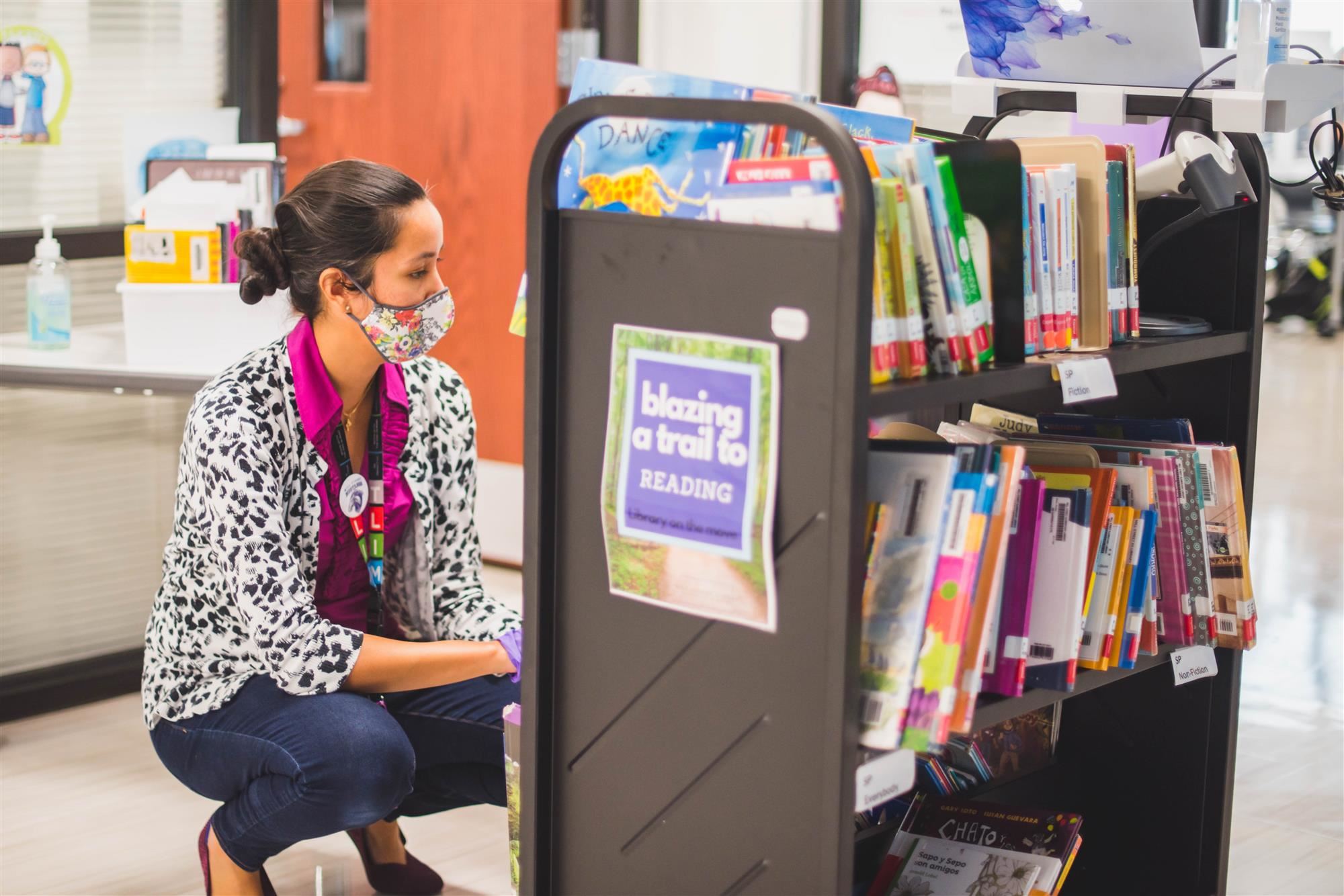 Of course, rolling down the halls with cartfulls of books has sparked a lot of creativity and a little crafting. Along with books, many carts are adorned with items such as colorful garlands, stuffed animals and large banners with sayings like "Bookmobile," "On My Way to Make Someone's Day," and "Uber Reads."
Mill Street Elementary Library Media Specialist Michelle Brosi's mobile library cart reads, "Blazing a Trail to Reading" and "Library on the Move."
"Our motto at Mill Street is 'Blazing a Trail to Greatness,' and it is so encouraging this year, because a lot of what we're doing is blazing a new trail, trying new systems and protocols," Brosi said. "We're removing barriers and easing access while we forge this new path. Our destination and goals are the same –giving our resources, sharing the love of reading and growing leaders."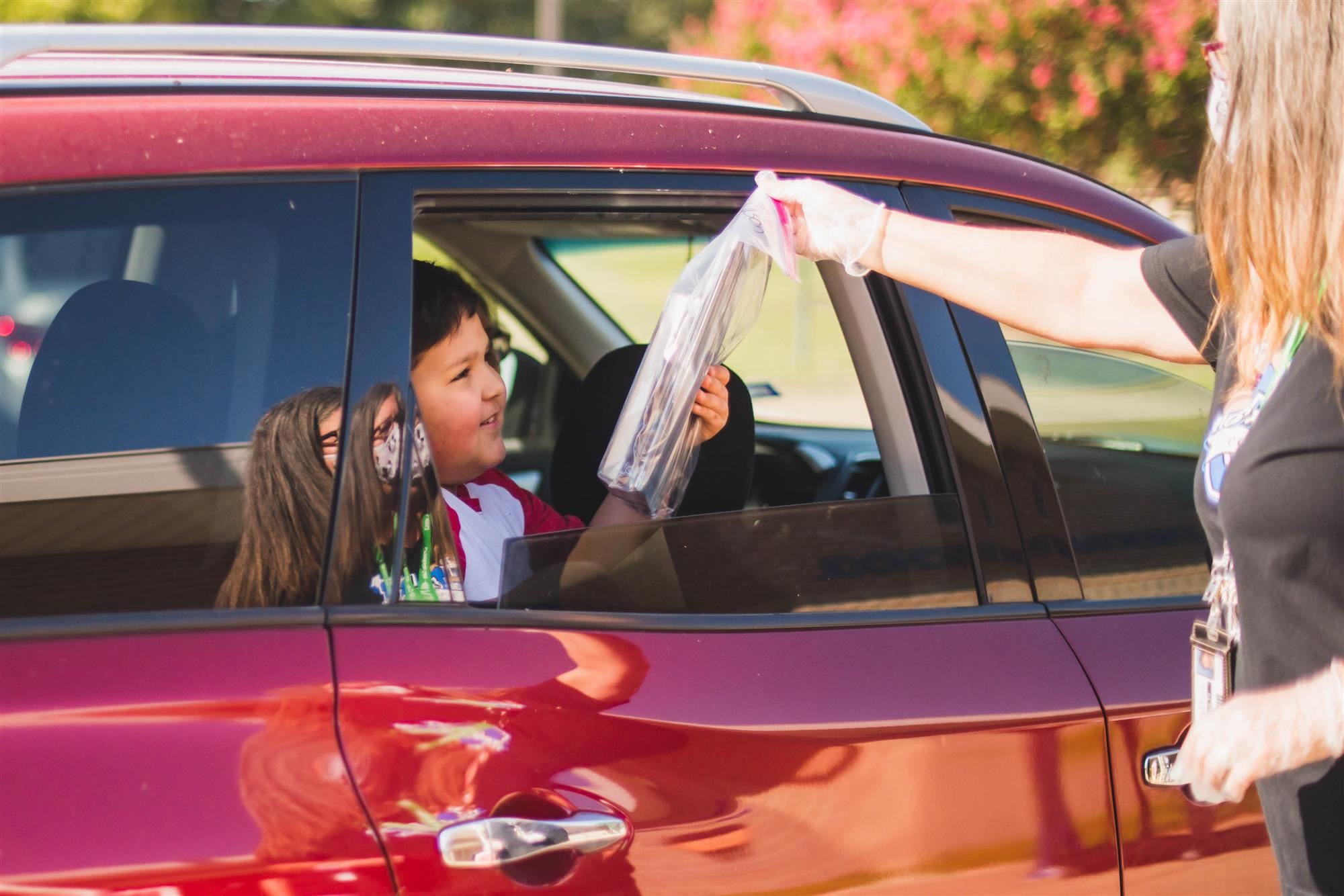 For students choosing to learn at home with virtual learning, the library classroom visits aren't an option, but it doesn't mean they aren't reached. Curbside grab-and-go book services have been a treat for virtual learners and their families.
"Students are being taught how to browse the library 'shelves' through our online catalog and put books on hold," Dawson said. "Then, the campus librarian is able to pull the requested books and set up a designated time for families to drive by and pick up their requested materials."
Some specialists have taken their book-browsing model to the curb, allowing students to socially-distance and look through a few book titles in-person in the drive-thru line. Others have recently branched out beyond books and allowed students to take home Makerspace go-packs, where students are challenged to do activities like making slime or creating their own bookmark.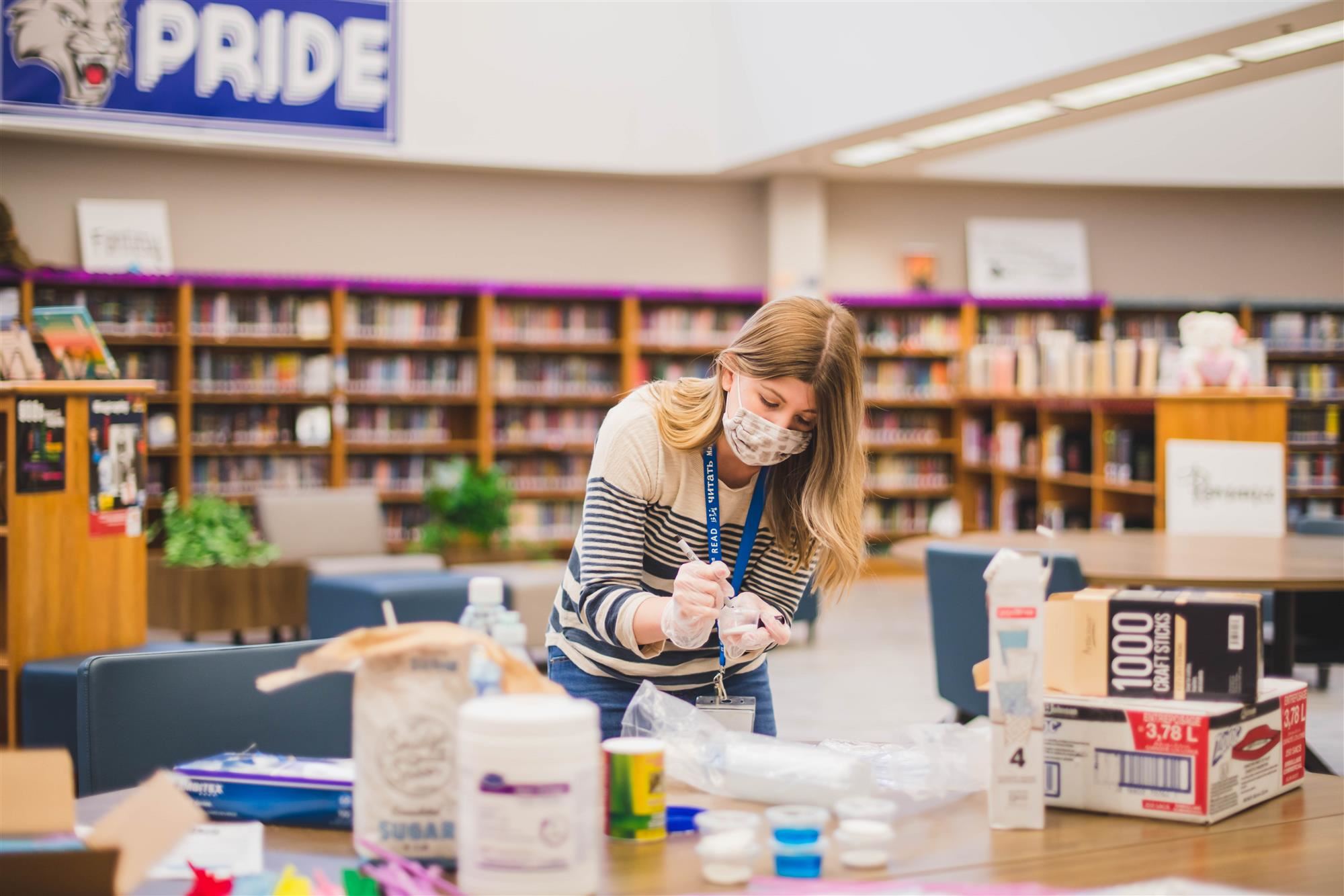 For Library Media Specialist Brandi Mitchell, the Makerspace is such an important part of the library at Creek Valley Middle School, she knew she had to continue the hands-on activities in a new way for all her students.
"The Take-and-Make Kits allow students to pick up a packet that includes all of the supplies needed to learn and create something new each week," Mitchell said. "My favorite part of this entire process is receiving emails from virtual students with pictures of their completed projects, or when in-person students stop me in the hallway to show me what they have created."
The role of the librarian has changed dramatically over the years, and even more so in the last few months, but it's the ability to adapt that makes each of these employees a vital asset to their campus.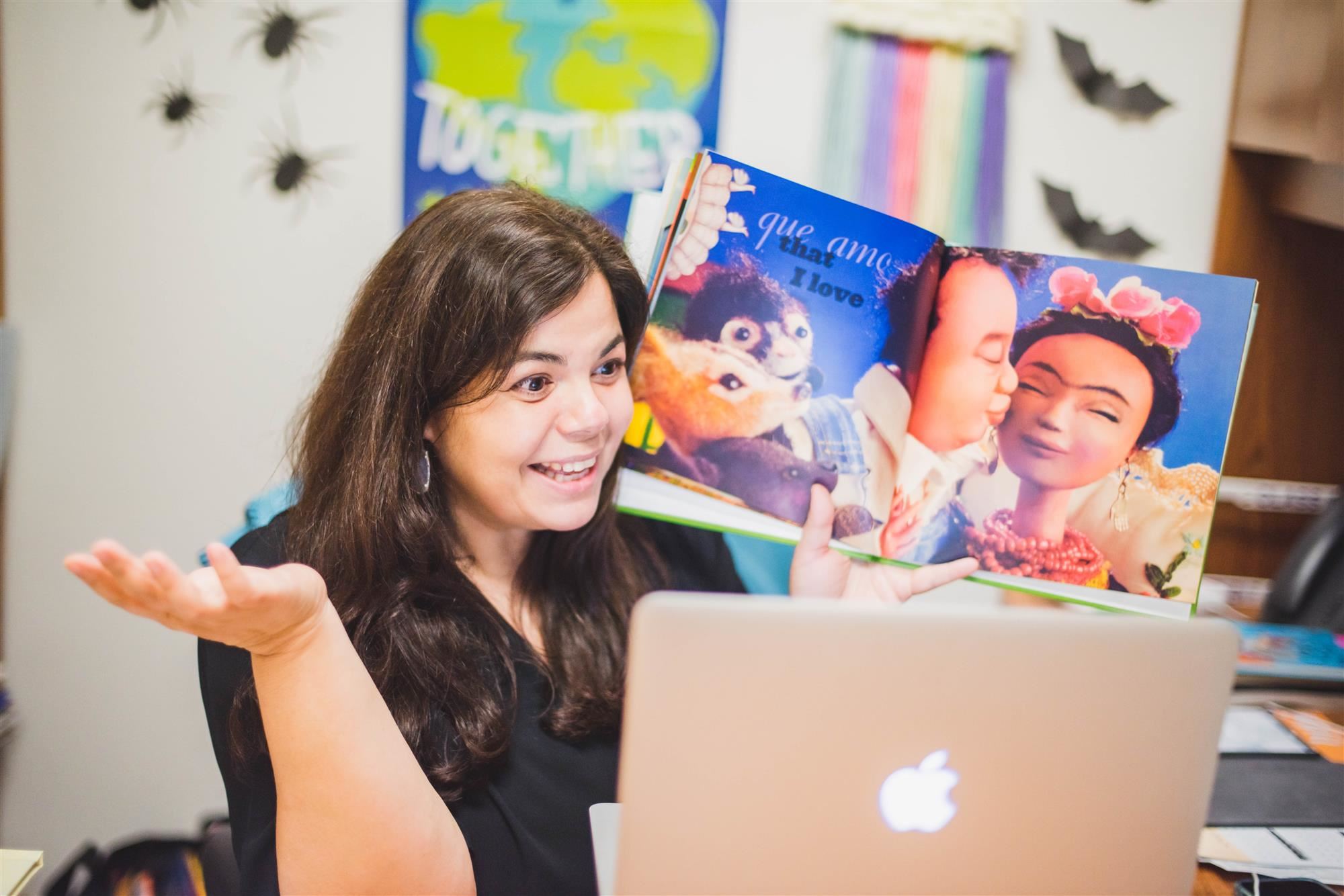 "Librarians share lanes and wear a lot of hats all in an effort to support our students, staff and administrators," Dawson said. "We work to keep the past alive, but not get stuck there. We work to enjoy the present and guide in learning experiences. We work in the future by helping our community connect to the latest innovations."
No matter what the future holds, Library Media Specialists will be there to change, pivot and bring the very best to the LISD students they are committed to serving.


---
From the beginning, LISD has committed to ensuring all students—your children—have the resources they need and want to ultimately thrive in a future they create. Follow LISD on Facebook, Instagram and Twitter to see more student experiences throughout the school year or visit Best Schools in Texas for more information about joining the Lewisville ISD family.