Return to Headlines
Home is Where the Hawk is: Trio of Original Coaches Still Going Strong at Hebron High School
From the Fall 2020 edition of LISD's The Loop Magazine.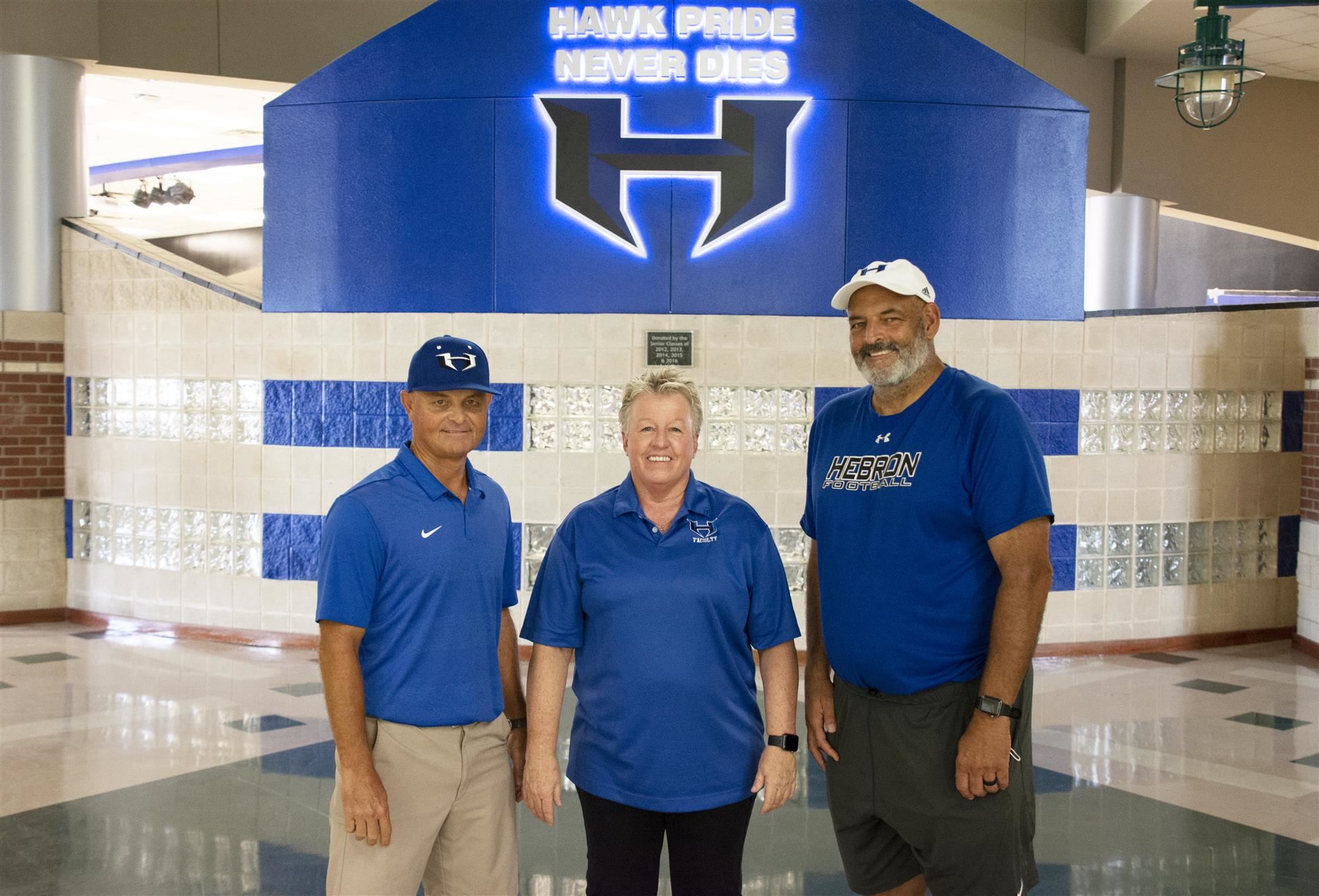 Stone (left), Keeney and Brazil

It is 1999. Hebron High School is set to open, becoming Lewisville ISD's fifth high school. Hired to lead the football program is Brian Brazil. Hired to lead the volleyball program is Karin Keeney. Hired to lead the baseball program is Steve Stone.
Fast forward to 2020. Brazil, Keeney and Stone are all still at the helm of their respective programs. What have they accomplished? Oh, just a combined 1,000-plus wins, 16 district titles, 45 playoff appearances and six University Interscholastic League state championships. Not to mention 327 student-athletes have gone on to play at the college level and 11 have advanced to the professional ranks. Countless volunteer hours have also been logged.

The tremendous and lasting impact the trio of Hawk coaches have made on their student-athletes, peers and community is obvious.
"Coach Brazil, Coach Keeney and Coach Stone are three of the best coaches in the business," HHS Principal Amy Boughton said. "All three bring such unique qualities and talents to their respective sports, but together their passion for leading and coaching has established some of the most successful foundations on our campus and community."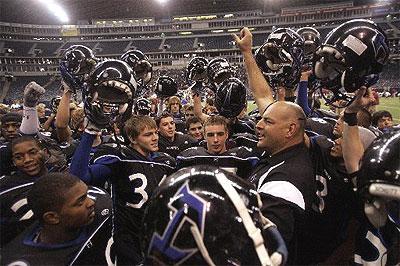 Brazil after a win during his team's 2005 state championship run.
Despite offers to lead other programs throughout the years, the trio has stayed put at their Carrollton campus. Why? Hebron High School is special to them.
"Hebron is and always will be a special place for me," said Brazil, whose 2005 team went 16-0 to win the UIL Class 4A Division II state championship. "Any time a person is granted the opportunity to be a part of opening up a school, you feel like it is your baby. The people we get to work with are outstanding. Plus, all three of my children were able to go to elementary school through high school in the Hebron feeder pattern, and my wife teaches at the 9th grade campus. Hebron is home."
Added Keeney, who has raised a state championship trophy in 2004 (4A), 2010 (5A), 2015 (6A), 2016 (6A) and 2017 (6A): "Hebron is an amazing place because of the people who work here. The passion to succeed can be felt from the administration and staff to the students and parents. Our student-athletes have the ability to succeed at a very high level in any sport or extracurricular activity, and their parents give us the opportunity to coach them hard."
Added Stone, who has had five former players selected in the Major League Baseball draft (Evan Alexander, Zach DeLoach, Nick Fraze, Sam Freeman and Nick Sawyer): "Coaching at Hebron has been amazing. Building a program from the ground up has made everything that much more rewarding. Hebron is a special place where there is a great sense of community throughout all of our teams. The players and staff take great pride in being Hebron Hawks. I am blessed to call Hebron my home."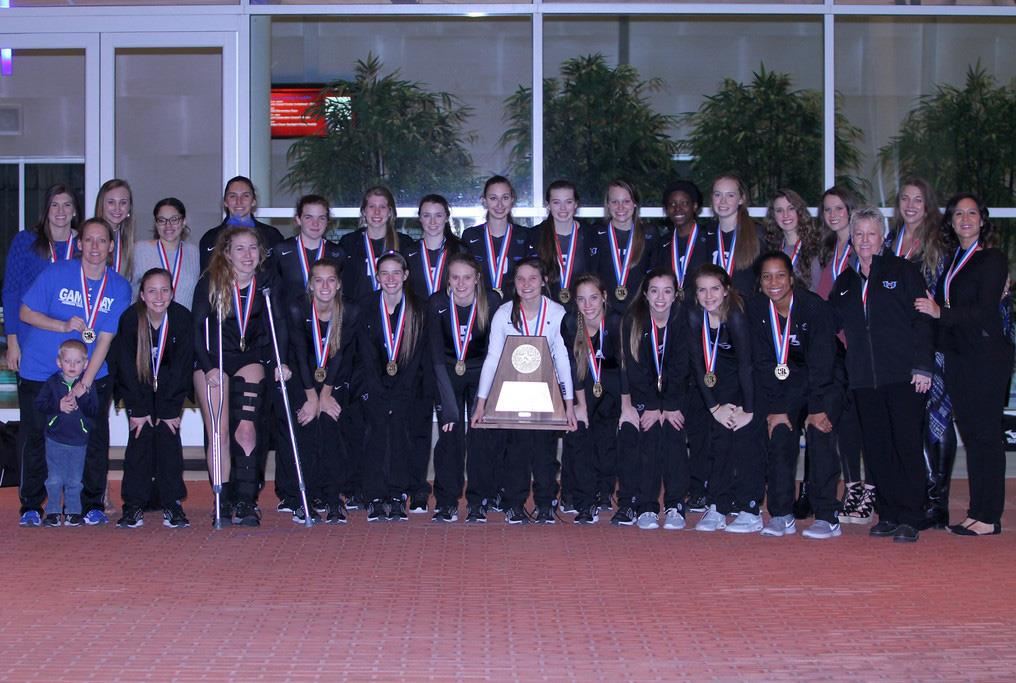 Keeney and her 2016 team celebrate the UIL Class 6A state championship.
Current and former student-athletes also agree HHS is special, and are quick to point out that coaching is a huge reason for that.
"I wouldn't be where I am today without my experiences and time at Hebron, and Coach Brazil is Hebron," said Seattle Seahawks safety Jamal Adams, who graduated from HHS in 2014. "He's influenced a generation of athletes, young men and families through his coaching and leadership. His legacy is forever!"
Added The University of Oklahoma senior setter Kylee McLaughlin, who graduated from HHS in 2016 and was a part of the 2015 and 2016 state title teams. "I played for Coach Keeney all four years of high school and wouldn't trade a second of it for anything. She is an amazing coach who knows how to teach her players not only volleyball, but important life skills as well. She pushed everyone to be the best version of ourselves and I think that is a very important lesson to learn before entering the real world."
Added Freeman, who pitches for the St. Louis Cardinals and graduated from HHS in 2005: "Coach Stone was the first person, outside of my parents, who really made me realize the importance of hard work. Him challenging me to work hard to accomplish my goals back in 2001 and having me pitch out of necessity for the team in 2005 are two of the most significant moments of my life. I cannot thank him enough for the impact he has had on me as an athlete and a man."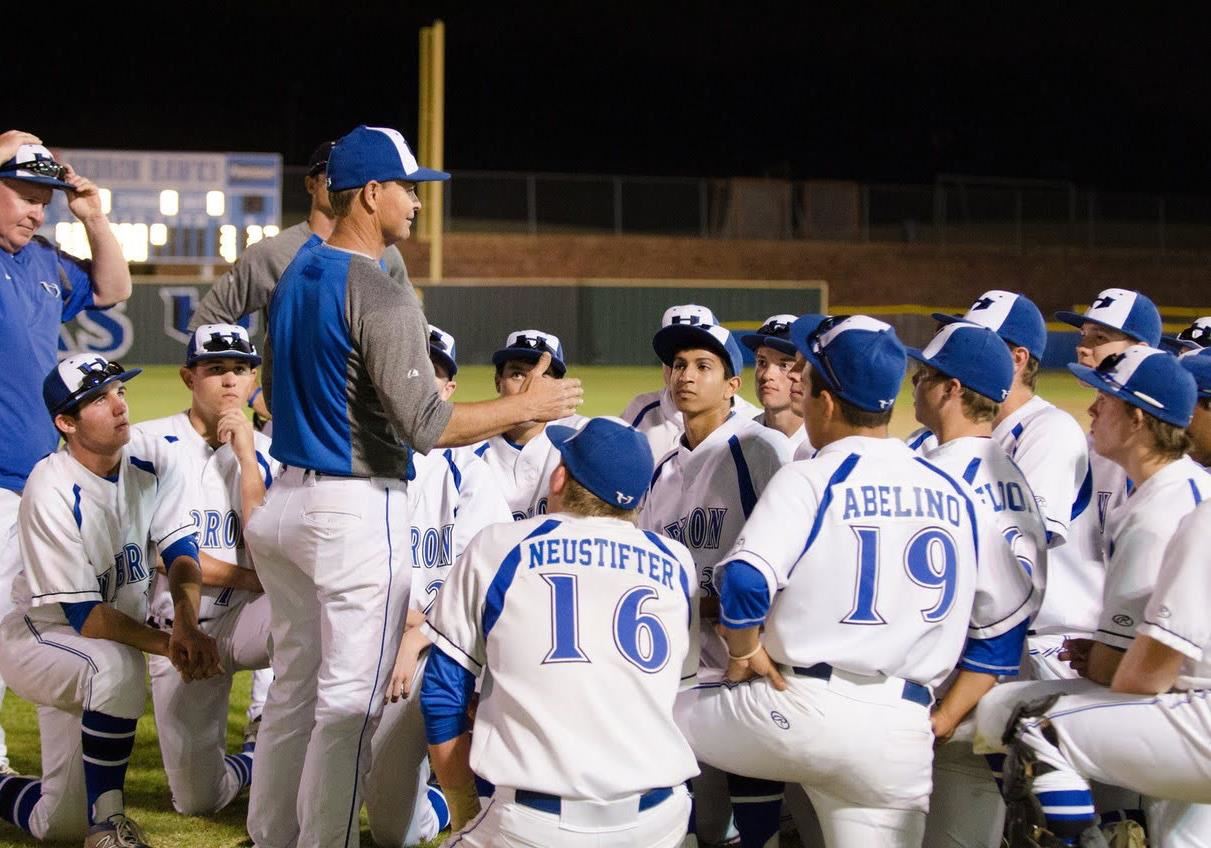 Stone speaks to his 2015 team after a big district win.
No matter how long the trio remains intact at HHS – even if it is another 22 years – continued excellence can be expected.
"They have shared beliefs of having a strong work ethic, integrity, overcoming adversities and always being a steward of the game," Boughton said. "They are a fierce trio, but even more, they are each the epitome of a class act."