Return to Headlines
LISD High Schools Host District-Wide Voter Registration Drive
Every year, each Lewisville ISD high school holds a bi-annual voter registration drive, encouraging eligible students to register to vote. Although the Texas Election Code mandates that high schools offer voter registration applications twice a year, for LISD Government Relations Liaison Shawn Sheehan, these drives are about more than just fulfilling a legal obligation and more about increasing voter registration and voter turnout in LISD.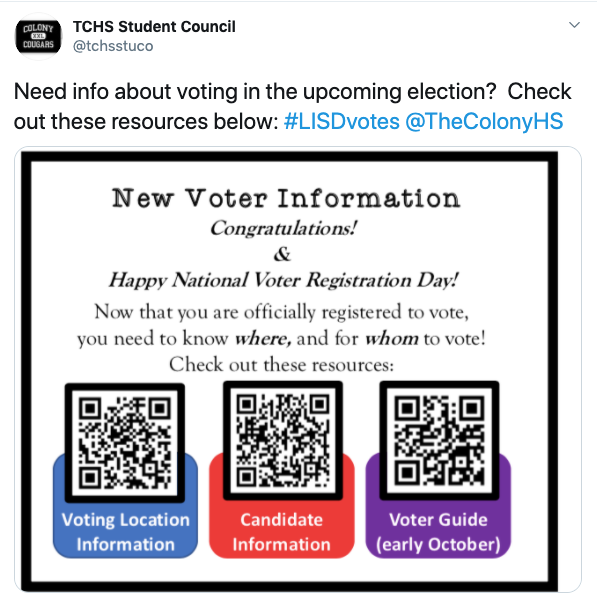 "Students need to make sure their voices are heard in important conversations that affect them," Sheehan said. "Whether it's environmental issues, state budgets, or affordable college tuition, our students can have a direct impact on the topics that matter most to them by voting."

As the individual school drives often occur at different times, Sheehan held discussions with the high schools' respective student council sponsors and voter registration designees to develop a more unified approach for Fall 2020.

"We felt the individual drives would be more successful if there was a unified district-wide effort," Sheehan said. "We know our students see their peers across the district on social media, so why not leverage that?"

Following the discussions, the schools, alongside the Lewisville Learning Center and LISD Administrative Center, decided to come together for a week-long, district-wide drive occurring Sept. 21-25.

"It's [voting] also an important first step to engaging with the larger community as a citizen, right?" Sheehan said. "To use a cliché term, it's peak 'adulting', but it's more important than ever and I don't doubt our students are aware of the political landscape at both the state and federal levels."

With the deadline to register to vote in the upcoming November General Election around the corner on Oct. 5, the five student councils are sending reminders throughout the week via the morning announcements, hallway posters and other avenues, and are also providing voter registration cards to eligible students.

"I am helping out with getting my peers registered to vote because even if only 50 more people voted, it could have a greater impact than they think it will," Hebron High School Student Council Vice President Paige Zagumny said.

Part of the drive includes a #LISDvotes social media push and encouraging LISD staff members to register to vote as well.

"We are finally now of the age that can vote and we should enact that right," Hebron Student Council President Courtney Case said. "Our generation has seen a lot of things on the media, news, and other mediums concerning important political issues that we should use our voices to make changes we want to see happen."

The senior added, "This [voting] is how we get a say in how our society is run and who gets to run it."

Hebron Student Council Historian Tamia Hatcher agreed with her fellow officers.

"I believe that voting is important because we need the best leader in office so the U.S. is set up for success," the senior said.

Lewisville High School Student Council officers Jen Montoya and Madison Sites are also eager to encourage their eligible peers to register to vote.

"It's extremely important for us high school students who just turned 18 to vote because we get to choose our future," Montoya, the school's Student Body/Senior Class Vice President, said. "I registered the day I turned 17 and 10 months old, and I'd like my classmates who are my age to register as soon as possible too. Everyone has an opinion, and voting is the great way to turn all of our thoughts into action."

Sites, a Junior Officer/Secretary, echoed similar sentiments.

"Voting is incredibly important," she said. "One vote could make all the difference. That vote could be yours."

She added, "As the newest generation able to vote, we need to use our voices. Nothing will be accomplished if we ignore it. We need to do something good for this nation, and we need to take advantage of this opportunity."

The 2020 LISD Voter Registration Drive runs through Sept. 25. The last day to register to vote is Oct. 5 and Election Day is Nov. 3. To find additional information and resources, visit LISD.net/vote.