Return to Headlines
Lewisville ISD Continues to Prioritize Energy Conservation and Management
In Lewisville ISD, there is a commitment to serving as good stewards of resources, and recently, one international organization recognized the district for its dedication toward energy conservation and management. The Association of Energy Engineers (AEE) named LISD as its recipient of the 2019 Institutional Energy Management award, an honor presented to one public sector organization for "outstanding accomplishments in developing, organizing, managing and implementing its comprehensive energy management program."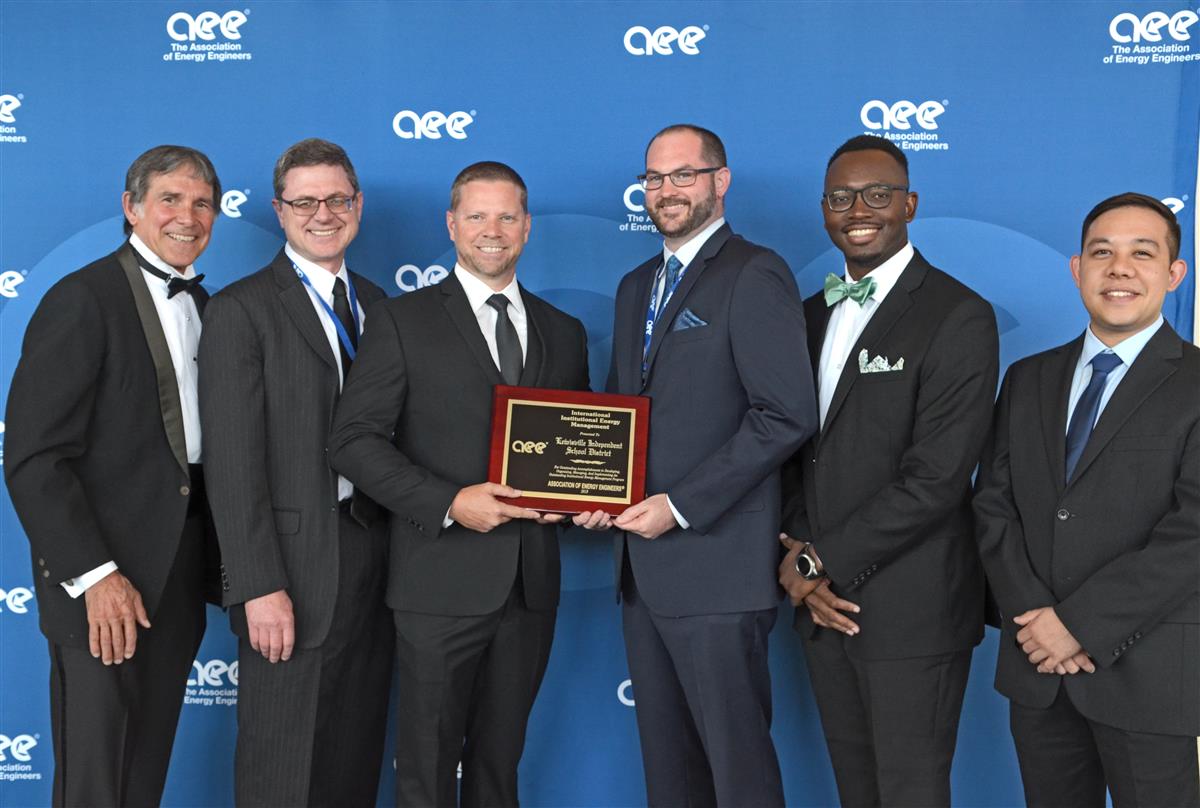 "This award recognizes the energy management program and hard work that Lewisville ISD has been performing since 2008," said Jason Hughes, LISD Executive Director of Facility Services and Construction. "With concerns for public education being underfunded, every penny saved can be invested back into the classroom and toward education in lieu of energy. LISD's Facility Services and Construction Department is committed to making smart choices when it comes to energy and facilities management."

The district is in exclusive company as only 13 individuals and organizations worldwide were honored by the association this year. But how exactly did LISD and its energy management program stand out above other public sector organizations, such as cities, counties, universities, and fellow school districts?

LISD is one of the largest school districts in Texas, spanning 127-square miles. The district is home to more than 100 facilities, totaling nearly 10 million square feet of air-conditioned space. Due to its sheer size, the district consumes a considerable amount of energy, however, LISD has implemented a number of initiatives to conserve energy.

In fact, in 2008, LISD formed its Energy Management Team, and have contracted out four engineers from Aramark — Jeremy Nelson, a degreed engineer from the University of North Texas (UNT) and Certified Energy Manager (CEM); Brian Birch, CEM and Professional Engineer (PE); Anthony Scaparra, a degreed engineer from Texas A&M University and CEM; and Nonso Agolue, a degreed engineer from UNT. Nelson and Scaparra are also products of Lewisville ISD, graduates of The Colony High School and Marcus High School, respectively. Since its formation, the team has helped the district reduce its energy use by 22 percent — saving LISD more than $20 million.

"The LISD Energy Team has great passion and dedication in managing the district's energy program," Nelson, LISD/Aramark Energy Manager, said. "Utility and energy cost is one of the district's highest costs. Reducing this cost has a major impact on the district's budget and the environment."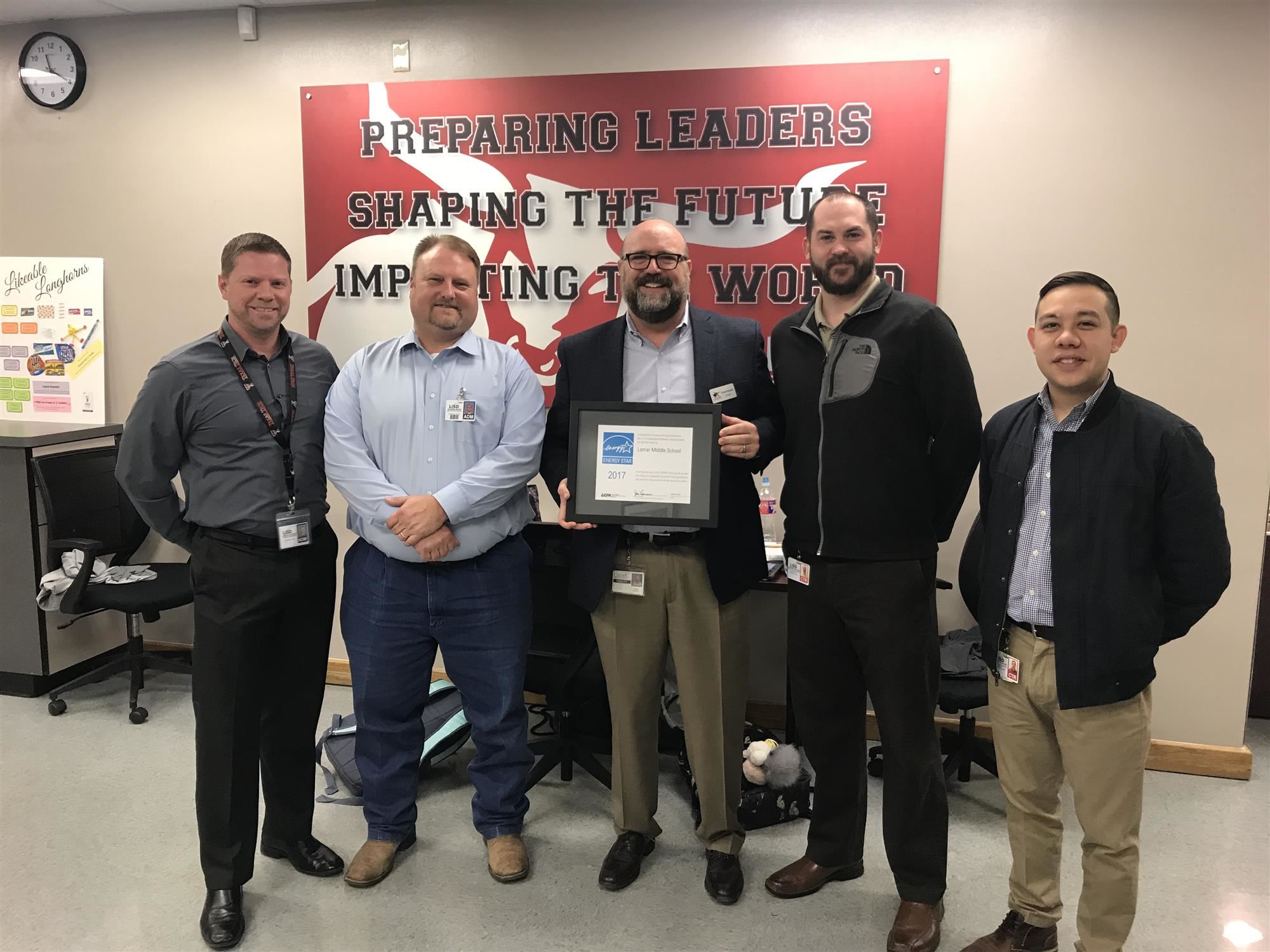 Over the years, LISD has rolled out many energy-saving projects, including recommissioning a middle school's Building Automated System (BAS), reducing energy consumption by 46 percent annually. Other projects include the installation of wireless thermostats to control HVAC in portable classrooms and an LED lighting retrofit at one of the district's aquatic centers, decreasing energy use by 80 percent. To date, LISD has earned Energy Star Certification Awards for 63 schools, making it one of the top three energy-efficient school districts in the state.

"Energy conservation and management has significant environmental and budgetary implications making it critical to the future of all stakeholders, including the students that LISD is preparing every day," Hughes said.

Additionally, the team maintains the district-wide energy standards for temperature set-points and HVAC standard occupied/unoccupied schedules. The team handles more than 19,000 HVAC schedules annually, requiring strategic planning and communication with administration at each campus.

"The goal is to only be operating equipment when occupants are present, thus eliminating any unnecessary energy use," Nelson said. "We developed a procedure that has revolutionized the way that energy-related work orders are processed by integrating into the work order flow."

According to Nelson, by utilizing the Building Automated Systems, work orders are vetted for compliance within LISD energy standards. For any true mechanical issues found, detailed engineering notes are provided to support maintenance technicians.

"This innovative approach has eliminated 40 percent of non-repair work orders and reduced unnecessary man-hours and associated travel time," Nelson said.

The group also works closely with LISD's Construction Department and has developed BAS and HVAC equipment standards for all future projects. Nelson said the team applies for and works toward energy-related rebates/incentives for LISD and conducts a vigorous utility bill check every month.

"We are currently involved in several projects, all helping to reduce cost and energy for LISD," Nelson said.

With a number of projects on the horizon, the Energy Management Team will continue to work diligently to ensure the district remains energy efficient — ultimately benefitting taxpayers and reducing LISD's environmental footprint while still meeting the needs of students and staff.