Return to Headlines
The Colony Chamber Awards | April 2023
Peters Colony Elementary students Kadan Dean and Wyatt Stewart and teacher Andrea Camp were recognized at The Colony Chamber of Commerce's monthly luncheon held at Roam at Grandscape in The Colony, Texas.
Exceptional Student of the Month - Kadan Dean
Peters Colony Elementary student Kadan Dean is fun-loving, caring and always makes others smile. When he's reached a goal, the sheer joy he exudes is enough to get everyone through the day. Not only is he an awesome kid to have at school, he and his mom volunteered to look after the school garden during school breaks. They showed up each week to water, weed, and harvest vegetables. We just love having Kadan as part of our Peters Colony family. During his free time, he likes playing with toys and watching TV. He looks up to his dad, because they are a lot alike, and he wants to be just like him.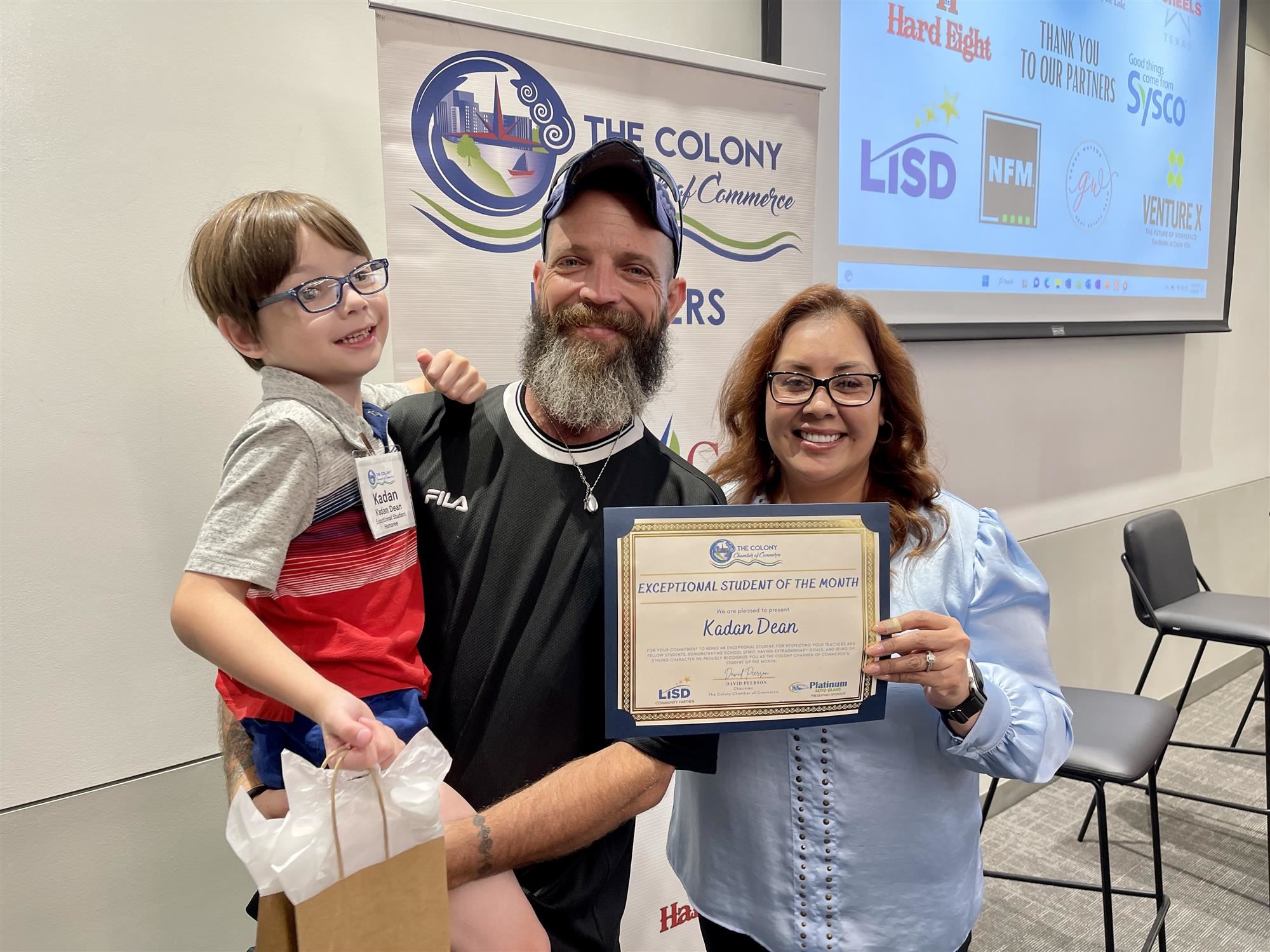 Student of the Month – Wyatt Stewart
Peters Colony Elementary student Wyatt Stewart is an awesome student who is a role model for his peers. He's hardworking, kind, inclusive and always has a smile on his face. Wyatt is an amazing creator and recently made a book trailer that was featured on the Panther News Network. His creation truly inspired some younger students at Peters Colony, and Wyatt was asked to be a mentor for one of those students. He readily agreed and was ready for the challenge of helping a much younger student create their own book trailer. During his free time, he likes to hang out with friends, play games and baseball. He looks up to his dad, who has always been there for him.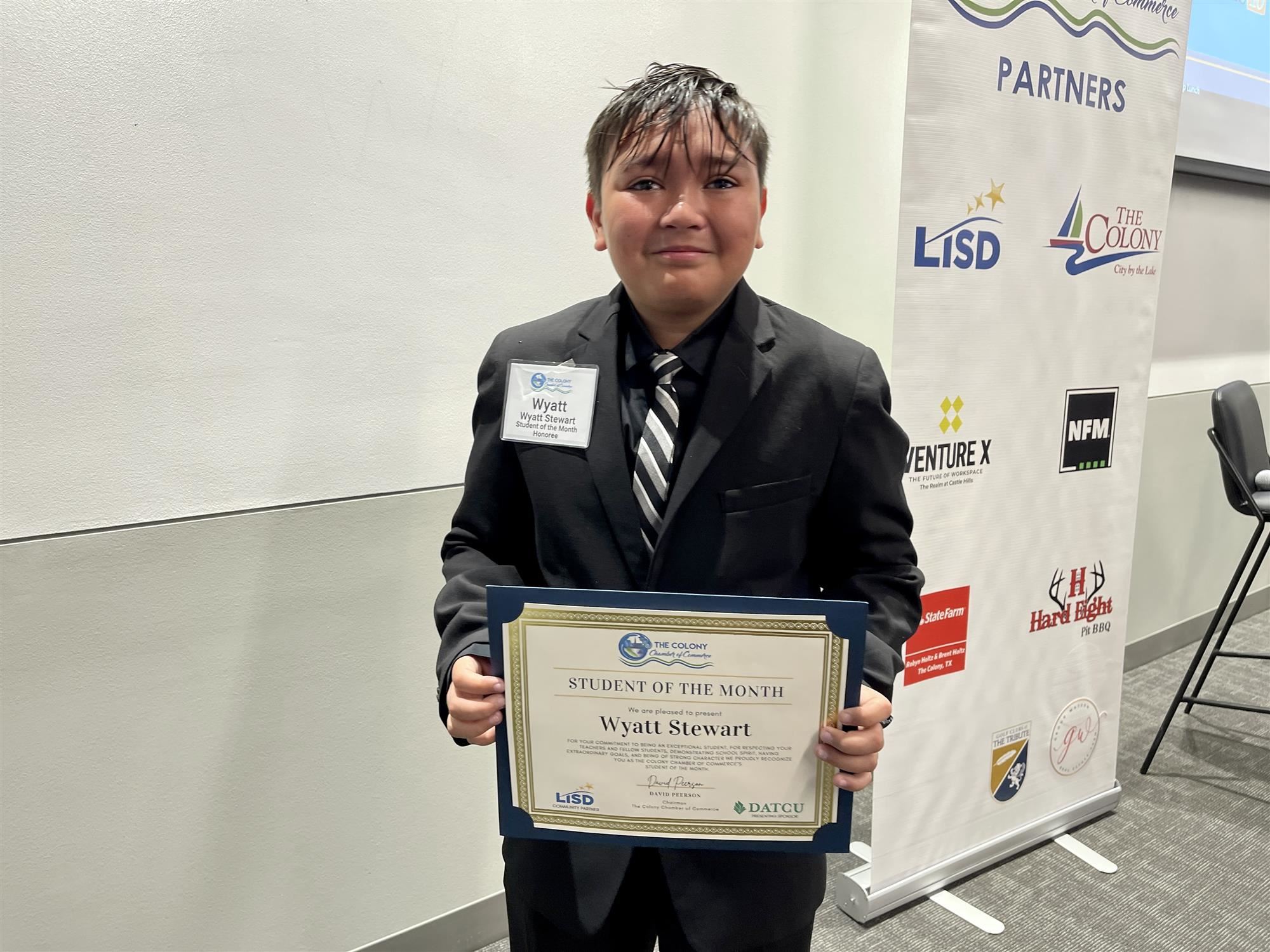 Teacher of the Month – Andrea Camp
Recently, at Peters Colony Elementary, the second-grade team lost a teacher due to situations beyond their control. In the absence of that teacher, Ms. Camp stepped up without being asked and has worked tirelessly to ensure every student in that classroom has received a quality education. To help create a smooth transition for students, she has worked side by side with the permanent substitute to plan lessons and assist with classroom management. She has attended all the meetings pertaining to the class in addition to the responsibilities of her own classroom. Never once has she complained or lowered her intensity level. Ms. Camp basically saw the need and automatically responded. She truly has a servant's heart for all students. During her free time, Ms. Camp leads the Children's Department at Victory Assembly Church, and when she has the opportunity, she loves watching British movies on Netflix. She looks up to her father, who is a retired Pastor.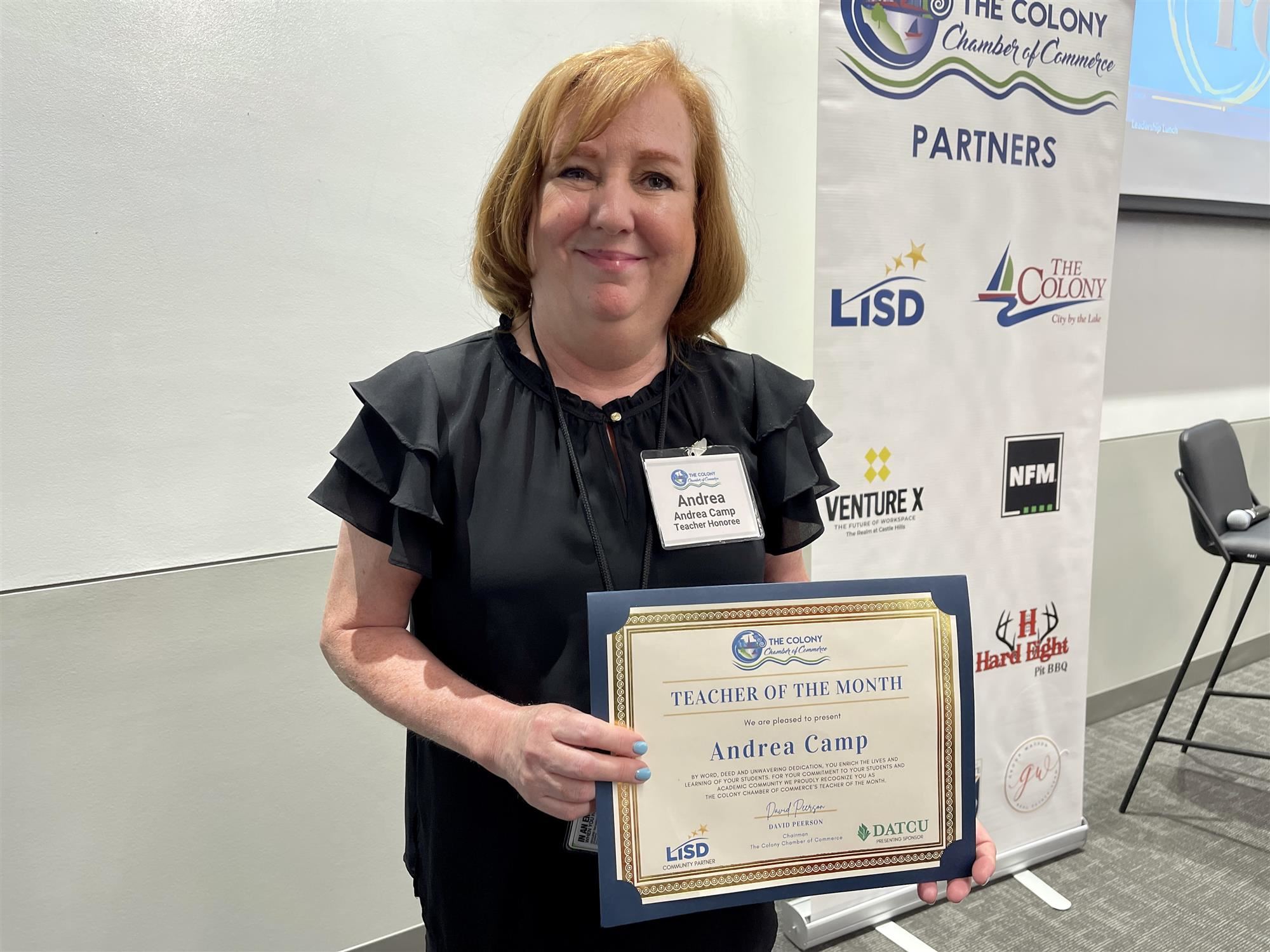 ---
Peters Colony Elementary is an elementary school in The Colony, Texas, serving Pre-K through 5th graders with future-ready learning experiences in the Lewisville Independent School District. Peters Colony feeds into The Colony High School attendance zone. Follow Peters Colony on Facebook and Twitter to see more student experiences throughout the school year. Visit Best Schools in Texas for more information about joining the LISD family.