Return to Headlines
The Colony Chamber Awards | March 2022
Peters Colony Elementary student Lylianna Jaramillo and teacher Claire Kincheloe were recognized by The Colony Chamber of Commerce and DATCU at the chamber's March Leadership Luncheon held at Galaxy Theatres Grandscape in The Colony, Texas.

MARCH STUDENT OF THE MONTH | LYLIANA JARAMILLO



The Colony Chamber of Commerce and DATCU recognized Peters Colony Elementary fifth-grader Lylianna Jaramillo as the chamber's March Student of the Month.

According to Lylianna's teachers, she is an exceptional, well-rounded student who gives one-hundred percent on all assignments, and is self-motivated and self-directed to improve in her areas of weakness. She has a number of strengths that exhibit the Panther Creed. She encourages others to do their best and celebrates the success of others. Lilyanna is also respectful towards her teachers and peers.
During her free time, she likes to draw and write.
Her favorite subject is writing, because it's easier for her to express herself on paper, and she can get her emotions out that way as well.
Her favorite thing about school is her friends. Having friends is important because they give her support when she needs it.
Next year in middle school, she's looking forward to taking honors math and building relationships with new people.
She looks up to her friend Ziggy Harvey, because she is cool, and she will speak up for other people. Ziggy is also very funny and smart.
MARCH TEACHER OF THE MONTH | CLAIRE KINCHELOE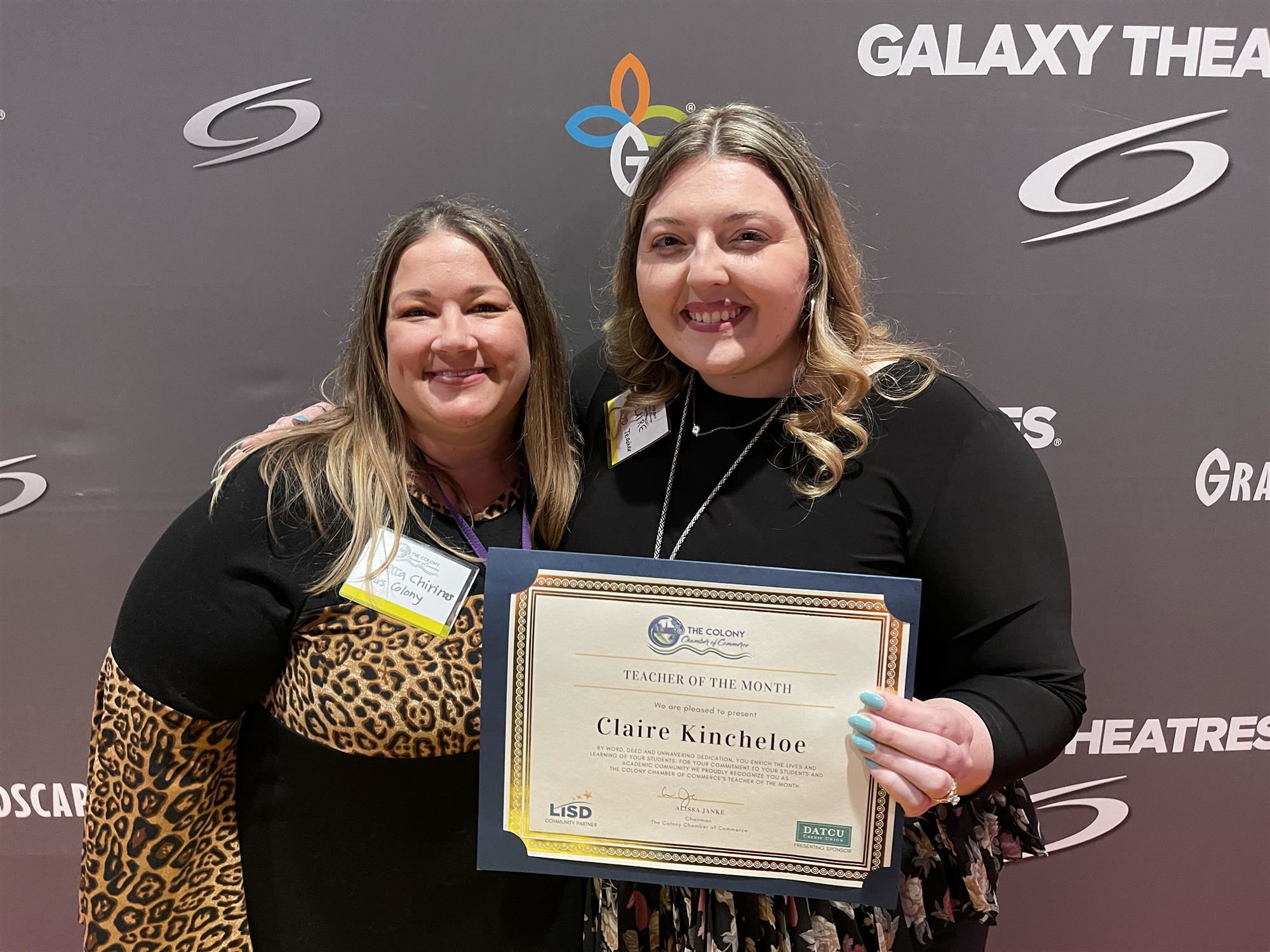 The Colony Chamber and DATCU recognized Peters Colony Elementary teacher Claire Kincheloe as the chamber's March Teacher of the Month.

Peters Colony Elementary teacher Claire Kincheloe exemplifies what it means to be a Panther. Mrs. Kincheloe is an amazing teacher, with a passion for making connections with her students and building strong relationships with them. When you walk into her classroom, it's always an adventure, and learning is truly fun. She is known for transforming her classroom, whether it is for neon day or book tastings, where she made her classroom into a restaurant, dressed as a chef, and had menus for the students to tell about what they were reading. She makes learning come alive for her students in all subjects and her positive attitude is contagious. She has been a great joy to our students, campus, and community.
---
Peters Colony Elementary is an elementary school in The Colony, Texas, serving Pre-K through 5th graders with future-ready learning experiences in the Lewisville Independent School District. Peters Colony feeds into The Colony High School attendance zone. Follow Peters Colony on Facebook and Twitter to see more student experiences throughout the school year. Join the Lewisville ISD family by enrolling today, or visit Best Schools in Texas to learn more.