Return to Headlines
The Colony Chamber Awards | April 2021
APRIL STUDENT OF THE MONTH | MAXIMILIANO ARELLANO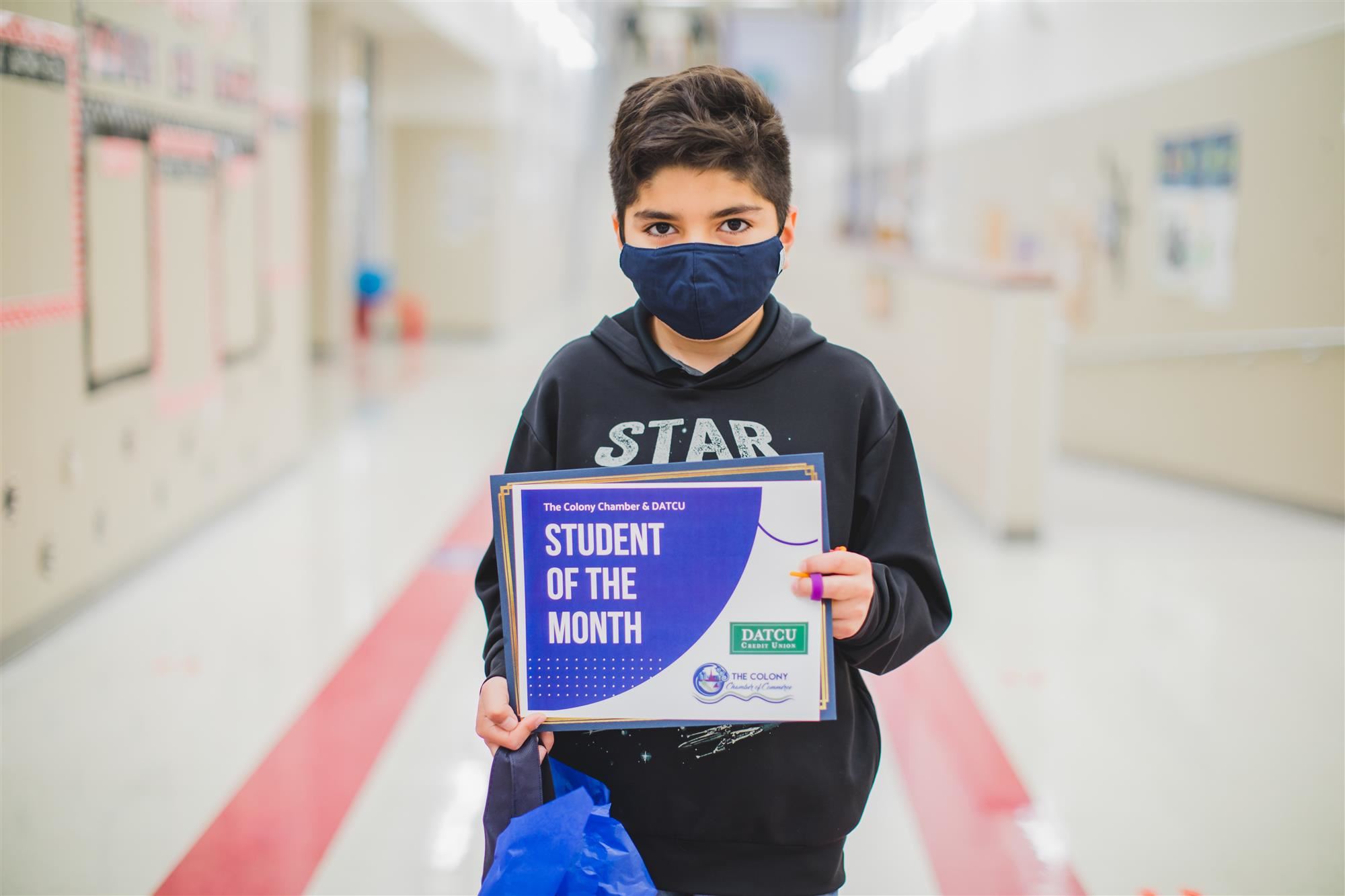 Peters Colony 5th-grader Maximiliano Arellano was recognized as The Colony Chamber/DATCU April Student of the Month. According to his teachers, Max is a one-of-a-kind kid. He has such an awesome personality! He can make anyone smile. He goes out of his way to be helpful whenever he can. He spends his afternoons helping out in the front office by delivering items, organizing papers, and a variety of other tasks. His teachers agree that he is a hard worker and has a positive attitude. He meets all challenges head-on. His Panther Pride is unparalleled. We know he will make us so proud, but we will be so sad to see him go on to middle school.
To learn more about Max, we asked him the following questions:
What are your hobbies and/or do you like to do in your free time?
Play video games.
What is your favorite subject in school and why?
Math, I am good at math. So, I enjoy it.
What do you love most about your school and why?
There are a lot of things I like about my school: the office staff, I love gym, Shadow, our Panther mascot, Nurse Bain and Mrs. Chirinos, my principal.
What are you looking forward to next year in middle school?
I am looking forward to being in the band at Griffin Middle School.
Who do you look up to and why? I look up to my little brother Angel. I also look up to Mrs. Chirinos, Mrs. Bain, Mrs. Diaz, Mrs. Dudley and Nurse Susan Colburn, our old nurse at Peters Colony.
APRIL TEACHER OF THE MONTH | LAURA RESENDIZ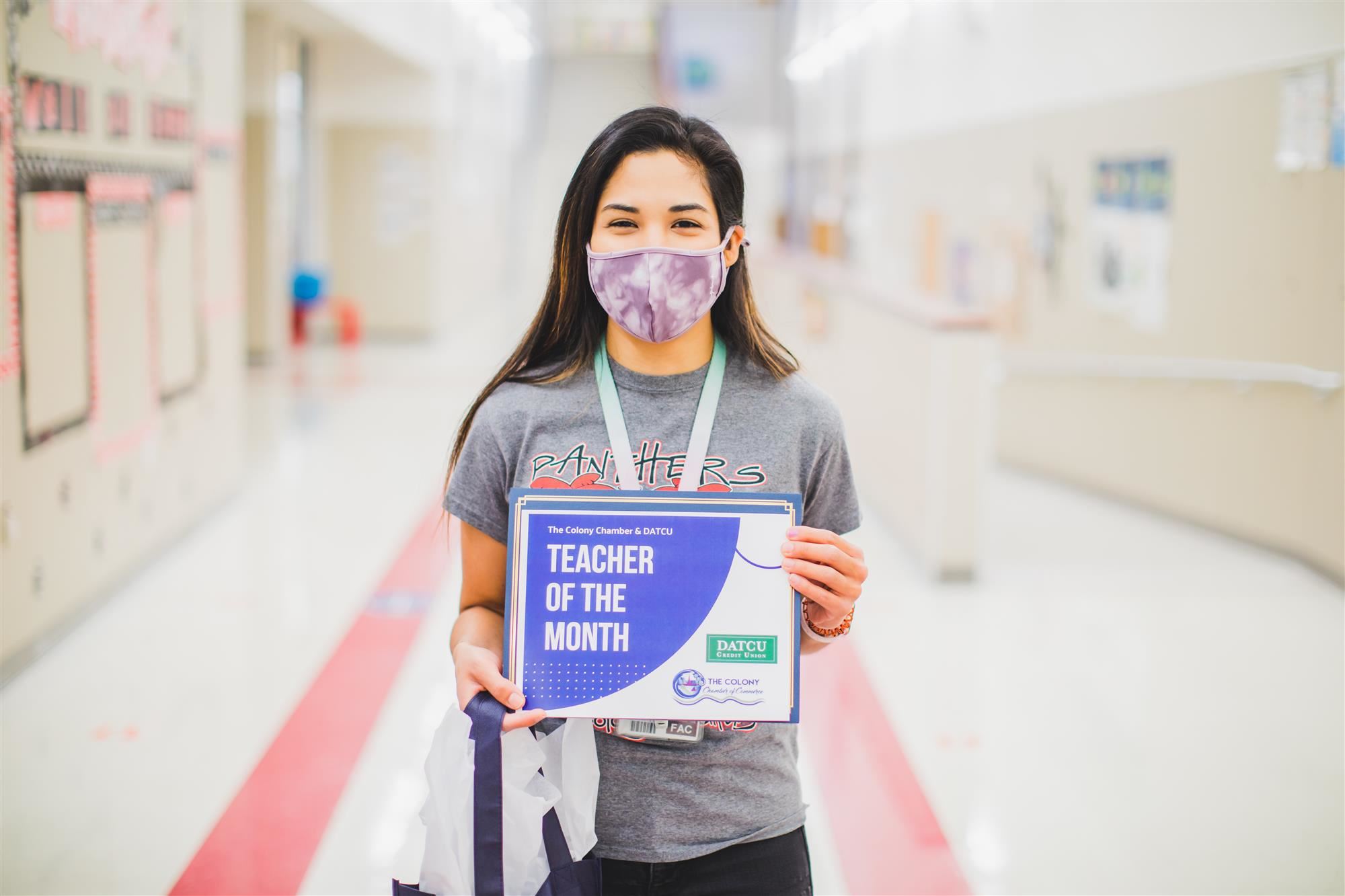 Peters Colony 3rd-Grade Teacher Laura Resendiz was recognized as The Colony Chamber/DATCU April Teacher of the Month. Laura is known for continually making a positive impact on our campus by taking on multiple roles. Her flexibility and positive mindset are truly unmatched. She began the year as a virtual bilingual 4th-grade teacher and is now serving as an in-person monolingual 3rd-grade teacher. She easily adapts to change and seeks opportunities for collaboration with her peers. She holds high expectations while building strong relationships with students not only in her own class, but across the whole campus. She is a life-long learner and models risk-taking to encourage her students to strive for growth each and every day. We are so lucky to have her as a member of our Panther family!


---
| | | |
| --- | --- | --- |
| April | Student | Maximiliano Arellano, Peters Colony 5th-Grader |
| | Teacher | Laura Resendiz, Peters Colony 3rd-Grade Teacher |
| March | Student | Liam Chau, Morningside 5th-Grader |
| | Teacher | Christy Jarrett, Morningside Librarian |
| February | Student | Olivia Reed, Stewart's Creek 5th-Grader |
| | Teacher | Marissa Macchiaroli, Stewart's Creek 2nd-Grade Teacher |
| January | Student | Julia Niciura, Ethridge 5th-Grader |
| | Teacher | Dani Ewing, Ethridge Elementary Teacher |
| December | Student | Emma Wissinger, Griffin MS 8th-Grader |
| | Teacher | Guario Robles, Griffin MS Advanced Spanish Teacher |
| November | Student | Braley Arnold, Lakeview MS 8th-Grader |
| | Teacher | Melissa Myers, Lakeview MS Virtual Lifeskills Teacher |
| October | Student | Peyton Nisonger, B.B. Owen Elementary 5th-Grader |
| | Teacher | Laurie Hyman, B.B. Owen Elementary 4th-Grade Teacher |
---

Peters Colony Elementary is located in The Colony, Texas, serving Pre-K through 5th grade, in the Lewisville Independent School District. Visit Best Schools in Texas for more information about joining the Lewisville ISD family.