Return to Headlines
LISD Transportation Provider Earns Green Certification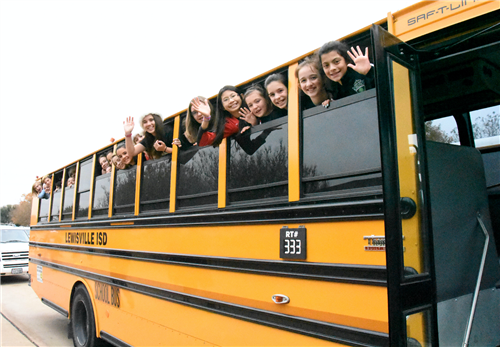 Sept. 7, 2017 - Lewisville ISD (LISD)'s transportation provider First Student has been awarded a Green School Bus Fleet Certification by the National School Transportation Association (NSTA). The certification is given annually based on a number of factors to bus fleets that have made efforts to create a cleaner environment.

"This Award is another key piece of the puzzle that shows our commitment level that not only includes our LISD family, but extends to the community as a whole by working toward a cleaner environment for the future of every citizen within our transporting footprint," First Student Senior Location Manager for LISD Joe Hobson said. "I am so excited and proud about what the future holds for both LISD and First Student as we work together in our commitment to ensure our students get to school and home safely each and every day."
First Student works to reduce bus emissions by investing in its fleet, adopting new technologies, exploring alternative fuels and enacting sustainable policies.
The NSTA developed the Green School Bus Fleet Certification program in 2010 to highlight efforts by school bus operators to reduce emission through the use of available technologies. The certification is amended each year with guidance from the U.S. Environmental Protection Agency to reflect changing industry standards.
As the leading school transportation solutions provider in North America, First Student strives to provide the best start and finish to every school day. First Student completes five million student journeys each day, moving more passengers than all U.S. airlines combined. With a team of highly-trained drivers and the industry's strongest safety record, First Student delivers reliable, quality services including full-service transportation and management, special-needs transportation, route optimization and scheduling, and charter services for 1,100 school district contracts. For more information, please visit firststudentinc.com.
More information about LISD's transportation services here.