Return to Headlines
Lewisville Chamber Awards | May 2021

STUDENT OF THE MONTH | CAROLINE FUKUDA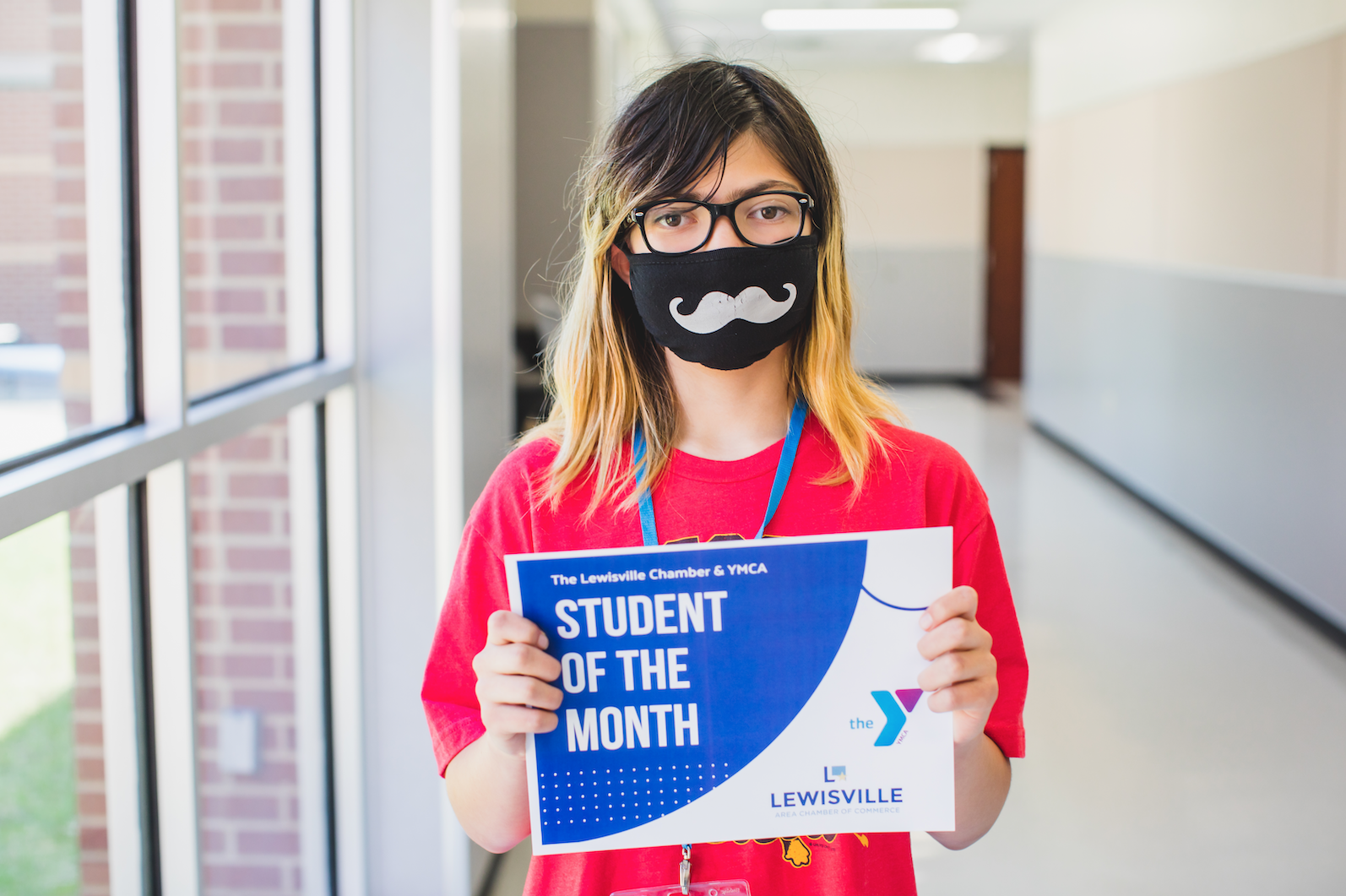 Parkway Elementary 5th-Grader Caroline Fukuda was recognized as the Lewisville Chamber/Cross Timber YMCA May 2021 Student of the Month. According to her teachers, Caroline is a wonderful young lady in every way. She demonstrates great leadership skills by participating in class, encouraging her classmates, and is always eager to learn. Throughout the year, Caroline has shown how much she enjoys learning despite the many challenges and adjustments that this year has brought. She embraces change as an opportunity to continue to grow.

To get to know Caroline a little better, we asked her the following questions:
What are your hobbies and/or do you like to do in your free time?
In my free time, I'm usually reading, playing Minecraft, or playing outside with my friends in the neighborhood.
What is your favorite subject in school and why?
My favorite would probably be reading. I like reading the passages and answering the questions that follow and discussing my answers with my classmates.
What do you love most about your school and why?
What I love about my school is that I get to do a dual-language program. I can speak decently fluent Spanish. Next year, in middle school, I am able to get part of my high school language credit and finish it in 7th grade. If I continue it in 8th grade, I have a chance at getting college credit.
What are you looking forward to next year in middle school?
As I mentioned before, I am excited about continuing Spanish.
Who do you look up to and why?
I look up to teachers because I could not have the patience to teach kids anything really. Not to mention that they do it for pretty low pay and it is a very important job. They teach people all that they need to know to be successful.

TEACHER OF THE MONTH | JANE BUSTOS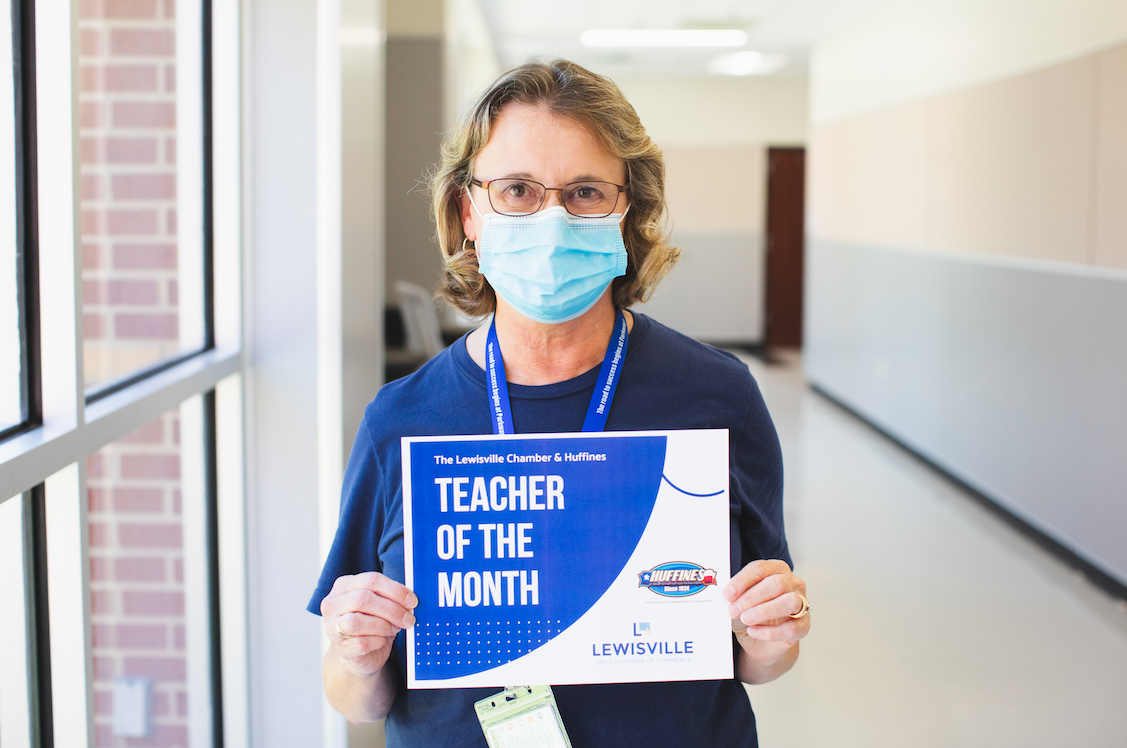 Parkway Elementary Gifted and Talented Teacher was recognized as the Lewisville Chamber/Huffines May 2021 Teacher of the Month. According to Parkway's administration, Mrs. Bustos is deserving of this award because of her passion to teach the "whole child." She strives to hold students accountable for not only academics but also behavior while focusing on creating a growth mindset in students that prepares them for success. She hopes to reach her students and parents by building strong relationships. As a Gifted and Talented teacher, she knows how important social and emotional health is to help a child achieve success.
Mrs. Bustos motivates students to have a growth mindset both with academics and their social-emotional learning. She teaches them to be resilient, regardless of their situation. She is dedicated to helping students in tough home situations find a school to be a respite from difficulties as a place to focus on other things that will take them further in life.
Mrs. Bustos fosters Depth and Complexity skills in her students to challenge their thinking and experience the depth of discussion with each other on real-life issues. She encourages students to connect the content they are learning to real-life situations. She leads our Panther Passion Projects for students in enrichment groups and encourages students to conduct research on topics that interest them. Mrs. Bustos goes above and beyond to provide an exemplary and well-rounded education for our Parkway students.
SCHOOL OF THE MONTH | PARKWAY ELEMENTARY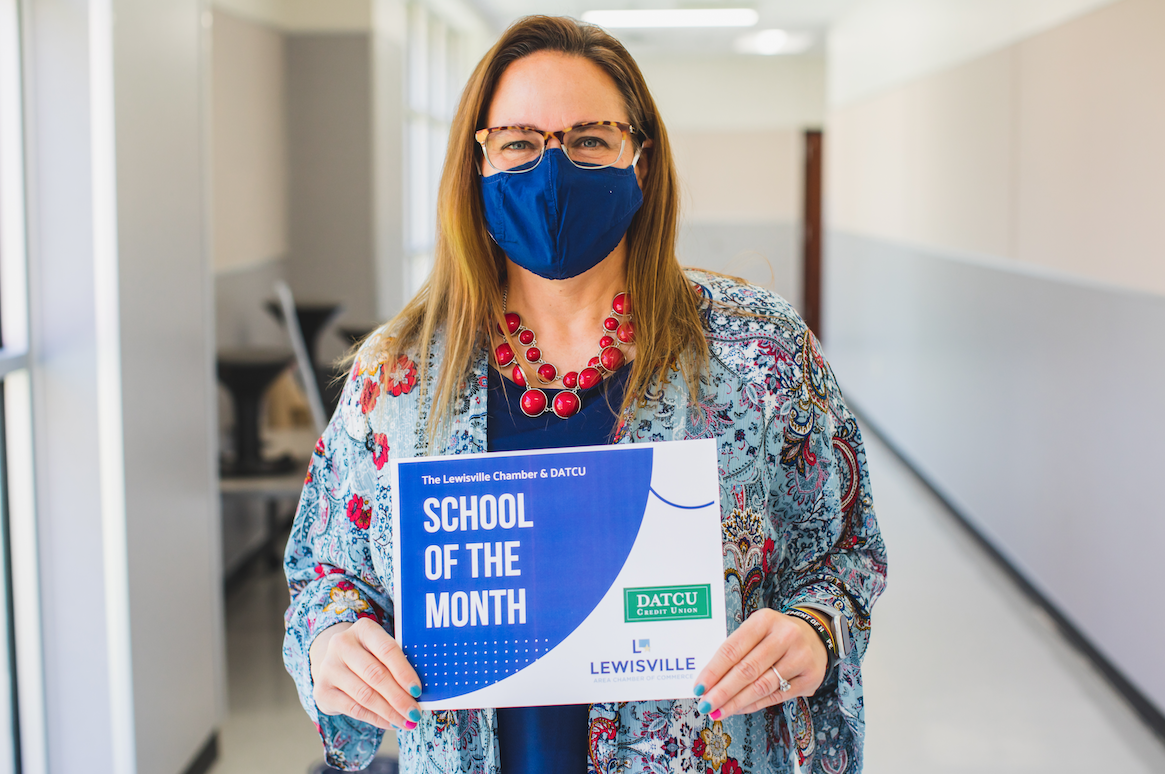 Parkway Elementary was recognized as the Lewisville Chamber/DATCU May 2021 School of the Month. Parkway is unique because of our focus on Multi-Tier Systems of Support (MTSS) which is centered around social-emotional learning and ensures an equitable education through intervention and/or enrichment for all students that meet their individual needs. Parkway uses the Great Expectations program to promote the eight expectations for living which the students recite every day. These expectations begin with valuing one another as unique and special individuals and end with encouraging students to practice virtuous living using the life principles. The life principles consist of over 30 words that are intended to help students live a virtuous life, including citizenship, compassion, forgiveness, and service, to name a few.
Great expectations lay the foundation for success, but our students and teachers work hard every day to increase achievement in their learning as well. Teachers meet in weekly professional learning communities to analyze standards, plan lessons and assessments, and review data to form intervention and enrichment groups. All students have the opportunity to participate in intervention and enrichment groups, which we call Panther Time, four days a week. Students love being grouped with students in their same grade level from other classrooms that share their same learning needs and interests. On the fifth day of the week, students participate in clubs where they have the opportunity to participate in popular activities such as soccer, dance, cooking, crafts, etc. Parkway is proud of our students, teachers, and staff who work hard every day to live our school creed, "At Parkway we dream big, believe in ourselves, and achieve great expectations!"


---
| | | |
| --- | --- | --- |
| May | School | Parkway Elementary |
| | Teacher | Jane Bustos |
| | Student | Caroline Fukuda |
| April | School | Durham Middle School |
| | Teacher | Donald Rovira |
| | Student | Jaden Wells |
| March | School | Mill Street Elementary |
| | Teacher | Ashlie Hall |
| | Student | Anthony Lopez Mendez |
| February | School | DeLay Middle School |
| | Teacher | Cedrick Jones |
| | Student | Reaunna Fletcher |
| December | School | LHS Harmon 9th & 10th Grade Campus |
| | Teacher | Coach Jon Ann Roper |
| | Student | Carlos Plazola Castillo |
| October | School | Lakeland ES |
| | Teacher | Kim Nguyen |
| | Student | Henoc Castelan |
| September | School | TECC-West |
| | Teacher | Cindy Porter |
| | Student | Caylie Cummings |
---

Parkway Elementary is an elementary school located in Lewisville, Texas, serving Pre-K through 5th graders, in the Lewisville Independent School District. Follow Parkway on Facebook and Twitter to see more student experiences throughout the school year or visit Best Schools in Texas for more information about joining the Lewisville ISD family.