Return to Headlines
SCHEELS FRIDAY NIGHT LIGHTS AT FLOWER MOUND HS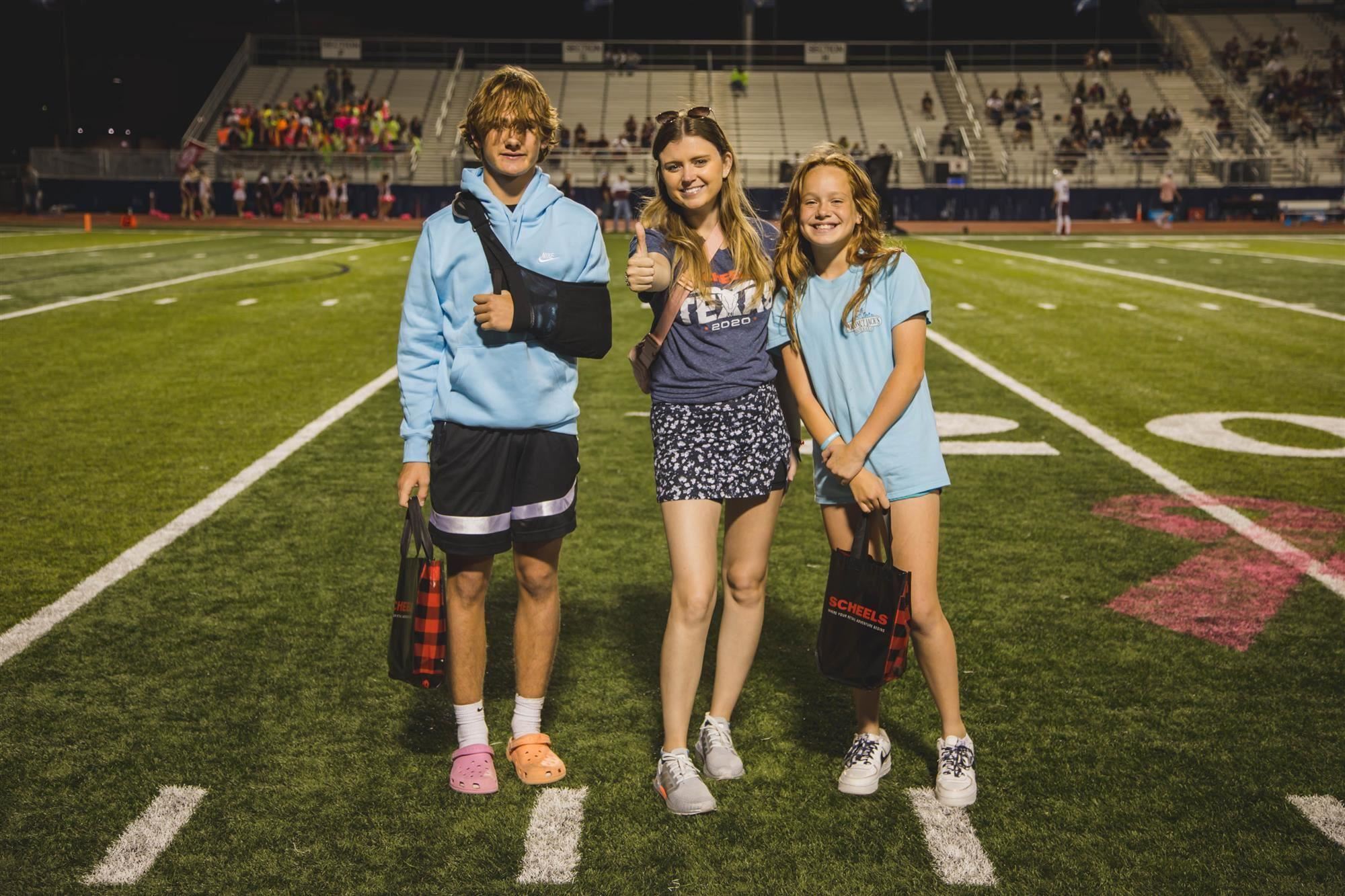 In partnership with SCHEELS in The Colony, Lewisville ISD closed out its Friday Night Lights campaign at Flower Mound High School's varsity football homecoming game against Plano High School on Friday, Oct. 21. To promote teamwork, leadership, discipline and highlight student-athletes of all ages, three students were announced as SCHEELS Athletes of the Week during the game.
Congratulations to the following athletes that were nominated by their schools for their dedication, integrity and sportsmanship:
SCHEELS HIGH SCHOOL ATHLETE OF THE WEEK
Flower Mound High School junior Bri Watson is a standout volleyball player for the Jaguars. Bri is a leader on and off the court and has committed to play volleyball at LSU. Bri was named a 6-6A all-district selection as a sophomore and helped the Jaguars to a district championship.
"Bri is an amazing young lady and athlete," FMHS volleyball coach Jamie Siegel said. "She leads by example and always puts her heart into everything she does. She only knows 100% effort and always makes sure others feel included and part of the bigger purpose. She is a force to be reckoned with on the court, and has a loving, kind, servant leader heart off the court."
SCHEELS MIDDLE SCHOOL ATHLETE OF THE WEEK
Slate Dettweiler is an eighth-grade football player at Forestwood Middle School. Slate is a leader on the football team. He is a standout quarterback on offense and middle linebacker on defense. Slate works hard to maintain his grades in honors classes and takes his education seriously.
"Slate is a very humble athlete who keeps his words calculated, but leads by example at everything he does," Forestwood coach Matt Smith said. "He is a natural leader and is the type of person that will give you 100% of his mental and physical effort and ask for nothing in return. As a student-athlete, he is a standout athlete on the field and a model citizen in the classroom. He knows when to be serious and takes his schoolwork with the utmost importance. Slate is the athlete that every coach dreams of having as a leader on their team."
SCHEELS ELEMENTARY SCHOOL ATHLETE OF THE WEEK
Adele Cardone is a fifth-grade soccer player at Old Settlers Elementary. Adele plays for the Dallas Surf Soccer Club in Dallas and is a midfielder and defender. Her team won first place in a tournament recently and she said the team played really well together the entire weekend. Adele is always smiling and works hard at keeping up her grades.
"Adele's personality is energetic, outgoing, and she has a great sense of humor," Old Settlers coach Dana Bates said. "She stands out amongst her peers by her positive attitude and outlook.
She is more than willing to lend a helping hand to students and teachers alike. I believe she is a great leader and a great example of a good student. Adele will be a Field Day helper in May for Kindergarten as she has the skills to be the team leader on that day."
---
From the beginning, Lewisville Independent School District has committed to ensuring all students—your children—have the resources they need and want to ultimately thrive in a future they create. Follow Lewisville ISD on Facebook, Instagram and Twitter to see more student experiences throughout the school year or visit Best Schools in Texas for more information about joining the LISD family.