Return to Headlines
The Colony Chamber Awards | April 2022
Morningside Elementary student Freddy Salazar and teacher Aly Higgins were recognized by The Colony Chamber of Commerce and DATCU at the chamber's April Leadership Luncheon held at the City of The Colony Annex Building in The Colony, Texas.
STUDENT OF THE MONTH | FREDDY SALAZAR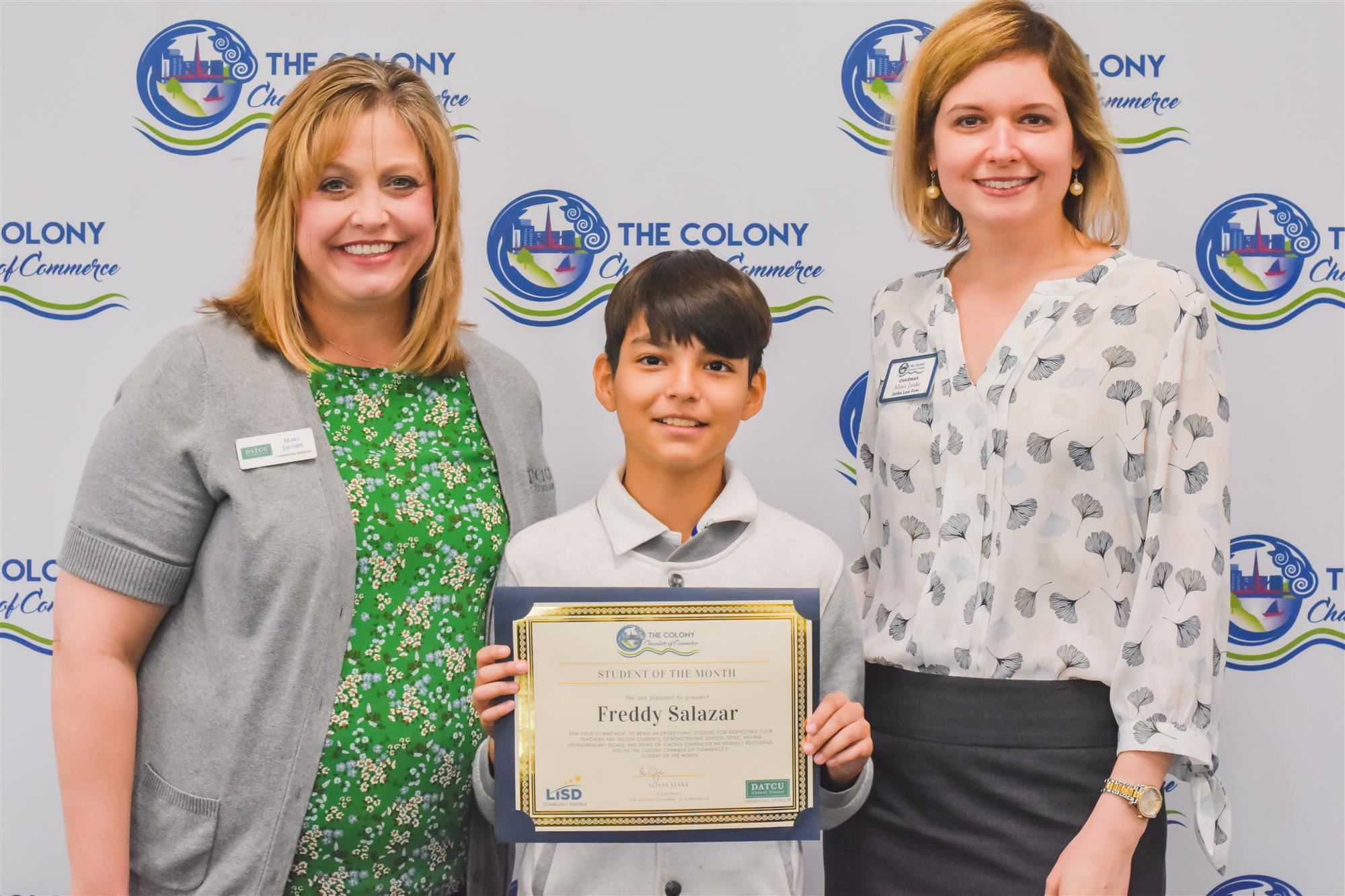 The Colony Chamber of Commerce and DATCU recognized Morningside Elementary student Freddy Salazar as the chamber's April Student of the Month.

According to his teachers, Freddy goes above and beyond what is expected on a daily basis and he always gives 110% in everything that he does. He is very dedicated to his academics, and he is an exceptional role model for his peers, as well as younger students. He knows how to manage his schoolwork yet still make time for fun.
Recently, Freddy had the privilege of going to England where he went to play soccer. He was absent for a week, but as soon as he returned to school, he immediately went to each of his teachers and asked what he needed to make up work. Within a few days, Freddy had turned in all of his missing work. He always puts others first with a smile on his face and a friendly, "Hello."
During his free time, he likes playing video games with his friends and his dad. He also likes to read and loves playing soccer.

He looks up to his dad the most, because he was a great soccer player and has taught him everything he knows about the sport.
His favorite quote to live by is, "Don't give up!" No matter what he does, he won't quit.
His favorite subject in school is math. While it's hard sometimes, but when he has a difficult problem, he thinks back to the strategies he's have learned, and will eventually solve the problem. It's just like everything starts to click and he's proud of himself.
TEACHER OF THE MONTH | ALY HIGGINS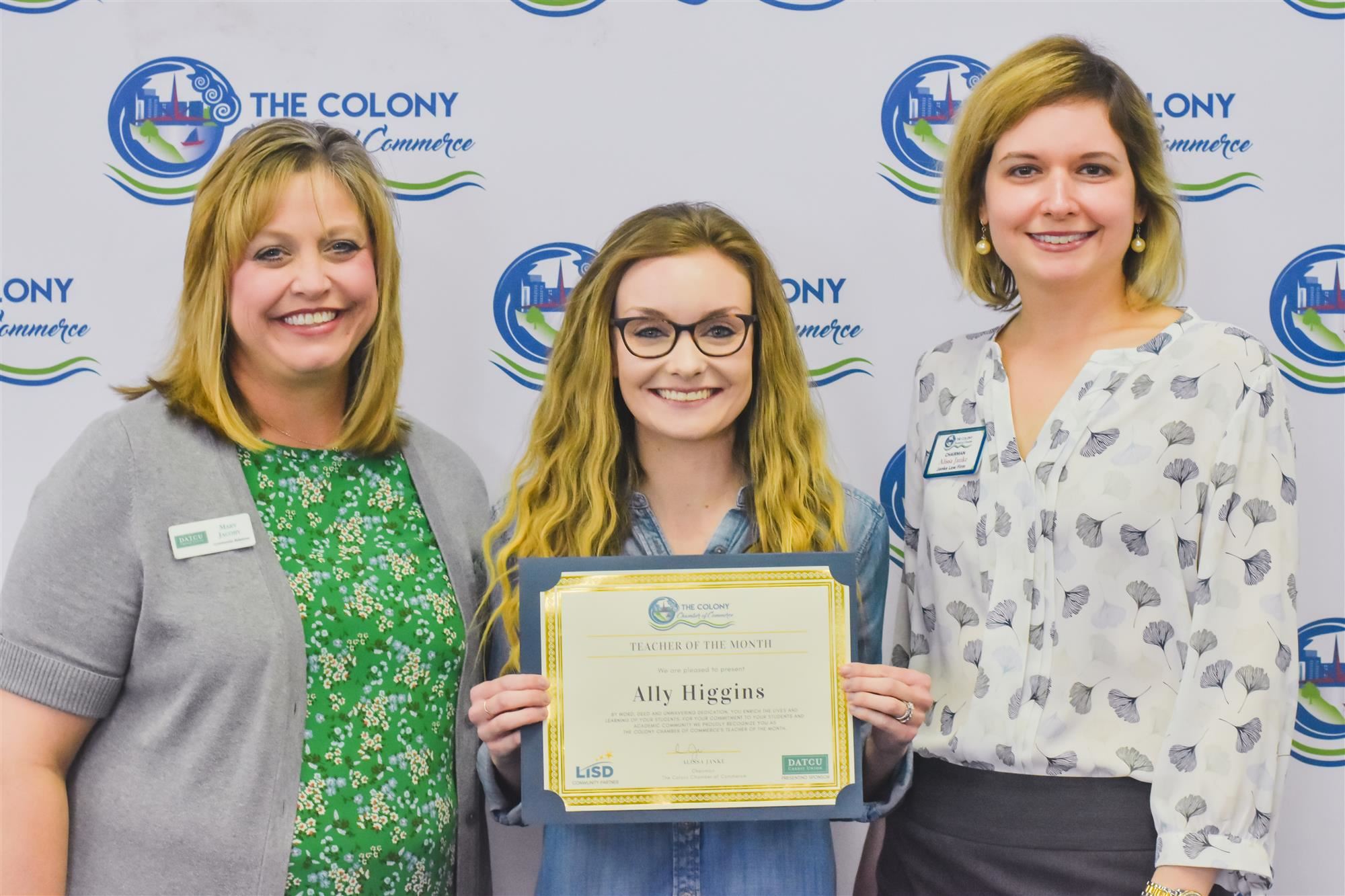 The Colony Chamber and DATCU recognized Morningside Elementary teacher Aly Higgins as the chamber's April Teacher of the Month.
Aly joined the Morningside team four years ago as a special education teacher. According to Morningside Elementary Principal Rita Bacque, her dedication to teaching is truly inspiring. She arrives at work each day with a smile and positive attitude, ready to face whatever comes her way. She is encouraging to her students and always keeps their progress and success as her number one priority while she teaches each day. Aly is extremely organized and thus keeps amazing records, data tracking, progress, etc., for all her students. She works with students who have challenging behaviors, but due to her dedication, compassion and perseverance, she is successful in helping students use their strategies to calm themselves and get back on track. Aly also helps her colleagues by team-teaching, working with students in small groups and assisting with accommodations and modifications of students' work. We are sincerely blessed to have Aly as part of our Morningside Family!
Why did you decide to become an educator? I have known from a very young age that I wanted to be a teacher. My mother was a pre-k teacher and seeing her passion and love for her students was something I always admired growing up. I knew I wanted to have the same impact as an educator and I have loved it ever since. As a special education teacher, I love to collect data, track progress, and create the best educational plan for my students to be successful. This is my fourth year at Morningside Elementary and I love coming to work each day and interacting with students and colleagues. I cannot imagine doing anything else!
What is one of your favorite classroom memories? Throughout my career in education, I have been fortunate enough to work with incredible students, families, and colleagues. My favorite memories are building relationships with students. I love to watch my students grow each day and every little win is celebrated. Cheering students on each day has not only helped with their confidence but it has created an uplifting and encouraging classroom environment.
What do you like to do in your free time? In my free time, I love to spend time with my family! I'm married to my best friend and we have the happiest 11-month-old son. Watching our son, Luke, explore, grow, and change has been the best experience of my life. We love to go on walks with our two dogs and spend time outside.
Who do you look up to and why? I have always looked up to my father. He has always been hardworking, supportive, and protective throughout my life, and now I share everything about my life with him. I look to him for advice and guidance, and I know that I can go to him with anything. He has been very successful throughout his career, and I have always tried to emulate his work ethic and his passion. I feel so fortunate to have had such an incredible role model growing up, and watching my son with my father is the greatest blessing.
---
Morningside Elementary is an elementary school in The Colony, Texas, serving Pre-K through 5th graders with future-ready learning experiences in the Lewisville Independent School District. Morningside feeds into The Colony High School attendance zone. Follow Morningside on Facebook and Twitter to see more student experiences throughout the school year. Join the Lewisville ISD family by enrolling today, or visit Best Schools in Texas to learn more.