Return to Headlines
The Colony Chamber Awards | March 2021
STUDENT OF THE MONTH | LIAM CHAU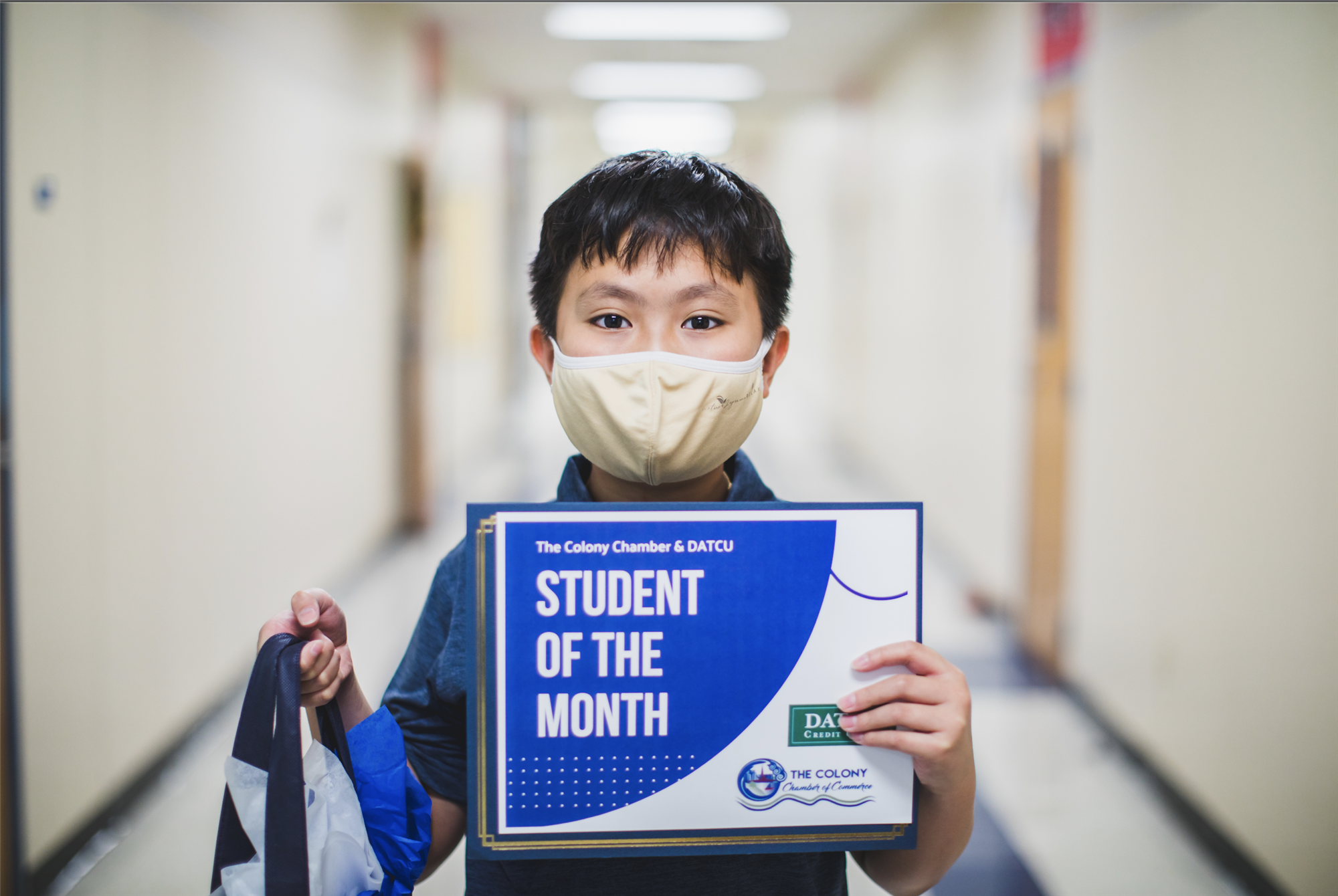 Morningside Elementary 5th-Grader Liam Chau was recognized as The Colony Chamber/DATCU Student of the Month. According to Liam's teachers, he is a great student leader. His cheerful spirit and positive attitude are contagious. They can always rely on Liam to make good choices and be a shining example for other students. He is dedicated to learning and always strives to do his best. Liam is amazing when working in groups. He is a team player and challenges others to be their best. It is such a joy to have the chance to watch Liam grow both academically and socially. We are so proud him!
To learn more about Liam, we asked him the following questions:
What are your hobbies and/or do you like to do in your free time? I like to play video games and listen to music.
What is your favorite subject in school and why? Math because it gives my brain a workout and it teachers me for real-life if I ever use math in the real world.
What do you love most about your school and why? The best thing about Morningside is the teachers. The teachers are really positive and help all the students the best they can.
What are you looking forward to next year in middle school? The different classes for electives. Even though I only get to pick two classes, they are still some of the best things in middle school, in my opinion.
Who do you look up to and why? I look up to my brother because he was The Colony High School Valedictorian, which he worked so hard to get that title.
TEACHER OF THE MONTH | CHRISTY JARRETT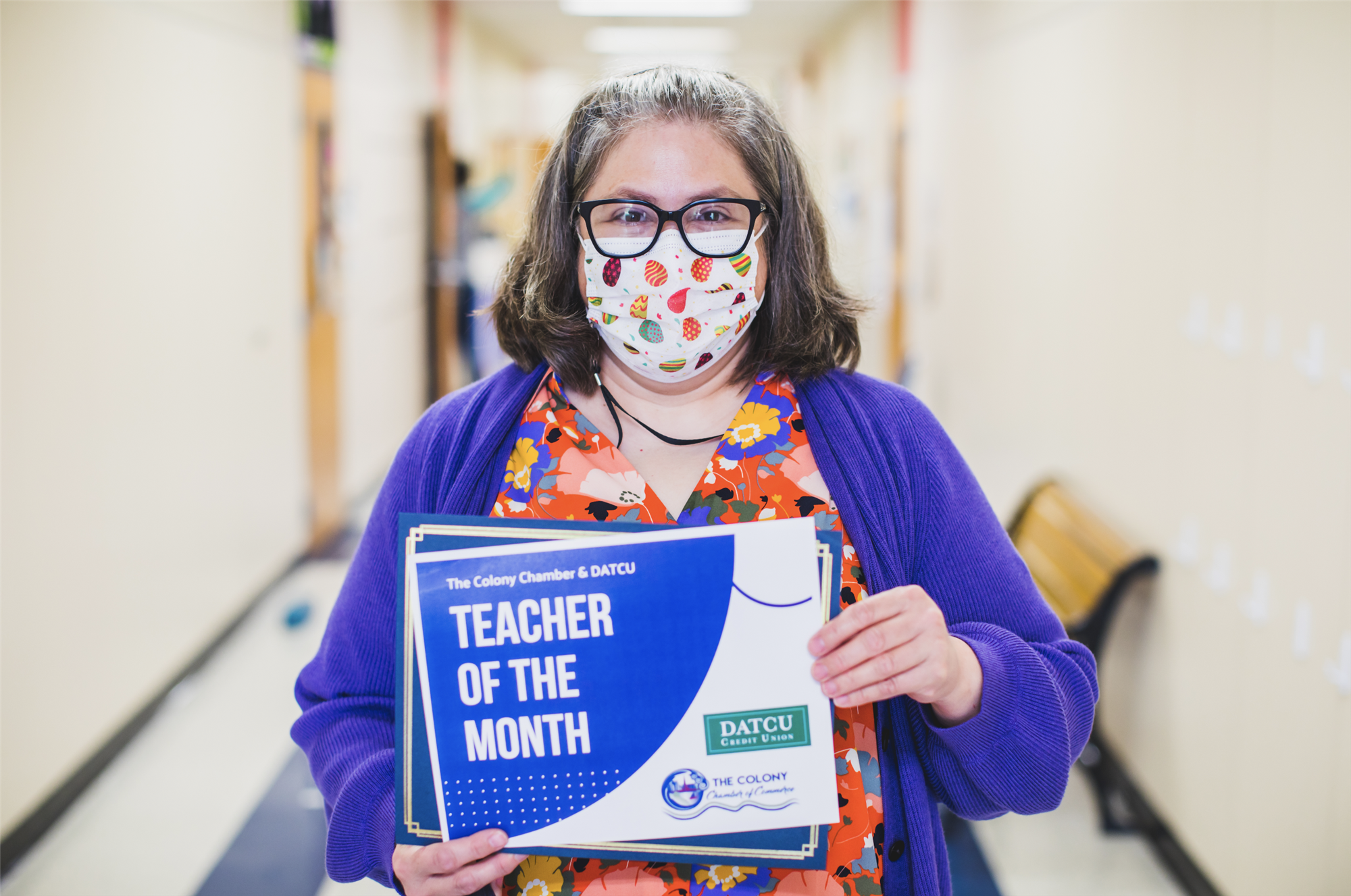 Morningside Elementary Librarian Christy Jarrett was recognized as The Colony Chamber/DATCU Teacher of the Month. Ms. Jarrett has been the librarian at Morningside Elementary for the past 15 years. She has an amazing knowledge of literature and absolutely loves reading to and sharing books with children. Anytime the teachers need specific books or stories for their classroom, all they have to do is say the word and Christy pulls the books they need. She is always ready, willing, and able to help as needed and is great support for our teachers. The students love when Christy reads to them and shares stories because she brings them to life with her joy and excitement.
Not only is Christy the librarian, but she performs other duties such as working with students daily to record the announcements and make them viewable for the entire school, and conducting "Book Clubs" with students where they meet and discuss books of interest. She truly is an asset to Morningside Elementary!
---
| | | |
| --- | --- | --- |
| March | Student | Liam Chau, Morningside 5th-Grader |
| | Teacher | Christy Jarrett, Librarian |
| February | Student | Olivia Reed, Stewart's Creek 5th-Grader |
| | Teacher | Marissa Macchiaroli, Stewart's Creek 2nd-Grade Teacher |
| January | Student | Julia Niciura, 5th Grader |
| | Teacher | Dani Ewing, Ethridge Elementary Teacher |
| December | Student | Emma Wissinger, Griffin MS 8th-Grader |
| | Teacher | Guario Robles, Griffin MS Advanced Spanish Teacher |
| November | Student | Braley Arnold, Lakeview MS 8th Grader |
| | Teacher | Melissa Myers, Lakeview MS Virtual Lifeskills Teacher |
| October | Student | Peyton Nisonger, B.B. Owen Elementary 5th Grader |
| | Teacher | Laurie Hyman, B.B. Owen Elementary 4th-Grade Teacher |
---