Return to Headlines
Liberty Teacher Writes Children's Book Inspiring Kids to Use Their Imagination and Play
"You can't upload love, you can't download time, you can't Google all of life's answers. You must actually live some of your life." – Unknown
The quote is one that Britin Strong, a fourth-grade teacher at Liberty Elementary, said encapsulates the feeling her and her husband, Chris, had when they decided to write their first children's book together: "What Could Life Be … If You Put Down Your Technology?"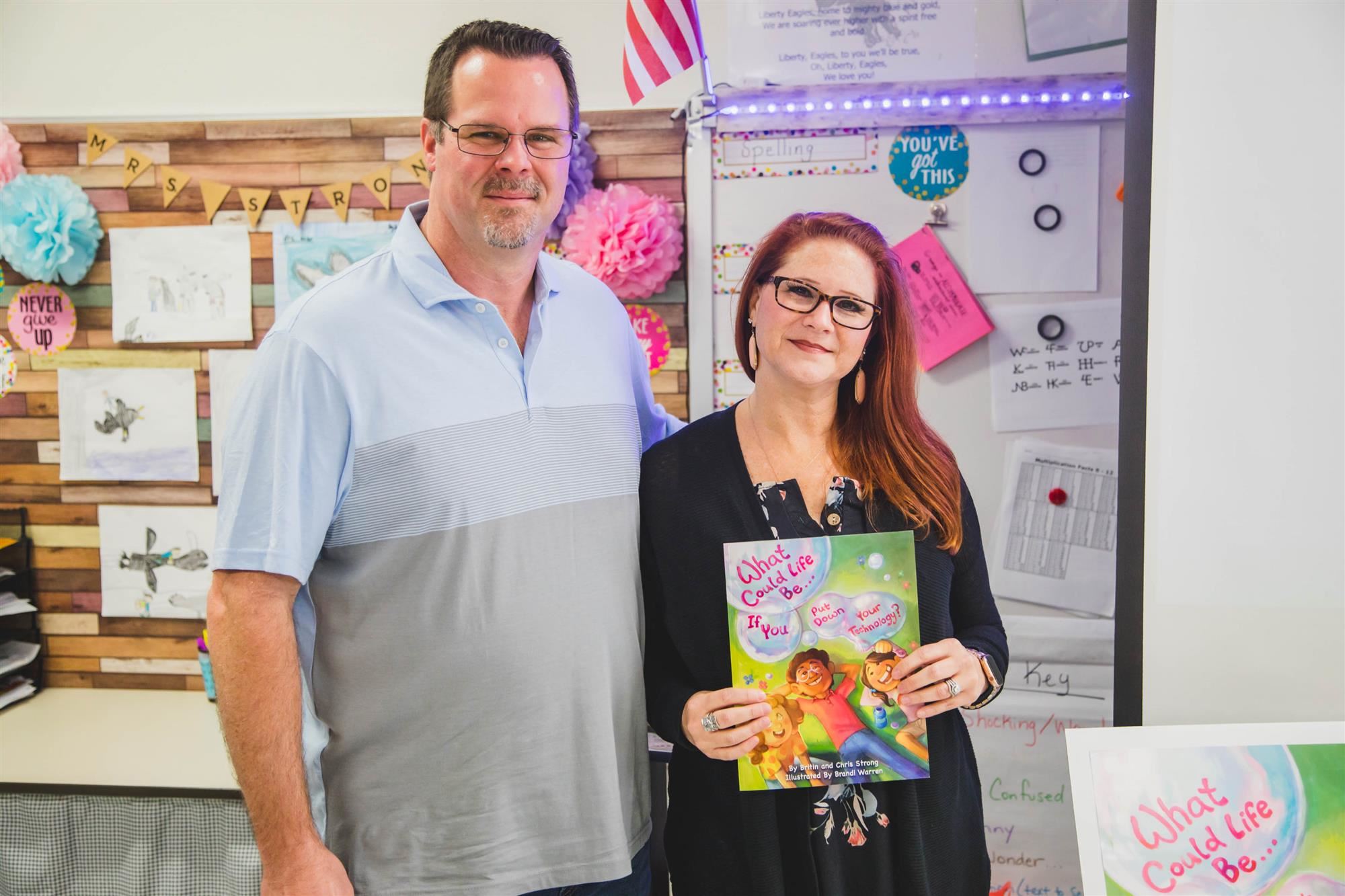 "The quote speaks for itself," Britin said. "I love it and it's very fitting for this book. You can't get all of your answers from Google and experience life through a screen. You have to actually go out and experience life."
The Strongs like to vacation with their five children in Broken Bow, Oklahoma every year. It's a place where you unwind in a log cabin deep in the woods with barely any cell phone service. You spend your days outdoors on hiking trails, fishing, sitting by a campfire and playing board games together.
"When we go to Broken Bow, especially when the kids were younger, we tell them you have one hour in the morning and one hour at night with technology," Chris said. "The rest of the day is spent outdoors as a family."
On their trip back from Broken Bow in 2017, Chris and Britin got the idea to write a children's book together about experiencing life away from technology. Having never written a book before, Britin said they basically wrote the whole book on the drive home by bouncing thoughts and ideas off each other. Within the last year, they decided to turn those thoughts and ideas into a reality and self-publish the book.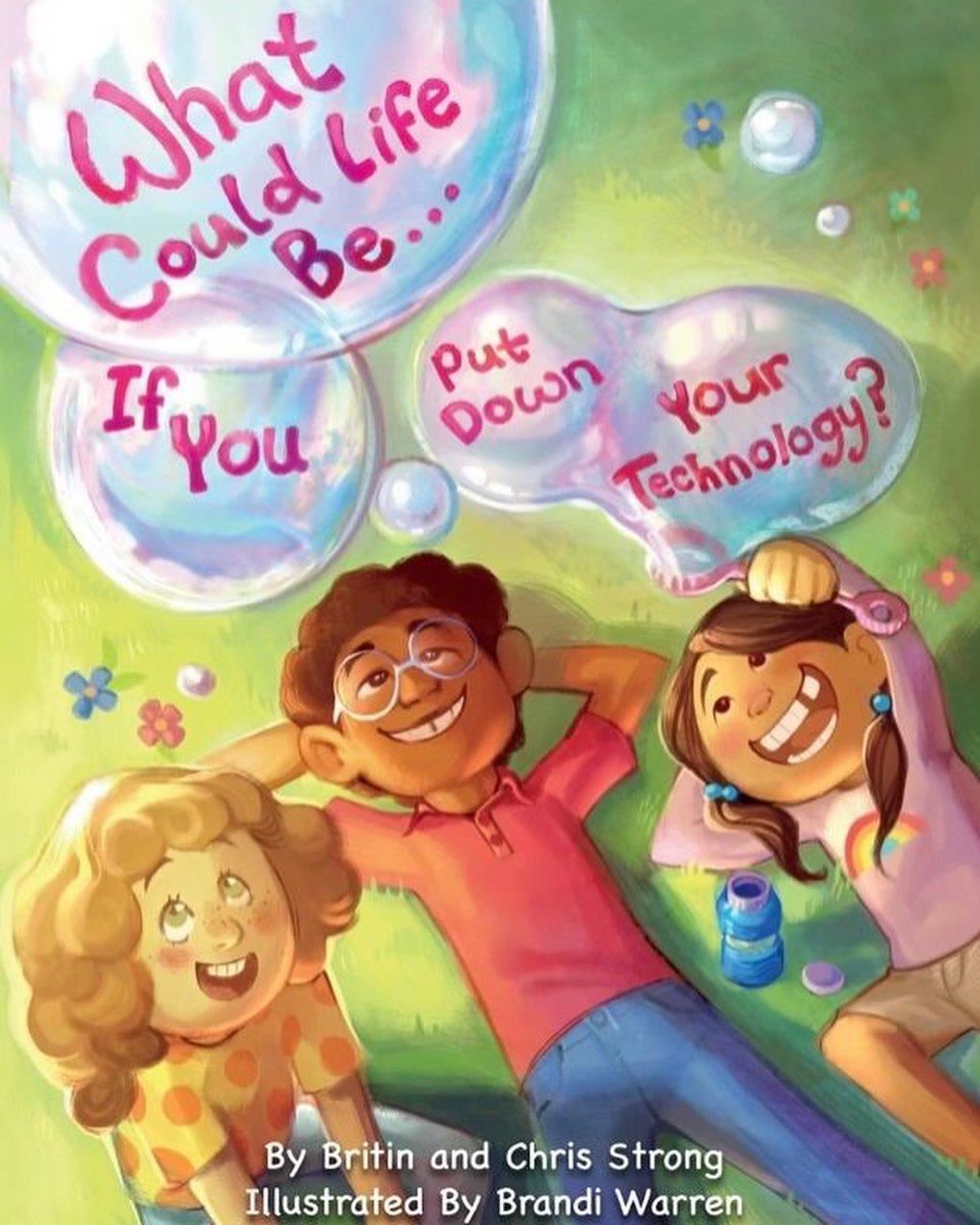 "It's always been on my bucket list to write a children's book," Britin said. "So much of the book is inspired by what we did growing up. The dedication says, 'Dedicated to all children – we challenge you to put down your technology, use your imagination and play the old-fashioned way…like we did!'"
Throughout the book are colorful illustrations of joyful kids playing outdoors with catchy rhymes about all sorts of activities you can do if you put your technology down. "Would you go out with your dad to play a game of catch, or teach your dog to run and fetch," the book states. Speaking of teaching your dog to fetch, the Strongs included illustrations of their own dogs in the book, Jack and Sprite, but left out their kids for this edition.
"Since our pets are in the book, the kids asked: 'Where are we?'" Britin joked. "We told them they were mentioned in the dedication in the beginning! In the next book, we will put the dogs in the dedication and our kids in the book."
In today's world, technology is at the forefront of just about everything. The Strongs aren't against technology at all and will tell you their kids love technology like everyone else. Britin even acknowledged how her and her husband use technology every day for their jobs. Their message in the book is just finding that balance and still enjoying all the great things life has to offer outside of a screen.
"The message of our little book is not that technology is bad," Britin said. "It's about the importance for all of us, but especially kids, to put our phones down sometimes and go out and play, use our imagination, and spend quality time with family and friends."
Britin has been an elementary teacher for 25 years, including 21 years at LISD and the last 16 years at Liberty. She's always tried to instill a love of reading in all of her students at an early age. Once she received a copy of her book, she jumped at the chance to read it to her class.
She even turned the book's message into an assignment for her students. It was an assignment that all the students were thrilled about doing and using their imagination.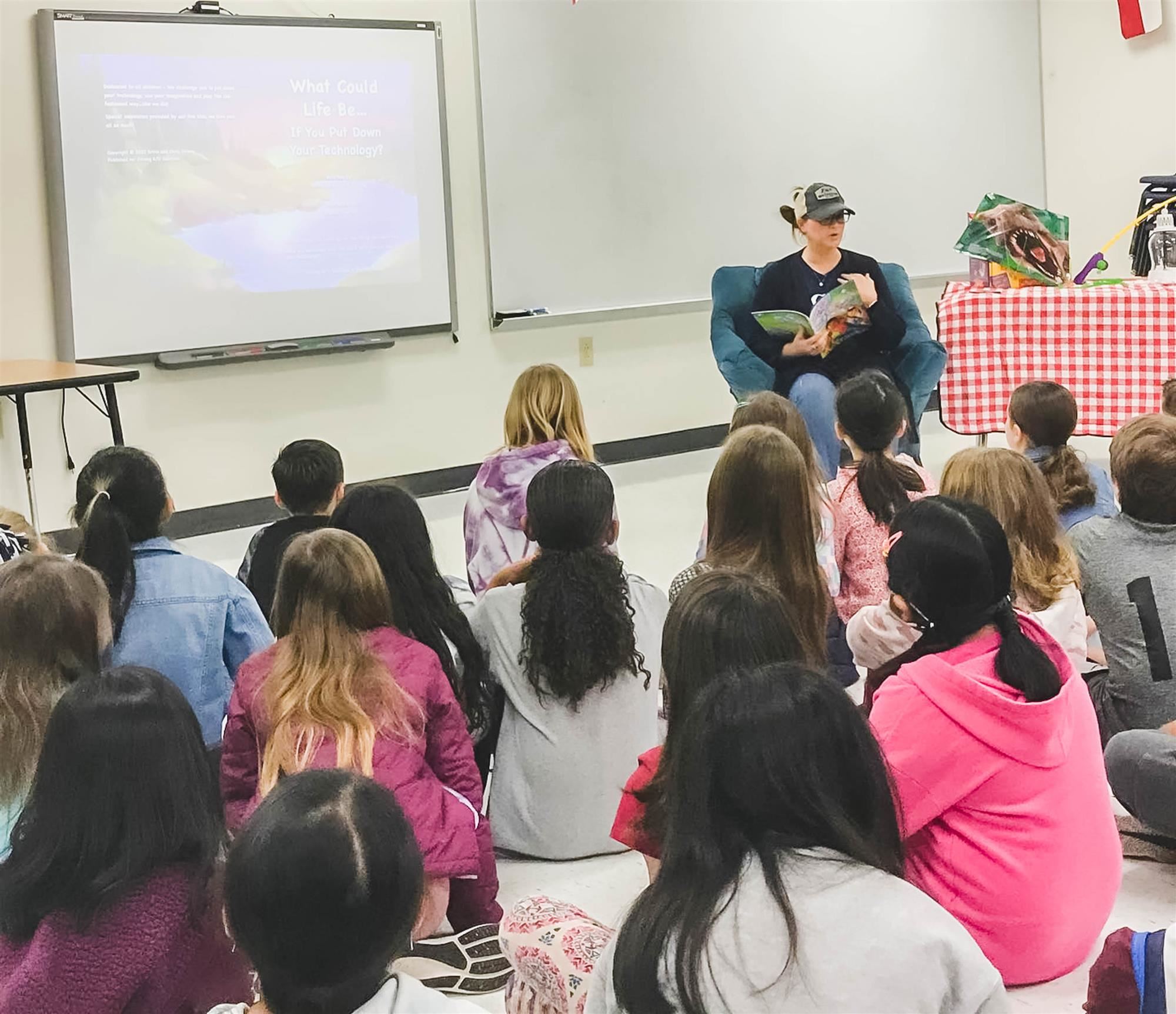 "After I read the book to the kids, they had a writing assignment to list their top 10 things they like or would like to do if they had to put down their technology and illustrate those ideas," Britin said. "The children were inspired to do those things they listed and were very receptive to the thought."
Britin even had a parent tell her how much she loved the book and it was a recipe she would use – a recipe for ideas of what her and her kids can do together this summer.
Although Britin and Chris' kids are older now – the youngest an eighth grader at McKamy Middle School – it's still an annual trip the Strongs look forward to and the kids do as well. Even if the drive back sparks an idea for another book.
"It fills our hearts for them to ask every year if we are going back to Broken Bow," Britin said. "We even already have the next book idea for the drive back: 'What Could Life Be … If You Choose to Be Kind.'"