Return to Headlines
You've Got a Friend at Liberty Elementary School
Every day at Liberty Elementary School (LES) students, parents and guests are warmly greeted by an eager-to-help staff — a vibe that must have rubbed off on its students to go above and beyond to welcome one another.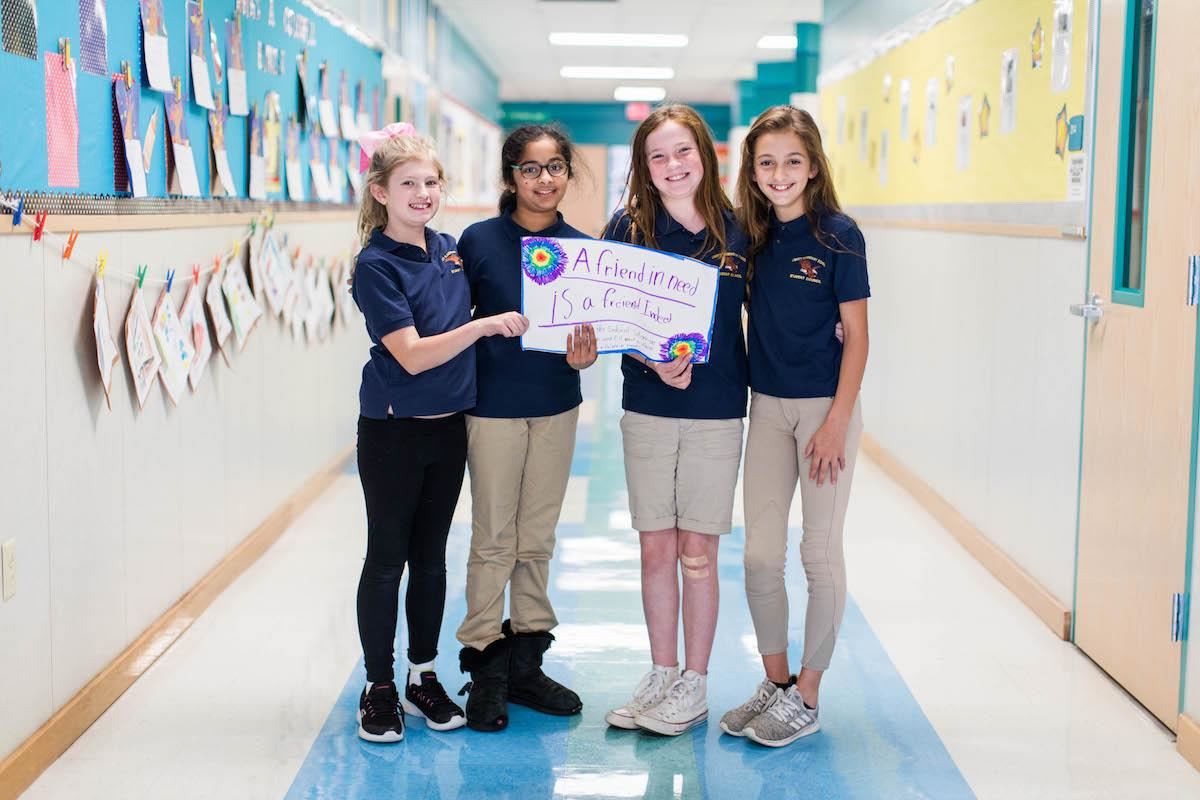 When fifth-grader Jacie Ellig ran for student council president, one of her biggest initiatives she promised the student body was to launch the "Friend in Need Program" to help students make friends.

"I came up with the idea to help people make friends and not feel left out," fifth-grader Jacie Ellig said. "But I couldn't do much for the other grades and thought maybe another friend in their grade could, which got me started on the whole thing."
To get the program off the ground, Ellig recruited fellow student council members and LES Guidance Counselor Marinell Clark to help with logistics in creating submission forms and promote the program via signs and morning announcements. They even created a box for students to drop off their forms throughout the week.
"Everyday that we could we would go to the school store to look at the submissions and based on their answers, we would pair people up," fifth-grader Elle Auburn said. "It feels really good to help."

The program has only been underway for a month, but has become quite popular as a crowd of students can be seen gathered around the school store before school every Friday morning.

"I didn't know it would be popular," Ellig said. "I thought maybe a couple of fifth graders would sign up, but second graders and all the way up wanted to participate."

While the student-led program is monitored and run by LES Student Council, one important supporter sees how the program sparks a learning opportunity for all involved.

"I think children are amazingly kind and want to do the right thing and help others, but sometimes they need someone to show them how or what they can do," Clark said. "When I think of character education and Kindness Week, which are critical to student learning, this puts all of that into action for our students. I think it's a win-win for everybody involved."

One sweet pairing to come from the program helped fifth-graders, who happen to be neighbors, Kate Brock and Sri Kowtha get to know one another more.

"I thought if someone wanted a friend, I was open because you can never have too many friends," Brock said. "We are neighbors, but we've now become closer and play with each other constantly at home after school and at recess."

Kowtha added, "I just wanted to meet new friends. Some people are lonely and the Friends in Need program really helps people make friends."

It's no surprise students hope to see the program continue so future students can benefit, too.

"It should be passed down from this year to the following grades," Brock said. "If more people make more friends, the more the merrier."
Ellig added: "It's pretty amazing. I feel like we've made a positive impact on our school."
For those interested in signing up for the program, visit the school store on Friday morning before school or contact LES Guidance Counselor Marinell Clark at clarkm@lisd.net.

---

Liberty Elementary School is a Flower Mound, Texas elementary school in the Lewisville Independent School District. Follow Liberty on Facebook and Twitter to see more student experiences throughout the school year or visit LISD.net for more information about our district.