Return to Headlines
Lewisville Chamber Awards | February 2022
Independence Elementary students Thomas Bracket and Kaushal Gayakwanda, teacher Kara Mauldin and the school, were all recognized by the Lewisville Chamber of Commerce at the chamber's monthly luncheon.

FEBRUARY STUDENT OF THE MONTH | THOMAS BRACKET | INDEPENDENCE ELEMENTARY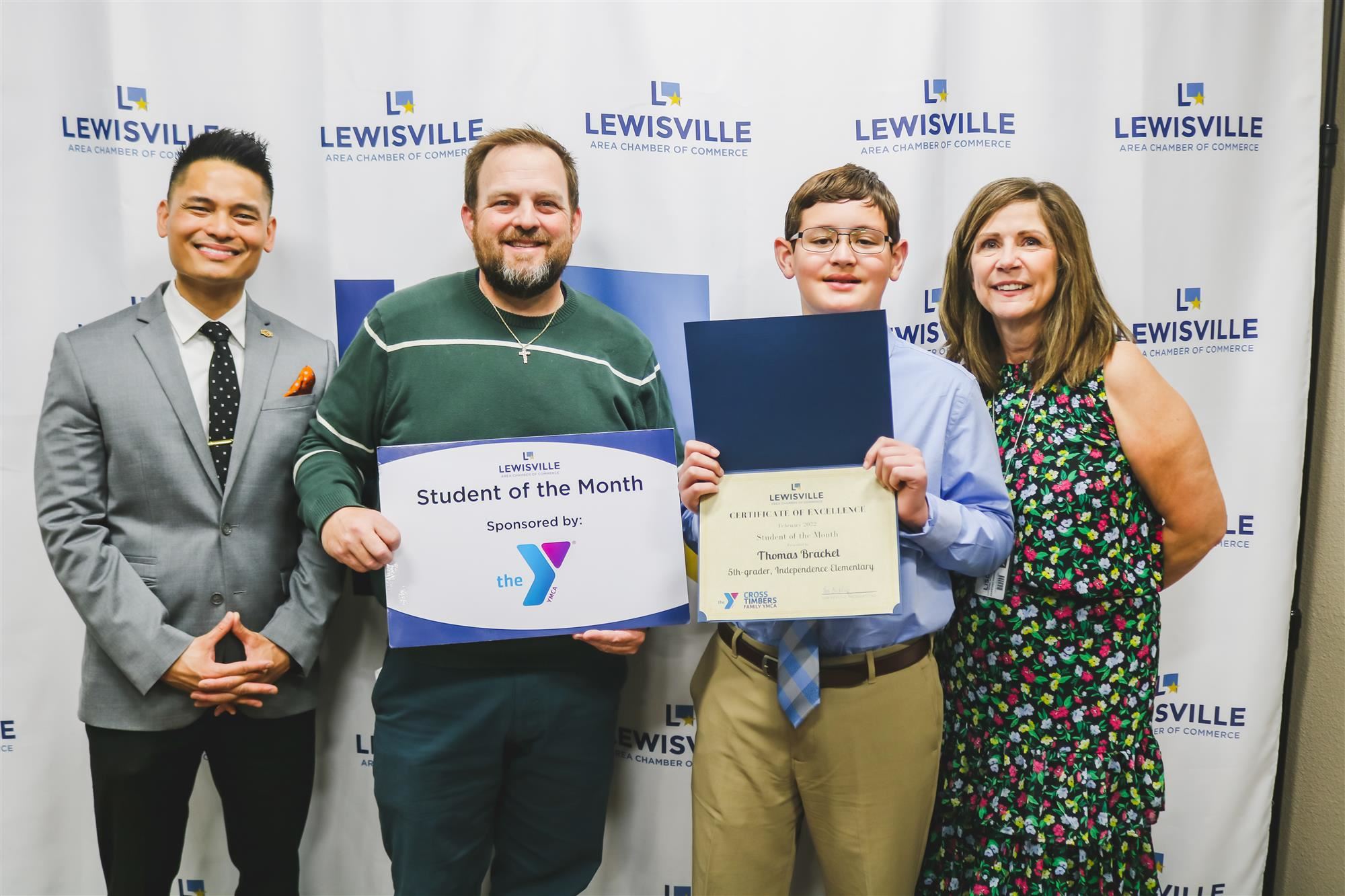 Independence Elementary fifth-grader Thomas Bracket was recognized as the Lewisville Chamber's and Cross Timbers YMCA's February Student of the Month. According to his teachers, Thomas is dedicated to his learning and his school. He values each learning opportunity and actively participates in all lessons. He is not afraid to show leadership by taking initiative and assisting in fellow students' development. Thomas accepts new challenges, and, no matter the difficulty, he faces them with determination and a strong will to persevere. Thomas is remarkably dependable and stands up for his peers if and when needed. He is known for being a leader and for always doing the right thing, even if it is not popular amongst his peers. One of Thomas's greatest strengths is his maturity, which allows him to have impactful conversations about topics discussed in class.
FEBRUARY EXCEPTIONAL STUDENT OF THE MONTH | KAUSHAL GAYAKWANDA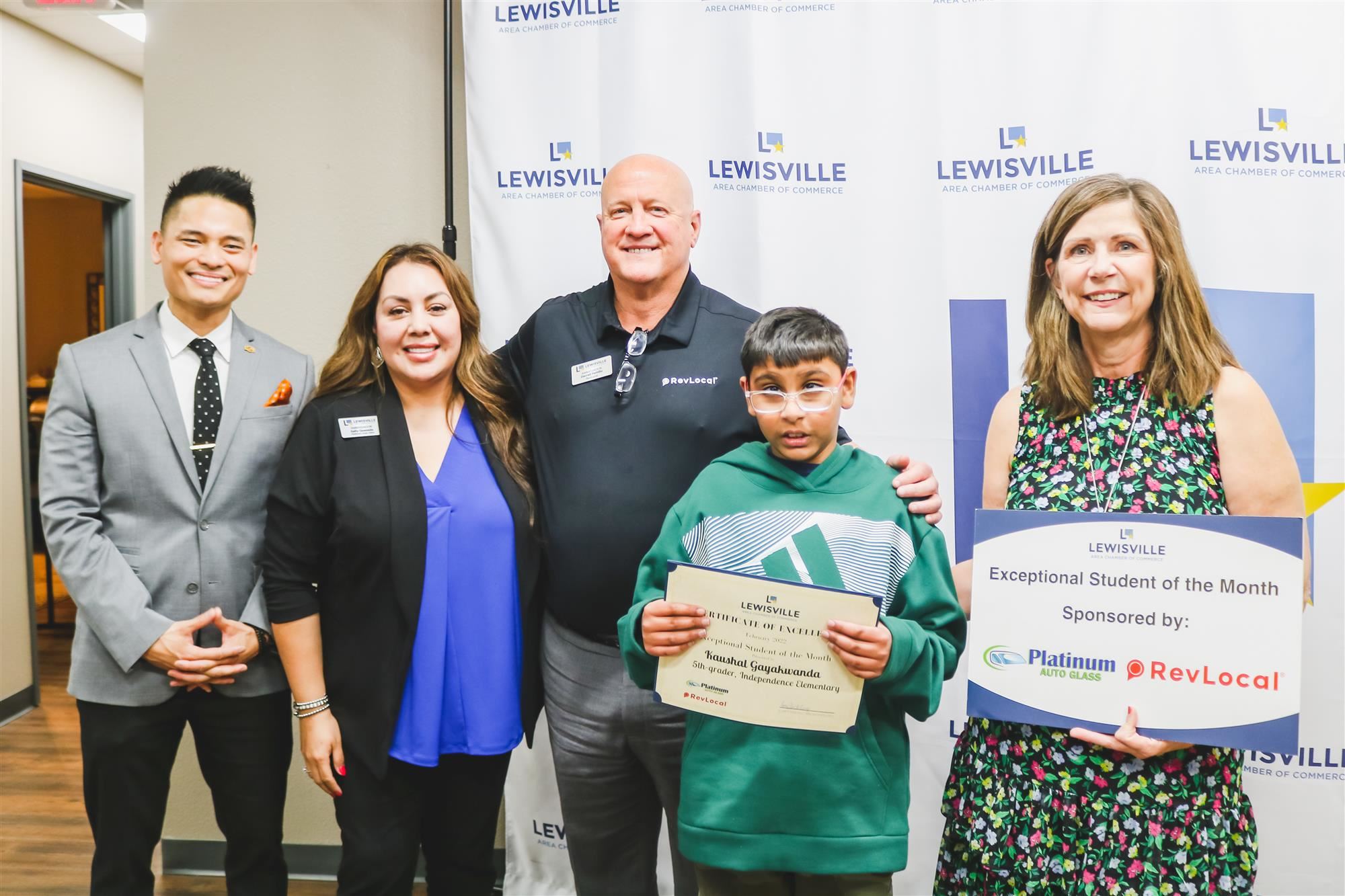 Independence Elementary fifth-grader Kaushal Gayakwanda was recognized as the Lewisville Chamber, Platinum Auto Glass and RevLocal February Student of the Month. According to his teachers, Kaushal is one of the kindest students in his grade. Kaushal exhibits amazing sportsmanship, is always willing to try new things, and works well with everyone. Not only is he quite athletic, but he is brave when it comes to participating and is willing to go first to set an example. Kaushal's attitude is contagious and encourages his peers to do the same. His exuberant personality brings extra sincerity to the classroom. In other classes, his kind demeanor shines through. Over the years, he has developed into a self-starter and grown into a strong team player, excelling not only in PE, but in all classes.
FEBRUARY TEACHER OF THE MONTH | KARA MAULDIN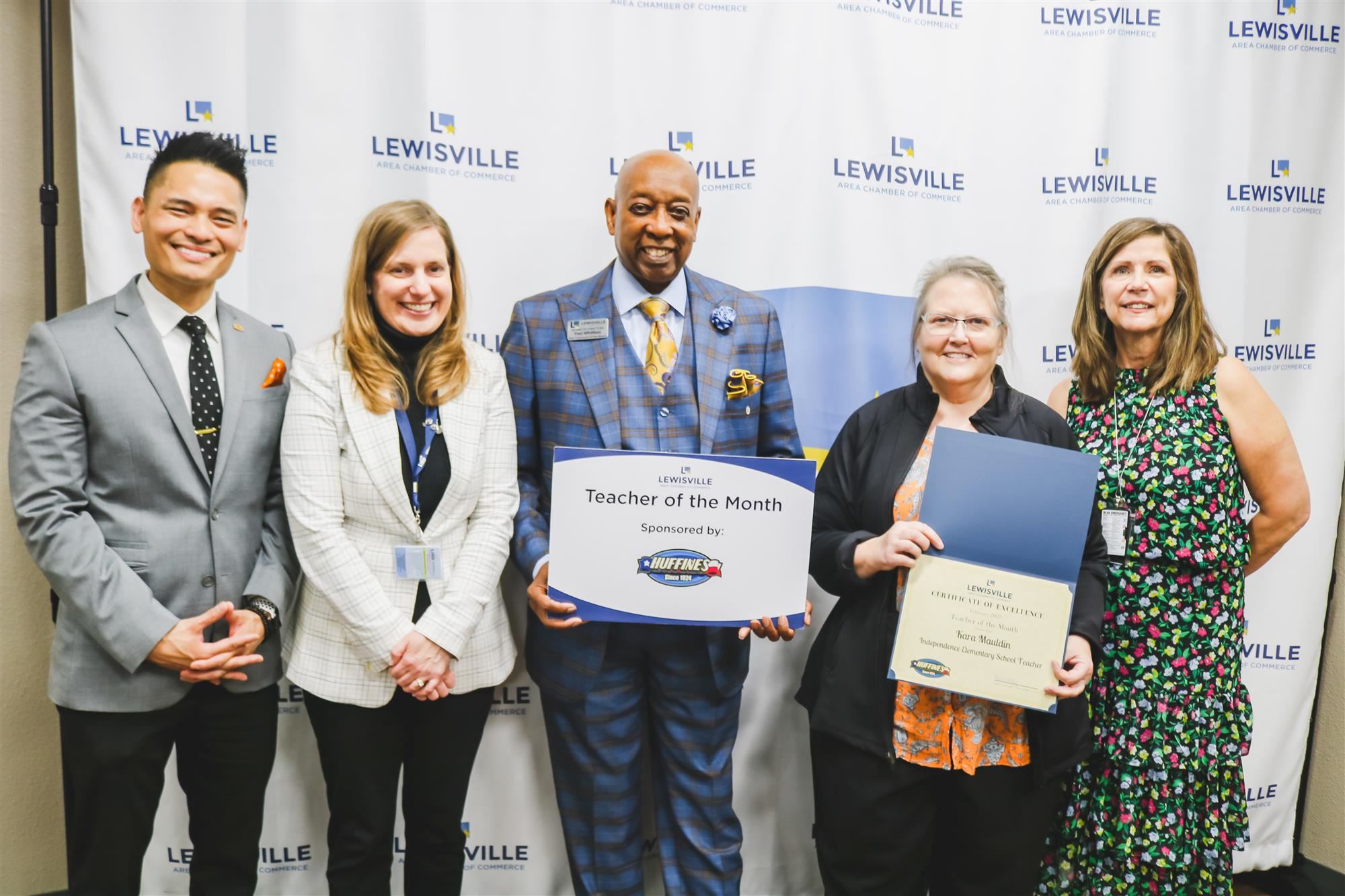 Independence Elementary Art Teacher Kara Mauldin was recognized as the Lewisville Chamber and Huffines February Teacher of the Month. Ms. Mauldin was inspired to become a teacher when her daughter started school. She enjoyed helping her and seeing her grow academically so much that she wanted to do the same to help more children gain confidence and love learning. Originally, she taught first grade for 10 years, but since she is an artist, she eventually decided to become an art teacher to see her students' wonder and joy in art and develop a love for creativity.
FEBRUARY SCHOOL OF THE MONTH | INDEPENDENCE ELEMENTARY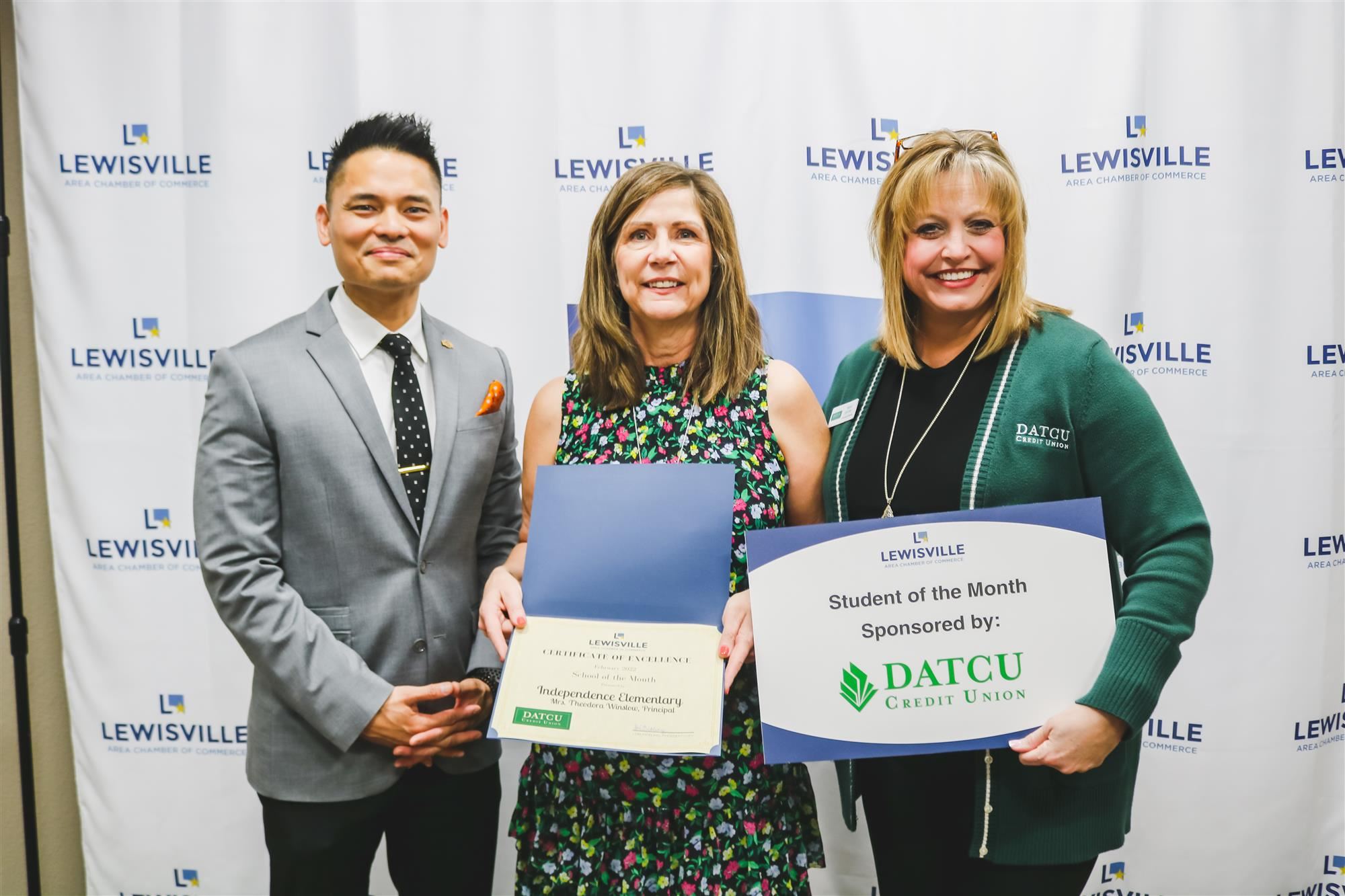 Independence Elementary was recognized as the Lewisville Chamber and DATCU School of the Month. Independence Elementary is a two-way dual language school that serves students from pre-kindergarten to fifth grade. Its student population has grown from four hundred and thirty-four students to eight hundred and seventeen. Despite the COVID 19 pandemic years, Independence continues to meet state accountability measures because of dedicated teachers and parents. At Independence, they ensure evidence-based instructional practices are used in all content areas. They believe in preparing students to be citizens who have a strong foundation of essential knowledge, critical thinking mastery, fluent communication strengths that promote positive collaboration, and creative problem-solving skills. Eagle students are required to demonstrate the Seven Habits of Highly Effective Children and use growth mindset strategies. Developing a growth mindset and focusing on staff health and wellness are important to examine daily. Independence partners with the PTA, Castle Hills Foundation, Independence Gardens and Watch Dogs increase the ability for Independence Eagles to be well-rounded students who are compassionate, determined, critical thinkers, and life-long learners.


---
Independence Elementary is a Lewisville, Texas elementary school serving Pre-K through 5th grade with future-ready learning experiences in the Lewisville Independent School District. Independence feeds into the Hebron High School attendance zone. Follow Independence on Facebook and Twitter to see more student experiences throughout the school year. Join the Lewisville ISD family by enrolling today, or visit Best Schools in Texas to learn more.