Return to Headlines
Indian Creek Elementary ESL Aide Supports Students in Many Ways
Nov. 3, 2016
Indian Creek and Homestead Elementary English as a Second Language Aide Erica Jaime supports students in more ways than one.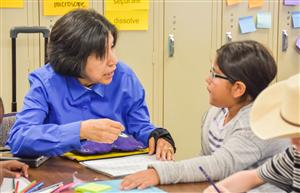 An instructional assistant is a position designed to support students and teachers in the classroom. Lewisville ISD English as a Second Language (ESL) Aide Erica Jaime takes her job seriously, but loves every minute of it.
"Every day that I get up I look forward to coming to work to teach my kids," Jaime said. "I get so much support from the principals and the teachers at any campus I go to, so I am very lucky to be able to be a part of such a great team, and to be around such incredible students."
Jaime began her career in education after having her son where her desire to be close to him as he grew up led her to the classroom. She began teaching at Lewisville High School before moving back to the Carrollton area where she taught at
Homestead Elementary
before sharing her time between
Indian Creek
and Homestead.
Jaime speaks both English and Spanish, so her bilingual qualities were a perfect fit for the need of ESL aides in LISD.
"Teaching ESL, you don't take anything for granted," Jaime added. "These students are often coming to school either for the first time, or are new to the area and don't speak any English. So to be able to help them through the process of getting settled in and learning how to communicate with their peers is very special to me. I grew up the same way, so I know what it's like."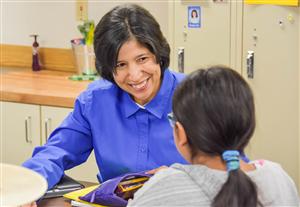 Jaime continuously has her students at the top of her mind. Whether it is creating bulletin boards throughout the hallways at school for students to recognize objects, or sending her students off to the next phase in their education, Jaime is constantly thinking of personalized ways to keep her students engaged at school.
"I think about my students all of the time," Jaime said. "Anytime I am out, I always have my eyes peeled for things that I know my students could get use out of. They are very special to me and I want them to succeed. Their success is my success."
Indian Creek Language Acquisition Specialist David Johnson sees the hard work Jaime puts in to make sure they are serving the whole child.
"Erica takes initiative," Johnson said. "She truly cares about all of the students she works with. She is an inspiration to many of our English language learners having been one herself growing up."
Indian Creek Principal Amy Teddy appreciates how much Jaime cares for her students, and knows that it makes a difference in the learning environment she oversees.
"Mrs. Jaime cares deeply for the education of all students, and she is adored for her contributions to our school and community," Teddy said. "She takes the time to support campus growth with different activities around the school and is devoted to the success of her students. We are lucky to have her."