Return to Headlines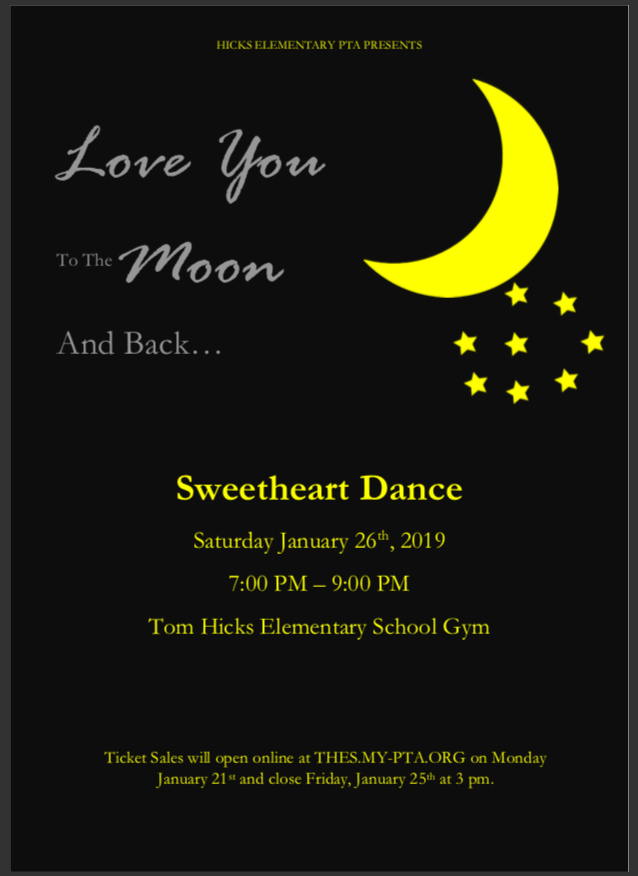 Hi Everyone!
We are so excited about the upcoming Sweetheart Dance hosted by your Hicks PTA! Just a friendly reminder if you have not yet purchased your tickets, you may do so on our website at www.thes.my-pta.org and be sure to click on the E-Store tab located at the top of the Homepage. Online ticket sales will close Friday, January 25th at 3 PM. You may still purchase tickets when you arrive at the dance. We will have options to pay with cash or credit card (if paying with a credit card you will be charged a 3% fee, same as paying online). We can't wait to see all the girls dressed in their finest for what we hope to be wonderful, out of this world evening!
Event: "Love You To The Moon & Back" Sweetheart Dance
Date: THIS Saturday, January 26th
Time: 7:00 PM - 9:00 PM
Location: Tom Hicks Elementary School Gym, 3651 Compass Drive, Frisco, Texas 75034
Ticket Packages:
Gold: $35 includes an entry for 1 adult and 1 girl plus 1-5x7 Professional Printed Photo
Silver: $25 includes an entry for 1 adult and 1 girl
$10 for each additional girl
$10 for each additional photo
To Purchase Tickets Online: Go to our PTA website-www.thes.my-pta.org (click on E-Store Tab at the top of the welcome page)
SAVE YOURSELF SOME TIME AND ORDER ONLINE!
Dance Activities: Dancing, Sweet & Savory Snack Table with Drinks, DJ led games with prizes, Professional Printed Photos for purchase, Complimentary Airbrush Temporary Tattoos, Fun & Free Photo Booth.
***DIRECT ALL QUESTIONS TO Christina Nicewonger <christinachavez15@yahoo.com><christinachavez15@yahoo.com>***